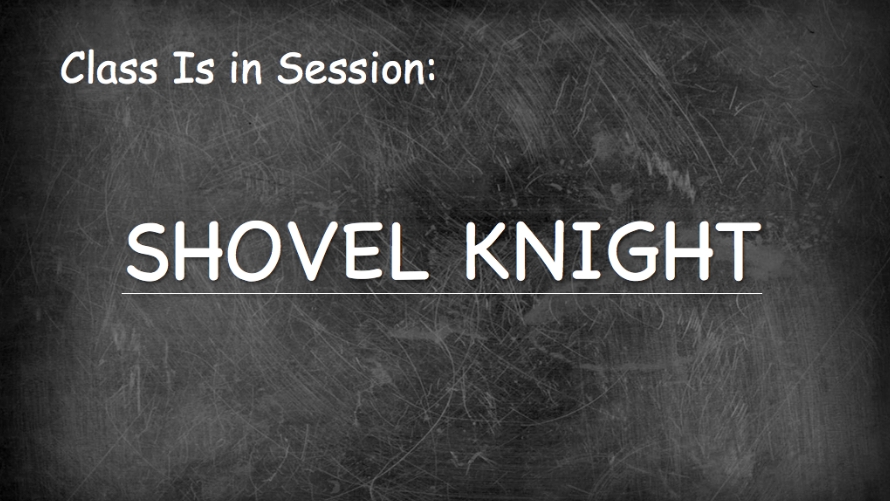 Welcome folks to Class Is in Session – a series wherein we bring you the profile and origin story of the characters in First 4 Figures' upcoming releases.
---
Shovel Knight was First 4 Figures' final pre-order of 2017, and although relatively new to the entertainment and high-end collectibles scene, the video game series he originated from was critically acclaimed by numerous gaming publications and was nominated and awarded for multiple categories in different award shows back in 2014 and 2015.
For today's Class Is in Session, we shall look into the history of our beloved blue knight in shining armor and unravel the mysteries behind "Fish Head" Shovel Knight.

Author's Note: Because the Shovel Knight: Treasure Trove video game series is playable across all major platforms, each with its own platform-exclusive content, for this discussion, I shall be omitting the prior and will be focusing only on what is common in all platforms for relatability purposes.
---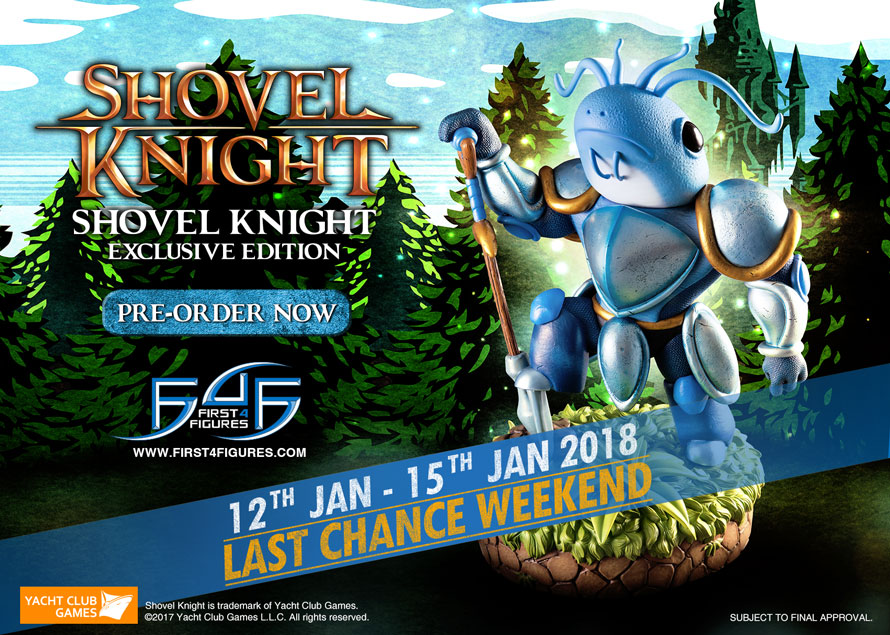 Real Name: Shovel Knight
Alias: ???? (Unconfirmed)
Whereabouts: Traveller
Archrival: Black Knight
First Appearance: Shovel Knight (later received the retronym Shovel Knight: Shovel of Hope after the launch of their expansions)
Yacht Club Games' 8-bit baby started out as a Kickstarter project back in March 2013 and was finally available for download on selected platforms on June 26, 2014. Its simplistic yet fun-filled gameplay and overall "feel" was inspired by the classic 2-D platformers from back in the day. The overwhelming success of their debut and the title's positive feedback from both the community and critics opened up new opportunities for the indie company and has brought them to where they are today.
All this and more introduced us to the mysterious yet exciting world of Shovel Knight.
ORIGINS
Chivalrous and kind in nature, Shovel Knight aids people he meets throughout his journies and rids the world of evil and impurities. As a practitioner of the lost art of Shovelry, he is bound by and true to the code of Shovelry: Slash Mercilessly and Dig Tirelessly.
"Long ago, the lands were untamed, and roamed by legendary adventurers! Of all heroes, none shone brigher than Shovel Knight and Shield Knight. But their travels together ended at the Tower of Fate; when a cursed amulet wrought a terrible magic. When Shovel Knight awoke, the tower was sealed, and Shield Knight was gone. His spirit broken, a grieving Shovel Knight went into a life of solitude. But without champions, the land was seized by a vile power: the Enchantress and her Order of No Quarter! Now, the tower is unsealed, and devastation looms. A new adventure is about to begin." – INTRODUCTION, Shovel Knight: Shovel of Hope
Now alone, he is forced to pick up the broken pieces as he sets out on a quest to rescue his dearly beloved from the clutches of the Enchantress and her Order of No Quarter – eight powerful knights sworn to serve the Enchantress. For reasons unknown, Shovel Knight's rival, Black Knight, also appears occasionally to defend the Enchantress from anyone with ill-intent towards her despite the fact that he himself isn't even a member of the Order.
SHOVEL KNIGHT FAQ: The most expensive armor you could purchase in-game – the Ornate Plate – is absolutely useless and is only for aesthetic purposes.
Even after having said all these, the indie title's biggest mystery is still left unsolved. Why the fish head? Is Shovel Knight really a fish of sorts? What sprouted this curiosity in the first place?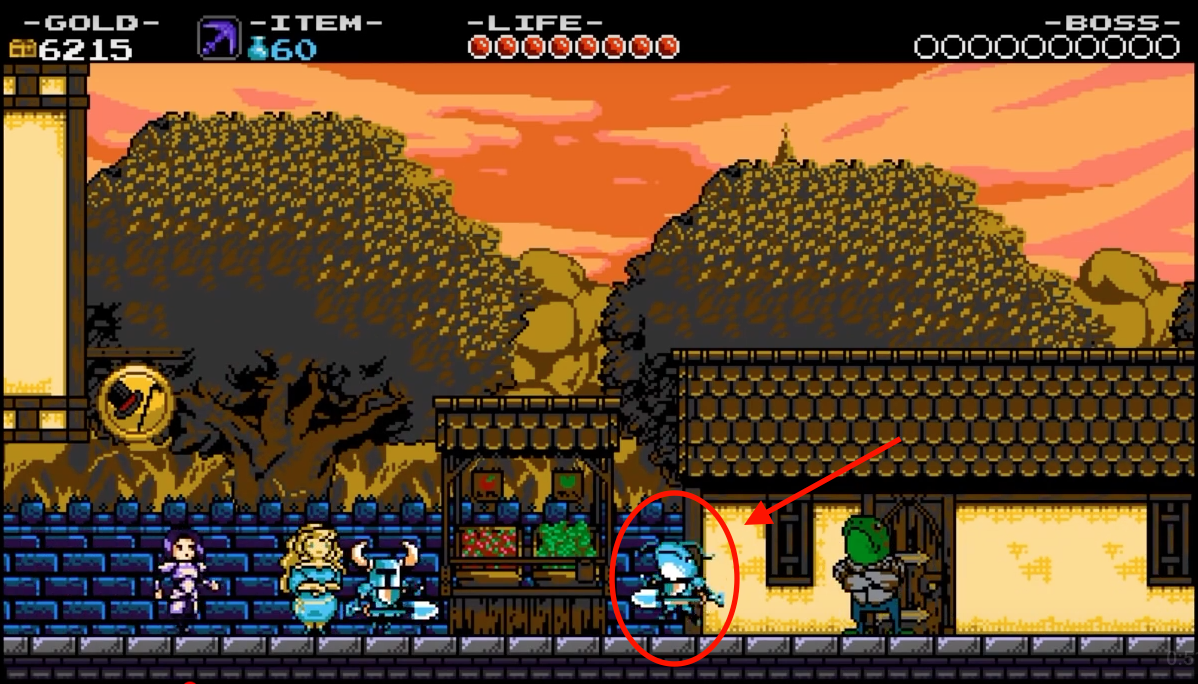 Wandering around the Armor Outpost is a helmetless NPC with a fish for a head wearing the same Stalwart Plate and holding the same Shovel Blade as Shovel Knight. When trying to converse with the fish head knight NPC, this is all it has to say:

It isn't a frequent event, however, and the moment takes place within a matter of seconds, so if you want to witness this for yourself, patience and quick action are mandatory.
So, who could this mysterious "????" be? Is there more than one Shovel Knight? Is there a Shovelry secret society that hasn't been revealed? Are Black Knight and the knights from the Order of No Quarter fish as well? If Shovel Knight is, indeed, a fish, how is his relationship supposed to work with Shield Knight? So many questions yet very few to no answers exist. Well, in Yacht Club Games' official webpage under their FAQ section, the developers only had this to say:


What are your speculations? Let us know in the comments section below.
POWERS
With his basic gear – Stalwart Plate and Shovel Blade – Shovel Knight is able to conquer his foes with his basic Dig Slash and Shovel Drop attacks. As players progress, they are able to upgrade their weapon and purchase new armor to strengthen and boost Shovel Knight's capabilities. Also, hidden within the maps are relics that grant Shovel Knight extraordinary powers, each with its own specific utility. These serve as Shovel Knight's secondary resource(magic)-spending attacks.
---
Although an indie, we hope that you learned a thing or two about Shovel Knight that peaked your interest with the game and our statue. Not only is it nostalgia-satisfying but is also in and of itself breathtaking.

For those of you who are still on the fence, you still have one final opportunity to guarantee yourself a SHOVEL KNIGHT statue by placing your orders during LAST CHANCE WEEKEND from 12-15 JANUARY 2018. Please take note that only the Exclusive version of this statue will be available for purchase during this period.
After this time, you will have to jump onto the waitlist for a chance at purchasing our Shovel Knight statue. For more information on how our waitlist works, kindly click HERE.
You may pre-order your very own Shovel Knight statue during Last Chance Weekend HERE.
---
Last Update
2018-03-05 07:46:02
More post in same category