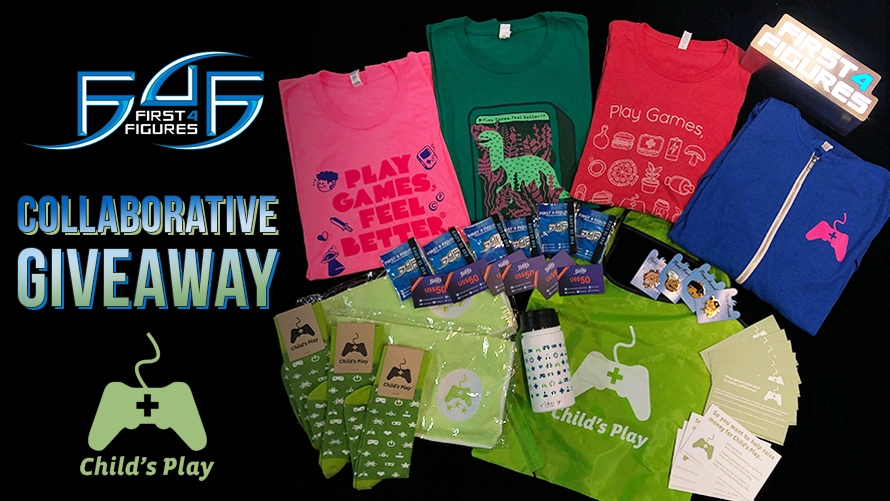 Get a chance to win some First 4 Figures and Child's Play merchandise and discount coupons!
---
First 4 Figures participated in this year's PAX East, and we had tons of prizes to give away during the convention, including discounts coupons, PVC statues, and even resin statues! Those who wished to enter were granted one (1) entry for every USD 10 donation, and all proceeds went to our friends over at Child's Play, a charity organization that supplies toys and games to child welfare facilities across the globe. We were able to raise a total of USD 13,424 during the four days!
Child's Play has chosen First 4 Figures as their Sponsor Spotlight for April, and we wanted to take this opportunity to extend our gratitude to the F4F community for their overwhelming support. Child's Play provided us with their merchandise, and we will be adding discount coupons and F4F merchandise to these to give away to you guys because none of this would have been possible without your help!
Click the link to enter the giveaway
Contest ends 11 May 2020, 4:00 PM HKT, and six (6) lucky winners will be chosen the following day. We will contact the winners through the email address provided. Failure to respond within 24 hours of the winner notification email being sent will forfeit their right to receive the prize, and a new winner will be selected.
Good luck to everyone and thank you so much for all your support! F4F is love, F4F is life, and we shall see you in the next one!
Last Update
2020-04-28 14:00:49