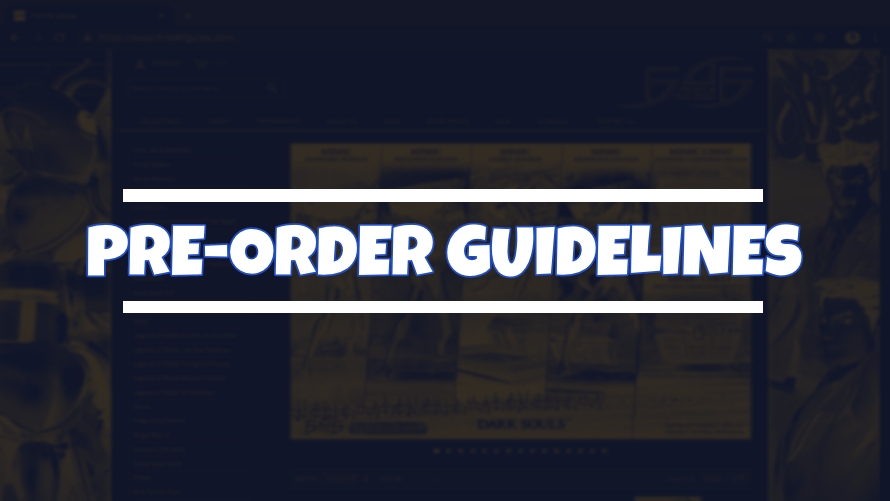 Everything you need to know about First 4 Figures' pre-ordering system.
Please read carefully.
---
PRE-ORDER PERIOD
Pre-orders for all our upcoming releases are scheduled to open right

after

our premiered launch streams. During the stream, we also unveil the product itself and discuss with the audience some useful information.
These premiered launch streams air on a Tuesday, 9:00 PDT | 12:00 EDT | 17:00 GMT | 18:00 CET (unless otherwise stated) on our First 4 Figures

main Facebook page

and

YouTube Channel

and last for approximately 15 minutes.
The pre-order period will remain open until further notice. A notification will be sent out one (1) week before the closing of a pre-order period.
EARLY BIRD OFFER
Upon the launch of a new product, we include an EARLY BIRD OFFER, which allows you to save a fixed amount off of the SRP. The amount will vary depending on the product.
However, the Early Bird Offer is only available for a LIMITED TIME and doesn't last for the entire duration of the pre-order period.
WAITLIST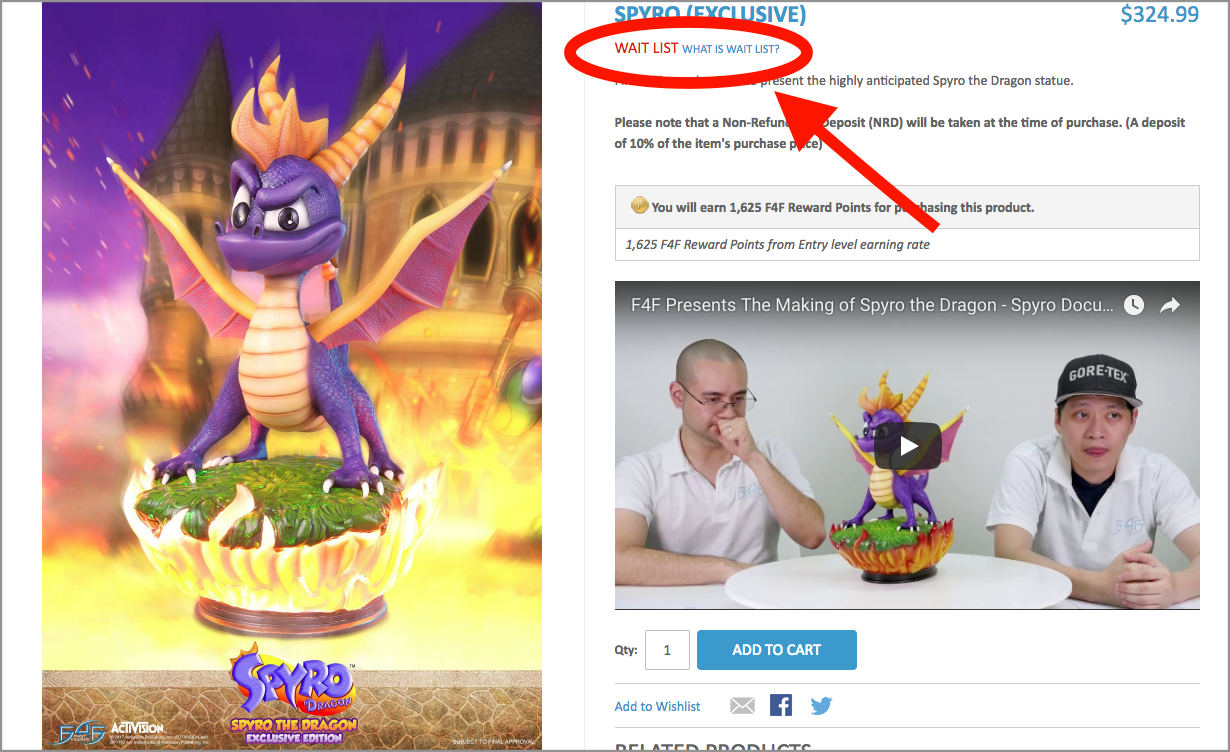 If at any time you were unable to place an order and you still wish to purchase the item, we can add you to the waitlist for your desired product.
If for whatever reason (cancellation of existing pre-orders, increase in production, etc.) the item you wish to purchase suddenly becomes available, you now have an opportunity to purchase this item.
NOTE: The waitlist is on a first-come, first-served basis.
For more information on how our waitlist works, kindly click

HERE

.
IN-STOCK ITEMS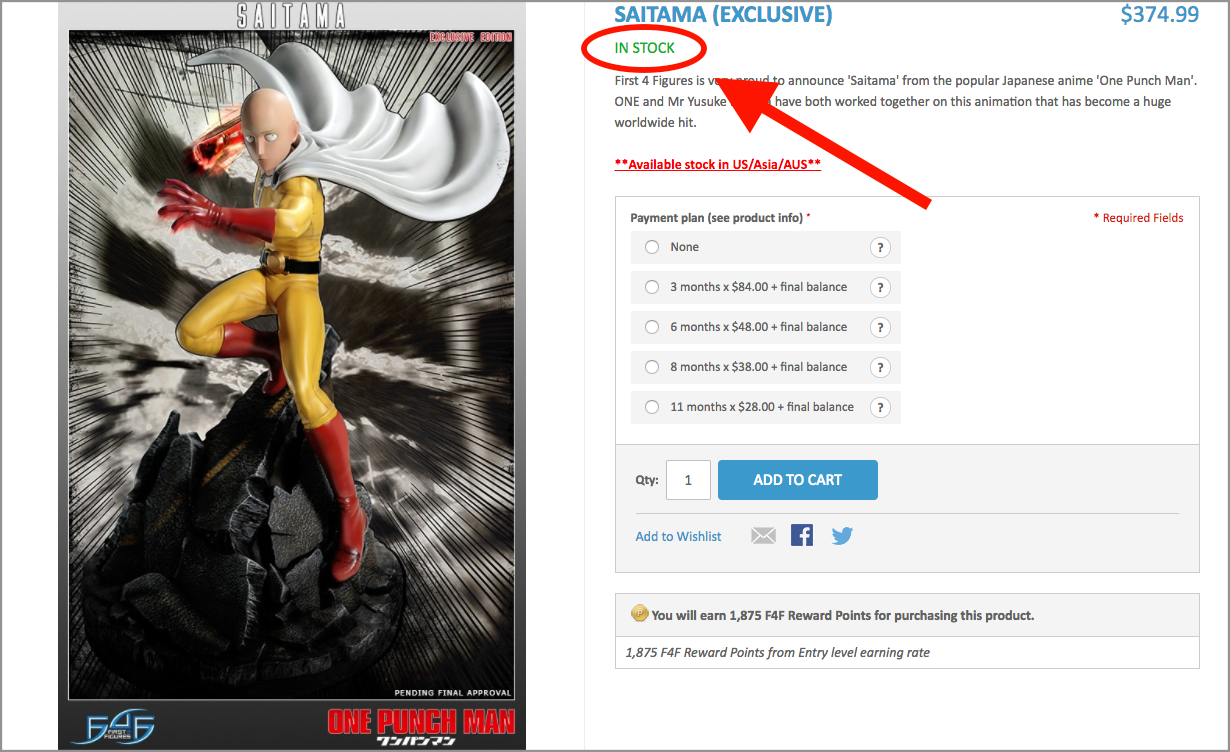 If there are still some pieces available after everyone on the waitlist has been accommodated, others may now purchase the remaining in-stock items until supplies last.
---
Frequently Asked Questions
Q: "Will payment plans (Flexipay) be available when purchasing F4F statues?"
Yes, Flexipay is available during pre-orders and when purchasing in-stock items. You may find the various Flexipay options under the "Additional Information" section of your desired product.
Q: "Can I cancel my order?"
You may cancel your orders, but the initial deposit is non-refundable, and you incur an Administration Charge of USD 5.00 per payment to be refunded (if you are on a payment plan). For more information, please visit the Cancellation section of our Helpdesk.
Q: "How much will shipping cost?"
Estimated shipping costs will be displayed upon checkout of your desired product. The finalized amount will be declared in your final invoice, which will be sent to your registered email when your order is ready to ship.
Q: "If I decide to purchase more than one statue, will it be possible to combine it all into one shipping cost?"
Shipping costs are charged on a per-item basis. We do not allow the combining of shipping costs.
Q: "Do we have to pay for taxes or duties?"
Yes, you will have to pay sales tax when purchasing from our website. It will depend on your region, however, when sales tax is applied. The product page will indicate if sales tax is included or excluded in your purchase. Terms and conditions apply upon checkout.
Q: "Why do I have to authenticate my statue?"
We want to assist in making sure that what you have is a genuine First 4 Figures product. Authenticating your product will allow us to match your authentication number to our system database. For more information, please visit the Authentication section of our Helpdesk.
Q: "How are statue numbers allocated?"
Statue numbers will be assigned randomly. There is no first-come, first-served policy when allocating statue numbers.
Q: "Do statue numbers have any bearing on the quality of a product?"
Statue numbers and any other form of numbering merely represent the edition size of each product and do not have any implications on the quality.
Q: "Can I purchase F4F statues anywhere else other than your website?"
The Standard Edition of F4F statues may be available for purchase at your local retailer once these statues are released, but the Exclusive Editions, Definitive Editions, Special variants, and Combo Editions are only available for purchase on our website.
---
If you have any further questions or concerns, please refer to the Helpdesk section of our website. Alternatively, you may contact our Customer Service, or you may leave a comment below and we will get back to you shortly.
Last Update
2021-02-17 09:34:21