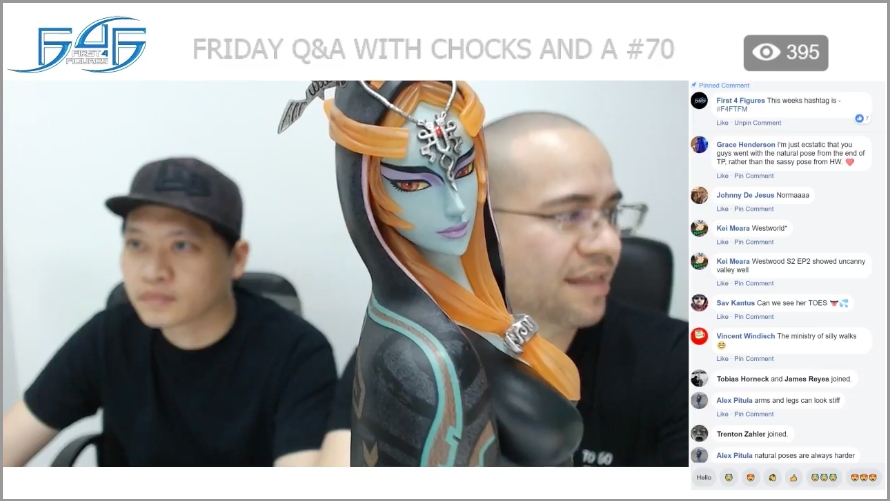 This is a breakdown of the important (and not so important) topics of last Friday's (May 11, 2018) Friday Q&A with Chocks and A #70.
---
REMINDERS
True Form Midna pre-orders will go live right after this stream!
Shiranui is still open for pre-orders until 29 May 2018.
Because the two Exclusive variants combined didn't reach 1,000 pieces in sales during the initial 2-week pre-order period, Guts: The Black Swordsman pre-orders will remain open until it hits its target or until before production starts. (UPDATE: 600 pre-orders as of 4 May 2018)
WEEK IN REVIEW
Shiranui and the announcement of True Form Midna brought in a ton of new members into the

Official Collectors Club

. Welcome, all! Please do support us as well on our other social media platforms. (

Facebook

,

YouTube

,

Twitter

,

Instagram

)
Alex posted his itinerary for the 3-day Las Vegas Licensing Expo this 22-24 May 2018.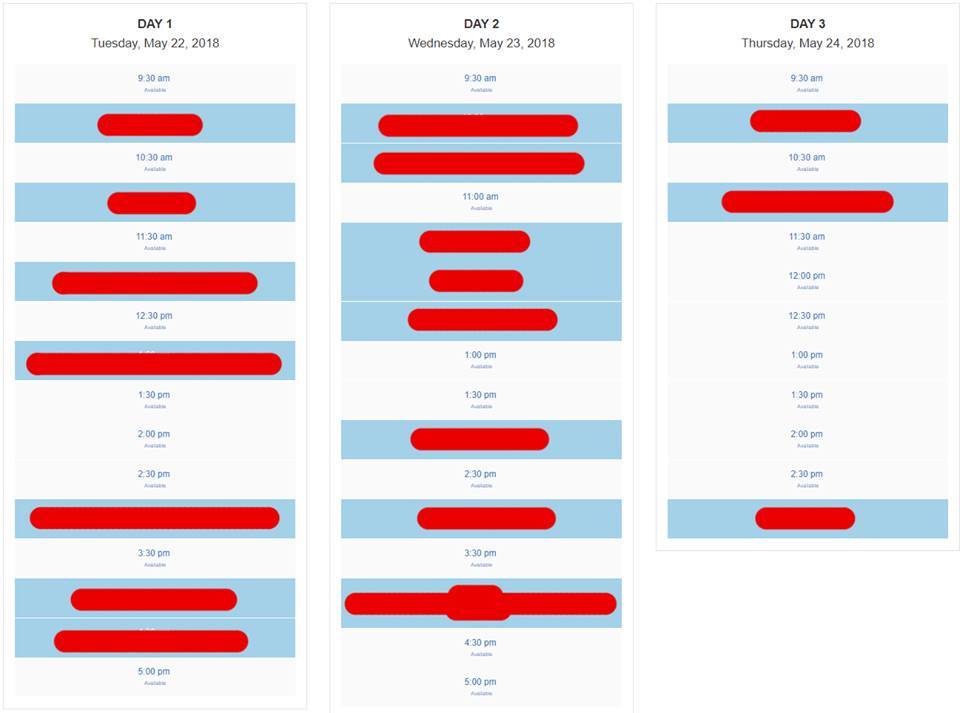 For the first time, Alex busted open his #1 Wolf Link and Midna statue which they used for a side-by-side size comparison with True Form Midna.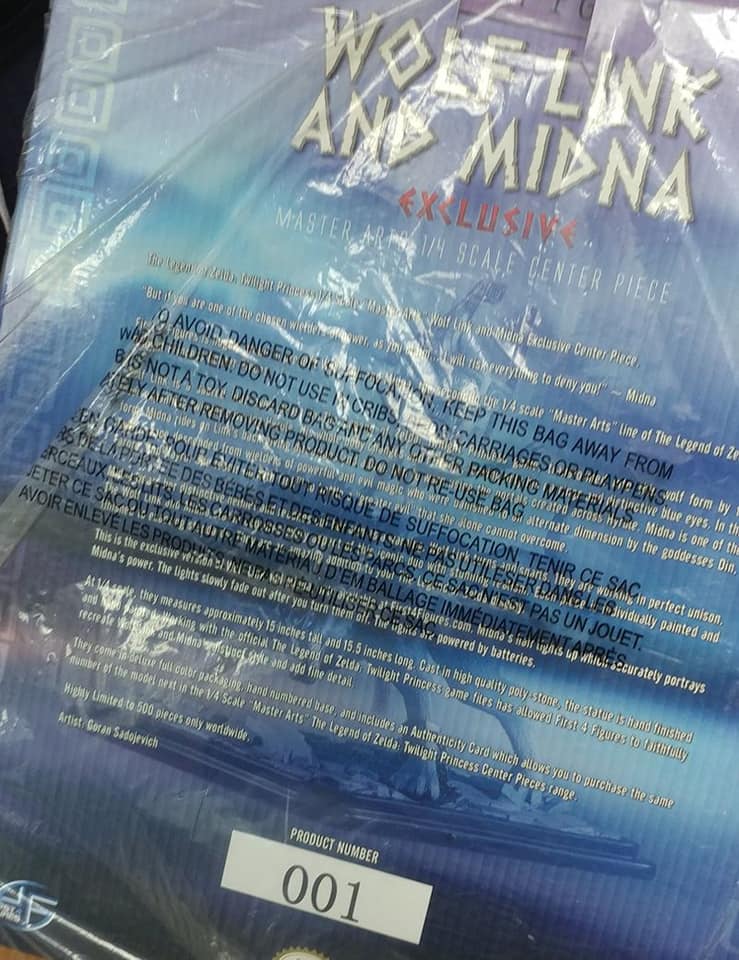 As the company grows slightly bigger, it's becoming more difficult to predict the cancellation rate, so Alex ran a

poll

asking people why they cancel their pre-orders, which could also help him think of ways to address the causes.
Has anyone seen F4F's announcement blog posts and teaser videos published one week prior product launch date? Alex and Chockles think that these have been helpful with bringing awareness outside of the Club. What are your thoughts on these? Let us know in the comments section below.
PRODUCTION VIDEO EXCLUSIVES
(NOTE: You need to be a member of the Official Collectors Club to view these videos.)
FIRST 4 FIGURES' TEMPTATION THURSDAYS (TT) POLL
Last week's Captain Falcon from the F-Zero series TT Poll #100 Results: 223 YES votes / 162 NO votes
This week's Shulk from the Xenoblade Chronicles series TT Poll #101 Results: 275 YES votes / 158 NO votes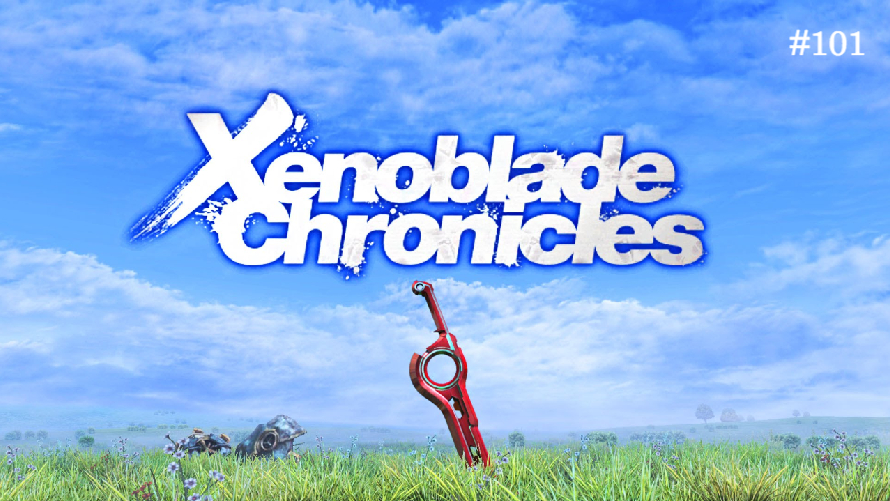 Next TT polls will be (in this order): ANIMAL CROSSING ➔ EARTHBOUND ➔ VAGRANT STORY
The four winners of last week's #F4FBIDNA are GABRIEL GUTIERREZ, HOBIE ISON, MICHAEL WRIGHT, and LUCINDA CHARLES.
There's no reason why F4F cannot revisit a TT poll they've already posted about in the past with a suggestion of a different character next time around.
VARIOUS CHARACTER & PRODUCT LINE UPDATES
AMATERASU PVC UPDATE: A poll will be posted in the

Club

asking if the accompanying resin piece should in 1/3rd or 1/4th scale. Pre-orders to hopefully open by the end of this year but there are many factors involved with this.
Both Rider Link and Sheikah Slate will be made out of resin material.
ŌKAMI UPDATE: Currently, Ninetails is leading in Alex's

character poll

.
CRASH (RESIN) EDITION SIZE: 675 for the Exclusive version
KAMINA UPDATE: Was followed up on during the live stream; hopefully, more news next week
MIMIC UPDATE: Pre-order estimated to be in a couple of months
SUPER DEFORMED (SD) LINE UPDATE: Currently working on two other SD characters apart from Dragon Slayer Ornstein SD
MARIO ON YOSHI UPDATE: Printing process possibly next week; estimated to go up for pre-order between Q4 2018 and Q1 2019
MARIO UPDATE: Given the results of Alex's character poll, Alex will soon look into the possibility of Donkey Kong.
SOULCALIBUR UPDATE: Most likely not going to time a statue pre-order with the release of Soulcalibur VI, whenever that may be
SONIC THE HEDGEHOG BOOM8 SERIES 2 UPDATE: Meeting with GNF Toyz next week
SONIC AND TAILS DIORAMA UPDATE: Already done in 3-D and awaiting on the licensor's feedback; if given the approval to go into the next stage, Alex will celebrate with a sneak peek
SHEIKAH SLATE UPDATE: Will be submitted to Nintendo for approval next week; will go up for pre-order between the True Form Midna and Rider Link pre-orders
MAJORA'S MASK UPDATE: All remaining statues will soon be on the boat since F4F already received the bill from the factory.
DANTE UPDATE: Coming along nicely
Nothing to report on the Yakuza line
PHOENIX WRIGHT UPDATE: Pretty much finished and will be submitted soon
ARTORIAS THE ABYSSWALKER SD UPDATE: Estimated to be in people's hands this July
Still working on the F4F Cardholders
Sonic 25th Anniversary is part of the Sonic the Hedgehog Diorama line.
SILVER THE HEDGEHOG UPDATE: Final batch hasn't started production yet.
They might have to push back the 50k Reveal to a later time because t

hey want to keep the time between a license announcement and the launch of its first product at a minimum.

AMATERASU PVC UPDATE: Coming along very nicely
F4F will look into making F4F pins and patches.
THE LEGEND OF ZELDA UPDATE: Drought is hopefully over and will try to release, without any guarantees, 2-3 statues per year
Nothing to report on Morrigan Aensland
AIKA UPDATE: They feel that there is still a general

lack of support

for her, so they haven't bothered looking further into specifics.
Won't be finishing the production run for Amaterasu Life-Size Bust
ALPHONSE UPDATE: Changes needed have something to do with the paint; after tweaks, will be submitting pictures to the licensor for approval; will most likely be their most expensive piece upon release
LAW UPDATE: Recently sent to Bandai Namco for approval; will re-open for pre-orders once they have their approval; will think about the particulars of the re-opened pre-order period when the time comes
JIN KAZAMA UPDATE: Chances of waitlists converting are high.
DRACULA UPDATE: Will be sorted out soon
SOLAIRE OF ASTORA UPDATE: Production not yet finished
CRYSTAL DRAGON UPDATE: Alex wasn't happy with the results after seeing it in the office last week, so it's getting changed.
BANJO & KAZOOIE UPDATE: Pre-order delayed until the franchise's 20th anniversary
THE GREAT GREY WOLF SIF UPDATE: Currently working on the production molds
AMY ROSE UPDATE: Currently working on Alex's great idea
FIGHTER KIRBY UPDATE: Currently making the new batch now and have addressed the issues in this new batch
Nothing to report on Bayonetta
GUTS THE BLACK SWORDSMAN UPDATE: Images of the final product (with the changes already included) will be posted when available.
DR. NEO CORTEX UPDATE: Estimated to go up for pre-order towards the end of this year
SKULL KNIGHT UPDATE: Sneak peeks possibly in a month or so
ZERO UPDATE: Pretty much done; could possibly go up for pre-order in 3-4 months
TRUE FORM MIDNA LAUNCH
This week's hashtag is #F4FTFM for a chance to win 500 reward points.
True Form Midna's launch took this long because they wanted to receive Nintendo's approval first to be allowed to go into production to avoid having to make changes that will need reapproval. Hence, once the pre-order period closes, she can easily be queued up to go into production.
Ultimately, the majority

voted for

the official name to be, "True Form Midna".
Alex thinks that

Majora's Mask

will still be their best-selling piece even after launching True Form Midna. However, he would love to be proven wrong.
Alex started receiving requests for a True Form Midna statue as early as when Kanako, Alex's wife, was still the one responding to Customer Service e-mails. He seriously started looking into it in October 2015, opened the Club in January 2016, and it was after seeing the activity in the

Club

that he decided F4F was going to make a statue of True Form Midna.
Zant was the first statue from the Legend of Zelda: Twilight Princess line and everything else that followed and will follow after him was and will be in scale.
The original True Form Midna design was based on the Hyrule Warriors video game, but that was eventually Vaulted because it wasn't canon.
It was difficult for them to translate a natural-looking standing pose onto her because people have already become too accustomed to what a standing pose should look like as it is part of a day-to-day occurrence. This concept is called the uncanny valley. To surpass this challenge, they played around with the smallest details such as the eyes, the positioning of the arms, and the material and flow of the cloak as examples.
They added textured dotted patterns all over the statue to give it more depth.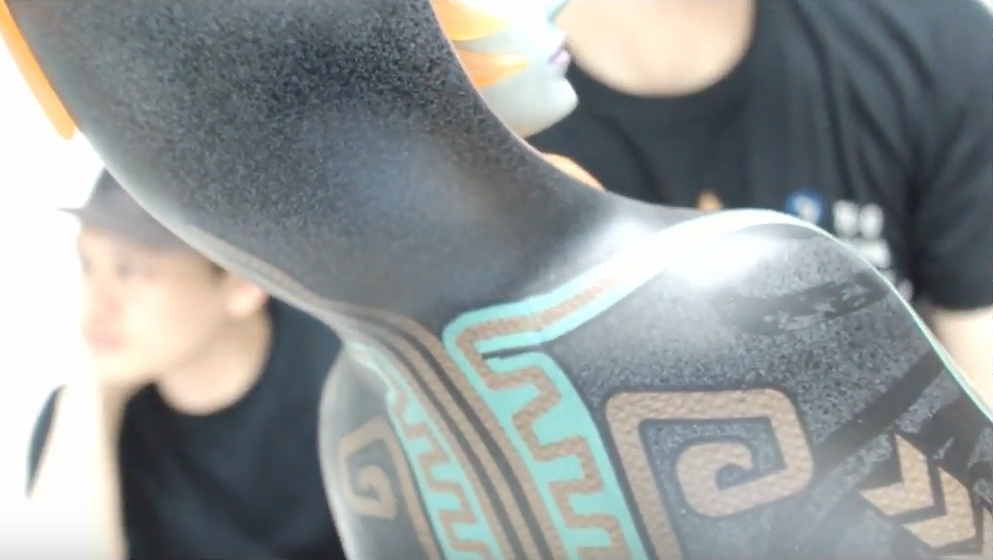 The decal patterns on her cloak were so difficult to apply that it took them more than five attempts to perfect.
Nintendo personally requested F4F to add a line that goes down along her abdomen to add definition.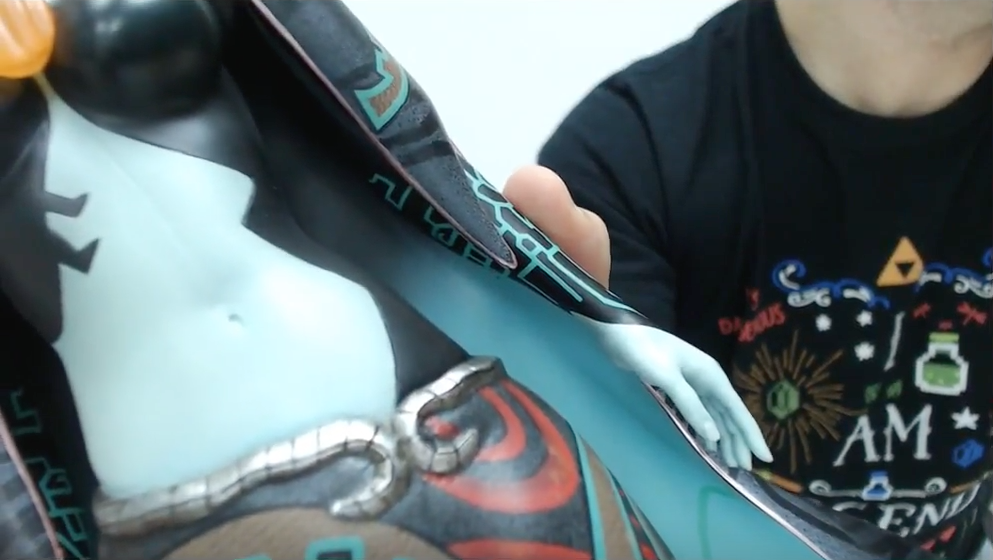 The pink cloak lining they almost forgot to include is accurate to the game.
All the green detailing around the statue are painted on with glow-in-the-dark ink.
They will be painting the leg underneath the cloak black to be more accurate to the game.
The details on the Twilight Mirror base are all painted by hand with UV-reflective paint.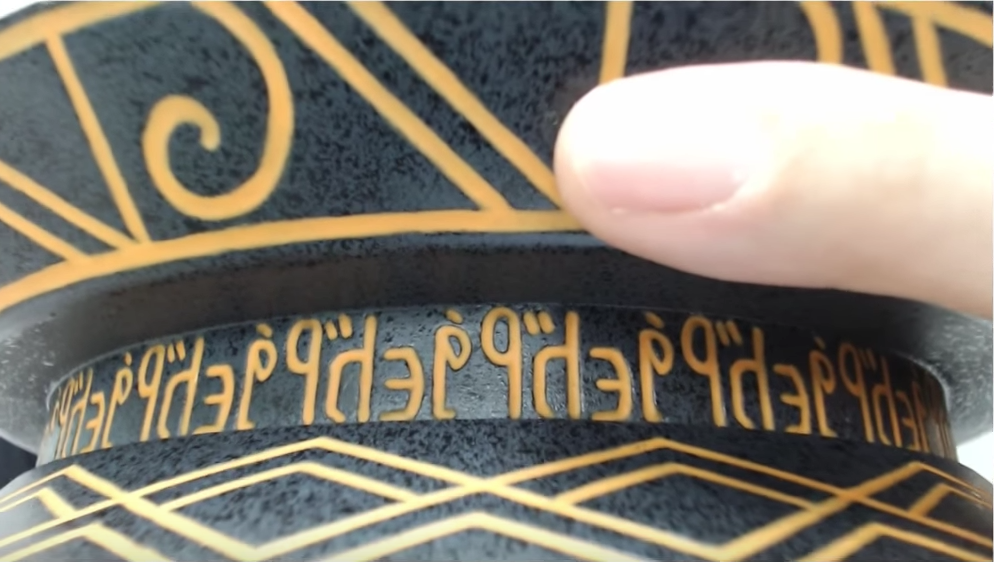 The Exclusive version comes with an LED light feature for her hair.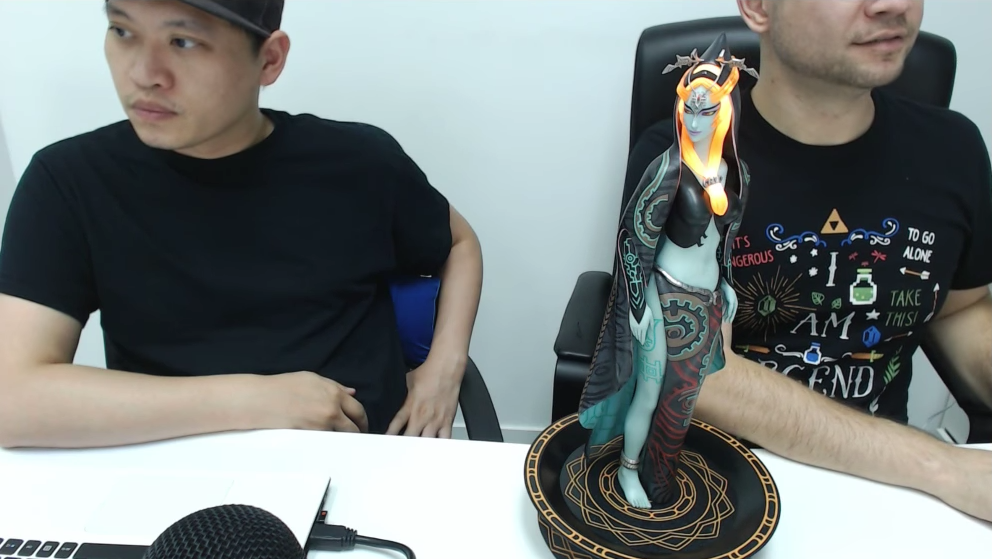 Both the Regular and the Exclusive versions cost USD 484.99 + shipping.
TRUE FORM MIDNA (DEFINITIVE EDITION) UNVEILED!
The Definitive Edition comes with a rotating base, a custom-made glass case containing eight UV spotlights, and a remote control to activate all the electronic features to avoid having to reach into the case repeatedly!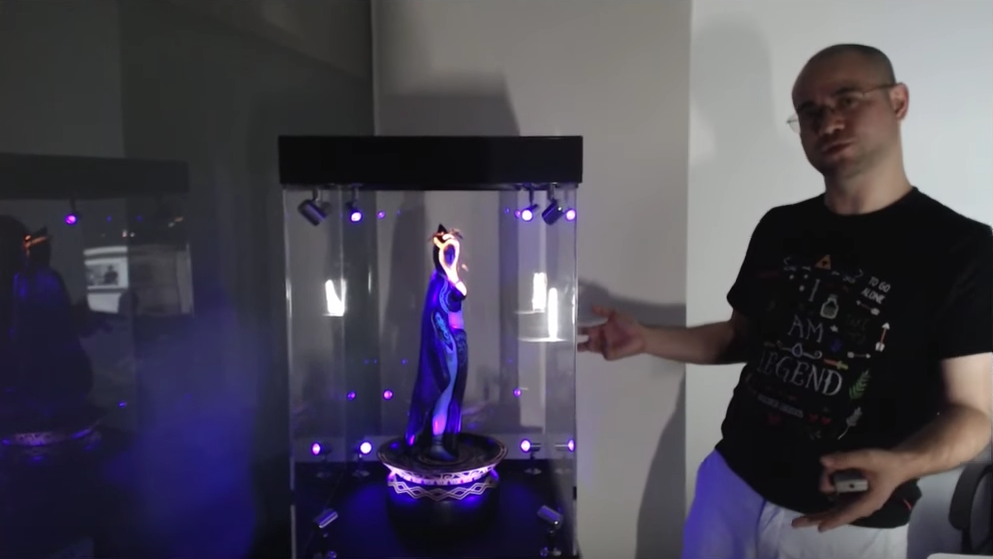 The Definitive Edition is a package that enhances True Form Midna as a whole.
A portion at the very bottom of the Definitive Edition base might have to be made out of plastic for functionality purposes, specifically to help with the rotating of the base.
The top and bottom of the case will have a very subtle glossy effect indicating the product's name and the F4F logo.
They will tweak the rotation of the base so that it spins towards the correct direction.
The cost to make the case was the same cost to make the statue, but F4F is subsidizing the majority of this for now since it is the first one and is still a learning process for them.
The Definitive Edition costs USD 784.99 + shipping.
The statue numbers for the Exclusive and Definitive Edition are in one pool.
Cases can be something they could sell as a separate and more generic piece in the future. The way they see it, the F4F display cases could only get better from here on out. They are already finding ways to improve every aspect of it.
For more information on True Form Midna and how to place your pre-orders, kindly click HERE.
OTHER TOPICS
Princess Zelda

was their first statue for pre-order from the Legend of Zelda: Twilight Princess line and that was more than four years ago. It was for this production that Alex hired the company's first QC team member.
Alex's Escaflowne poll did not receive much traction.
Alex will attempt their Transit Test on a single-boxed statue.
Alex will be playing some Roulette and Blackjack during his trip to Las Vegas.
The licensors in attendance during the Las Vegas Licensing Expo aren't necessarily gamers or anime enthusiasts themselves.
They are taking their New York Comic Con 2017 experience and will be applying it to more game and anime-related events such as Gamescom 2018 in Germany and Ani-Com 2018 in Hong Kong. They are still unsure about the particulars of how to go about selling merchandise during these conventions.
The team is already too busy preparing the marketing materials necessary for each product launch that they do not have the time to produce other things they've been wanting to do such as unboxing videos, guides, etc.
Alex thinks that a Helmetless Samus Varia Suit statue would be cool.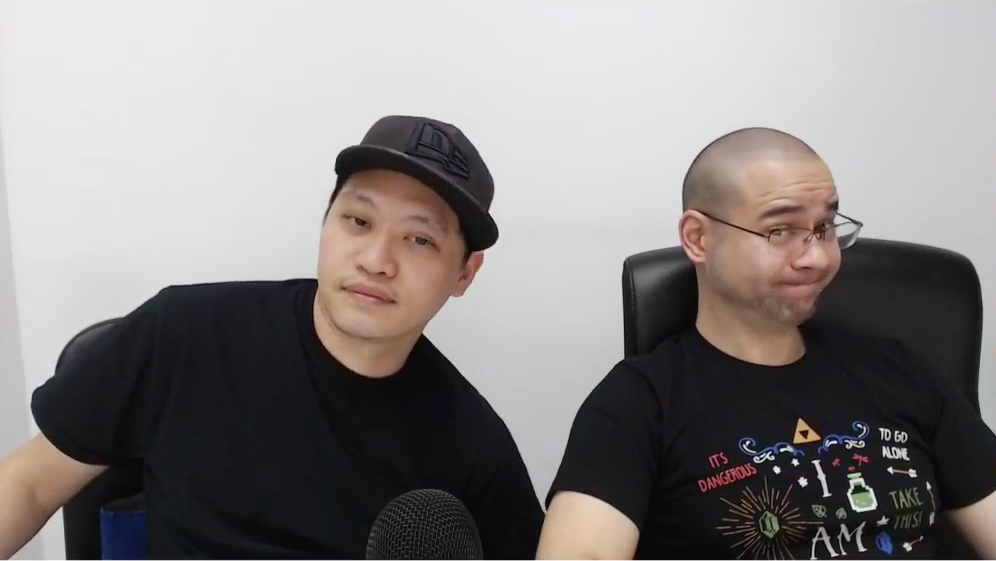 Alex will only look into the Vault if he sees significant rallies for something Vaulted during F4Fundays.
Nickelodeon has denied Alex twice in the past for the Avatar license.
For those who do not know, F4F does have a few Legend of Zelda: Ocarina of Time statues, but these went up for pre-order a while back.
F4F already talks to Nintendo about what they want to produce before renewing their contract to avoid disorienting the licensor with multiple suggestions in the future.
Alex hasn't seen Avengers: Infinity War yet; Chocks has.

No certainties just yet but Alex is hoping to one day make a 1/4th scale Link from the Legend of Zelda: Twilight Princess.

Alex played The Legend of Zelda: Twilight Princess on the Wii; Chockles played it on the Gamecube.
It will never happen that production will start first before launching pre-orders because changes and tweaks have to be considered.
Unlicensed products are illegal and are subject to copyright infringement.
Chocks doesn't want any souvenirs from Alex during his trip to Las Vegas.
On the NieR: Automata license: "It's complicated." – ALEX DAVIS
F4F currently has four factories working for them, and they could possibly add more in the future for as long as it's still manageable.
Sending replacements are cheaper for the company as opposed to hiring a designated statue "repairman" in each region.
Alex doesn't have relatives that own F4F statues, and this makes him sad.
Nothing to report on Persona 5
Rewards points earned from pre-orders are based on the tier the pre-order completes.

Read more

Alex could run a poll to gauge people's interest on a Berserk prop line.
WHO DAT WHO DAT: This week's Who Dat Who Dat was postponed to next week to make way for the True Form Midna launch. They will choose four winners next week.
---
To view everyone's questions from the Q&A portion of this episode, please click HERE.
If you want to have your questions answered by our very own Chocks and Alex, simply search "Chocks and A" in the F4F Official Collectors Club Facebook group and leave your questions in the comments section of the most recent thread prior the upcoming live stream. This thread is posted every Thursday of the week.
If you wish to watch the entire video:
---
Last Update
2018-06-10 22:54:50