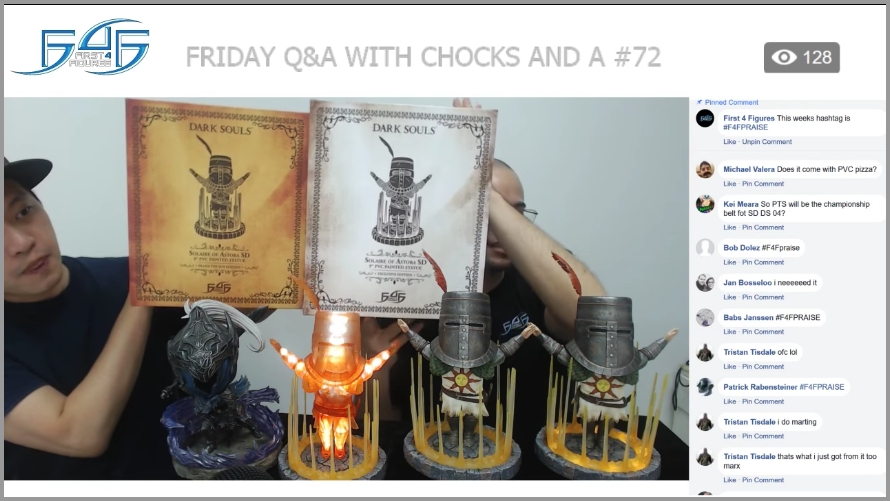 This is a breakdown of the important (and not so important) topics of last Friday's (June 1, 2018) Friday Q&A with Chocks and A #72.
---
REMINDERS
Solaire of Astora SD pre-orders will go live right after this stream!
True Form Midna is still open for pre-orders until 12 June 2018.
Because the two Exclusive variants combined didn't reach 1,000 pieces in sales during the initial 2-week pre-order period, Guts: The Black Swordsman pre-orders will remain open until it hits its target or until before production starts. (UPDATE: 619 pre-orders as of 1 June 2018)
Shiranui pre-orders are now closed. Thank you so much for all your support! You can still jump on the

waitlist

for a chance at pre-ordering this figure if you already haven't.
LAS VEGAS WEEK IN REVIEW
Rest in peace, Mini Chocks.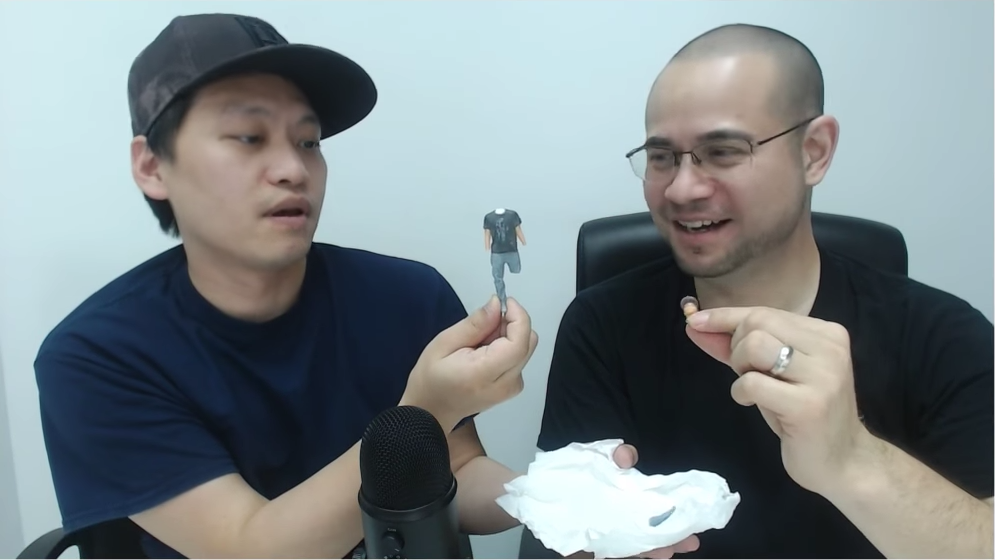 Alex is still jet-lagged from his Vegas trip.
A recap of the Las Vegas Licensing Expo 2018 can be found

HERE

.
Shoutout to Mr. Bang H Le for accommodating Alex and his partner, John, throughout their trip.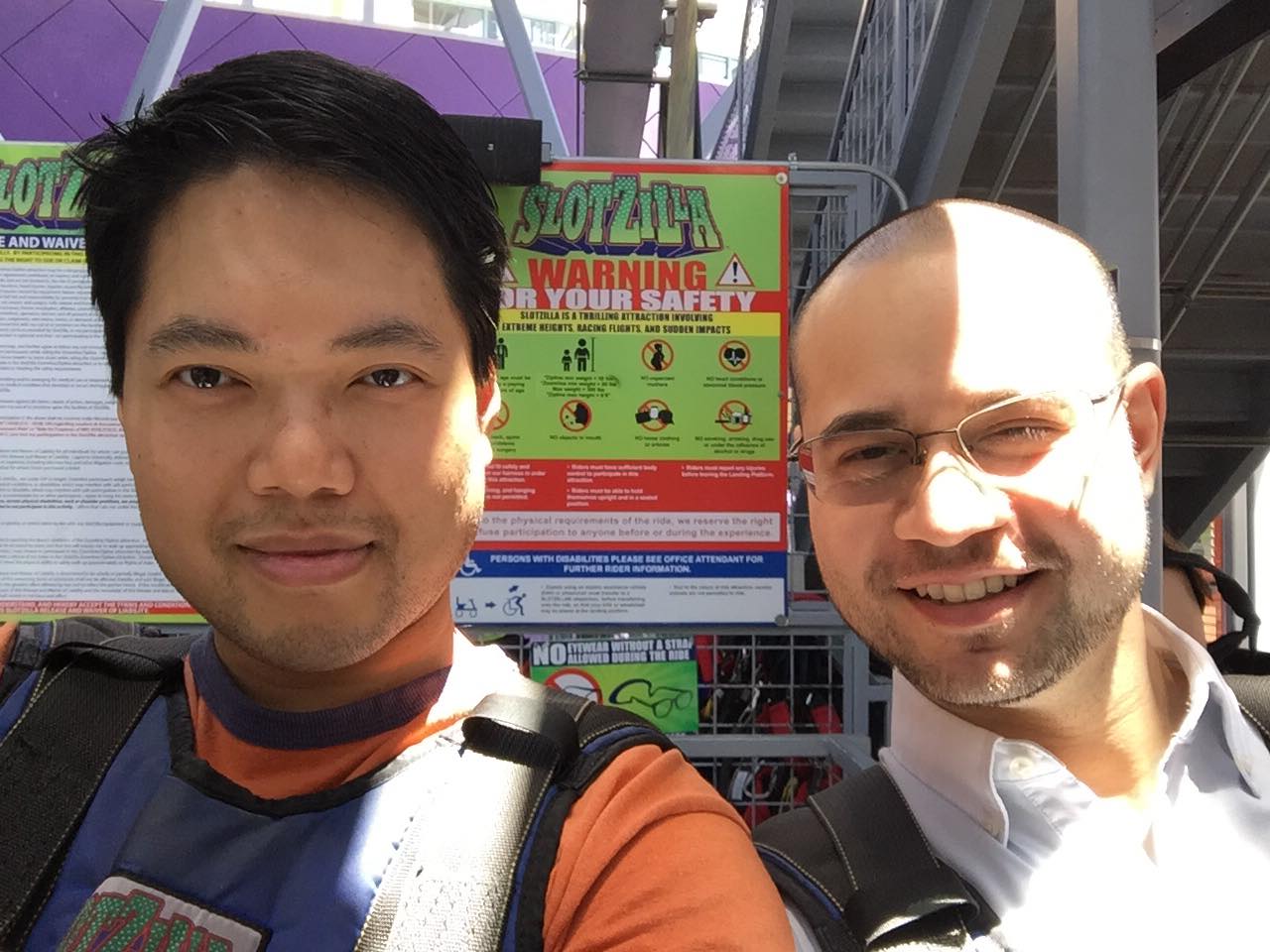 This is Alex's third time in Vegas. Normally, he would just fly in and out of Vegas for the expo. It was nice, for a change, to have an extra day before and after the expo to explore Vegas.
Apart from Bang, Alex also got to meet two other members of the

Official Collectors Club

, Sarah and Chad. It was sobering for Alex to meet them because it made him realize that the people in the Club are real.
Alex made a

poll

for Sarah asking if anyone would be interested in Trinity Blood. Sarah, rally the fans!
There are a couple of tee-hees that came out of that expo. As a result, F4F will be busier now more than ever.
Alex took the time to express how thankful he was to be allowed to use the pre-order system as a business model for F4F because this allows the company to expand in the safest way possible.
The expenses being paid for now (i.e. wages, developments, expansions, etc.) are being funded by last year's pre-orders. This means that if they end up with bad months now, they have enough time to come up with contingency plans for the future.
Aniplex and Crunchyroll were surprised with how quick the poll votes and comments were coming in and how what they thought were going to do well versus what did do well weren't the same. These were very helpful during their meetings.
During the expo two years ago, Alex asked the Club if they would be interested in the Silent Hill license, but it didn't receive much traction. They made a TT poll for Pyramid Head months later, but it still lacks enough Yes votes. This year, Alex asked the

question

again during the expo and received much more support for it this time around. Alex would like to see around 700-800 Yes votes before he starts looking into it.
Alex's Vegas Bang-ventures: Shooting guns, eating in the Heart Attack Grill, trying out the SlotZilla Zip Line (even though he's afraid of heights), seeing wild F4F statues for the first time, visiting the Pawn Stars pawnshop, and visiting the Bangsion and crushing Mr. Bang in Soulcalibur II 8-0 using a plethora of different characters (Bang not bad; Alex just on a whole nother level)
WEEK IN REVIEW
A lot of people have been receiving their Majora's Mask statues.
The

Official Collectors Club

now has over 48,000 members! Welcome everyone, and enjoy your stay!
Alex ran a

poll

asking Club members if they would be interested in the idea for F4F to release the same statue in 1/4th scale and 1/6th scale at the same time. However, there are a few things that Alex didn't think about until recently:

Alex believes that the era of completists is over, and although he has the utmost respect for them, he thinks that it's almost impossible to become one nowadays because of the price of things. There's probably still a select hardcore few, but Alex feels that majority of the Club members only purchase what they like.
There are development-related concerns to consider as well. For example, Alex thinks that the engineering behind Varia Suit's shoulder lights would be impossible to pull off on a 1/6th-scale statue.
Alex would also never create a true 1/4th-scale statue of characters that are significantly bigger in comparison to the other characters already in the line. For example, how big would a true 1/4th Artorias or Sif be to be in scale with a 1/4th Solaire? How would the 1/4th guys feel if they were forced to purchase a 1/6th?
Chockles' concern is that if one scale continues to dominate the other in terms of sales after consecutive releases, would it still be worth it to produce the inferior-selling scale?

Shoutout to the folks over at Animegami, a UK-based retailer, for showcasing F4F's Guts: The Black Swordsman (Regular) in their booth during the MCM Comic Con 2018. They also gave it away to a lucky member of the Official Collectors Club. Congratulations, Ricky Underdog Powell!
TEMPTATION THURSDAYS (TT) POLL
The other week's Villagers from the Animal Crossing series TT Poll #102 Results: 246 YES votes / 175 NO votes
Last week's Ness from the EarthBound series TT Poll #103 Results: 199 YES votes / 135 NO votes
This week's Ashley Riot from the Vagrant Story series TT Poll #104 Results: 67 YES votes / 135 NO votes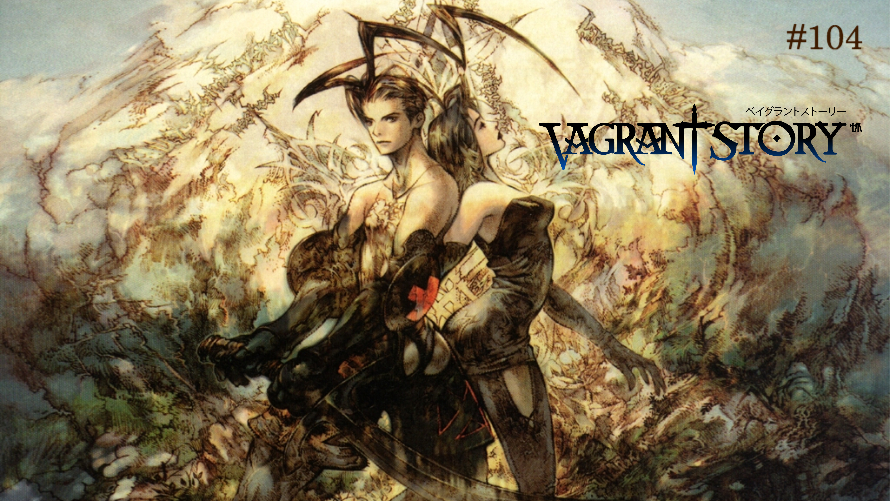 Next TT polls will be (in this order): ZONE OF THE ENDERS ➔ ROCKET KNIGHT ADVENTURES ➔ SAILOR MOON
The three winners of #F4FKOTR from two weeks ago are LARRISA WALKER, VICTOR CARRILLO, and BOB DOLEZ.
Alex hopes to see EarthBound make a come back during E3 2018 so that people can rally the fans on the TT poll.
CONCLUDED –

Match #1

: Monkey King with 91 votes vs. Zora Tunic Link with 269 votes (WINNER)
ONGOING –

Match #2

: Artorias the Abysswalker with ~1,100 votes vs. Shadow the Hedgehog with 529 votes
NEXT – Match #3: Ryo Hazuki vs. Lucky Cat Mario
PRODUCTION VIDEO EXCLUSIVES
(NOTE: You need to be a member of the Official Collectors Club to view these videos.)
VARIOUS CHARACTER & PRODUCT LINE UPDATES
Alex's tee-hees from the past two weeks:
ARTORIAS THE ABYSSWALKER SD UPDATE: Factory given the green light to proceed to the packaging stage; Alex finished signing the Day One Edition cards
TAKI UPDATE: Alex recently inspected ten pre-production samples. There were some issues that he spotted that need addressing first before they can proceed with mass production.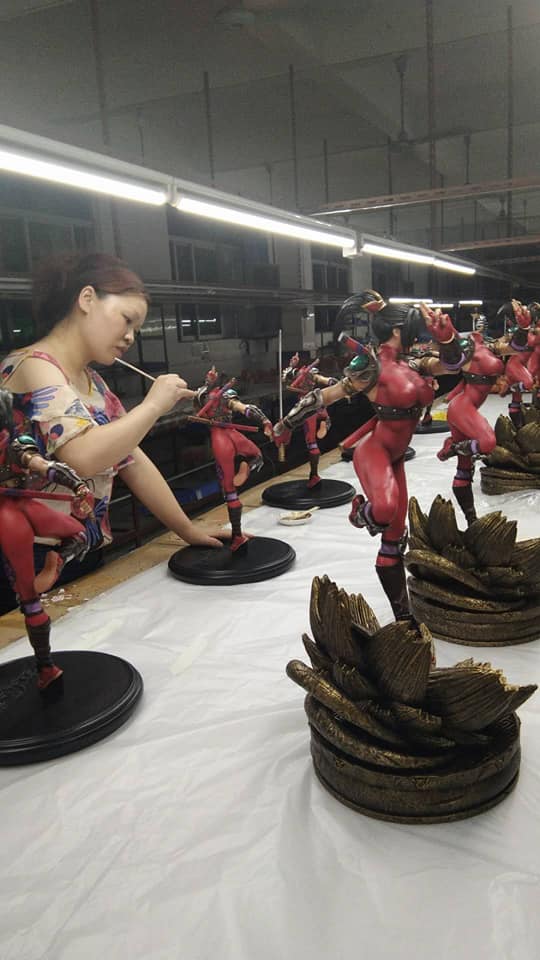 CRASH (RESIN) UPDATE: Significant improvements to how the eyes connect to the head and how the Wumpa Fruits sit on the base
ALUCARD UPDATE: Still some few minor tweaks but Alex signed off on the basicness of the statue
ZERO UPDATE: Head will be revised completely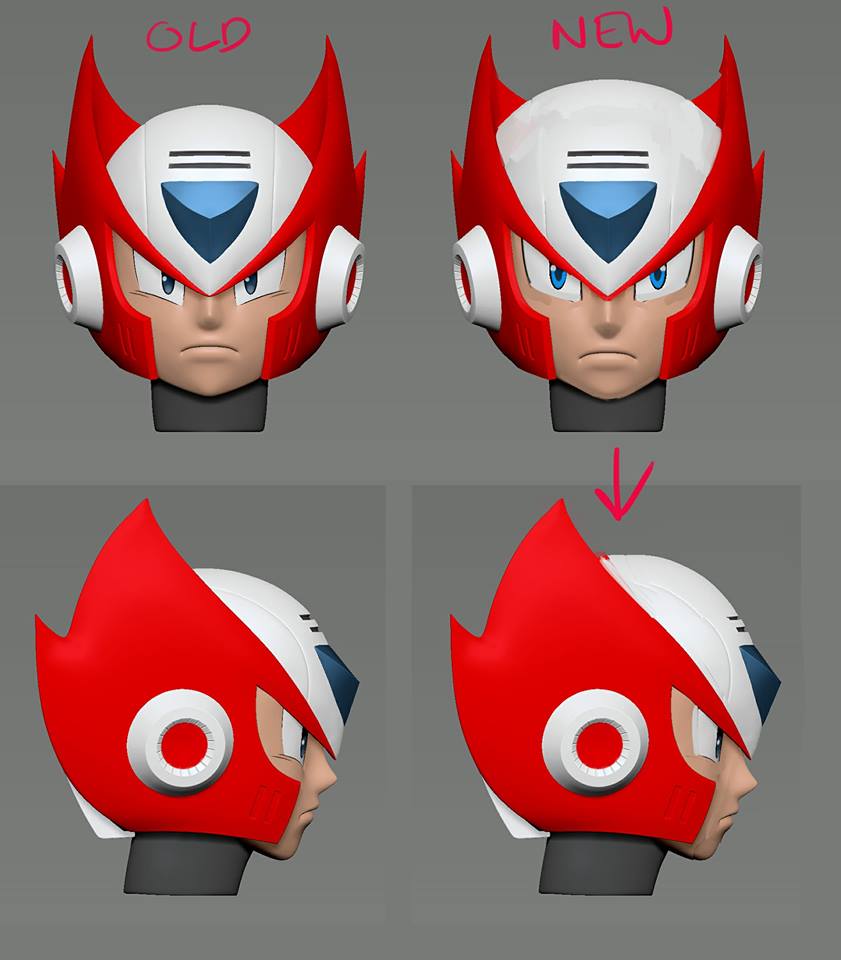 META RIDLEY UPDATE: Alex just saw the prototype and is looking really tight
PSYCHO MANTIS UPDATE: Pre-orders this year
KAMINA UPDATE: Submitted to the licensor
SKULL KNIGHT UPDATE: Once they get to the physical stage, Alex will start sneaking the 3-D stage.
COWBOY BEBOP UPDATE: Pre-orders very soon, around the time of the 20th anniversary
MARIO ON YOSHI UPDATE: Already in the physical; pre-orders possibly towards the backend of this summer
DRAGON SLAYER ORNSTEIN SD UPDATE: Pre-orders later on in the year
SOLAIRE OF ASTORA UPDATE: Already deep in production; pictures and videos soon
SONIC 25TH ANNIVERSARY UPDATE: Will be wrapped up possibly in 2-3 weeks' time
AMATERASU LIFE-SIZE BUST UPDATE: Production full steam ahead once Sonic 25th Anniversary has wrapped up
SHIRANUI UPDATE: Alex still needs to look into the suggested changes.
BANJO & KAZOOIE UPDATE: Pre-orders around the time of the 20th anniversary
RIDER LINK UPDATE: Pre-orders possibly late this year; Alex saw it in the flesh, and it looks amazing; will possibly have a variant; as per Nintendo's decision, it will not include the Master Sword as they feel that the Traveler's Sword is more representative of Breath of the Wild
DARK SOULS UPDATE: Mimic will be the next Dark Souls pre-order.
DRAGON SLAYER ORNSTEIN UPDATE: Hopefully in the marketplace this Q4 2018
There will be a resin version of the Amaterasu PVC. Alex is still unsure whether it will be in 1/3rd or 1/4th scale. He will run this by the Club.
ALPHONSE UPDATE: Still awaiting the response of the licensors from Japan; Alex will follow this up
THE LEGEND OF ZELDA OCARINA OF TIME UPDATE: Current scale will only continue in PVC form
Alex showed Sarah something in Vegas; pre-orders for this mystery product possibly by the end of this year
DARKSTALKERS UPDATE: Pre-orders possibly at the end of this year
MARIO ON YOSHI UPDATE: Printing
PHOENIX WRIGHT UPDATE: Alex recently saw him and looks really good; there will be a Definitive Edition.
YAKUZA UPDATE: There could be a Definitive Edition for Kiryu if they decided to make him.
No sneaks of Sheikah Slate until it's been approved.
METROID UPDATE: Unsure if the next Metroid statue will be announced before or after the Meta Ridley pre-order
THE GREAT GREY WOLF SIF UPDATE: Replacements currently underway
The Sheikah Slate will be part of F4F's Legend of Zelda Life-Size Replica line.

No Aika updates.
SONIC AND TAILS DIORAMA UPDATE: Making some tweaks
Pre-orders for Spike Spiegel will come first before Alphonse Elric.
No plans for a Berserk diorama as of the moment.
Berserk SD is something they've considered, and Alex would love to explore that more.
Berserk character poll coming after Skull Knight launch
GRAVELORD NITO UPDATE: Probably the same height as Dragon Slayer Ornstein
Fierce Deity Link is the only possible remake simply because the fans rallied for it.
DRACULA UPDATE: Need to work on the head
GRAY FOX UPDATE: Estimated to go up for pre-order Q1 2019
ACE ATTORNEY UPDATE: If Phoenix Wright does well, it makes sense to go with Miles Edgeworth next.
SOLAIRE OF ASTORA SD LAUNCH
This week's hashtag is #F4FPRAISE for a chance to win 500 reward points.
It is still to be determined what people's Solaire of Astora SD statue numbers will be considering they have yet to receive and authenticate their Artorias the Abysswalker SD statues.
Even though it's made out of PVC material, the details and quality of it are that of a resin statue.
They added two platforms on the base to help the statue keep its pose and prevent it from bending over time.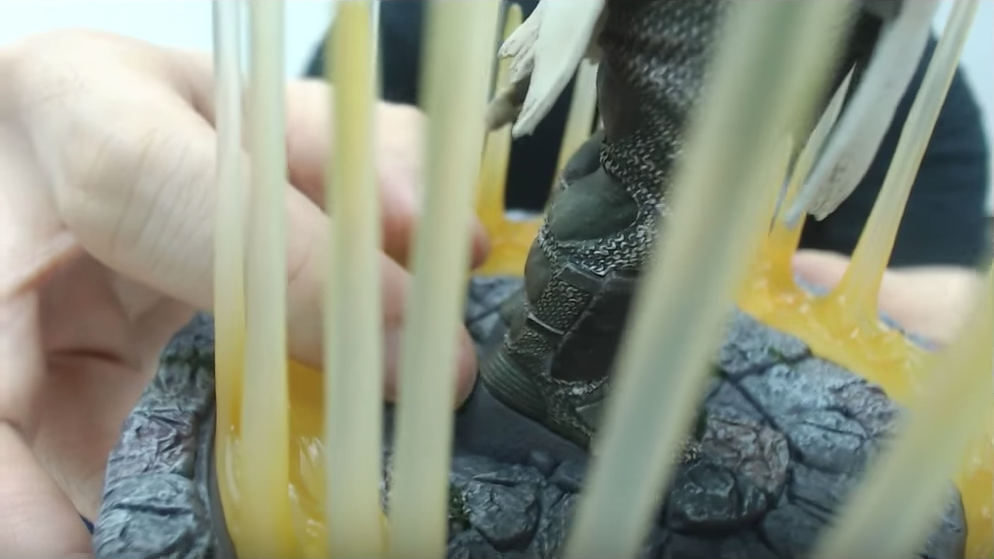 Artorias the Abysswalker SD and Solaire of Astora SD look great next to each other. From the boxes alone, you can immediately tell that they're from the same range.
Solaire's box is taller than Artorias' box because the Solaire statue is 9-inches tall while the Artorias statue is only 8-inches tall.
The Exclusive version comes with premium packaging and a thicker LED base with two modes – a Static Mode and an Animated Mode.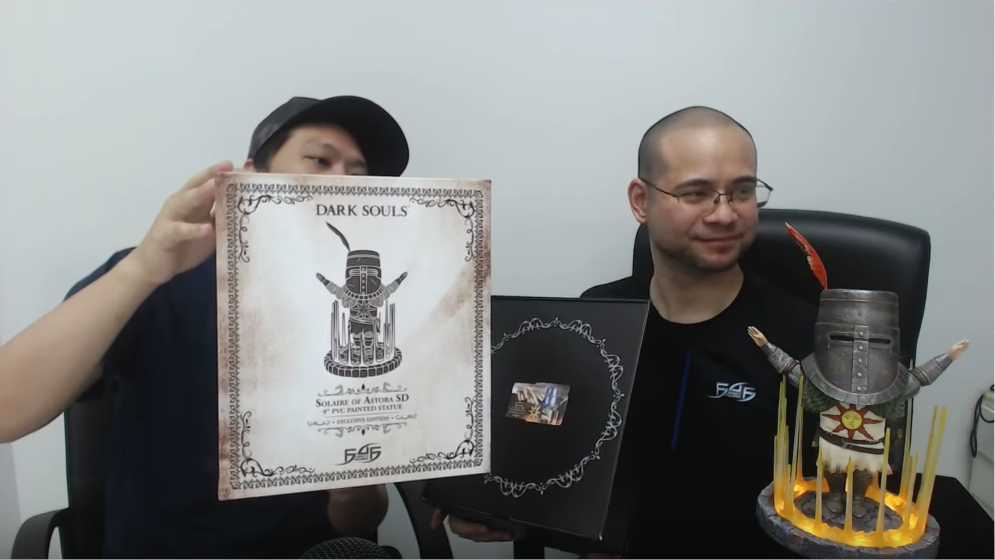 The non-refundable deposit will be 20% of SRP, and the Exclusive version costs USD 99.99 + shipping.
Unlike the Artorias the Abysswalker SD, the Solaire of Astora SD pre-order will only have up to a maximum of nine (9) months Flexipayment terms. The turnaround time for these SD statues is about 4-5 months, which means they will have to hold onto these for an additional seven months for those on a 12-month Flexipayment plan. This is what they want to avoid.
SOLAIRE OF ASTORA SD (PRAISE THE SUN EDITION) UNVEILED!
Apart from the difference in color, another difference between the Praise the Sun Edition and the Exclusive version is that Solaire's body in the Praise the Sun Edition also has LED features.
For the Animated Mode of the Praise the Sun Edition, they will tweak it in such a way that the aura will slowly light up first, followed by Solaire's body from the foot going upwards 4-5 seconds after, before it slowly begins to fade out starting with the aura.
The premium packaging, the artbox, and the leaflet of the Praise the Sun Edition will also be a different color in comparison to the Exclusive version.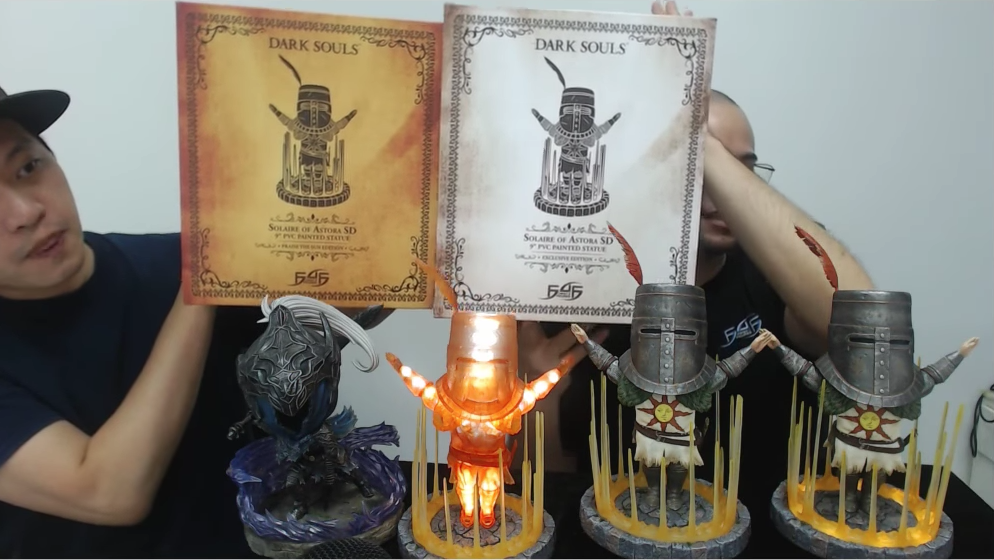 The Praise the Sun Edition also costs USD 99.99 + shipping, while the Combo Edition costs USD 184.99 + shipping.
The F4F logo on the Exclusive version will be SD 002 | DS 002, while the Praise the Sun Edition will be SD 003 | DS 003.
The Exclusive versions and Special variants of all SD lines are numbered; the Standard versions aren't.
Estimated release date: Q3 2018
For more information on Solaire of Astora SD and how to place your pre-orders, kindly click HERE.
Lastly, in line with this Dark Souls launch, Bandai Namco was generous enough to provide TEN (10) copies of the Dark Souls: Remastered game to be given away, five of which will be for the PlayStation 4 and the other five for the Xbox One. Stay tuned for more details!
OTHER TOPICS
Chocks' favorite era of video games are from the retro period.
Nothing to report on the Yu-Gi-Oh! license
Metal Gear REX? "We shall see." – ALEX DAVIS
Even though there wasn't a Friday Q&A during the Vegas week, Chocks didn't have a day off.
Macross/Robotech and Resident Evil did not come home with Alex from Vegas.
Alex cannot go into specifics when it comes to their meeting with Nintendo in Vegas, but there will be more meetings in the future since the time during the expo was too short.
Alex confuses himself quite often recently.
A 1:1 scale Imp Midna would probably be waist-tall.
Majority of the statues that F4F will bring to Gamescom 2018 are statues that are either already in the marketplace or have already gone up for pre-order.
On the Disney licenses: Not a "never" but not right now because F4F currently lacks the resources
Alex watches all the conferences during E3.
Alex and Chocks ended up muting the stream when asked about the NieR: Automata license.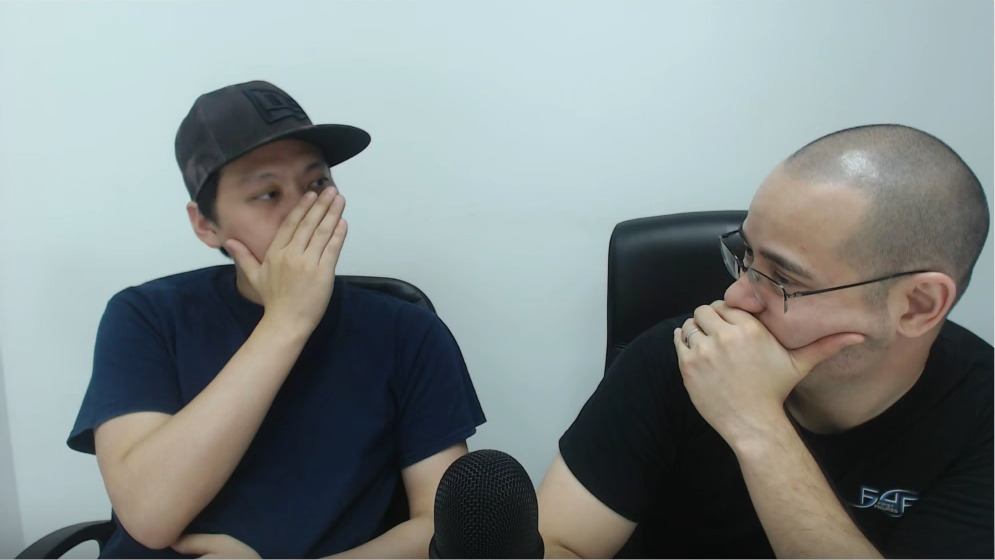 Alex is looking forward to playing the Dark Souls: Remastered on the Nintendo Switch.
If you want something taken out of the Vault, it will need a lot of support.
Estimates on the

shipping calendar

are for warehouse arrivals.
Alex believes that all the swords in their Legend of Zelda pieces that are already in the marketplace are all diecast.
Alex could try contacting the Darksiders licensors again if the Yes votes on the

TT poll

continue to increase.
Alex did not try to meet with Nickelodeon during the Licensing Expo.
In Vegas, Alex lost USD 100 very quickly on Blackjack and won USD 9 on the electronic gambling machines.
Chocks will need to think about what his royalty rate will be if F4F were to make Mini Chocks figures.
Low sales for Modern Sonic could affect the entire Modern Sonic line even if there are others already in development such as Modern Amy Rose
Ōkami plush is a possibility, but Alex wants to establish their PVC lines first before looking into plush.
Alex was very satisfied with the Vegas trip, and he enjoyed every bit of it.
One Piece or Naruto? "Not right now." – ALEX DAVIS
The 50k Reveal is a future Alex problem.
The Licensing Expo is a chance for F4F to present what they have to different members of the licensor's team.
Statue defects may be caused by environmental changes. All their statues are always assembled first for inspection before being packed.
If you want to see something from Attack on Titan, rally the fans. The

TT poll

isn't doing very well.
The Bangsion is as grandiose as the rumors suggest.
There was no Persona 5 meeting in Vegas.
Alex wasn't expecting to see scenes from the Sonic the Hedgehog movie during the expo, and he feels very honored at the opportunity.
There isn't an automated way to extract TT voter's information from Facebook.
Rally for anything you want during Fundays.
Nothing to report on Pokémon
There were a lot of product suggestions that were rejected during the expo.
If you do not finish your meal in the Heart Attack Grill, the waitresses will literally spank you hard with a paddle.
WHO DAT WHO DAT: This week's Who Dat Who Dat was postponed to next week to make way for the Solaire of Astora SD launch. They will choose four winners next week.
---
To view everyone's questions from the Q&A portion of this episode, please click HERE.
If you want to have your questions answered by our very own Chocks and Alex, simply search "Chocks and A" in the F4F Official Collectors Club Facebook group and leave your questions in the comments section of the most recent thread prior the upcoming live stream. This thread is posted every Thursday of the week.
If you wish to watch the entire video:
---
Last Update
2018-06-10 22:51:31