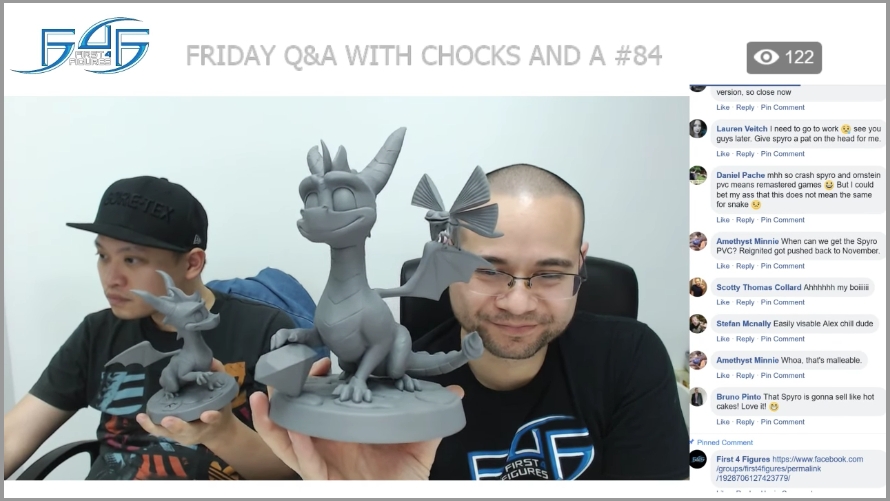 This is a breakdown of the important (and not so important) topics of last Friday's (August 31, 2018) Friday Q&A with Chocks and A #84.
---
REMINDERS
SPIKE SPIEGEL is still open for pre-orders until the Exclusive version reaches at least 1,000 pieces in sales or until before production begins.
WARP STAR KIRBY pre-orders are still open until 4 September 2018 or possibly longer if the Exclusive version didn't reach at least 1,000 pieces in sales.
PSYCHO MANTIS pre-orders are still open until 18 September 2018 or possibly longer if the special editions didn't reach a combined total of at least 1,000 pieces in sales.
F4F x TORCH TORCH Partnership will be launching the BLADE OF THE DARKMOON and MUSHROOM PARENT PENDANTS right after this live stream. For more information, kindly check out our

blog post

.
CONFIRMED – SONIC VS. CHOPPER DIORAMA FROM THE F4F X GNF TOYZ PARTNERSHIP WILL GO LIVE FOR PRE-ORDER NEXT WEEK, 7 SEPTEMBER 2018! This will be the first resin statue from the F4F Partnerships program.
GAMESCOM 2018 REVIEW
The venue was massive; biggest convention Chocks has attended.
F4F Team didn't have the chance to check out the other halls because it was a busy week.
To Alex, Cologne seemed like a ghost town compared to Hong Kong, so he was concerned if Gamescom was going to be busy.
During the second day when the event was finally open to the public, that's when it was busy.
Chocks wanted the booth to be bigger; Alex was happy with the size.
It was good that everyone knew at least one character on the resin table, as opposed to their experience in New York Comic Con 2017. After all, Gamescom is a gaming convention, which is in line with F4F's products.
Alex initially thought that their booth location was horrible, but in the end, he was okay with it.
Alex is underwhelmed with the number of attendees of America gaming conventions (PAX West, PAX East, etc.)
It felt like First 4 Figures was the only manufacturer present during Gamescom. The rest were either retailers or resellers.
By Day 2 of the convention, F4F has only sold 17 pieces of their PVC in-stock items out of the 450 they had available (150 Breath of the Wild Link PVCs, 150 Crash Bandicoot PVCs, 150 Artorias the Abysswalker SD [Collector's Edition]).
Walking around the convention, they saw that other shops were selling the Regular version of F4F's PVC products for cheaper. On the bright side, this meant that F4F has good distribution.
Drastic measures were needed if they were to get rid of all their stock. They didn't want to have to ship it back to their warehouse. As a result, they decided to sell these at 50% off the SRP. This decision saved Gamescom for them.
The marketing strategy worked too well that they were quickly running out of stock. They then decided to ration their stock equally throughout the remaining days of the convention.
When people came in early the following days to queue and buy the PVCs, it was the most surreal feeling for Alex when he received consecutive requests from customers to sign their figures.
According to Alex, PVCs are the key to success for these conventions. They might actually just make it a thing wherein F4F sells the Regular versions of their PVCs for cheap during conventions; the price of the Exclusives will remain the same.
F4F would never sell the Regular version of their PVCs for cheap on their website because they do not want to undercut the retailers. Alex wants their PVCs to be in shops.
For smaller conventions, if F4F were to attend these, the booth wouldn't be as grand as a flagship booth similar to that of Gamescom. The focus would likely be to sell PVCs.
The resins are there to grab people's attention, but they understand that the price of PVCs is more accessible to the general public.
In terms of gross sales, F4F recouped only about half their cost back from the PVCs and pre-order packs sold. Despite this, Alex is still convinced conventions will still work if they had an "infinite" supply of PVCs to sell. Having a 40-foot container which holds 4,000 PVCs is probably how they'd go about doing that. For Chockles, he sees it as a means to invite more people into the F4F community.
Once F4F has released more anime statues, they can look into attending anime-centric conventions as well.
For Gamescom, they brought with them at least 20 resin statues.
Alex would never want to attend a convention again just to showcase their products. It takes time for people to consider buying expensive resin statues and could easily back out for whatever reason. That would mean that F4F spent the costs but gained nothing in return. PVCs, on the other hand, are more accessible for an average consumer and can serve as a constant reminder of who F4F is and hopefully gain interest in resin products one day.
Alex thinks 50% off was a bit too much; Chockles disagrees since it quickly attracted a lot of people.
Later on, there will be products more accessible than the PVCs (i.e. plush, shirts, mugs, etc.), which gives every kind of consumer the chance to buy F4F merchandise.
Again, PVCs and having diverse products is the absolute key to the future of First 4 Figures.
Gamescom 2019: First 4 Figures will be back!
PRE-ORDER PACKS REVIEW
Majority of those that purchased the pre-order packs intend to use the coupon code for the new PVCs available for pre-order at Gamescom. For Alex, this doesn't count to the success of attending conventions because he thinks people would have bought these anyway when these officially launched.
In relation to the resins whose pre-orders were re-opened for Gamescom, it would have been a mistake to auto-convert those on the waitlist because there weren't enough resin pre-orders to have made a significant increase in edition size. The numbers still fall within the range of the buffer.
The plan for these resin pre-orders from Gamescom was to increase the production run by about 50 pieces to still give those on the waitlist the same chance they had before the convention started, and this will still be the case except for Spyro (Exclusive). Because the packaging was already finished one week before Gamescom, they couldn't implement this anymore, so that unfortunately affects those on the Spyro (Exclusive) waitlist, although Alex expects that a lot will still convert. For the other resins whose pre-orders were re-opened, those on the waitlists still have the same chance as before.
Moving forward, with the new pre-ordering system now in effect (i.e. pre-orders remain open until either 1,000 pieces of the Exclusive version have sold or until before production begins), there wouldn't be any issues anymore since pre-orders are still open in the first place. They just wouldn't take with them resin products whose sales have already exceeded 1,000 pieces.
Did the pre-order packs work the way they intended it to? The answer is yes and no. In future conventions, there will still likely be discounts to be given out but through different means.
TEMPTATION THURSDAYS (TT) POLL
Last week's Game Characters from the Zero Escape series TT Poll #115 Results: 78 YES votes / 87 NO votes
This week's Meat Boy from the Super Meat Boy series TT Poll #116 Results: 39 YES votes / 257 NO votes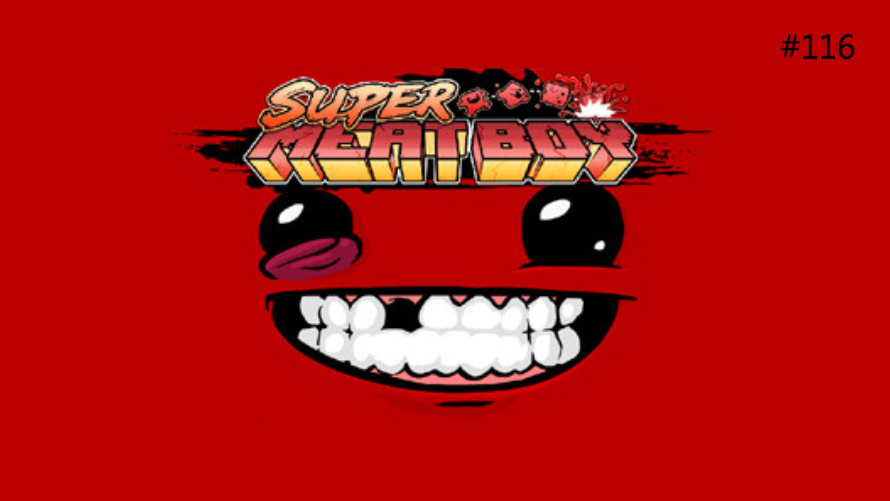 Next TT polls will be (in this order): INUYASHA ➔ PERFECT DARK
The four winners of last week's #F4FTIS are DYLAN WOLVEKAMP, ANDY CARVER, BRADLEY CHATTA B KING, and IRENE VAN WEERDENBURG-GRIMBERGEN.
This week's hashtag is #F4FGAMESCOM for a chance to win 500 reward points.
VARIOUS CHARACTER & PRODUCT LINE UPDATES
BAYONETTA UPDATE: Kicking Alex's butt right now, but there is movement
SCARBOROUGH FAIR LIFE-SIZE REPLICA: Will go up for pre-order first before Bayonetta
SPYRO UPDATE: They will finish the edition size during production.
SPYRO PVC UPDATE: First public appearance in Gamescom 2018 and was well-received by all; now in the PVC stage; currently working on the packaging; estimated to go live for pre-order around the time of Spyro Reignited Trilogy; Exclusive version will not come with a second no-Sparx wing because the wing has to be glued on to avoid it from sagging over time
AMATERASU PVC UPDATE: First public appearance in Gamescom 2018 and was well-received by all; originally, resin version was supposed to be 1/3rd scale but might be inaccessible to some, so making it in 1/4th scale instead; PVC version to launch first then the resin one later on
Just to reiterate, the reason why F4F is making a resin version of Amaterasu PVC is because there isn't enough support from the wholesalers for the PVC version, and PVC releases can only succeed if the volume is there. In order to support the Amaterasu PVC project, other means were necessary for it to come to fruition, so they decided to support the lack of wholesale support by selling a resin version of it.
SURPRISE PVC REVEAL: Solid Snake SD debuted during Gamescom 2018; first non-Dark Souls SD PVC statue; details are up to par with resin statues, which is what F4F is known for apart from the quality of their resins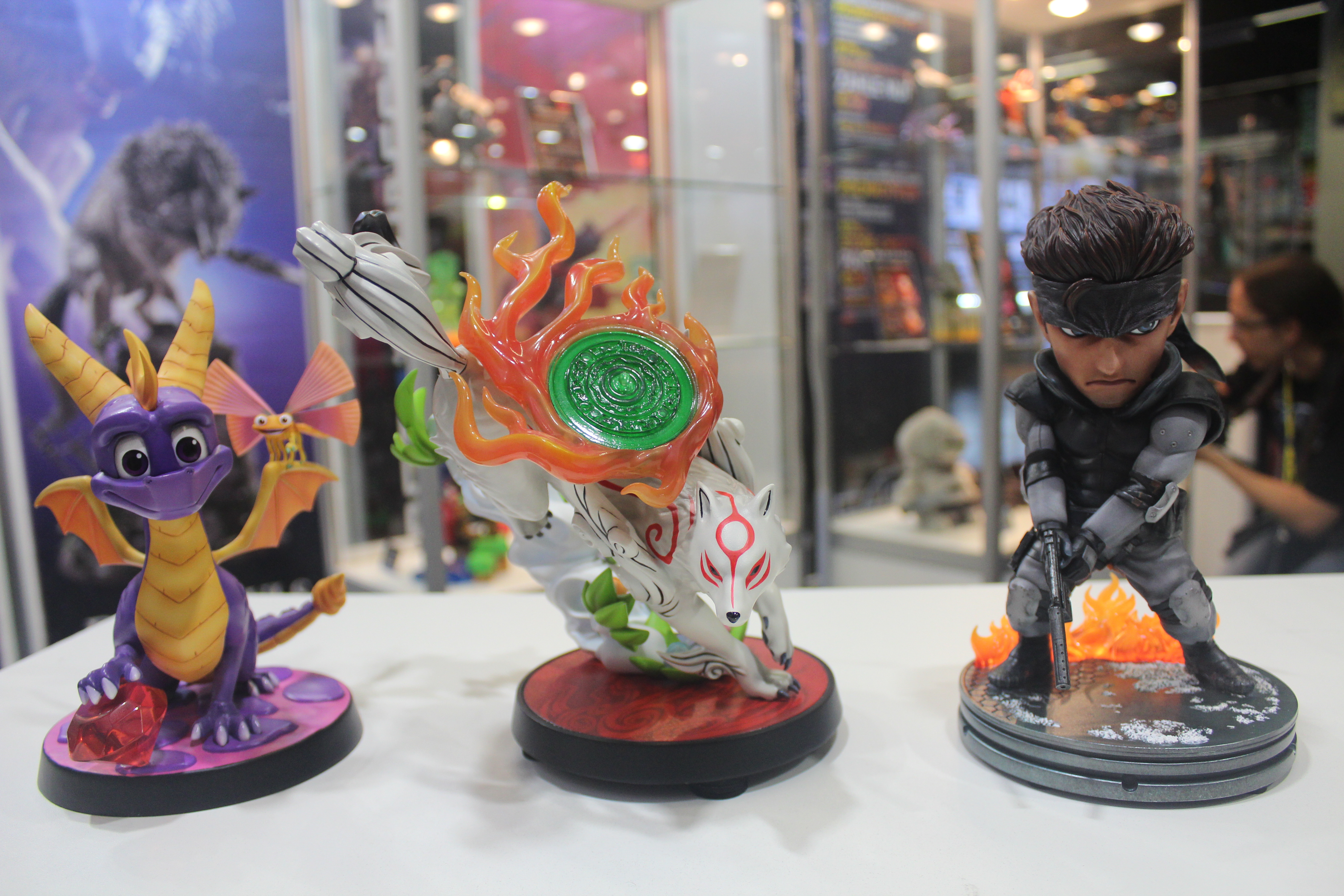 They decided on Metal Gear Solid as the next SD line because the franchise also contains a lot of details and they wanted to translate that into PVC.
DRAGON SLAYER ORNSTEIN SD UPDATE: First public appearance in Gamescom 2018 and was well-received by all; great details, great pose, and lovely LED effects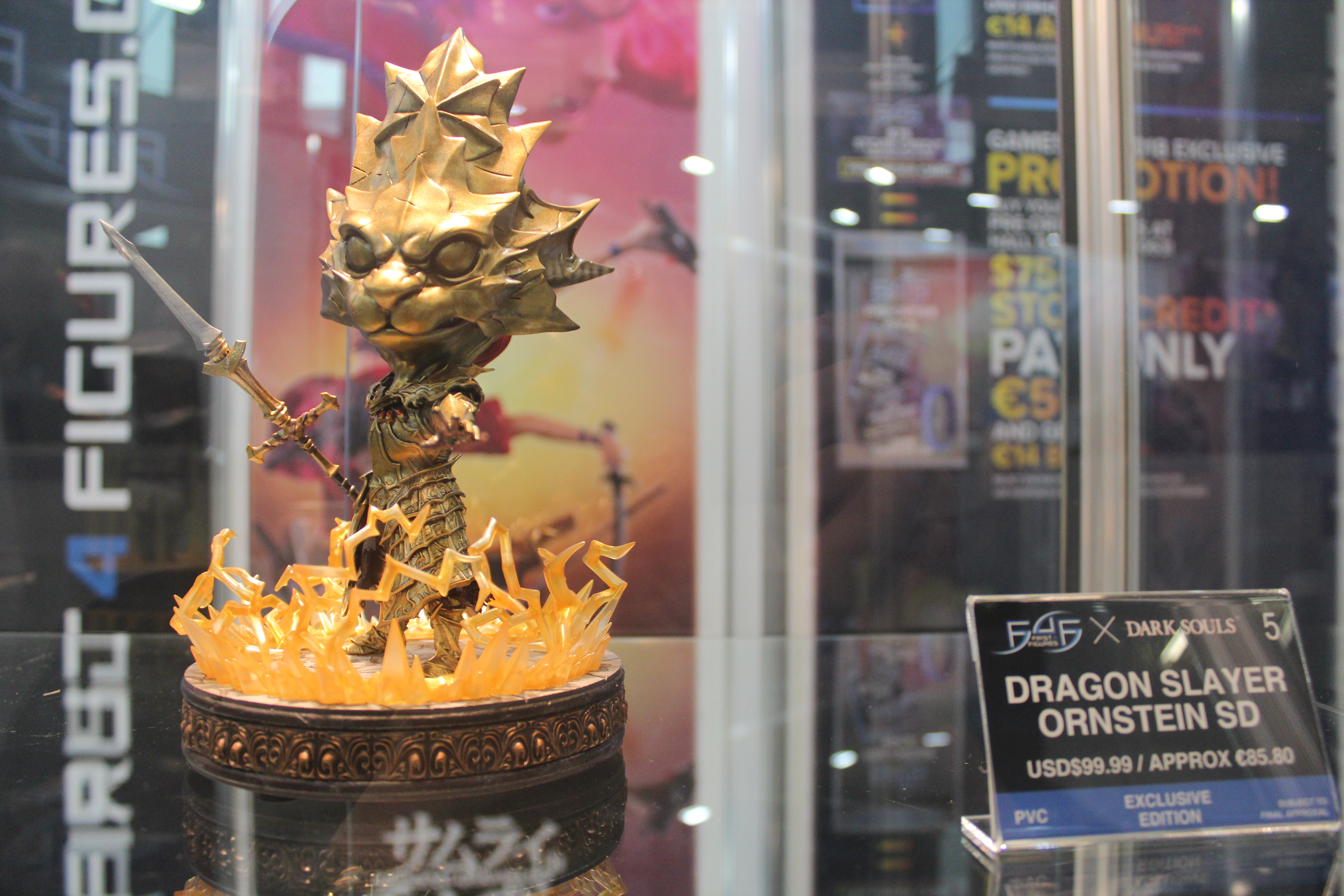 First 4 Figures has acquired a certain license that is only meant for PVC statues. Everyone will understand why once they know which license this is.
SURPRISE RESIN REVEAL: Mini Aku Aku Mask and Mini Golden Aku Aku Mask debuted during Gamescom 2018; estimated to go live for pre-order Q4 2018; these kinds of statues will be known as Companion pieces, statues that can enhance your collection but are not necessary to secure the same statue number for what's next in the mainline; the statue numbers on these Companion pieces will be the same as your previous resin statue from the main line and will just indicate how many of these were made in total; Companion pieces will also have a Regular and an Exclusive version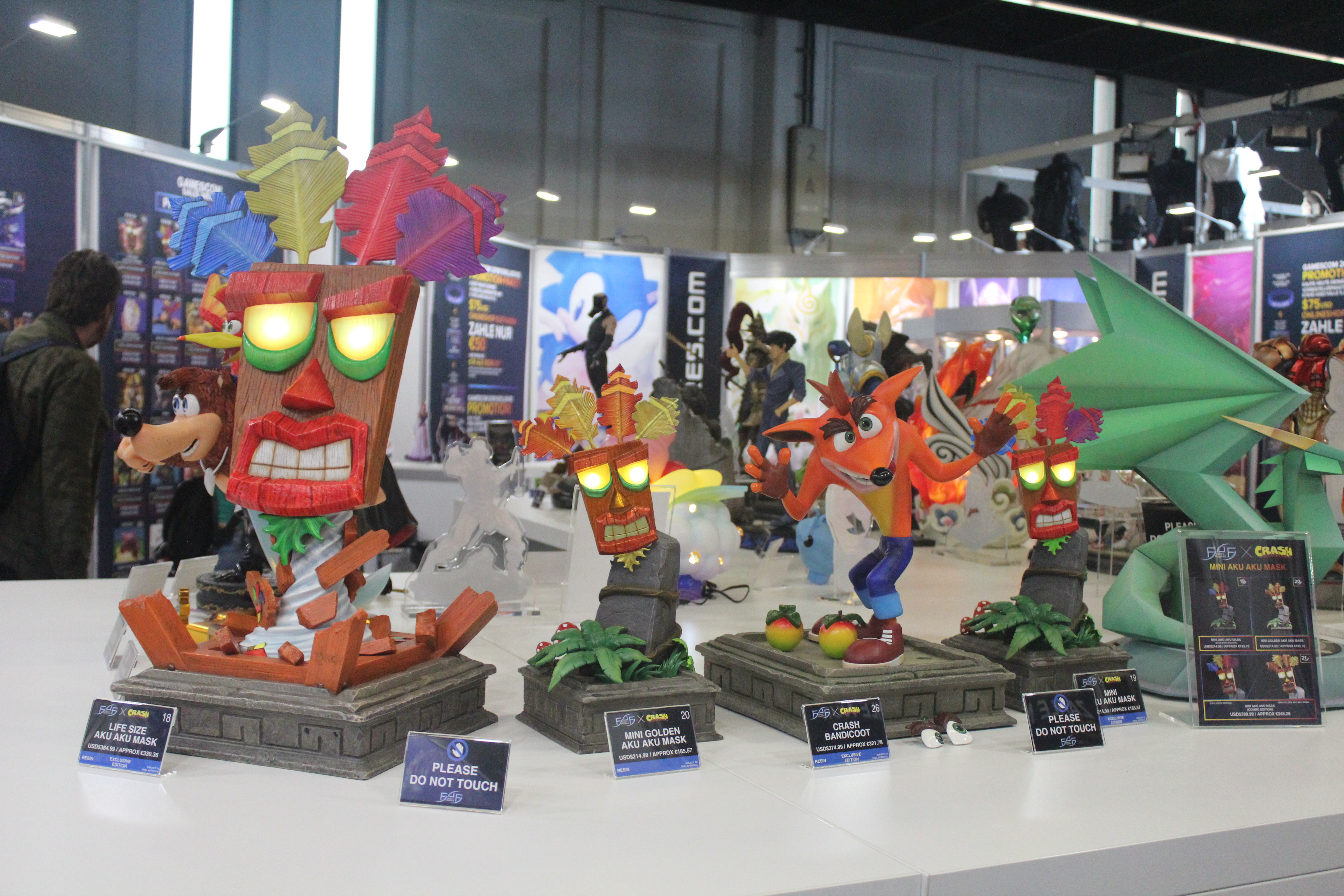 You do not need to have ordered Crash (Resin) to be able to pre-order the Mini Aku Aku Masks.
Special variants of existing statues released at a later time are also considered as Companion pieces.
SHIRANUI UPDATE: Face markings tweaked; tendrils will be glow in the dark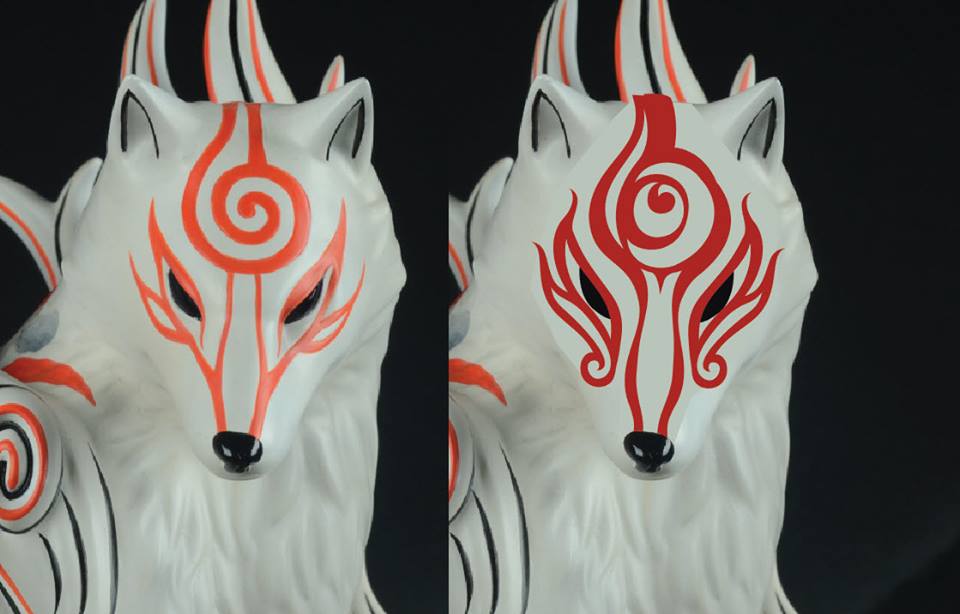 RIDER LINK UPDATE: Estimated to go live for pre-order Q1/Q2 2019
Still more plans with the anime lines
Alex to visit the PVC factory next week
"Kickstarter" pre-order system for niche lines still needs more time to consider that.
TEKKEN UPDATE: Unlikely to have female characters since the line has been underwhelming
Resin crate Companion pieces will depend on the sales of the Mini Aku Aku Masks

No Yakuza updates; will likely be a "Kickstarter"
ALPHONSE ELRIC UPDATE: Almost there
More production updates next week since Alex will be visiting the factories then.
PHOENIX WRIGHT UPDATE: Received feedback from the licensor to make the clothing a little bit darker
TRUE FORM MIDNA UPDATE: More functionality to the case of the Definitive Edition, not just through the remote
PSYCHO MANTIS UPDATE: Sales aren't where Alex wants them to be, but the Metal Gear Solid line is not in danger.
JIN (SAMURAI CHAMPLOO) UPDATE: If this were to happen, it would be through the "Kickstarter" pre-order system.
ALUCARD UPDATE: Crystal Cloak variant sneaks soon
BANJO-KAZOOIE UPDATE: Revisions still need to be submitted for final approval
SONIC AND TAILS DIORAMA UPDATE: Now in the physical stage
DRAGON SLAYER ORNSTEIN UPDATE: Moving production to a different factory since the previous one was slow to produce; could look into using colored resin for the base
GRAVELORD NITO UPDATE Kicking Alex's butt right now
DRACULA UPDATE: Awaiting feedback from the licensor
F4F to focus on plush next year
DANTE UPDATE: There are movements.
MORRIGAN AENSLAND UPDATE: There are movements.
#F4FPVCNation is coming.
Banjo-Tooie PVC is penciled in!
VARIA SUIT UPDATE: Color already looks good; no need to make it darker
DONKEY KONG UPDATE: New line or not, will still be in scale to the Mario line and dioramas in different scales
TF PVC statues for Dark Souls is possible.
NEO CORTEX UPDATE: Alex is concerned about how this will perform, which is why he loves the idea of the "Kickstarter" pre-order system works.
SHEIKAH SLATE UPDATE: Currently kicking Alex's butt
IVY (SOULCALIBUR): Won't be awhile but she's looking awesome
KAMINA UPDATE: In the Vault...
Sparx possibly a Companion piece in the future
SKULL KNIGHT UPDATE: Almost done printing
SHOVEL KNIGHT UPDATE: Estimated release date is Q1 2019
Berserk as the next SD PVC line has crossed their minds.
MODERN AMY ROSE UPDATE: Will be a "Kickstarter"
OTHER TOPICS
There will be some representation of First 4 Figures during MCM London 2018 through Animegami's booth. More information on this next week.
There are fewer breakages when shipping PVC statues compared to resin ones.
F4F knew of the remastered version of Spyro the Dragon since late last year.
Xenoblade Chronicles character poll soon
There is work to be followed up on after Alex's conversation with the Darksiders licensors.
Alex thinks that PVC statues will do well in Lucca Comics and Games; resins not so much.
Rare visited F4F's booth in Gamescom and was impressed with the Banjo-Kazooie statue.
Alex had a secret meeting in the F4F booth's storage room in Gamescom.
Nothing to confirm or deny just yet with the My Hero Academia license
Alex can take criticism and will do something about it if it's within reason and if the licensors approve of it.
PVCs will indirectly increase the sales of resin statues by bringing new people into the F4F community since PVCs are more accessible in terms of price.
Indie developers have contacted F4F in the past to create statues for them.
F4F tried contacting the licensors of Ghost in a Shell back in the day but didn't get anywhere with that.
Alex will look more into Kill la Kill.
They show samples of their work when trying to acquire new licenses.
Alex would love to redo Zero Suit Samus.
Chocks' favorite food is steak
Haven't had any thoughts of adding stands for additional parts
Life-size Fierce Deity Mask has crossed Alex's mind
Not sure if all PVC statues will receive a resin counterpart
Chocks is excited for Streets of Rage 4.
Chocks' official job title as Marketing Manager and is in charge of everything.
Haven't had a chance to look into the import taxes into the US
F4F's mascot is Mini Chocks.
Alex hasn't considered Fierce Deity Link in PVC, only in 1/4th scale resin.

WHO DAT WHO DAT: The game was postponed because the live stream was almost at its 4-hour limit.
---
To view everyone's questions from the Q&A portion of this episode, please click HERE.
If you want to have your questions answered by our very own Chocks and Alex, simply search "Chocks and A" in the F4F Official Collectors Club Facebook group and leave your questions in the comments section of the most recent thread prior the upcoming live stream. This thread is posted every Thursday of the week.
If you wish to watch the entire video:
---
Last Update
2018-09-12 08:51:23