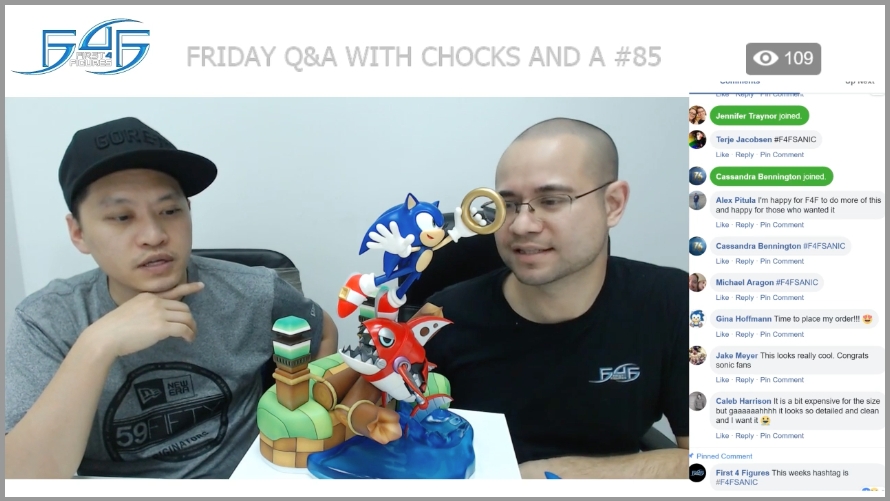 This is a breakdown of the important (and not so important) topics of last Friday's (September 7, 2018) Friday Q&A with Chocks and A #85.
---
REMINDERS
SONIC THE HEDGEHOG VS. CHOPPER DIORAMA pre-orders from the F4F x GNF Toyz partnership will open right after this stream!
SPIKE SPIEGEL is still open for pre-orders until the Exclusive version reaches at least 1,000 pieces in sales or until before production begins.
WARP STAR KIRBY is still open for pre-orders until the Exclusive version reaches at least 1,000 pieces in sales or until before production begins.
PSYCHO MANTIS is still open for pre-orders until 18 September 2018 or possibly longer if the special editions didn't reach a combined total of at least 1,000 pieces in sales.
The BLADE OF THE DARKMOON and MUSHROOM PARENT PENDANTS from the F4F x TORCH TORCH partnership is still open for pre-orders until 10 October 2018.
WEEK IN REVIEW
A lot of people have been receiving their Artorias the Abysswalker SD (Exclusive), Mugen (Exclusive), and Taki (Exclusive) statues this week.
Alex visited the PVC factory for some production and development updates. The engineer in charge of the Spyro PVC test shots was let go because he wasn't fit for First 4 Figures engineering.
TEMPTATION THURSDAYS (TT) POLL
Last week's Meat Boy from the Super Meat Boy series TT Poll #116 Results: 39 YES votes / 257 NO votes
This week's Inuyasha from the InuYasha series TT Poll #117 Results: 214 YES votes / 191 NO votes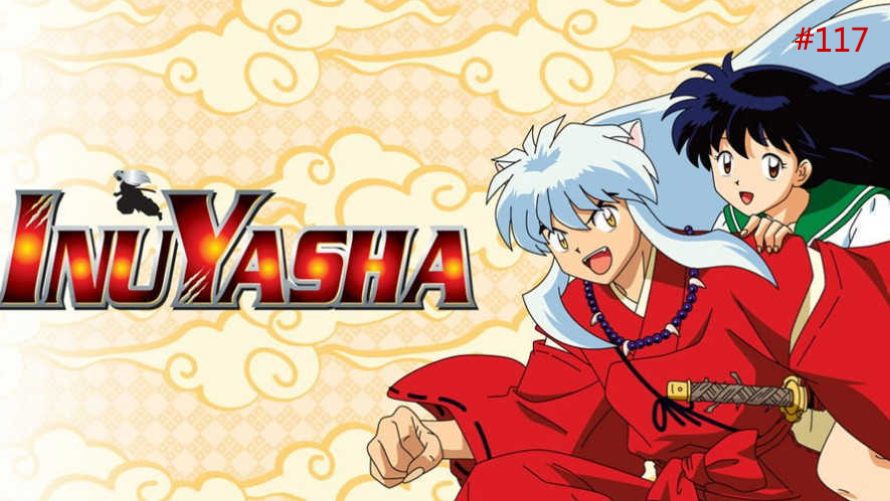 Next TT polls will be (in this order): PERFECT DARK
The three winners of last week's #F4FGAMESCOM are JORDAN DYER, BRIGETTE MACKENZIE, and MICHAEL STERK.
The No votes give Alex and Chocks an idea as to what "flavors" the Club is interested in; the Yes votes determine what the Club wants in comparison to everything else that they want.
Won't consider a "Kickstarter" for Shenhua Ling since the TT poll didn't meet the minimum requirement of Yes votes
The Ancient Magus' Bride now a possible TT poll
Don't want to complicate the TT polls
TT polls need at least 800 Yes votes to be considered.
PRODUCTION VIDEO EXCLUSIVES
(NOTE: You need to be a member of the Official Collectors Club to view these videos.)
VARIOUS CHARACTER & PRODUCT LINE UPDATES
SOLAIRE OF ASTORA SD UPDATE: A look at the final premium packaging of the Exclusive version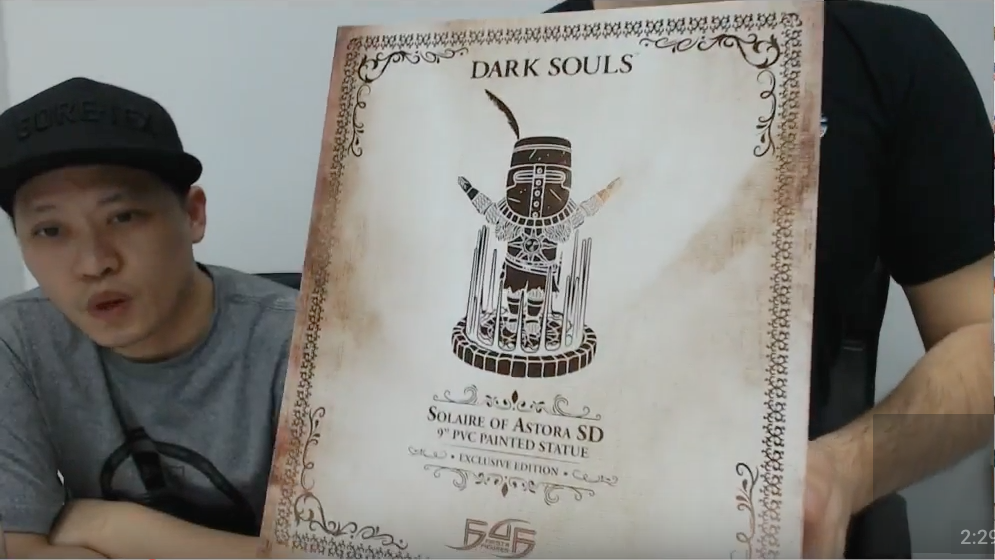 DRAGON SLAYER ORNSTEIN SD UPDATE: According to Alex, Ornstein looks like he needs his bro.
SPYRO TF PVC UPDATE: Could hopefully go up for pre-order by the end of this month; pre-ordering system will be similar to the resin's in that orders have to hit a certain number by a certain date otherwise it will remain open
GUTS THE BLACK SWORDSMAN UPDATE: Tip of the hilt now reduced in size; hair now has separations
Mini Aku Aku Mask statues not part of the main Crash Bandicoot™ line, so whatever your statue number is on this piece will not reserve you the rights to the same statue number for Dr. Neo Cortex
The addition of PVC projects will not lessen the number of future resin projects. They will increase the F4F team to be able to work it all. They will also look into increasing the number of pre-order slots each year.
No updates on Genos; might need a poll to determine if there's enough support or not
SONIC AND TAILS DIORAMA UPDATE: Estimated to go up for pre-order sometime next year
MODERN AMY ROSE UPDATE: Pretty much done; will have to be a "Kickstarter"; still need to talk to SEGA
YAKUZA UPDATE: Working on the Definitive Edition, which will have the gate, and then it's "Kickstarter" time after
SOLAIRE OF ASTORA UPDATE: Alex to visit the factory next week
Companion pieces to follow the same pre-ordering system as the resin one
Alex looking into an SD range for the Berserk line
DARK SOULS UPDATE: A ton of resin projects in the works that it's been difficult to get feedback for all of them, but at least the PVC range is there to satisfy the cravings of the fans
SONIC THE HEDGEHOG BOOM8 SERIES – COMBO PACK 2 UPDATE: Estimated to ship sometime this September to October
SPIKE SPIEGEL UPDATE: Currently around 700 pieces in sales for the Exclusive version
FULLMETAL ALCHEMIST UPDATE: Chance for Homunculus statues as long as there's enough support for them
PHOENIX WRIGHT UPDATE: Color change rejected; still needs to be darker
CRYSTAL DRAGON MINI FIGURE PACK UPDATE: Just started turning them into metal; will start making them in different colors after
Day One Card design for past few releases still needs sorting; currently focused on the Exclusive version packaging for Spyro TF PVC
AMATERASU TF PVC UPDATE: Estimated to go up for pre-order early next year at the latest
SOLID SNAKE SD UPDATE: Estimated to go up for pre-order early next year at the latest
Have looked into the possibility of a PVC line for the Metroid franchise
SPYRO (FRANCHISE) UPDATE: Been asked to focus on the Reignited Trilogy for now
THE LEGEND OF ZELDA UPDATE: Somewhere between 3-5 releases next year; all information will remain a secret for now
Will look into Donkey Kong after Mario on Yoshi is finished
LAW (TEKKEN) UPDATE: Not enough support just yet to go into production; pre-ordering system for this still needs finalizing
JIN (SAMURAI CHAMPLOO) UPDATE: Will have to be a "Kickstarter" if this were to happen; Alex concerned about people not wanting Jin if they don't have Mugen (edition size was less than 200)
SHOVEL KNIGHT UPDATE: Now in production; currently working on a Mail of Momentum Armor variant
CONKER UPDATE: Estimated to go up for pre-order towards the end of this year
Companion pieces do not equal other characters; companion pieces are about smallness.
MARIO ON YOSHI UPDATE: Estimated to go up for pre-order by the end of this year to early next year
THE GREAT GREY WOLF SIF SD UPDATE: Looks really good
VARIA SUIT UPDATE: Could possibly ship before the year ends
Currently not looking into more life-size statues for the Ōkami line
SHIRANUI UPDATE: Alex will soon see some pre-production samples.
AMATERASU LIFE-SIZE BUST UPDATE: Resumed
More information on Spyro (Resin) after the factory visit
Alex concerned about Dr. Neo Cortex since his poll hit 500 Yes votes but so did Warp Star Kirby

Sparx on Egg might be a Companion piece.
MORRIGAN AENSLAND UPDATE: Looks okay
BAYONETTA UPDATE: Working on the feedback; currently the hardest statue Alex has worked on
AIKA UPDATE:

Revised poll

looks sad and lonely
F4F has the licenses to Dark Souls 2 and Dark Souls 3.
ALPHONSE ELRIC UPDATE: If everything goes smoothly, could possibly go live for pre-orders this October
ROY MUSTANG UPDATE: Currently in development
SONIC THE HEDGEHOG VS. CHOPPER DIORAMA LAUNCH
This week's hashtag is #F4FSANIC for a chance to win 500 reward points.
GNF Toyz only has a license for Asia; they do not have one for the rest of the world. Using F4F's license (with the permission of SEGA) and warehouses worldwide, GNF Toyz is now able to distribute outside of Asia.
GNF Toyz is responsible for the production of this piece, but First 4 Figures' Quality Control team will oversee the entire production process to guarantee F4F's quality and standards.
Statue design inspired by the Sonic Generations game intro scene
SRP: 384.99 USD + shipping
This is the price mainly because of the details and the paint application on the statue.
It has a nice weight to it since the statue isn't hollow.
It will have a numbered base. Those that pre-ordered through First 4 Figures' website will receive the lower batch of numbers.
There won't be a validation process since this is a product from the F4F Partnerships program.
There is no Regular or Exclusive version. The exclusivity is that it is only available on F4F and GNF Toyz's website.
For more information on Sonic the Hedgehog vs. Chopper Diorama, kindly check out our

blog post

.
OTHER TOPICS
Alex has to be anal about the PVC test shots before mass production because once he's given the go signal to mass produce, F4F's PVC molds can generate a piece every 30-40 seconds.
Alex's favorite The Legend of Zelda games are Twilight Princess, Ocarina of Time, Majora's Mask, and Breath of the Wild; Chocks' favorite is A Link to the Past.
Alex would love to work on statues from Square Enix franchises; Chockles would love an Initial D statue.
Chocks doesn't have a favorite restaurant in Hong Kong.
Plans to hire another graphic artist to work on the F4F core range (i.e. shirts, hats, mugs, etc.); if successful, could speak to licensors to work on merchandise like these
If they were to make a Spider-Man statue, it would be from a game.
Looking to attend Anime Expo by either 2019 or 2020
Statue electronics still function even without a battery for as long as it's plugged into a power source.
The contract will determine if F4F is allowed to work on an SD range for a specific license or not.
Have not considered selling unpainted versions of statues
Not out of the running yet for the My Hero Academia license; these things take time
Will see how the Spyro TF PVC sales are first before considering a PVC version of Crystal Dragon
Alex would be assigned to the Slytherin House if he were to be accepted into Hogwarts; Chockles doesn't follow Harry Potter, but Alex thinks he'd also be assigned to Slytherin.
Could look into the pricing of using cloth/silk to wrap statue parts during shipment instead of paper
Working on own tape with the F4F logo for shipping boxes
Not considering revisiting Transformers statues of any kind
Prototypes made using an SLA 3D printer; FDM 3D printer for the mini Chockles
"Kickstarter" not dependent on license cost; it depends on the number of interests
Still not sure what this year's Christmas sneaks will be
No chance for a PVC only line if the resin counterpart didn't receive enough support since PVCs are more costly to make
If Alex could make an All Might statue, he'd make one in a dynamic pose.
Pre-order calendar to be updated
Awesome to see someone wearing an F4F wristband in the Germany airport
Could consider selling backdrops similar to the ones in the Exclusive version of resin statues, but the design would be different
Likely won't be allowed use F4F reward points when pre-ordering "Kickstarters"
3D renders shown of "Kickstarters" will be of the final product; will need at least 300 pre-orders before proceeding to the next stage
Nothing to report on Persona 5
Could possibly share the statue production queue for each factory
License acquisition could take 1-2 years.
Alex wants to work towards doing the validation process during the Friday Q&A live streams instead of Tuesdays.
Looking into attending Japan Expo and Paris Games Week
Resin trickiest material to work with when creating statues
Alex would be interested in a TF PVC range for Monster Hunter.

Could look into the LED lights slowly fading out when switching it off
The Dark Souls bonfire is a perfect example of a Companion piece.
WHO DAT WHO DAT: The answer was Mr. Bean. The winners were MARTIN JOHN PALMER (lost) and SAMUS GRAB (500 reward points).
---
To view everyone's questions from the Q&A portion of this episode, please click HERE.
If you want to have your questions answered by our very own Chocks and Alex, simply search "Chocks and A" in the F4F Official Collectors Club Facebook group and leave your questions in the comments section of the most recent thread prior the upcoming live stream. This thread is posted every Thursday of the week.
If you wish to watch the entire video:
---
Last Update
2018-10-02 16:54:43