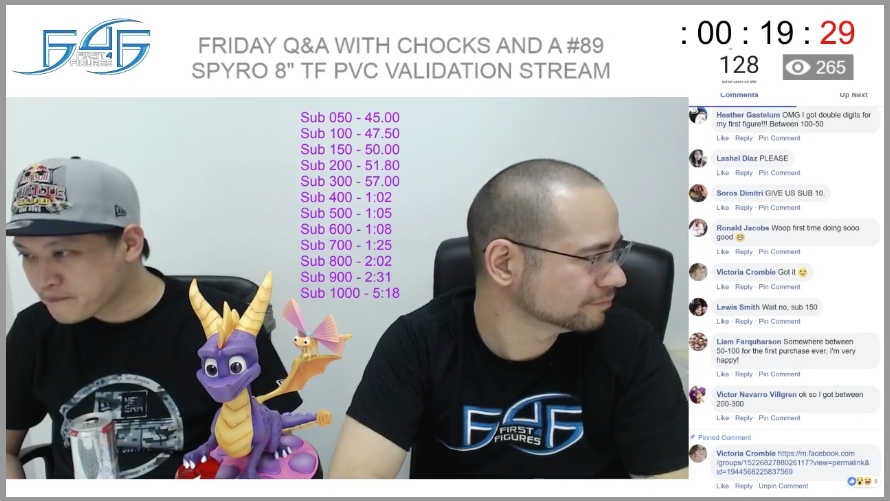 This is a breakdown of the important (and not so important) topics of last Friday's (5 October 2018) Friday Q&A with Chocks and A #89.
---
REMINDERS
The BLADE OF THE DARKMOON and MUSHROOM PARENT PENDANTS from the F4F x TORCH TORCH partnership is still open for pre-orders until 10 October 2018.
SONIC THE HEDGEHOG VS. CHOPPER DIORAMA pre-orders from the F4F x GNF Toyz partnership is still open for pre-orders until 19 October 2018. It will NOT re-open in the future.
SPYRO PVC (EXCLUSIVE) is still open for pre-orders until either 2 November 2018 or possibly longer if the Exclusive version didn't reach at least 3,000 pieces sold.
GUTS THE BLACK SWORDSMAN is still open for pre-orders until the Exclusive versions reach a combined total of at least 1,000 pieces sold or until before production begins.
SPIKE SPIEGEL is still open for pre-orders until the Exclusive version reaches at least 1,000 pieces sold or until before production begins.
WARP STAR KIRBY is still open for pre-orders until the Exclusive version reaches at least 1,000 pieces sold or until before production begins.
PSYCHO MANTIS is still open for pre-orders until the Exclusive version and Special variant reach a combined total of at least 1,000 pieces sold or until before production begins.
Final payment notice for TAKI for the UK and EU region is due on the 9th of October 2018.
SPYRO™ 8″ PVC VALIDATION
Today was the official start of validations during the Friday Q&A's instead of the usual Validation Tuesdays (non-existent anymore).
From now on, F4F will no longer close pre-orders one hour before the validation process at 11:00 PM HKT; instead, they will close pre-orders for just ten (10) minutes prior the validation to give the IT team time to prepare.
If you are unfamiliar with First 4 Figures' validation process, kindly check out their step-by-step guide

HERE

.
The Spyro PVC validation process went relatively smoothly.
Those with multiple orders had to validate each one, but the timestamp taken will be of the earliest one and will still receive all statues in sequential numbers.
Since this Spyro™ 8″ PVC is the first piece in the all-new Spyro PVC line, all numbers (except for #1 and #2) were up for grabs. The Spyro PVC validation timestamp estimates are as follows:

Sub 1000 – 5 minutes and 18 seconds
Sub 900 – 2 minutes and 31 seconds
Sub 800 – 2 minutes and 2 seconds
Sub 700 – 1 minute and 25 seconds
Sub 600 – 1 minute and 8 seconds
Sub 500 – 1 minute and 5 seconds
Sub 400 – 1 minute and 2 seconds
Sub 300 – 57 seconds
Sub 200 – 51.8 seconds
Sub 150 – 50 seconds
Sub 100 – 47.5 seconds
Sub 50 – 45 seconds

Very possible to change the name from "Day One Edition" to "SIGNATURE EDITION"
Validations are here to stay. It's like an event.
WEEK IN REVIEW
The F4F team has expanded with four new hires: Peggy to work alongside Chockles in the Marketing department, Dan to fill the Wholesale role, Bufee to work alongside Chris in product development, and Jay to work alongside Sandy in graphic design.
During FMA Day, 3 October 2018, at exactly 4:01 PM, First 4 Figures

announced

that ALPHONSE ELRIC from Fullmetal Alchemist Brotherhood will be available for pre-order on 12 October 2018!
TEMPTATION THURSDAYS (TT) POLL
Last week's Afro Samurai from the Afro Samurai series TT Poll #120 Results: 67 YES votes / 121 NO votes
This week's Characters from The Binding of Isaac series TT Poll #121 Results: 72 YES votes / 159 NO votes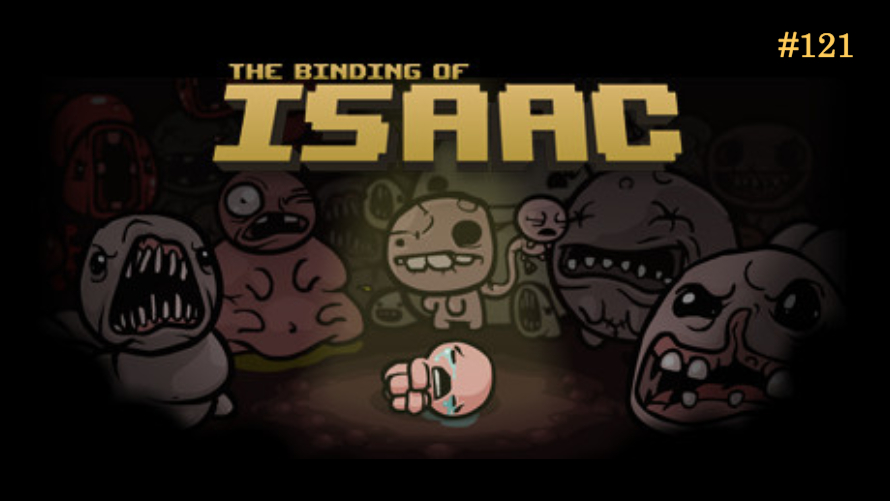 Next TT polls will be (in this order): RYTLOCK BRIMSTONE from GUILD WARS ➔ OWLBOY ➔ BLOOD+
The six winners of last week's #F4FSPYRO are NICOLAS BARBLU, LUCAS VALDESPINO, CHRIS KIM, SCOTTY THOMAS COLLARD, JAMES EARL MOIR, and ANGELA WALTERS.
This week's hashtag is #F4FBIGAL for a chance to win 500 reward points.
Unsure if they should include games that aren't out yet
Heavenly Sword now on the list of possible TT polls
Possibly a Xenoblade Chronicles character poll on Funday
PRODUCTION VIDEO EXCLUSIVES
(NOTE: You need to be a member of the Official Collectors Club to view these videos.)
VARIOUS CHARACTER & PRODUCT LINE UPDATES
SPYRO PVC UPDATE: Production has started; not yet the best selling F4F Exclusive statue; purple color of the packaging made brighter so that it pops out more when on shelves; and, as previously mentioned during the product launch, Spyro to be printed on the top of the box and scales printed using gloss UV
SPYRO PVC DAY ONE SIGNATURE CARD OPTIONS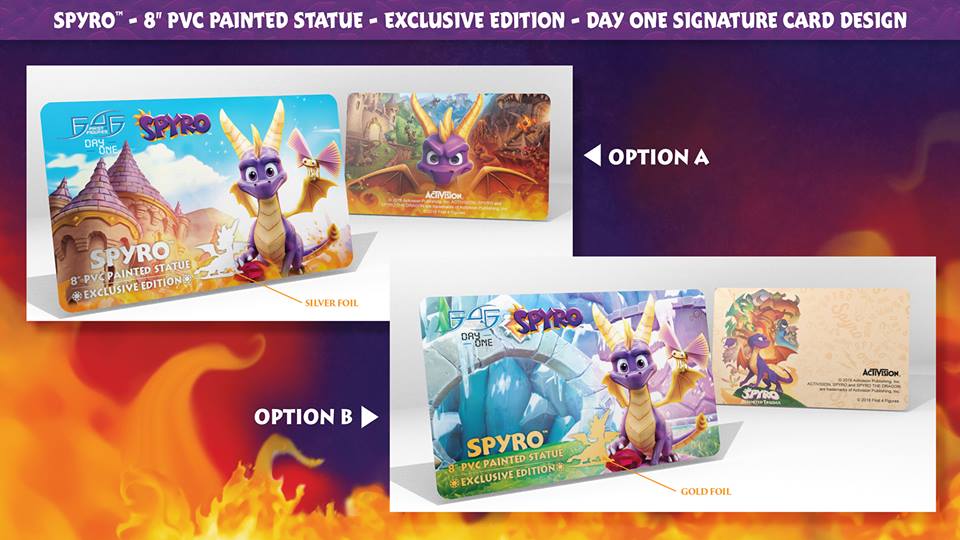 LAW (TEKKEN) UPDATE: Alex still trying to figure things out
SPYRO (RESIN) UPDATE 1: Australasia is now beginning to receive their statues. The majority are happy customers; to the few who unfortunately received their product damaged due to shipment, please contact

Customer Service

for assistance. F4F still needs a bit more feedback before deciding whether or not they should send it out to the rest of the world.
SPYRO (RESIN) UPDATE 2: The Asia warehouse forgot to include the holographic sticker for the Day One pre-orders, and Alex is certainly getting to the bottom of this. Those affected will eventually be receiving theirs through snail mail.
DRACULA UPDATE: Head resculpted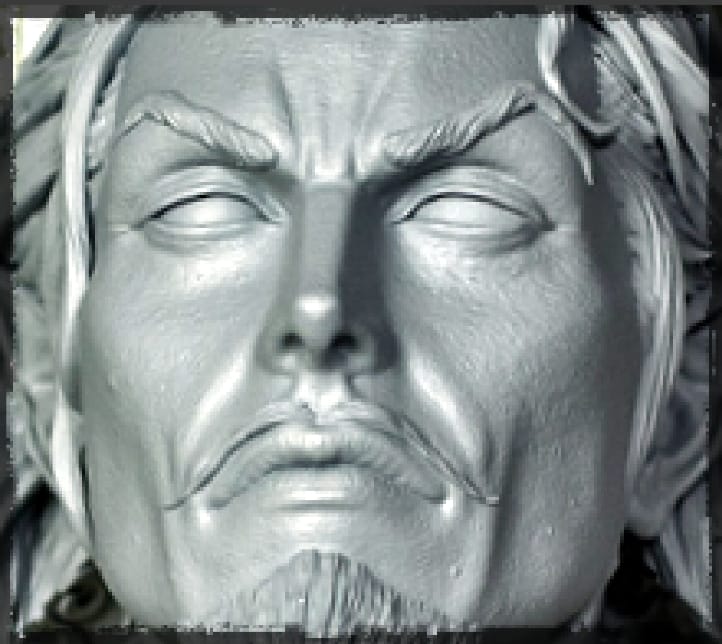 ALUCARD UPDATE: Alex spotted some changes that need addressing during his inspection of the pre-production samples.
SONIC 25TH ANNIVERSARY UPDATE: First batch for the US region already shipped; second batch estimated to ship in December 2018
SOLID SNAKE UPDATE: Final inspection in a couple of weeks
MARIO ON YOSHI UPDATE: Looking super tight; preparing for their meeting with Nintendo next week during Brand Licensing Europe; estimated to go live for pre-order next year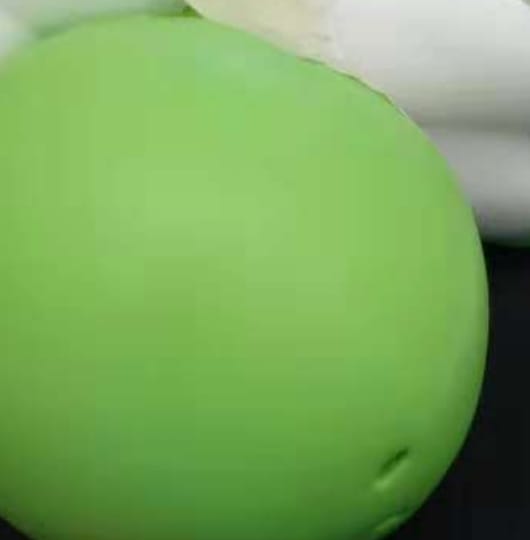 AMATERASU PVC UPDATE: Still in the resin prototype stage; hasn't been converted to PVC yet
VARIA SUIT UPDATE: Factory working on this has been a bit slow; Alex to visit the factory soon
GRAVELORD NITO UPDATE: Now in the physical stage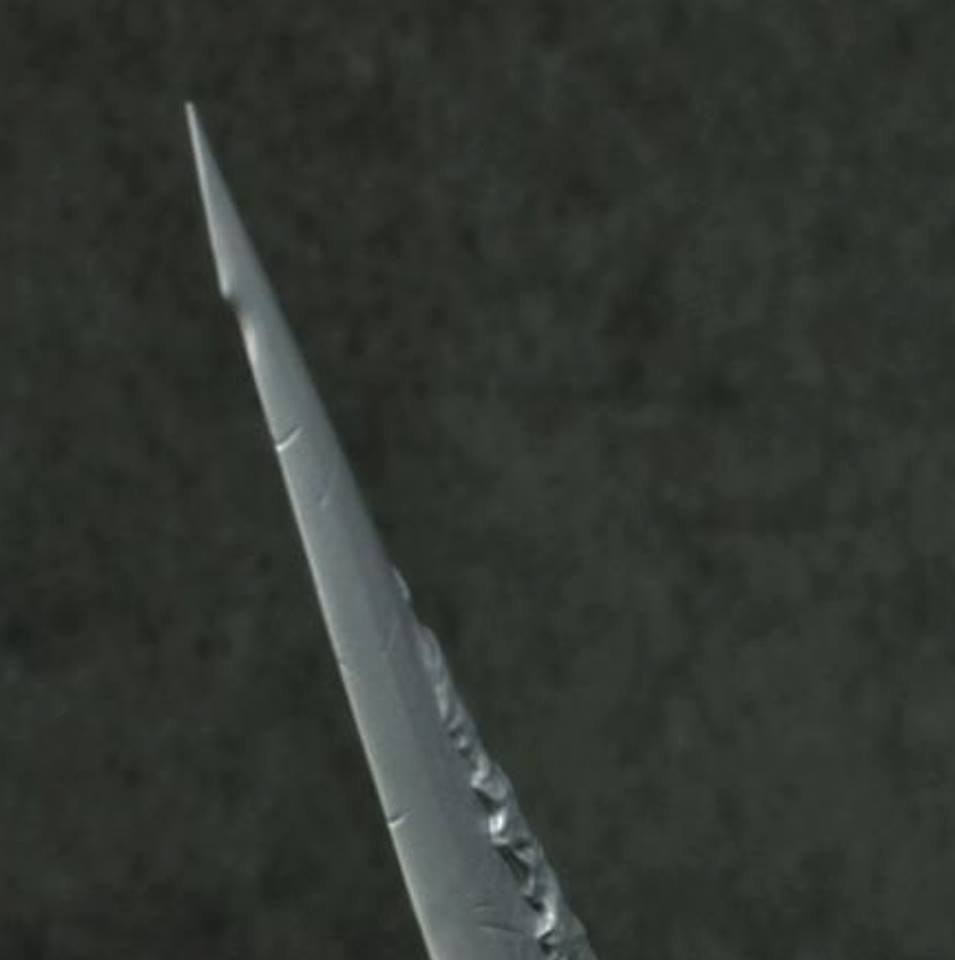 SKULL KNIGHT UPDATE: Now in the physical stage
CONKER UPDATE: Estimated to go up for pre-order towards the end of this year
FULLMETAL ALCHEMIST BROTHERHOOD UPDATE: If the resin line is successful, there is a possibility for a PVC line.
YAKUZA UPDATE: Will depend on their conversation with SEGA with regards to the "Kickstarter" program
PHOENIX WRIGHT UPDATE: Making it darker; should hopefully finish soon
MINI FIGURES UPDATE: Checking if the factory working on these is okay since the quotation for the molds are quite expensive
No information on any Legend of Zelda piece until they get further into development with them and until they get through the ones that have already been announced
BOWSER UPDATE: Paint hasn't started yet; in the same slow factory as Varia Suit

DRAGON SLAYER ORNSTEIN UPDATE: Was in the same factory as Varia Suit and Bowser since they were the ones that worked on the prototype; was paid a fee so that F4F could pull it out because their production speed was very slow; now being worked on by a different factory and the office recently received the counter sample; great decision from F4F's end to pull it out of the old factory to speed up the production process
GUTS THE BLACK SWORDSMAN UPDATE: The factory working on this has delayed Guts because they're now prioritizing Dragon Slayer Ornstein since he went up for pre-order first.
BANJO-KAZOOIE UPDATE: Alex to submit revisions to the licensor after the stream
DARK SOULS SD PVC UPDATE: Three unannounced pieces currently in development, one of which is already in the physical stage
The

Oki-specific poll

was posted first before the Okami character poll, and the number of Nintetails votes still did not surpass the winning Oki choice, which is why Alex opted for Oki over Ninetails.
CONFIRMED – GIFT CARDS ARE COMING IN TIME FOR CHRISTMAS!
SHIRANUI UPDATE: Waitlist still very likely to convert at this time; not yet in production
"Anything is a possibility," according to Chockles when asked if Castlevania PVC was a possibility.
SONIC TF PVC UPDATE: In the duplication stage; will see how this does first before thinking about what comes next after
SPIKE SPIEGEL UPDATE: Basic pre-production stuff just started; there's still some time before they close pre-orders; you will be notified in advanced if pre-orders are about to close
EDWARD ELRIC UPDATE: There may or may not be a sneak after the Alphonse Elric launch.
Will ask Activision if Spyro plush is a possibility; would also make sense to do a Crash Bandicoot plush if they did Spyro plush
Fullmetal Alchemist Brotherhood character poll after the Alphonse Elric launch
ROY MUSTANG UPDATE: Fire Alex if this statue did not incorporate fire in some way.
CONFIRMED – SPYRO (RESIN) BASED ON THE REIGNITED TRILOGY IS IN DEVELOPMENT!
Still trying to get approval for Spyro PVC based on the original design
GENOS UPDATE: Alex needs a bit of motivation.
MORRIGAN AENSLAND UPDATE: Design looking ace
CHIBITERASU UPDATE: There's been some work done.
IVY VALENTINE UPDATE: Could possibly go live for pre-order middle of next year
"KICKSTARTER" UPDATE: More information on this after Brand Licensing Europe
GRAY FOX UPDATE: Now going into physical; still needs about 3-4 months
MUMBO JUMBO UPDATE: Possibly a "Kickstarter" candidate; will come after Banjo-Tooie PVC so that the fanbase is greater when the time comes
Alex and Chockles still can't decide how to go about the mini Jinjo figures.
SONIC AND TAILS DIORAMA UPDATE: Should be out for painting and duplication middle of October 2018
TRUE FORM MIDNA UPDATE: Not yet in production
F4F CARDHOLDER UPDATE: Still no final prototype
MINI AKU AKU UPDATE: Available for pre-order sooner rather than later
Could possibly look into selling the Regular version of PVC statues on their website in the future
Could look into increasing the number of 500 reward points that can be claimed from PVC statues
CRYSTAL DRAGON UPDATE: Currently working on the pre-production samples
The KATAMARI DAMACY line is done.
ALPHONSE ELRIC UPDATE: Production will not intentionally be delayed to keep up with the two-year payment plan.
OTHER TOPICS
Chocks finally received his super rare Red Bull x New Era cap, which he got by participating in an event in Hong Kong.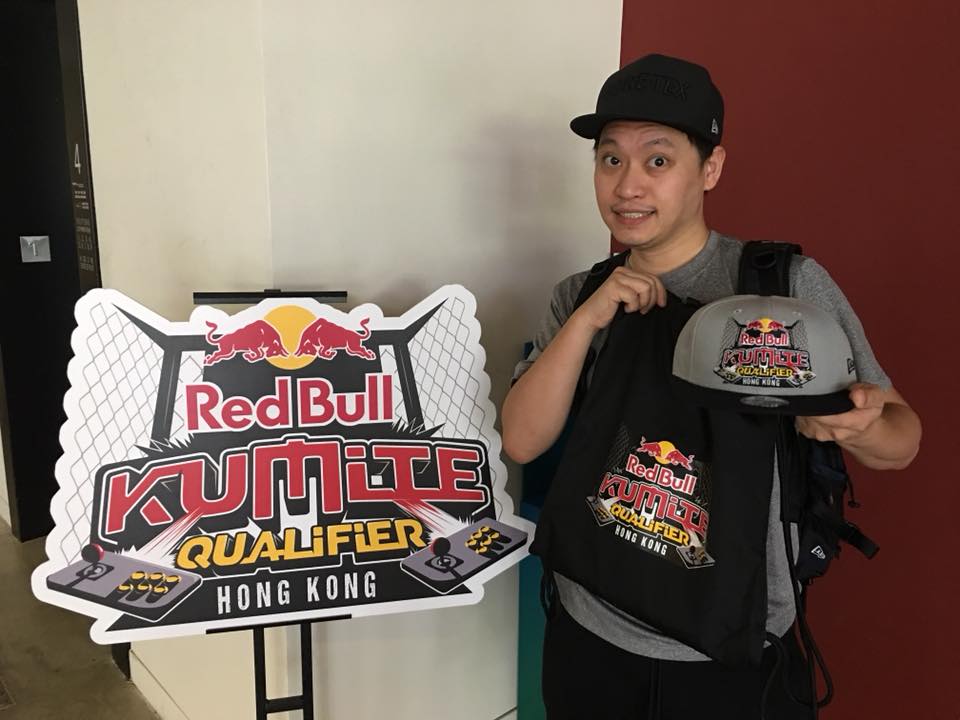 If you wish to find out your placement in a waitlist, Customer Service can give you a general idea for that.
Alex is better than Chocks in Soulcalibur and Tekken, but Chockles is better than Alex in those 2D retro fighting games.
No bonus for people pre-ordering during launch day since it complicates things even further
F4F's focus has always been about value for money while trying to keep the price as low as possible. They believe that the majority of their customer base are casual collectors and are unused to the high prices of the industry, which is why F4F shies away from unnecessary things like plated statue numbers (as opposed to just writing these with a marker) since things like these jack the price up even more.
It used to be that the factory that worked on the prototype would be the ones to produce the statue as well. Now, F4F has the resources to produce their own prototypes, so they now have the power to choose which factory will work on what statue.
Apart from the Elric Brothers, Alex's favorite Fullmetal Alchemist character is Roy Mustang.
The development time between resin versus PVC pieces are almost the same, but PVC has a clear advantage in the production stage over resin.
If Alex were an ice cream flavor, he'd be a piña colada; Chockles would be Chunky Monkey since he loves monkeys so much.
Alex doesn't like the taste of Macha ice cream; Chockles does.
Tried getting a Ghibli license in the past but didn't get anywhere with that
Alex quite likes the Kill la Kill poll.
The road to the Darksiders license has been bumpy.
Fist of the North Star is a bit crowded as of the moment.
WHO DAT WHO DAT: The answer was Lemmings. Those on the hot seat were DEVONN WENNSTROM (2,000 reward points) and ALEX PITULA (lost).
---
To view everyone's questions from the Q&A portion of this episode, please click HERE.
If you want to have your questions answered by our very own Chocks and Alex, simply search "Chocks and A" in the F4F Official Collectors Club Facebook group and leave your questions in the comments section of the most recent thread prior the upcoming live stream. This thread is posted every Thursday of the week.
If you wish to watch the entire video:
---
Last Update
2018-10-18 04:15:44