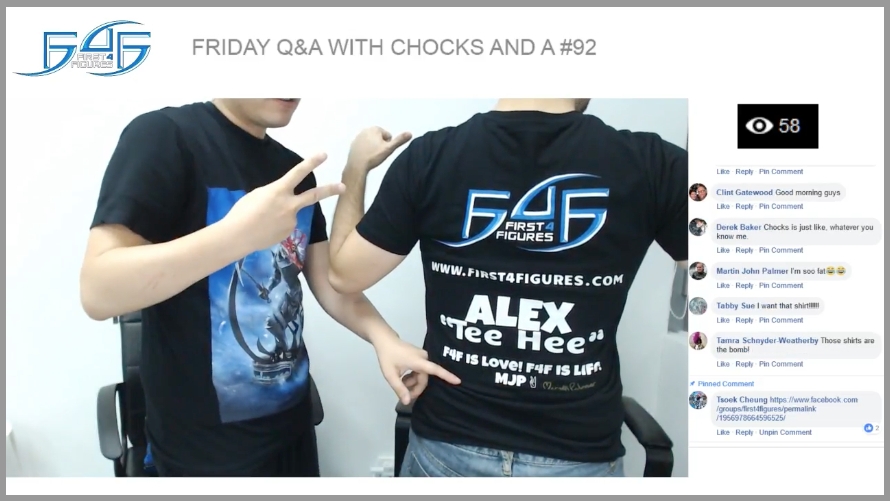 This is a breakdown of the important (and not so important) topics of last Friday's (2 November 2018) Friday Q&A with Chocks and A #92.
---
REMINDERS
ALPHONSE ELRIC is still open for pre-orders until 16 November 2018, or possibly longer if the Exclusive and Definitive versions don't reach a combined total of at least 1,000 pieces sold.
The HORNET RING from the F4F x TORCH TORCH partnership is still open for pre-orders until 12 December 2018.
GUTS THE BLACK SWORDSMAN is still open for pre-orders until the Exclusive versions reach a combined total of at least 1,000 pieces sold or until before production begins.
SPIKE SPIEGEL is still open for pre-orders until the Exclusive version reaches at least 1,000 pieces sold or until before production begins.
WARP STAR KIRBY is still open for pre-orders until the Exclusive version reaches at least 1,000 pieces sold or until before production begins.
PSYCHO MANTIS is still open for pre-orders until the Exclusive version and Special variant reach a combined total of at least 1,000 pieces sold or until before production begins.
SPYRO PVC (EXCLUSIVE) is still open for pre-orders until it reaches at least 3,000 pieces sold or until before production begins.
MCM LONDON COMIC CON 2018 REVIEW AND INSIGHTS
Chockles didn't get a chance to go around MCM London Comic Con.
The F4F x Animegami booth was in a good location. It was near two main entrances.
The venue of MCM London Comic Con was quite dim due to the high ceiling. The LED lights installed in their booth made a big difference.
Animegami visited First 4 Figures last April 2018 and has since kept a strong relationship with them.
F4F offered their Guts and Solaire of Astora SD statues to Animegami for them to display in conventions they were attending, before eventually coming up with the idea to share a booth at MCM London Comic Con.
MCM London Comic Con was a perfect opportunity for F4F to test how they would fare at smaller conventions and see if they can at least turn a slight profit by purely selling PVCs.
If this was a success, then F4F could think about going on a convention tour.
After their three convention experiences (NYCC 2017, Gamescom 2018, and MCM London Comic Con 2018), Alex is convinced that resin statues do not sell at these events, at least not enough to make these worth bringing a lot of.
F4F has grown their business to what it is now without ever having to attend conventions. The medium has always been the same – their website – so they know events aren't necessary to sell resins. Although, that isn't to say that they won't be bringing a few to future conventions to serve as conversation pieces.
The MCM London Comic Con booth was more about functionality rather than looking presentable. Every space that Chockles could find, he made sure to fill it up with PVCs.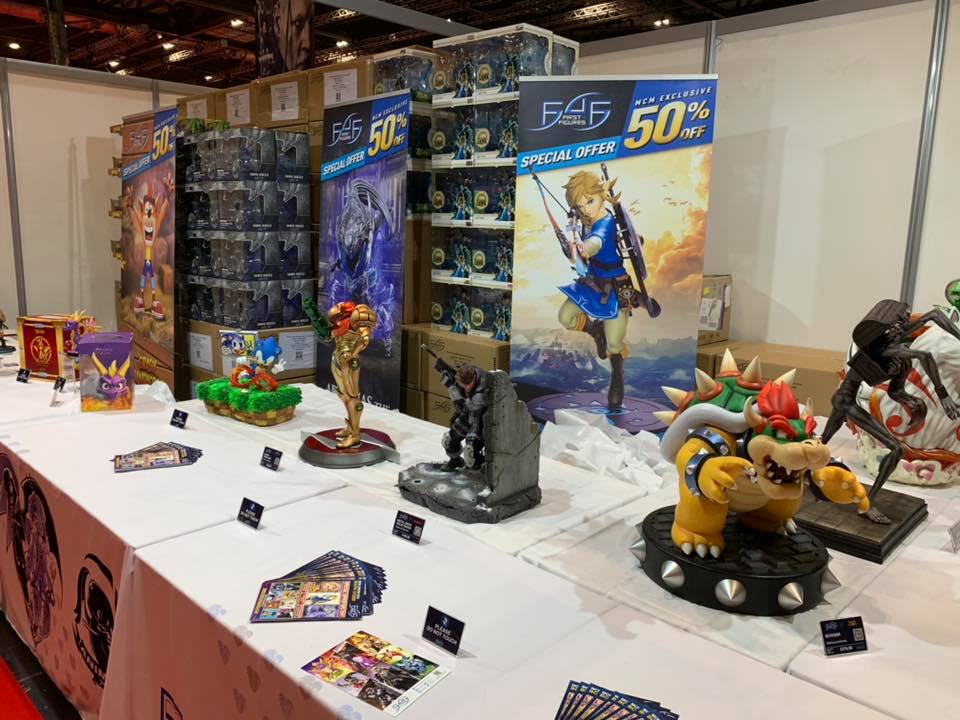 Resin statues for display only during the event:

Bowser
Mimic
Varia Suit
Amaterasu Life-Size Bust
Solid Snake
Sonic the Hedgehog 25th Anniversary

PVC statues for sale:

Breath of the Wild Link
Crash Bandicoot
Artorias the Abysswalker SD

PVC statues for display only:

Spyro™ the Dragon (Exclusive)
Solid Snake SD

A lot were impressed by the Amaterasu Life-Size Bust but thought it was pricey since they weren't familiar with the industry. However, Chockles was able to inform them that there will be an affordable Amaterasu PVC in the future similar to the PVCs on display, which they showed interest in. Because of this story of Chockles, it became clearer to Alex that PVCs are key to the expansion of the F4F brand. It's a great way to introduce them to industry, and sometime in the future, when the time is right, they'll hopefully purchase their first resin piece. It is also easier to spread the word about F4F with these because attendees can immediately take these home with them, as opposed to having to wait for x amount of months or years for resin pre-orders to arrive.
Joining the

Official Collectors Club

is also key in that those who are new can ask their fellow collectors about F4F and their experiences with the company.
They encountered a bit of a problem where local shops approached F4F's distributors saying that they would stop buying F4F's products if F4F continues to price their PVCs at such a low price during conventions because the shops won't be able to sell their stocks.
Alex can understand from a retail point-of-view that this is detrimental to them, but he can also understand their point-of-view, which is to price it as such to get the awareness out quickly. As such, Alex is thinking about implementing the 50% off convention pricing scheme for PVC products that have already been out for more than a year. Those that have only been out for less than a year would be priced maybe 25% off during conventions.
F4F's goal was to sell out 650 PVC statues during MCM London Comic Con, and although they weren't able to do so, they only brought home less than 100 pieces. This is great considering the number of attendees in MCM London Comic Con was significantly less compared to Gamescom, and they were able to sell 450 PVCs then.
This result opens up the possibility of attending more smaller conventions in the future. They're looking to do PAX East, ACGHK, Gamescom, and possibly either Lucca or NYCC in 2019. If these do well, Alex will look into hiring people solely focused on organizing and attending conventions all of the world. It isn't viable for Alex and Chockles to go to all these shows because they have the company to run.
Chockles would be glad if even just half of those that purchased their PVCs during conventions joined the

Official Collectors Club

. That's still a lot of potential new customers.
People were taking the leaflets that were laid out on the desk without even being handed one, and they showed interest in the products on it.
Alex isn't convinced about Lucca at this stage because he thinks that the convention setup is horrible. They may attend a different convention instead around the October/November time.
PVCs, how they sell these, and going to conventions go hand-in-hand. In retail, F4F expects their PVCs to have a shelf life of at least three years and constant re-orders every six months or so. If they find that the level of re-orders isn't where they want it to be, that's when they need to attend more conventions because they know they can sell these there.
Would they return to MCM London Comic Con in 2019? No. Why? Currently, F4F has three PVCs to sell during cons. If they release three more PVCs before the next MCM London Comic Con, it's possible that most will only be interested in the three new ones since they've already seen the other three the year prior. So instead, F4F would much rather visit a convention they've never been to before because to the attendees, they'll be seeing six new products instead of just three. For Alex, swapping around cons is key.
Alex feels more comfortable going back to New York Comic Con now that they have more knowledge about conventions.
F4F would never attend international flagship shows that were less than four days.
Done with conventions for 2018; could hopefully manage to squeeze in PAX East this coming March 2019; unsure when the deadline is
ON PVCS AND RESINS
Now that F4F is focused on creating more PVCs, when acquiring new licenses, they negotiate that they be allowed the ability to create both resin and PVC products.
Alex doesn't like the idea of creating both a 1/4 and 1/6 scale resin in the same design because they're still similar in price. Also, it would make sense to continue producing one of the scales if the other is the significantly more dominant one in terms of sales. Instead, creating a resin and a PVC version in the same design would make more sense. These cater to two completely different kinds of collectors, and the price difference is substantial.
If there is a lack of retail support for PVC projects, the resin counterpart will act as a second revenue stream, hence aiding the same one project in covering development and production costs.
With new licenses, assuming F4F was allowed to do both resin and PVC, Chockles prefers releasing PVCs first because these are quicker to release out into the marketplace in comparison to resin pieces. Although resins are quicker to develop, PVCs are lightning fast to produce once the steel molds are made.
Everyone will be notified ahead of time whether or not a PVC release will have a resin counterpart and vice versa so that buyers can make an informed decision.
PVCs will not cannibalize the sales of resins because the goal was to launch the project in the first place, and because of the resin counterpart, the mission was accomplished.
Best part about Chockles' MCM London trip that wasn't F4F-related was Animegami's big, fat, fluffy cat named Cody; Chockles just wanted to cuddle and punch him
Chocks was required to wear the reflective vest during booth setup, and he had to pay 5 GBP for it.
WEEK IN REVIEW
On 22 October, Alex welcomed his fourth, Clementine Kaoru Zara Davis! Kanako will be taking care of the newborn until such time that their child is old enough to learn. Alex loves nothing more than teaching kids stuff, but only when they're at that age where they can understand things.
Due to popular demand, at long last, you now have the ability to see your order in the Order Page. That being said, kindly add your website feature wishlist

HERE

.
Alex posted a Xenoblade Chronicles character poll since the

TT poll

did well. Rally the fans!
Alex also posted a Kingdom Hearts character poll and was disappointed with the results, seeing as the

Disney poll

did really well. He can't go into too much detail but Alex had his reasons for posting a character poll and wanted to see if this was something that was real. But, given the results of the character poll, he may not need to look into it after all.
There was a debate about the validity of feedback from window shoppers vs. real buyers. Alex's stand is that as long as the feedback is valid, it doesn't matter who said it. The only time Alex will take the opinion of window shoppers lightly is if they're talking about the quality of a statue or packaging since they've never owned one before.
The Spike Spiegel Facebook advert was flagged for containing a cigarette in the image.
Ever since Dracula missed its target launch date last 26 October, they've been scrambling in the office as to what to do next. It's been very frustrating for Alex to see the inefficiencies of the company. He knows what to do to fix these problems, but it will take time and effort.
There has been movement in F4F's Instagram since Peggy joined. They're also looking into Pinterest and would like to be more active on Twitter and YouTube as well.
TEMPTATION THURSDAYS (TT) POLL
Last week's Saya Otonashi from the Blood+ series TT Poll #124 Results: 35 YES votes / 206 NO votes
This week's Bill and Lance from the Contra series TT Poll #125 Results: 6 YES votes / 140 NO votes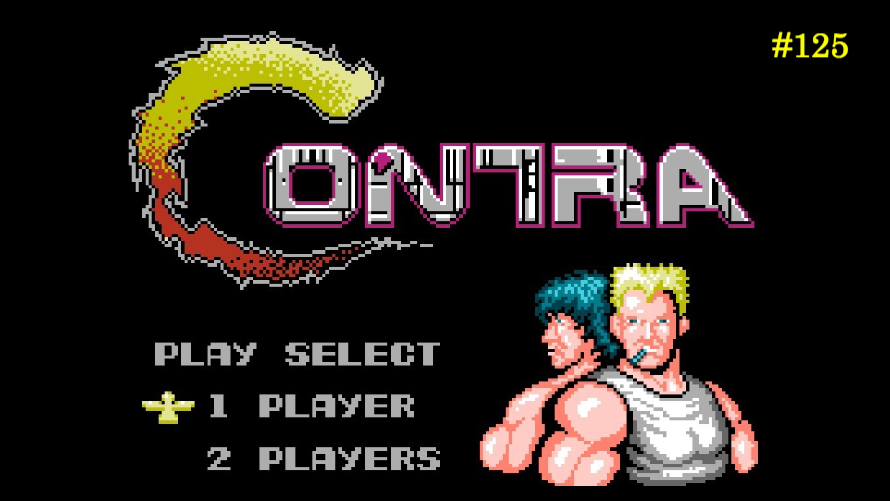 Next TT polls will be (in this order): BROTHERS: A TALE OF TWO SONS ➔ SEVEN DEADLY SINS
The five winners of the other week's #F4FISFAKE are JEREMY LARRUMBE, CHELSEA HARRIS, JOHN FABIAN, MARCO CASTELLANI, and GRAEME JENKINS.
This week's hashtag is #F4FMOS for a chance to win 500 reward points.
Talk to Alex again about the Sailor Moon TT poll once it hits 1,000 Yes votes; currently at 633
Death Note now a potential TT poll
ONGOING –

Match #1

: Sif with 1.1k votes vs. Sonic 25th Anniversary with 478 votes
NEXT WEEK – Match #2: 20th Anniversary Sonic vs. Amaterasu
Of the 55 valid KotR entries, 84% of them are still in the running with the current results of Match #1.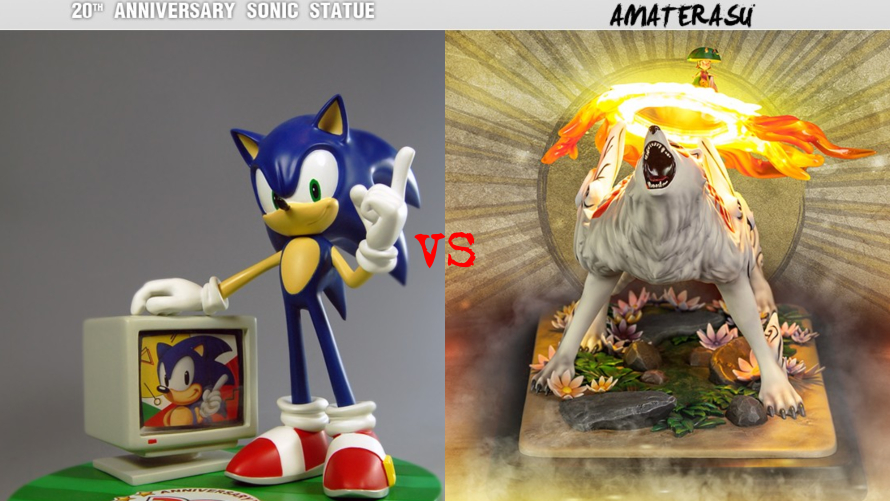 PRODUCTION VIDEO EXCLUSIVES
(NOTE: You need to be a member of the Official Collectors Club to view these videos.)
VARIOUS CHARACTER & PRODUCT LINE UPDATES
F4F CORE RANGE UPDATE: Coming soon
F4F will send out a notice e-mail one week prior the closing of extended pre-order periods.
SPYRO PVC (EXCLUSIVE) UPDATE: Currently sold about 2,500 pieces on estimate; color of packaging improved
SOLAIRE OF ASTORA SD UPDATE: It's coming along
BANJO-TOOIE PVC UPDATE: CONFIRMED – There will also be a 1/4 resin version of this in the same design.
SPYRO REIGNITED RESIN UPDATE: Will be in a different pose than the PVC; concept approved by the licensor
DRAGON SLAYER ORNSTEIN UPDATE: Production has finally started; addition of blood on armor was requested by the licensor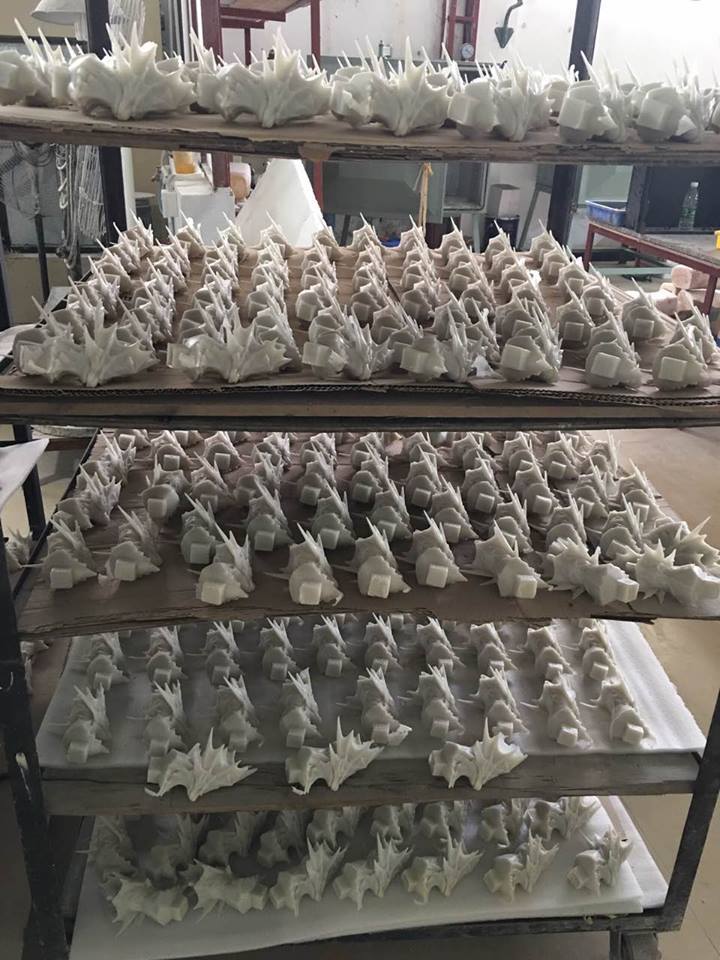 Alex to have a conversation with the IT team about store credit vs. gift cards
FAYE VALENTINE UPDATE: Been kicking Alex's butt; pose changes are drastic because of difficulty; still more work to be done
Alex posted a face sculpt image of Ryo Hazuki from Shenmue but received very little reaction from the fans. It is now further down the priority list.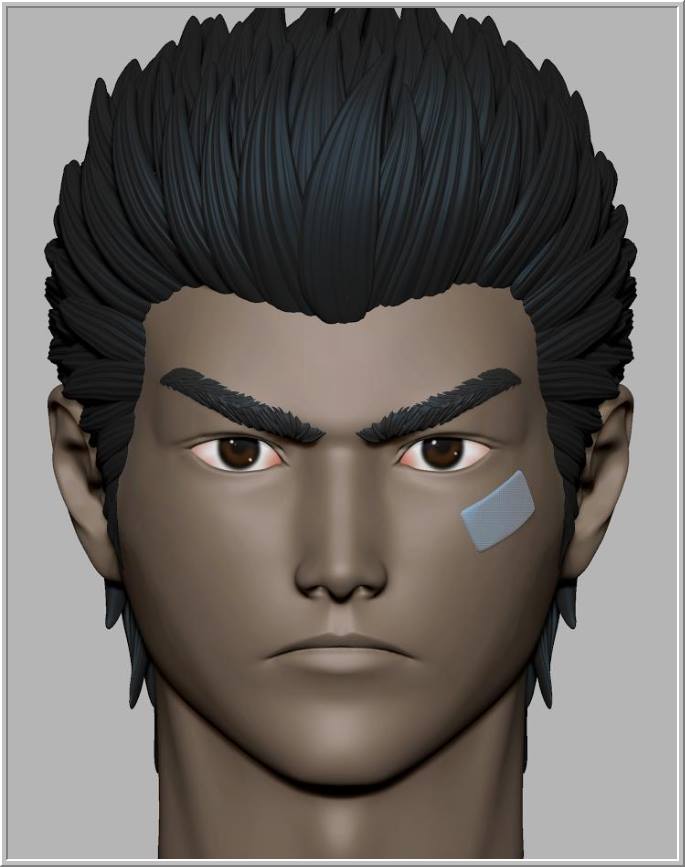 SOLID SNAKE UPDATE: Inner shipping box design updated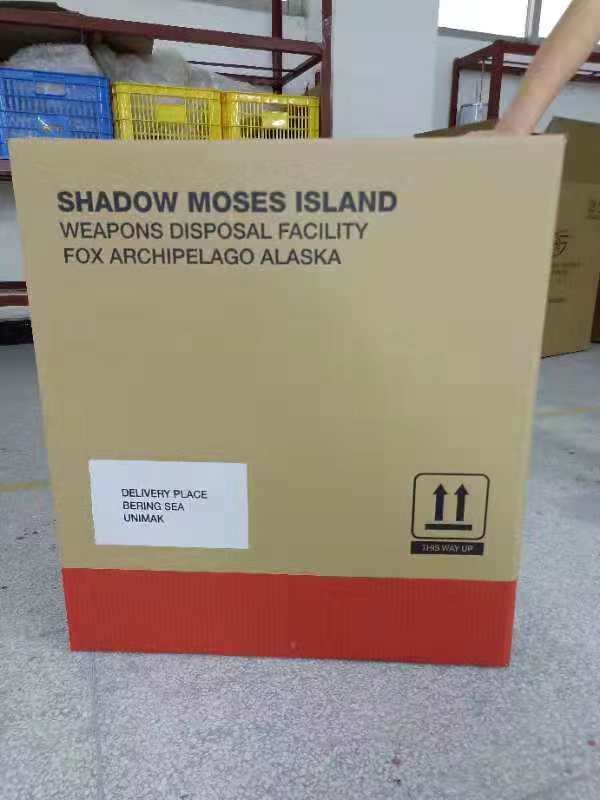 PHOENIX WRIGHT UPDATE: No more objections; to go up for pre-order sooner rather than later; Alex surprised by the number of reactions his

post

received; the 2015 Alex Davis developed black bases; Phoenix Wright Definitive Edition not necessarily the same as the previous ones (e.g. True Form Midna Definitive Edition completely different from the Alphonse Elric Definitive Edition)
BANJO-KAZOOIE UPDATE: New base has now been done; tuft of hair shortened; eyes will be looking a bit to the side but won't be swap outs; still unsure when the Last Chance Weekend will be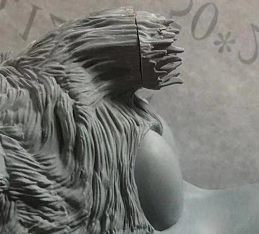 CONKER UPDATE: Ready but pushed back because of the Banjo-Kazooie delays
AMATERASU PVC UPDATE: Now moving to the steel molds stage; this and the resin version likely to be the only Ōkami pre-orders for 2019
SONIC AND TAILS DIORAMA UPDATE: Sneak peek; looks amazing
MINI AKU AKU MASK UPDATE: Ready but will wait until Crash (Resin) is out in the marketplace
VARIA SUIT: Estimated to release sometime this December or January
No Yakuza update
No updates yet on the "Kickstarter" program
ALPHONSE ELRIC UPDATE: Currently at about 7.5 gold bars (around 450 units)
META RIDLEY UPDATE: Almost done; could hopefully send the revisions to Nintendo soon; price still to be determined but is going to be expensive
MARIO ON YOSHI UPDATE: CONFIRMED – Blue variant unfortunately in the Vault
SILVER THE HEDGEHOG UPDATE: Factory is so slow; will get further into the Amaterasu Life-Size Bust production first before looking into the re-orders of Silver the Hedgehog
TRUE FORM MIDNA UPDATE: Will be in the same factory as Majora's Mask and is estimated to start production in a couple of months; already done the etching on the case
Alex to visit the Crash (Resin) and Alucard factory next week
LAW UPDATE: On the top of Alex's to-do list
BOWSER UPDATE: One shipping box to contain Bowser himself and the other the base; edition size increased to 1,100 pieces worldwide
MINI FIGURE UPDATE: Team hasn't gotten back to Alex on this; Alex always having to chase them about it; will be included in Alex's Gantt chart
DARK SOULS UPDATE: A lot in development but taking a bit longer than expected for reasons they can't go into; getting to the point where Alex is locking down information on this until he has something to say
OKI WOLF FORM UPDATE: Will be in the same design style as Amaterasu and Shiranui
CHIBITERASU UPDATE: Will come after new resin Amaterasu
Alex to start looking more into plush in the next month or so
MORRIGAN AENSLAND UPDATE: Coming along very nicely; other characters in the line will depend on her sales
IVY UPDATE: Wrapping up soon
MODERN AMY ROSE UPDATE: Alex still needs to work on it
SHIRANUI UPDATE: The factory has been selected and they're just working on some things at the moment; should go into production soon
AKU AKU LIFE-SIZE MASK UPDATE: Alex needs to check but should be in production now
Not possible for Guts: The Black Swordsman and Dragon Slayer Ornstein to ship at the same time since they're both in the same factory
AIKA UPDATE: Still unsure when she'll go live as a "Kickstarter"
SOLAIRE OF ASTORA SD UPDATE: Praise the Sun Edition causing problems in production
DRACULA UPDATE: It will be awhile
GABRIEL BELMONT UPDATE: It will be a while; sounded like will be in his Human form since the Vampire form has already been done (

Dracula

)
GENOS UPDATE: Hopefully a pre-order for 2019
AMATERASU LIFE-SIZE BUST UPDATE: Shipment will be awhile because the production is very slow; however, waitlists will convert quicker than normal
Will be a very strong line-up of pre-orders for 2019
OTHER TOPICS
Alex's newborn currently looks like a red potato.
Kanako accidentally smacked Alex in the face with some plates, which scratched his eyeglasses; he'll be getting a SMILE Laser Eye Surgery instead of replacing his glasses.
Alex already worked on Jak and Daxter twice under a different umbrella.
Anyone interested in The Promised Neverland anime coming in 2019?
Chocks said Netflix's Castlevania Season 2 is good.
Alex is spending an excessive 400 HKD per day (excluding Sundays) for the next two weeks to have someone deliver his breakfast, lunch, dinner, and two snacks to his home specifically for his Keto diet. The macros of each meal are measured and his total calorie intake per day is only 2,500 calories.
Alex hasn't tried VR yet because he's waiting for a non-pixelated retina display version before trying it out.
Alex to talk to John soon about website updates regarding the postponing pre-order payments
The black polyfoam is cheaper to make but doesn't protect its contents well compared to the white polyfoam.
Alex doesn't think straps will make a difference in shipping. What he thinks matters is the number of parts to assemble. The more parts there are, the more likely something will break.
Nothing to report on the My Hero Academia license
No Shiranui PVC at this stage
Alex and Chocks sound like experts when explaining how to cook egg fried rice.
Waitlist flexipayment plans won't have the one-year option because of storage costs.
F4F started preparing for Gamescom 2018 only about a month prior the convention; they were very lucky.
Hardcore fans of a particular license or franchise are the most passionate and vocal in the Club.
Alex hopes to revisit Zero Suit Samus one day because their previous one could be improved.
No plans to do Hunter x Hunter right now; currently crowded
Alex came up with the idea of Peggy, on the fly.
If F4F had the Witcher 3 license, Alex would only do TF and SD PVC statues; he wouldn't do resins.
No updates on the Persona 5 license
No news on the Darksiders license
New license announcements won't be during OCC member count milestones anymore. These will only be announced when the time is right. They've learned from their mistakes for announcing things too early.
Alex loves to cook sous-vide steaks with a blow torch finish. He couldn't decide what his favorite food is because there's just too many.
The Cheggy debate will remain a mystery until such he/she/they will come to the live stream.
Alex celebrated Halloween with his family. One of his boys dressed up as a pumpkin and his daughter dressed up as Ariel.
Alex's favorite horror movie is Triangle.
Blaze and Super Shadow something to be considered-ish
No chance for Bloodborne statues at this stage
Possibly a poll to determine people's interest in a PVC range of Sonic the Hedgehog's Badniks

F4F has nothing to do with Nintendo's Amiibos.
F4F was denied when trying to acquire the Onimusha license back in the day because of the likeness.
WHO DAT WHO DAT: It was postponed to next week because Alex and Chocks were going to have a conference call with a super secret licensor.
---
To view everyone's questions from the Q&A portion of this episode, please click HERE.
If you want to have your questions answered by our very own Chocks and Alex, simply search "Chocks and A" in the F4F Official Collectors Club Facebook group and leave your questions in the comments section of the most recent thread prior the upcoming live stream. This thread is posted every Thursday of the week.
If you wish to watch the entire video:
---
Last Update
2018-11-14 05:11:43