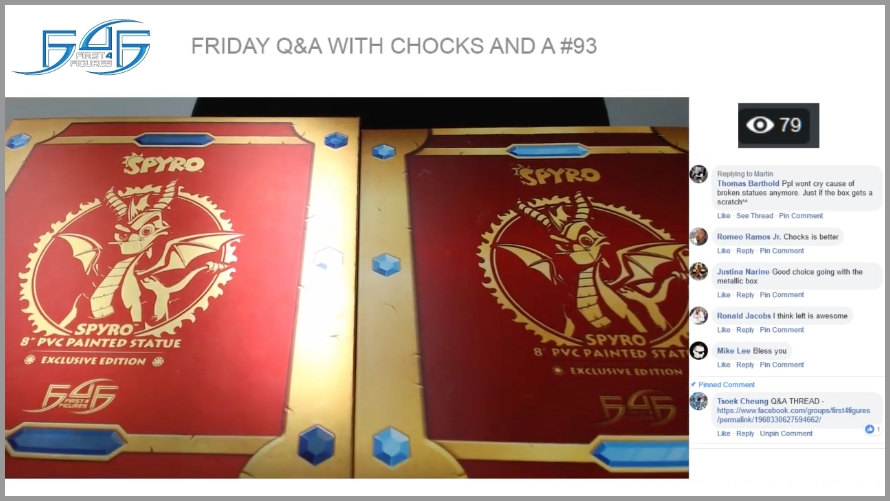 This is a breakdown of the important (and not so important) topics of last Friday's (9 November 2018) Friday Q&A with Chocks and A #93.
---
REMINDERS
ALPHONSE ELRIC is still open for pre-orders until 16 November 2018, or possibly longer if the Exclusive and Definitive versions don't reach a combined total of at least 1,000 pieces sold.
The HORNET RING from the F4F x TORCH TORCH partnership is still open for pre-orders until 12 December 2018.
GUTS THE BLACK SWORDSMAN is still open for pre-orders until the Exclusive versions reach a combined total of at least 1,000 pieces sold or until before production begins.
SPIKE SPIEGEL is still open for pre-orders until the Exclusive version reaches at least 1,000 pieces sold or until before production begins.
WARP STAR KIRBY is still open for pre-orders until the Exclusive version reaches at least 1,000 pieces sold or until before production begins.
PSYCHO MANTIS is still open for pre-orders until the Exclusive version and Special variant reach a combined total of at least 1,000 pieces sold or until before production begins.
SPYRO PVC (EXCLUSIVE) is still open for pre-orders until it reaches at least 3,000 pieces sold or until before production begins.
WEEK IN REVIEW
A lot of good things happened this week. From a week of frustration last week to that of hope.
F4F was planning on four conventions for 2019—PAX East, ACGHK (since it's just in Hong Kong), Gamescom (wanted to flex the convention knowledge they learned this year), and Lucca Comics and Games—but a couple of things have changed. Alex saw that setup of Lucca and didn't like it, and PAX East is proving to be difficult.
The secret meeting after last week's Friday Q&A with super secret licensor went well. Quite a lot of things to do, not a lot of time.
Alex recently had to let someone go because of the feedback he's been receiving from this person's team members, and it was surreal for Alex to do so because his only interaction with this person prior to letting him/her go was the hiring process since this person belongs to a team that Alex doesn't handle.
Alex comes to work every single day motivated to improve on the company in all aspects. Recently, just to get everything back on track, he rolled up his sleeves and did about 5-7 3D sculpts himself.
First 4 Figures now has a Pinterest account! Please do check it out

HERE

. If you have any suggestions on how to make their Pinterest board more interesting, please do let them know in the comments section below.
こんにちは!レポーターのワドルディです!
海外のFirst 4 Figuresというメーカーさんから、高さ30cmにもなるカービィさんの大きなスタチューが受注販売受付中とのこと!
ワープスターが輝いてます~っ!詳しくは下記サイトを要チェック!https://t.co/fTWRyi01NB https://t.co/UHQignwdLX

— 星のカービィ (@Kirby_JP) November 9, 2018
F4F published a

blog post

regarding the recent Super Smash Bros. Ultimate Nintendo Direct. Who's excited for it?
Shoutout to the folks over at Wired Productions for successfully publishing Grip!
TEMPTATION THURSDAYS (TT) POLL
Last week's Bill and Lance from the Contra series TT Poll #125 Results: 15 YES votes / 149 NO votes
This week's Naia and Naiee from the Brothers: A Tale of Two Sons series TT Poll #126 Results: 14 YES votes / 183 NO votes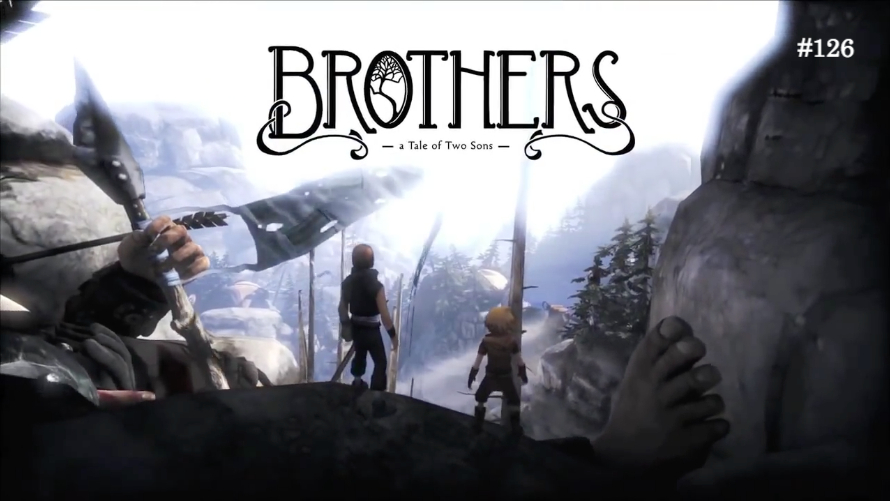 Next TT polls will be (in this order): SEVEN DEADLY SINS
The three winners of last week's #F4FMOS are JERAD MCCLAIN, ANGELO TONN, and RYAN MILLER.
This week's hashtag is #F4FMM for a chance to win 500 reward points.
Alex to put less emphasis on polls given the sales of Warp Star Kirby compared to results of its TT poll
Fairy Tail and JoJo's Bizarre Adventures now on the list of possible TT polls
CONCLUDED –

Match #1

: Sif with ~1.1k votes (WINNER) vs. Sonic 25th Anniversary with 490 votes
ONGOING –

Match #2

: 20th Anniversary Sonic with 362 votes vs. Amaterasu with ~1.2k votes
NEXT WEEK – Match #3: Sword Kirby vs. Jin Kazama
Of the 45 remaining valid KotR entries, 93% of them are still in the running with the current results of Match #2.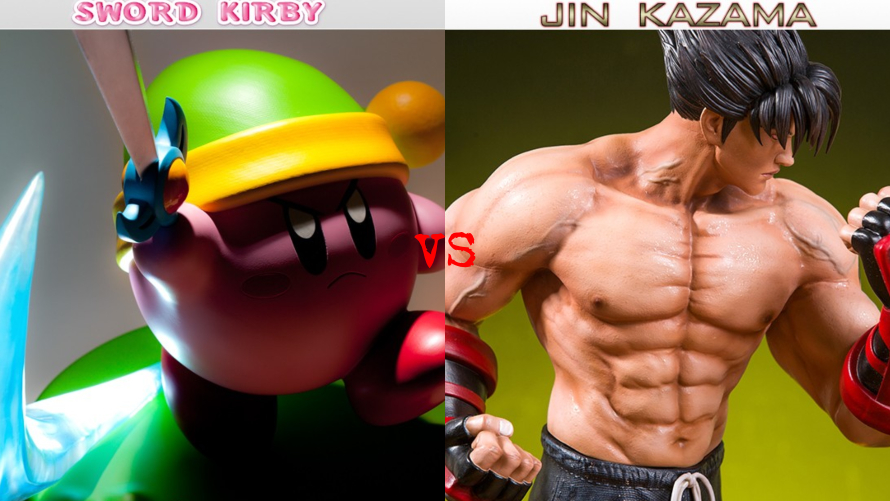 PRODUCTION VIDEO EXCLUSIVES
(NOTE: You need to be a member of the Official Collectors Club to view these videos.)
VARIOUS CHARACTER & PRODUCT LINE UPDATES
MEGA MAN UPDATE: CONFIRMED – True Form PVC is coming; Chocks very excited for this; color variants are key for this line; currently in the 3D stage; will have a resin counterpart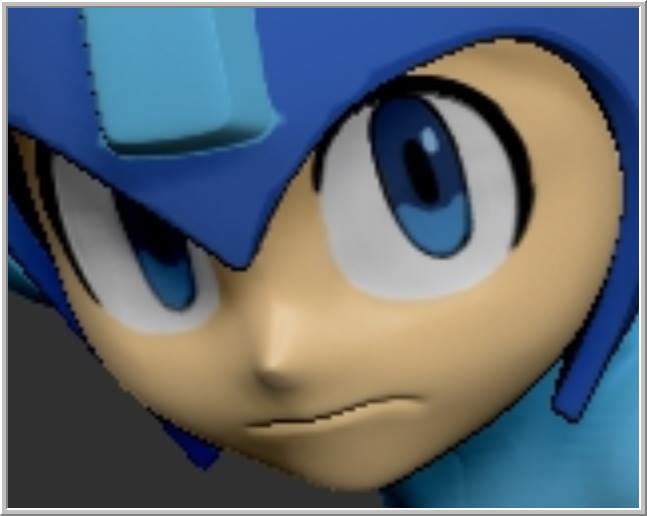 ZERO UPDATE: Will wait until after the release of Mega Man PVC as the chances of succeeding are higher as more fans join the Club; will eat the current costs and start from scratch with a new pose; will work on it in about a month's time
CONFIRMED – There's more than one secret license!
Some of the more hardcore collectors might disagree, but Alex thinks that there is room for a resin version and a PVC version of the same sculpt for a variety of reasons. They are different in size, material, price, and most importantly, market. Also, there is more flexibility when it comes to the base of the resin version. Hence, this idea will be one of the mainstays moving forward as F4F acquires more licenses.
SPYRO PVC UPDATE: Fast approaching the goal of 3,000 units, so be sure to guarantee yours

HERE

before it's too late; final production piece of the Regular version in the office for final inspection; new poll soon to help Alex decide which Exclusive packaging looks better
MORRIGAN AENSLAND UPDATE: Likely both TF PVC and resin, with a more intricate base on the resin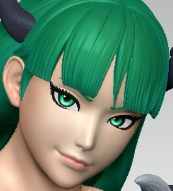 BERSERKER ARMOR UPDATE: Doesn't turn his head unless in Berserker mode; Alex going for a little bit of movement on the head since pose will be far more dynamic by doing so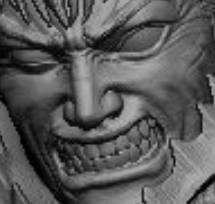 FAYE VALENTINE UPDATE: Alex thinking about going back to the drawing board
OKI WOLF FORM UPDATE: Small teaser from Alex's view of the office from his desk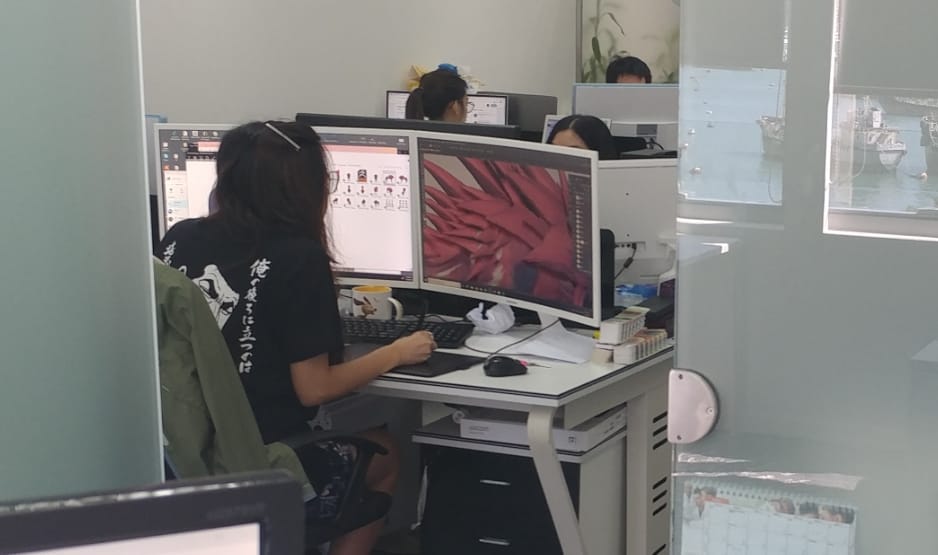 SOLAIRE OF ASTORA SD UPDATE: Still in production; Exclusive version might ship first followed by the Praise the Sun Edition a little bit later on
SPIKE SPIEGEL UPDATE: Production has started; everyone to be notified a week ahead before the closing of pre-orders; guarantee your orders

HERE

before it's too late
KIRBY UPDATE: Exclusive version now with two LED modes: static and twinkling
NEO CORTEX UPDATE: Off to duplication; looks amazing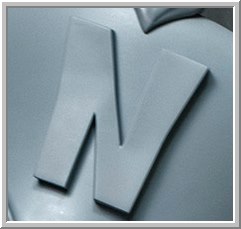 This week's tee-hee was so difficult that Chocks didn't even know what it was.

PHOENIX WRIGHT UPDATE: CONFIRMED – Will be the next pre-order in two weeks' time! According to Alex, the teaser trailer is by far Ting's best work yet. He watched it at least 25 times.
SPYRO CLASSIC PVC UPDATE: Alex working hard on it over the weekend; based on Ripto's Rage
An estimate of 150 waitlists converted with F4F's new website feature; hopefully waitlist payment plans in a week or so

YAKUZA UPDATE: Alex still trying to figure out the complexity of the lights in the Definitive Edition
MINI CRYSTAL DRAGON UPDATE: Team to get back to Alex soon on this
CRASH BANDICOOT UPDATE: No more statues from this franchise for this year
CRYSTAL DRAGON UPDATE: Edition size hopefully to be given next week
Could look into doing jewelry in the far future
DEATH UPDATE: Almost finished in 3D
TRUE FORM MIDNA UPDATE: Not her time yet; estimated to go into production in a couple of months
Even with what's currently in development, Dragon Slayer Ornstein still remains to be the deepest statue of F4F.

Alex contemplating on Alucard SD if they were to make PVC statues for Castlevania

SKULL KNIGHT UPDATE: Taking ages to duplicate; should finish duplication in a couple of months
Hard to say at this stage if Sonic and Tails Diorama or Sonic TF PVC will go up for pre-order first
SHOVEL KNIGHT VARIANT UPDATE: Player 2 and Mail of Momentum have now been approved; Player 2 estimated to go up for pre-order before the year ends, followed by Mail of Momentum Q1 of 2019
DARK SOULS UPDATE: Ten statues currently in development; already announced are 1) Changes to Dragon Slayer Ornstein, 2) Mimic, 3) Gravelord Nito, 4) Dragon Slayer Ornstein SD; and, 5) Siegmeyer of Catarina plush; it takes time and the pace is the pace that the licensors allow F4F to be
IVY UPDATE: Not at the stage yet but hoping for her whip to be flexible similar to that of Simon Belmont's
SHADOW KIRBY UPDATE: Still working on the design
BANJO-KAZOOIE UPDATE: Changes to be shown when it's ready
VARIA SUIT UPDATE: Can't rush production; currently one of the most difficult statues to produce to date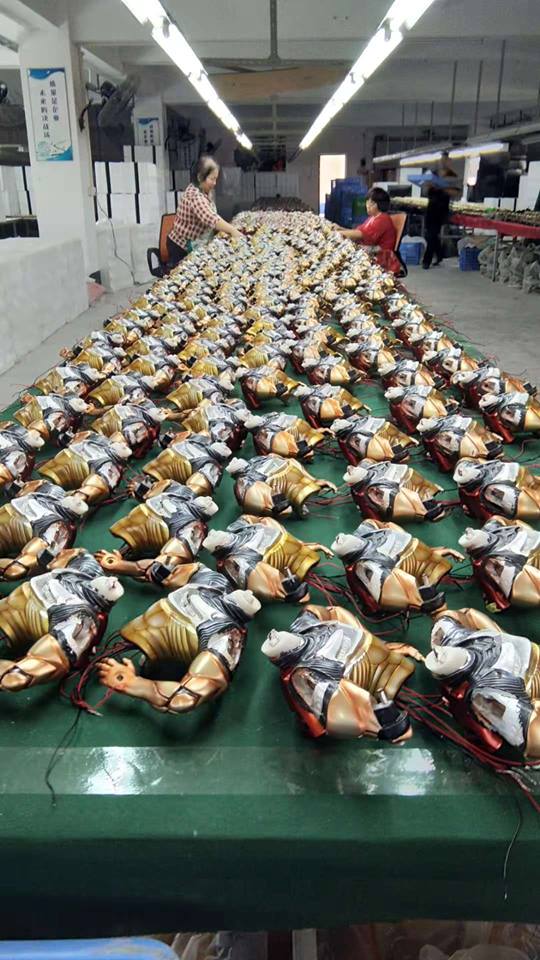 Dracula was pushed back because the head wasn't approved.
BERSERK UPDATE: Still no hints on the fourth statue in development
DANTE UPDATE: Still a thing
What are your thoughts on a Crash Bandicoot PVC in the Classic design and a Crash Bandicoot resin in the N.Sane Trilogy design? Please do let Alex know in the comments section below.
METROID UPDATE: A lot of stuff in the works
OTHER TOPICS
No doubt in Alex's mind that Wolf Link PVC would do very well
You need to spend $1,600 USD to earn 8,000 reward points, or you can try to win it all during their Who Dat Who Dat game.
Chocks has never been to Canada before; he would like to visit someday.
It was Chocks' first time in the United States since during NYCC 2017.
Chocks pushes for a lot of statues to be made, but then there's the one, which Alex thinks would be great if it pulls through.
Alex was dead set against NYCC simply because of their initial experience, but having done Gamescom and MCM London experiences, he feels the need to go back to NYCC for vindication.
Alex is thinking about making use of the second floor of their office as workspace for when they eventually hire more people. Currently, it's being used as the photography studio and their display room, which, for Alex, isn't a wise use of space.
Christmas fever hasn't hit the F4F office yet.
Could look into adding a website feature that will allow buyers to pay 100% of the amount
Red Dead Redemption 2 has sold 17 million copies in two weeks.
They never think about Christmas sneaks until the week beforehand.
No need for F4F to make Alucard from Hellsing right now
Alex's favorite alcoholic drink was Malibu back in the day.
Alex met his wife, Kanako, in a bar in the UK for English classes. Just recently, they celebrated their 10th anniversary as a married couple! Congratulations!
If Alex had to live out the rest of his life as one of his statues, he'd probably pick one of the ladies.
Nothing to report on Persona 5
Alex will never reissue any of their older statues even if it was in PVC unless there's nothing he can do about it.
Not enough characters in the Shantae series
Nothing to report on Darksiders

Alex moved to Hong Kong for Harvey's (Alex's firstborn) eduction.
WHO DAT WHO DAT: The answer was Zombie Waldo. Those on the hot seat were GILBERT RIVAS (2,000 reward points) and CASSANDRA BENNINGTON (lost).

---
To view everyone's questions from the Q&A portion of this episode, please click HERE.
If you want to have your questions answered by our very own Chocks and Alex, simply search "Chocks and A" in the F4F Official Collectors Club Facebook group and leave your questions in the comments section of the most recent thread prior the upcoming live stream. This thread is posted every Thursday of the week.
If you wish to watch the entire video:
---
Last Update
2018-12-11 09:01:12