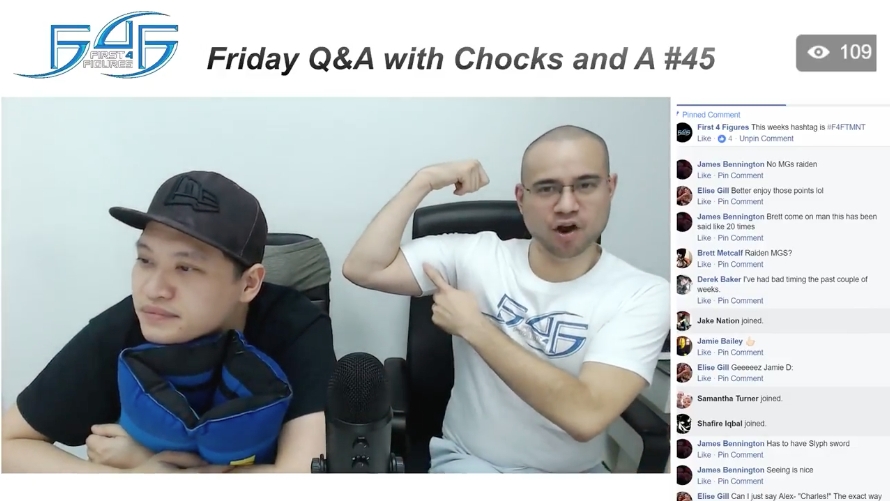 This is a breakdown of the important topics of last Friday's (November 17, 2017) Friday Q&A with Chocks and A #45.
---
WEEK IN REVIEW
BOWSER VALIDATION CURRENT UPDATE: The issue has now been resolved. If you are still experiencing any problems, please don't hesitate to reach out.

45:00

– IN-STOCK FLEXIPAY (BLOG) – It was announced earlier into the week that In-stock Flexipay payment plans are now available! So far, there have been about 100 orders in the first 24 hours! Take note that you cannot retroactively add Flexipay options to your existing orders.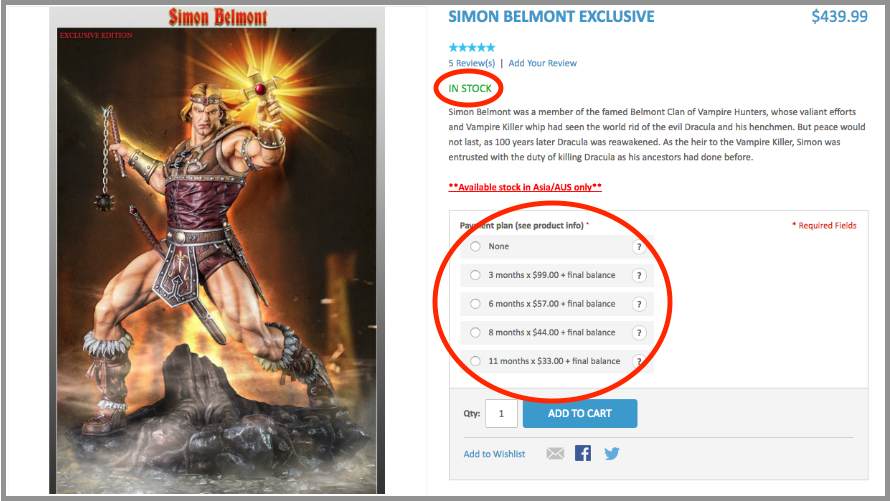 49:18

– You now have a "REMOVE PAYMENT PLAN" option on your "My Orders" page if you wish to do so on a certain order to be able to pay the remaining balance outright.

50:09

– CONFIRMED –

ALL

PRE-ORDERS FROM NOW ON COME WITH A 12-MONTH FLEXIPAY OPTION!

55:45

– FLEXIPAY FOR WAITLISTERS – Somewhere down the road, they will also implement Flexipay options for Waitlisters.

57:35

– They agree that the frontend of their website definitely needs major improvements, but they are currently prioritizing what it is they feel are of greater importance for you guys.

1:00:13

– They released an Aku Aku teaser blog this week. Do check that out and try to solve the riddle at the end.

1:01:21

– F4F's first attempt at their own recap for Friday Q&A with Chocks and A (LINK) – give them your opinions and suggestions and they will look into improving this in the weeks to come.

1:03:08

– Other F4F Merchandise – F4F will outsource the services of fulfillment companies because they are capable of providing limitless merchandise options (color, size, type of merchandise, etc.) The design will come from the community's suggestions (T-Shirt design thread). They are also looking into creating special/exclusive merchandise for F4F achievers.

1:14:30

– Hi Jeffrey! He's responsible for creating the video content of F4F, and is currently working hard on the 35k video reveal. Sorry, no spoilers guys.
November 8-14, 2017 Weekly Stats Hall of Fame (#F4FFamous):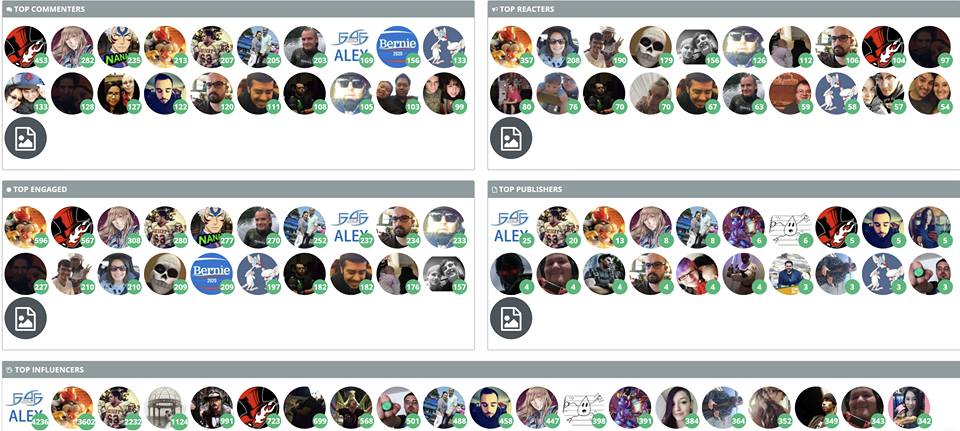 In partnership with the Dark Souls Dangalangs Facebook group, F4F currently has a month-long giveaway contest. For more information, click HERE.
Alex and Chocks are looking forward to Nanasae's report on how things went during the MCM Birmingham Comic Con over the weekend. A blog will be written about this.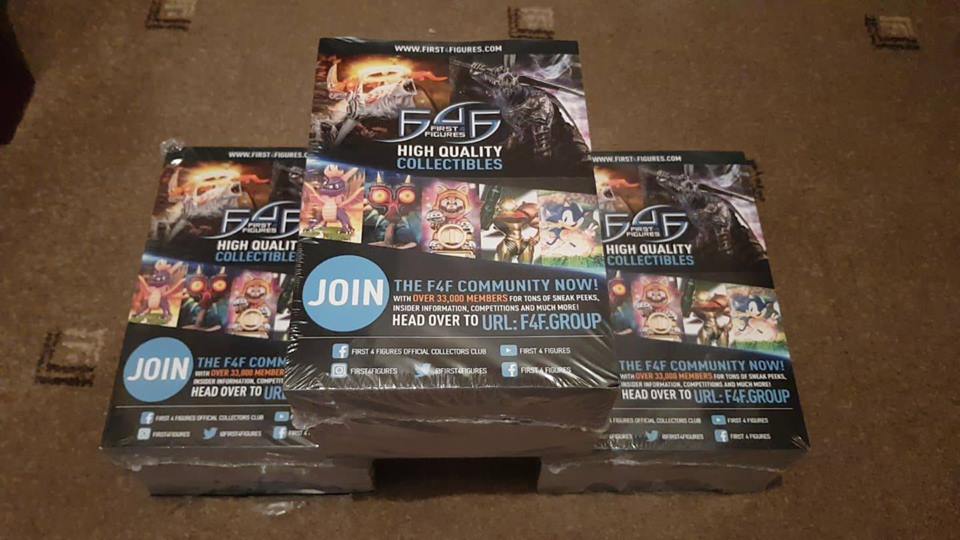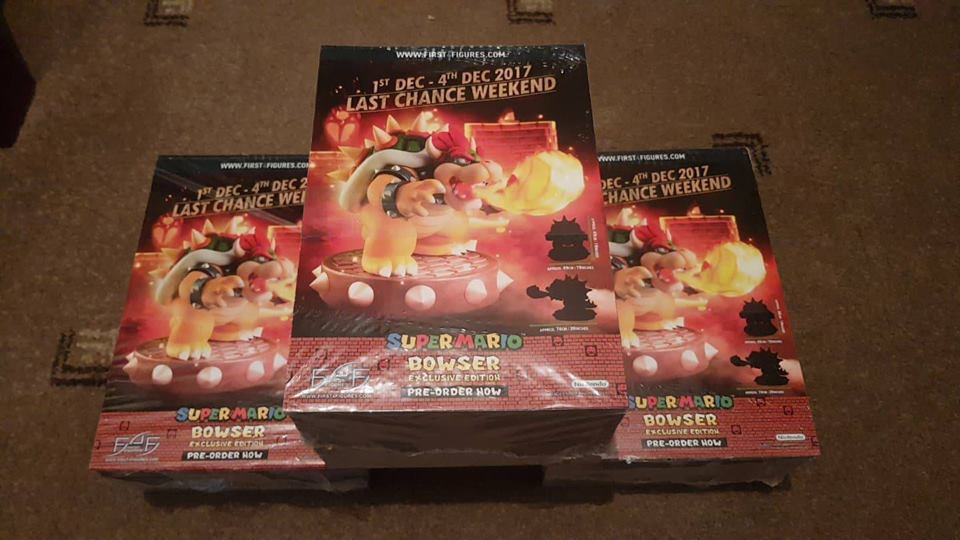 ON FIRST 4 FIGURES' TEMPTATION THURSDAYS (TT) POLL
Last week's Cuphead from the Cuphead series TT Poll #75 Results: 321 YES votes / 436 NO votes (BLOG).
This week's Pokémon from the Pokemon series TT Poll #76 Results: 831 YES votes / 205 NO votes (BLOG). Alex and Chocks can now use this information to show the licensors how badly the First 4 Figures community wants a Pokémon line.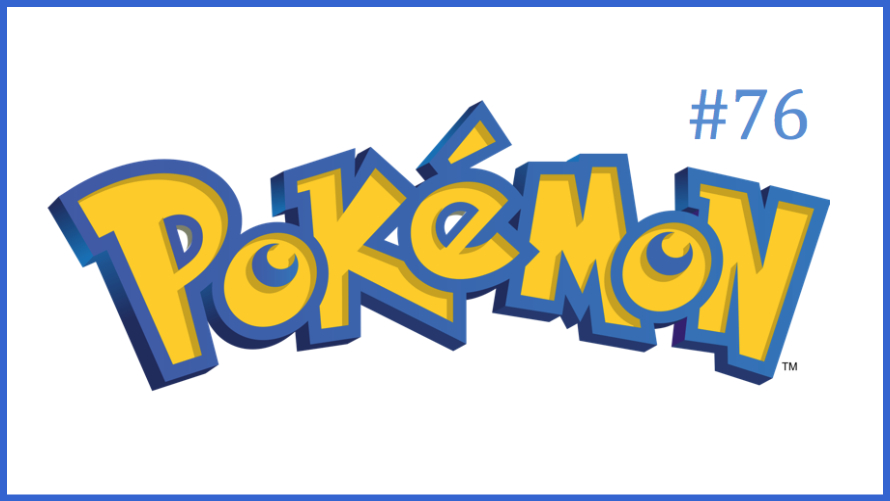 There's already a Pokémon design inside the vault that's supposedly super duper amazing.
3 winners for #F4FPokemon 500 points (DAVID SAVAGE, TIMOTHY RUEBIN, and JOEY MORENO)
Next TT Polls will be (in this order): TEENAGE MUTANT NINJA TURTLES 90's ARCADE KONAMI STYLE (#F4FTMNT) ➔ SECRET OF MANA
The Resident Evil series will receive a TT Poll in the future.
VARIOUS CHARACTER UPDATES
34:33

– VARIA SUIT UPDATE: They are working hard in getting the revised sample into the office for a before and after video. They will prioritize the photos of our next launch, and then the Varia Suits. They are now preparing the white castings. Take note that if you cancel your current order to avail of a different variant, you may end up paying more than just the price difference between the 2 variants because prices will be more expensive during the Last Chance Weekend.

37:50

– TAKI EXCLUSIVE NUMBERS: 325; MAJORA'S MASK EXCLUSIVE NUMBERS: 2,600 (currently the highest EX numbers to-date)

44:00

– FIGHTER KIRBY AND NIGHTMARE UPDATE: Outbox photos were taken early into the week. Shipping should still be on schedule.

1:11:53

– CRASH BANDICOOT NEWS: After the Crash Resin Statue, they will work on Classic Neo Cortex preliminary concepts. Hopefully next week, Alex can start working on this. This will then be followed up by a Crash Statue in a different pose.

1:12:54

– CRYSTAL DRAGON UPDATE: After receiving feedback from the community, the Crystal Dragon LED lights will blink at a slower pace. The finish isn't transparent; it will have a beautiful green tint on it.
1:13:31

– SPYRO THE DRAGON UPDATE: This is currently in production. The video this week was its limbs in separate pieces. The arms need to be added onto the body and should fit perfectly so that the seams won't be obvious.

1:15:43

– KATAMARI UPDATE: More Katamari productions videos soon
DEVIL MAY CRY UPDATE: Last week's photo of Dante's head sculpt was a bad one. This is the original 3-D print: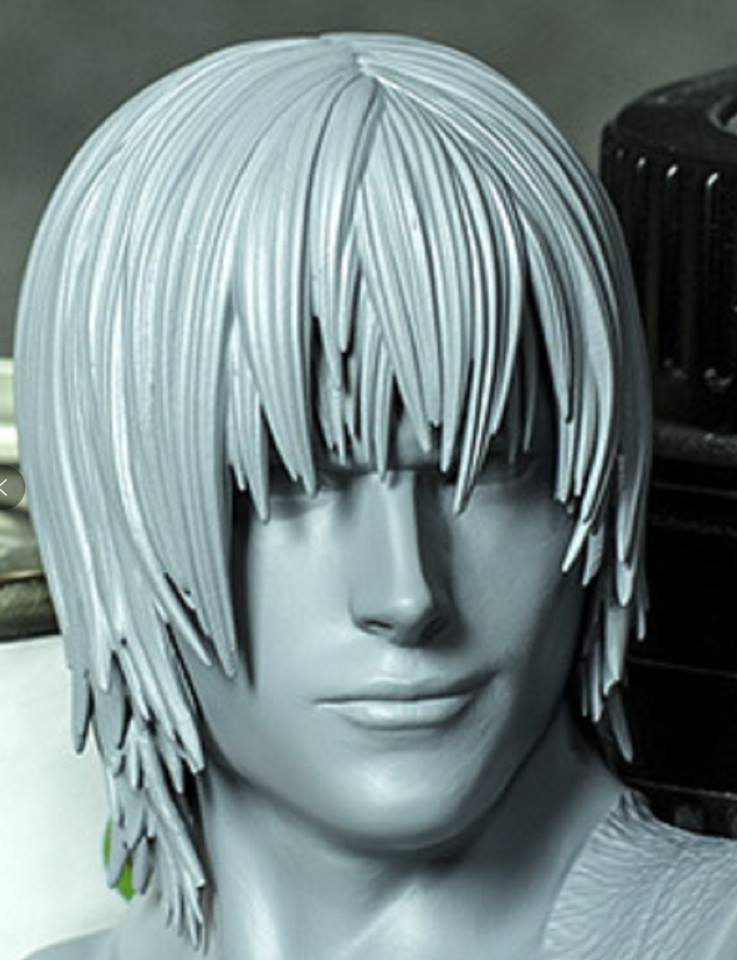 SHIRANUI UPDATE: They received photos from the painters today, but Alex was not happy with it, so changes will be made. It was too clean, more shading needs to be added, and some colors need changing as well.
CURRENTLY IN PRODUCTION: Nightmare and Sif (wrapping up), Katamari, Jin, Spyro, Sonic 25th
ABOUT TO GO INTO PRODUCTION: Life-Sized Amy Bust, Solaire, and Majora's Mask
GUTS PRE-ORDER PERIOD: – Early next year, and you will have the option to choose a bloody or a not bloody variant.
ZERO will be their next launch after their upcoming launch.
MY HERO ACADEMIA UPDATE: It is becoming more and more difficult to set aside. More research is in order but there may be a multi-poll soon.
PYSCHO MANTIS PRE-ORDER PERIOD: Most likely Q2 of 2018, but you can expect sneak peaks during the holidays.
KAMINA UPDATE: They are getting the results of his test-printed head this Monday.
COWBOY BEBOP PRICING: It will be similar to the Saitama pricing to attract more people into their anime line. In order to achieve this, they will be using a simple, black base (like their Soulcalibur II Regular bases).
SHOVEL KNIGHT (EXCLUSIVE) UPDATE: Wait for your minds to be blown.
MIDNA UPDATE: This should finish in a week or so for submission to Nintendo.
ALUCARD PRE-ORDER PERIOD: Early Q1 of 2018
ALPHONSE UPDATE: The changes have finally been approved and is now being duplicated for the castings and painting.
NEON SNAKE UPDATE: It will probably be ready in about a month.
BOTW RIDER LINK PRICING: More expensive than Epona/KORL Link
AKU AKU PRICING: About the same as Majora's Mask
CRASH BANDICOOT RESIN PRICING: Significantly more expensive than the Spyro Statue
SKULL KNIGHT UPDATE: The design and concept on this is improving.
OTHER TOPICS
It's been awhile but Alex did another random feeding frenzy for 100 F4F reward points for 50 people. (LINK)

1:10:58

– Uka Uka Poll: Kindly vote and let them know if you're interested in an Uka Uka Life-Sized Mask (a perfect match for your Aku Aku Life-Sized Mask).

1:16:54

: Those who were thinking of interning under Alex might highly want to reconsider that…
They bought their own 3-D printer for the office so that Chockles can now start printing his own Red Bull.
Aku Aku Life-Sized Mask Statue will have lights on the Exclusive version; it won't be spinning.
They will complete all the Metroid A-list characters before looking into creating B-listers.
Sheikah Slate and Rider Link next along the Legends of Zelda line.
Alex is apathetic about creating Happy Mask Salesman in resin because he thinks it will still sell well as a PVC.
The head/flame on the Bowser (Exclusive) Statue will have a downward orientation but with his eyes still facing forward.
The Nights line may possibly face the dreaded "To Vault or Not to Vault" because of its poor performance.
Alex's biggest issue with the Attack on Titan license is that the time it takes from attaining the license to designing and creating the actual product will take so long that somewhere along production process someone might suddenly release all sorts of Attack on Titan merchandise. If ever they made one though, it would probably be on the human characters first.
It is confirmed that there will be a Helicopter Sonic and Tails diorama.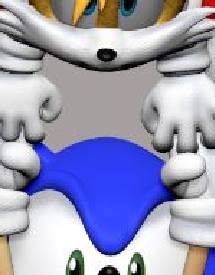 There won't be any Smash Bros.-branded items (although you can create one yourself with your collection).
They will have to see how Kamina and Yoko of the Gurren Lagann line perform before looking into creating the Mechs, but they are a bit more lenient with their anime lines because they just started doing these.
They are not creating a generic Luigi statue. No Luigi's Mansion = no Luigi.
Alex is unsure about how Ace Attorney will perform but he is hoping for the best.
Alex regrets adding the ring with Sif because of the unnecessary delay it caused.
Alex's favorite Pokémon is the one with the highest sales, and Chocks has no comment on who his favorite Pokémon is? Suspicious…
It is now 2-0 in the Rock-Paper-Scissors series between the two in favor of Chocks. Alex, you need to catch up mate.
In 5 years, Alex and Chocks are basically hoping to become medium-sized potatoes by then, and maybe a sponsorship by Red Bull for Chocks.
In 10 years, Alex's biggest worry is the mass accessibility of 3-D printing, which is why he aims to have already established themselves as a brand by then. For Chocks, he's hoping for a mini-Chockles (ladies, *wink wink*).
Plague and Specter are next in line along the Shovel Knight series.
Did Alex really upload his Sif drop test video? Why are Chocks and Alex laughing? "That was the tease for the night," says Chocks.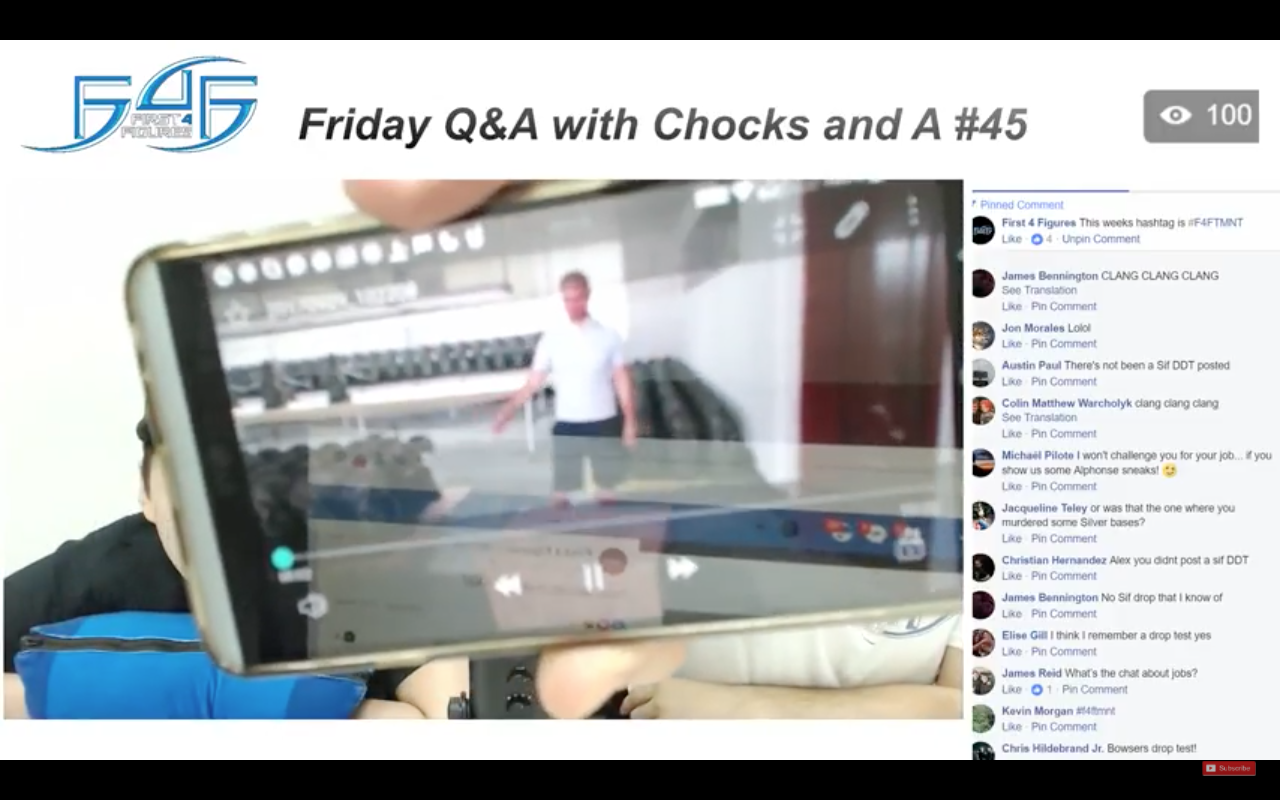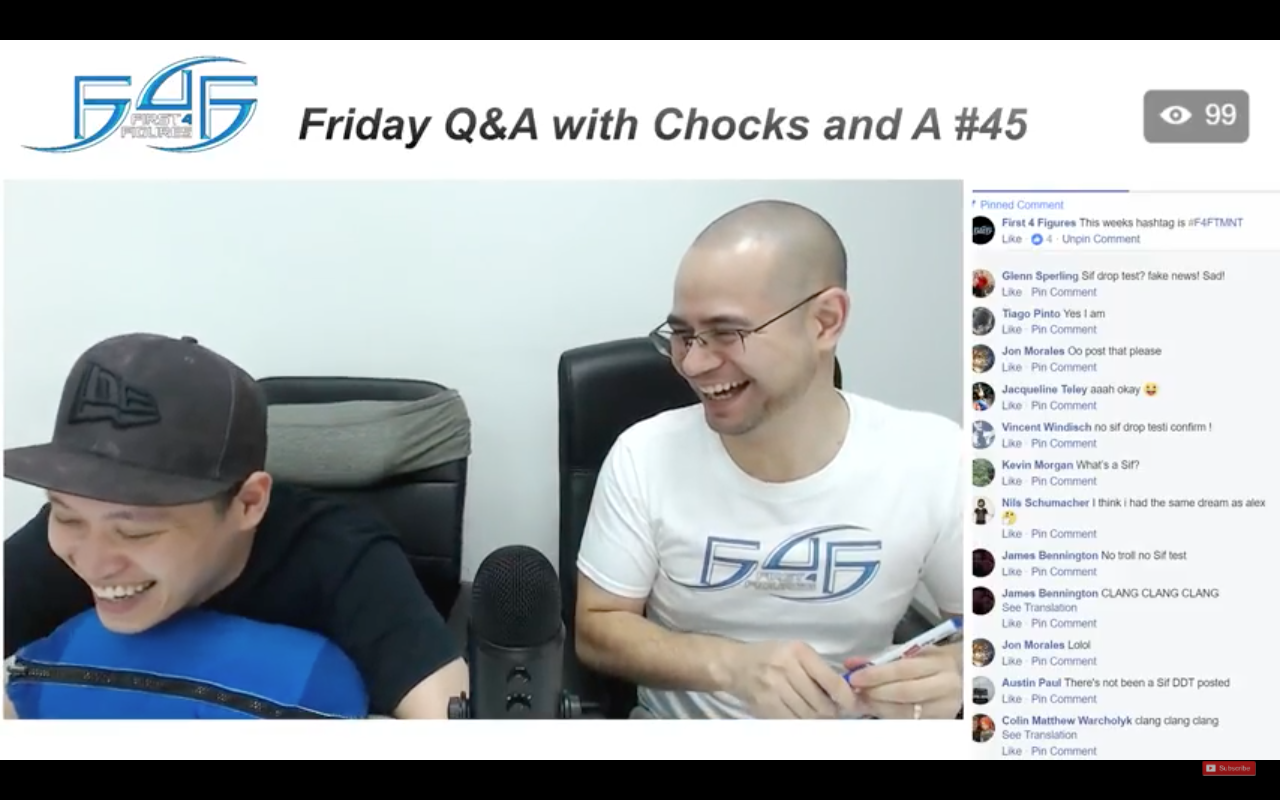 It is more difficult to use the time-based order window as opposed to fixed numbers but is definitely worth the effort as the edition size is accurately reflected by the demand.
Where is the love, Square Enix?
There will be more Soulcalibur releases after Taki.
Alex can jump higher than 77 centimeters (if he wore shoes).
We will look into creating a blog post about every F4F member.
It's too soon to say whether or not more Star Fox merchandise will be worked on.
You can expect a 6 or 7-day F4F Christmas event this year.
They have looked into Darksiders but still haven't submitted any proposals as of the moment.
F4F has a meeting with Sega come January 2018 and Persona 5 will be a topic of discussion.
On Last Chance Pre-Orders: With an exception to Majora's Mask and Varia Suit, there won't be any Last Chance Weekends anymore for past releases. However, all future pre-orders will have Last Chance Weekends.
Chibiterasu is next on the Okami line.
For those that purchased and authenticated their Mega Man X, you will be able to keep your numbers for Zero.
WHO DAT WHO DAT: Answer was PANTHRO from ThunderCats! The winners are JR GUZMAN (500 F4F points) and JOSHUA HARMAN (500 F4F points).
Shout-out to Sega Forever for posting their Sonic Boom8 Combo Pack. On this note, the Sonic Boom8 Combo Pack is not limited; the closing date this week was so that the first batch of people who ordered can already have their orders shipped soon. They will continue to take in orders for as long as there is a demand for it, but in a few weeks/months' time.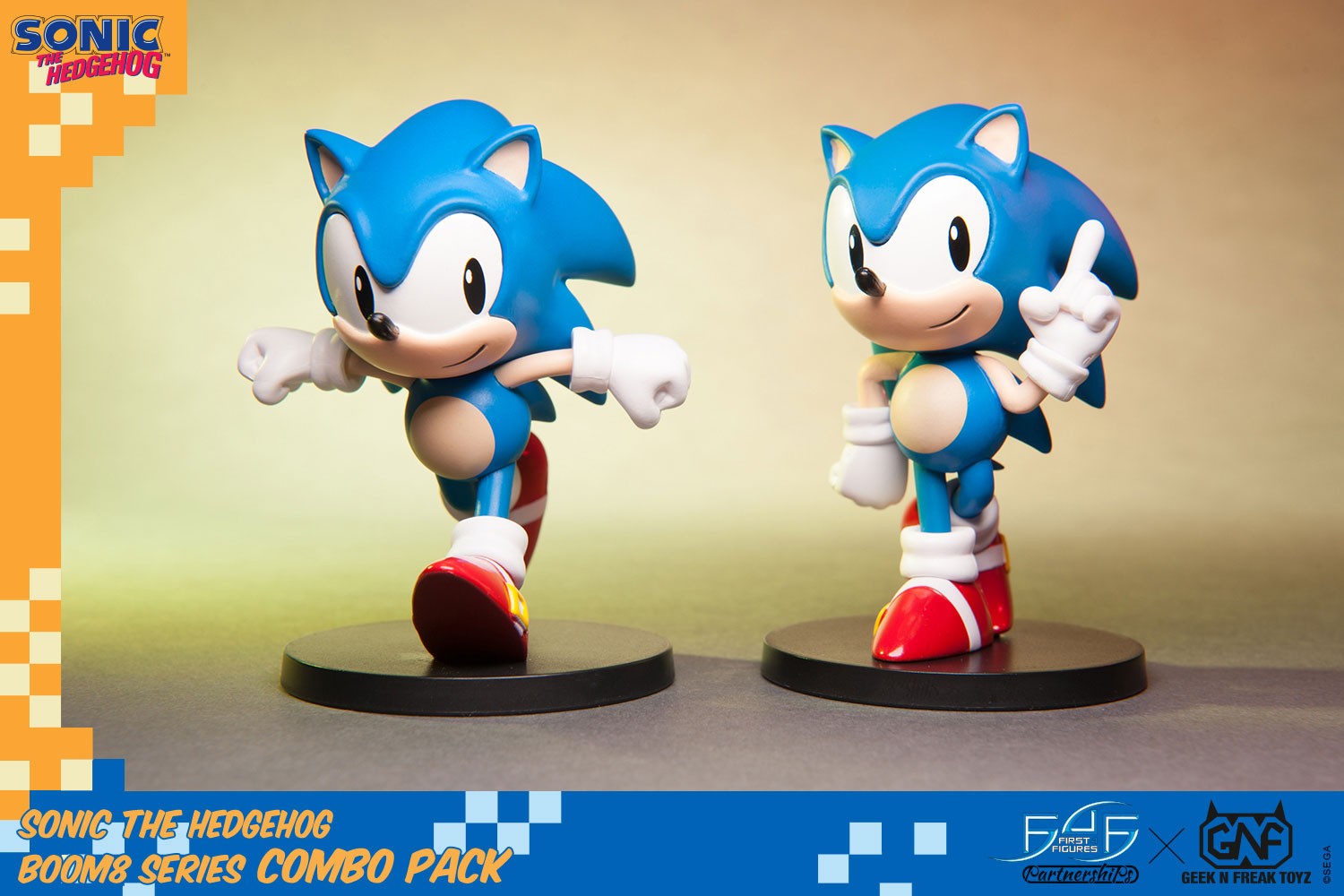 ---
To view everyone's questions for the Q&A portion of this episode, please click HERE. If you want to have your questions answered by our very own Chocks and Alex, simply search "Chocks and A" in the F4F Collectors Club Facebook page and leave your questions in the comments section of the most recent thread prior the upcoming live stream. This thread is posted every Thursday of the week.
If you wish to watch the entire video:
---
Last Update
2017-11-26 21:36:23