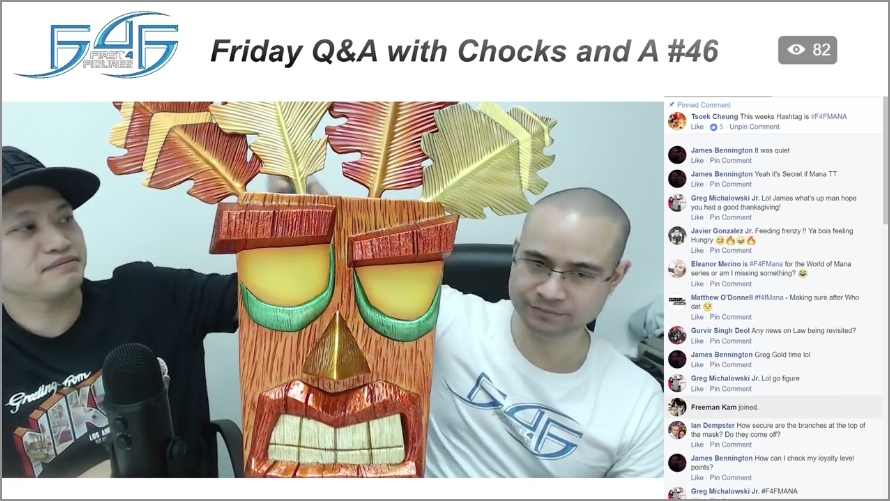 This is a breakdown of the important topics of last Friday's (November 24, 2017) Friday Q&A with Chocks and A #46.
---
WEEK IN REVIEW
First 4 Figures has a new warehouse in Slovakia.
Shipping cost for

Zones 4 and 5

are now

cheaper by 50 USD

!
Shipping cost for

Zone 2

is now

cheaper by 5 USD

!
The Official Collectors Club member count hit 35k but it went back down because the pending requests that didn't answer the 3-question survey were rejected after 24 hours.
The Bowser timestamp issue is now completely resolved. The timestamp shown is when you saw the "VALIDATE" button, not when you clicked it.
All Lucky Cat Mario 1,000 reward points have now been given out.
Majora's Mask and Bowser reward points will be given out when the products are finished.
November 14-20, 2017 Weekly Stats Hall of Fame (#F4FFamous):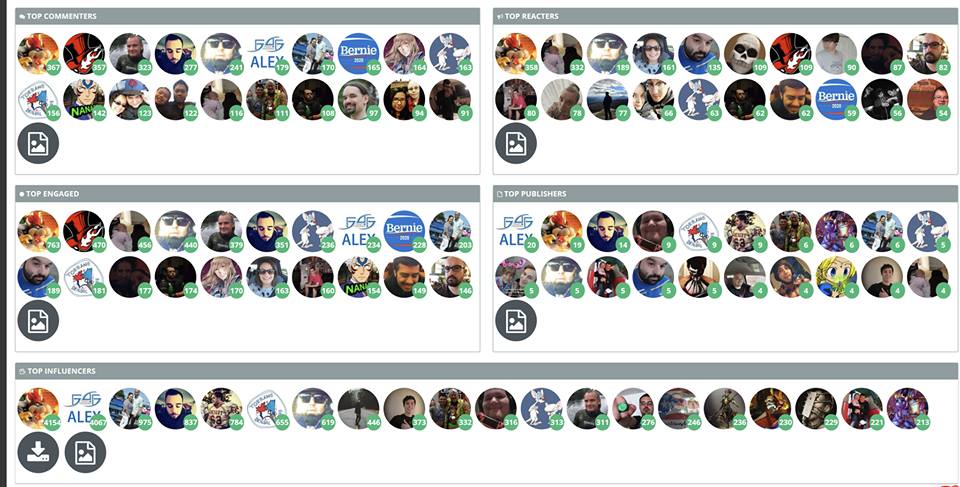 ON FIRST 4 FIGURES' TEMPTATION THURSDAYS (TT) POLL
Last week's Pokémon from the Pokémon series TT Poll #76 Results: 894 YES votes / 226 NO votes (BLOG).
This week's Teenage Mutant Ninja Turtles from the Teenage Mutant Ninja Turtles series TT Poll #77 Results: 261 YES votes / 313 NO votes (BLOG).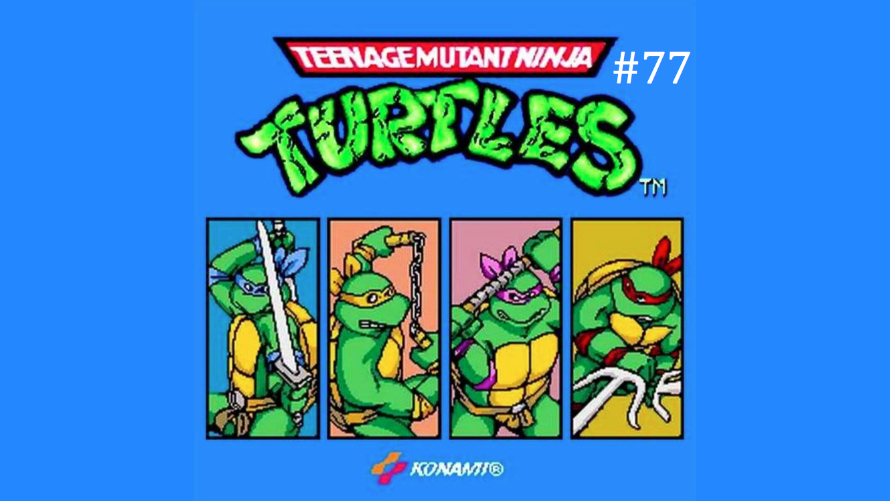 3 winners for #F4FPokemon 500 points (NATALIE MANKIN, EMIL STRIDBECK, and RYAN MILLER)
Next TT Poll will be: SECRET OF MANA (#F4FMANA)
The Resident Evil series will receive a TT Poll in the future.
They can do a multi-character poll for My Hero Academia; currently has 658 YES votes for its TT Poll.
.hack is now on the list of possible TT Polls.
VARIOUS CHARACTER UPDATES
FIGHTER KIRBY / NIGHTMARE / SIF UPDATE: Should arrive in the warehouse mid-December
SILVER / PRINCE & DIPP / SONIC 25TH UPDATE: Should arrive in the warehouse early January
JIN KAZAMA UPDATE: Jin is now in production. The birthing video Alex posted was Jin's base.
SPYRO UPDATE: Already in its painting stage and the lighting effect on the base of the Exclusive version was intensified on one side because it wasn't strong enough (

BLOG

)
MAJORA'S MASK UPDATE: Already in its painting stage and will hopefully ship around April (if the statues are out of the factory before Chinese New Year) (

BLOG

)
SOLAIRE UPDATE: White castings in a week or so
CRASH BANDICOOT RESIN UPDATE: Did you guys like the color changes? There are new comments coming from you guys as well so these will be incorporated to be more accurate to the OG Crash.
SIF RINGS UPDATE: Already in its painting stage
SIF UPDATE: Sif sample arrived in the office earlier than expected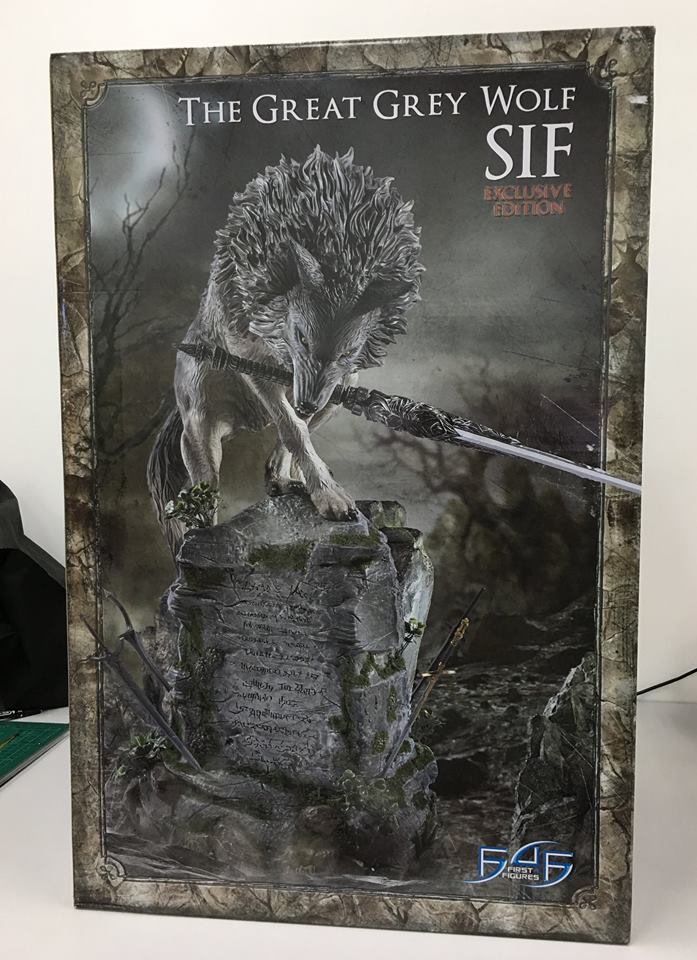 Next Metroid statue after Meta Ridley will be 1/4th in scale.
LAW UPDATE: After Jin, Law will go into production. They are hoping to start on the white castings before Chinese New Year.
TFM UPDATE: CONFIRMED – Numbers on Ganon's Puppet Zelda will work on TFM
SHIRANUI PRICING: Will try not to hit the 500 USD mark
SONIC AND TAILS DIORAMA UPDATE: Base still needs a bit more work but the characters themselves look amazing; Tails will only have 1 tail because he's in motion.
AKU AKU LIFE-SIZED MASK UNVEILING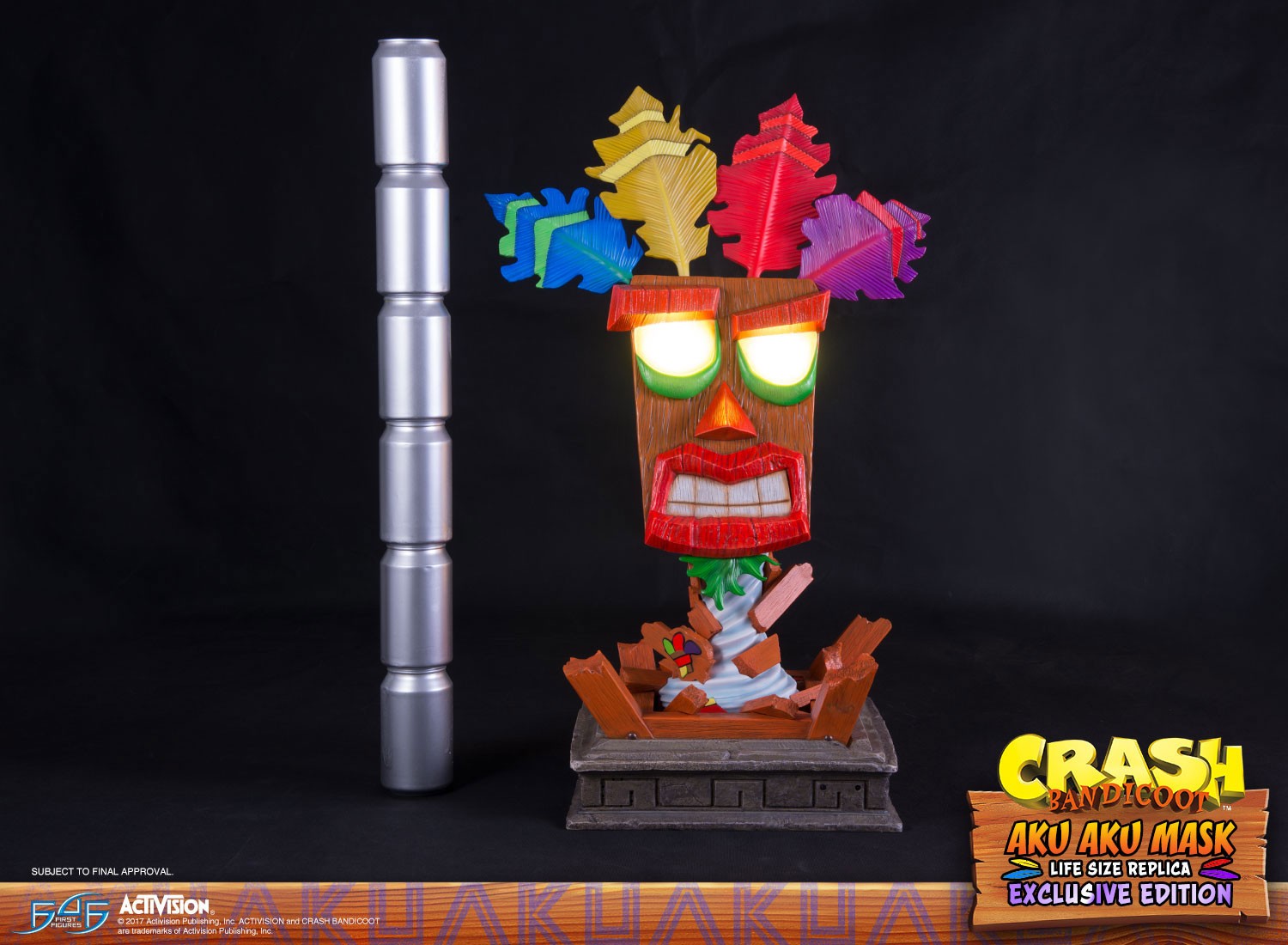 The most expensive shipping cost will be 155 USD (for countries not listed in any of the zones).
When compared to the NYCC 2017 Aku Aku sample piece, the colors are significantly more vibrant, the leaf design is a bit more detailed, and the box is more orange in color (just like the boxes in the actual game) to differentiate it from the mask's color.
The validation process will now function properly on all browsers (unlike the Bowser validation incident) FOR AS LONG AS THE VERSION OF YOUR BROWSER IS UP-TO-DATE.
Those who are not able to press the "VALIDATE" button during the validation process will have their orders slotted in after the 24-hour Day One Edition window.
The Crash Bandicoot license currently has 3 lines: PVC, Resin, and Life-Sized Props.
This will be the first pre-order period that will have the 12-month Flexipayment option available.

2:53:55

– GOLDEN AKU AKU LIFE-SIZED MASK REVEALED!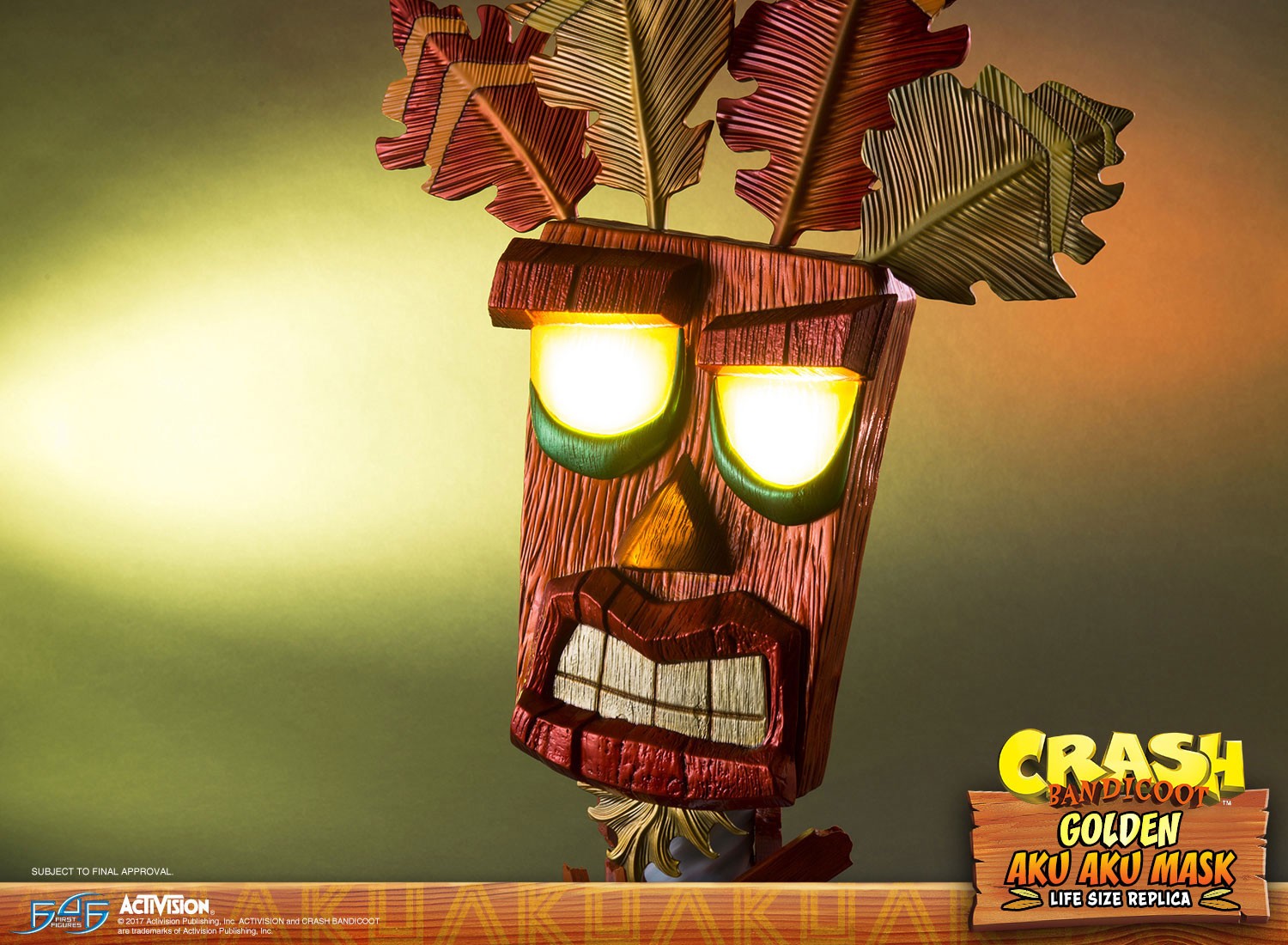 The Exclusive and Golden versions use rechargeable batteries.
All three Aku Aku statues share the same numbering system (just like what they did for Solaire and Snake).
For more information on how to pre-order your preferred Aku Aku Life-Sized Mask, kindly click

HERE

.
OTHER TOPICS
56:16

– Alex's right hand is for anything that's remotely powerful, and his left is for the gentle "stuff". Indeedy.
On payment scheme with factories: Used to be 30% down payment, 70% upon completion, but their project is just set aside after the down payment and they'll work on it when they feel like it; now, 10% upon seeing the white castings, 20% when they start painting, then 70% upon completion.
All their life-sized masks of the same scale are meant to look great beside one another.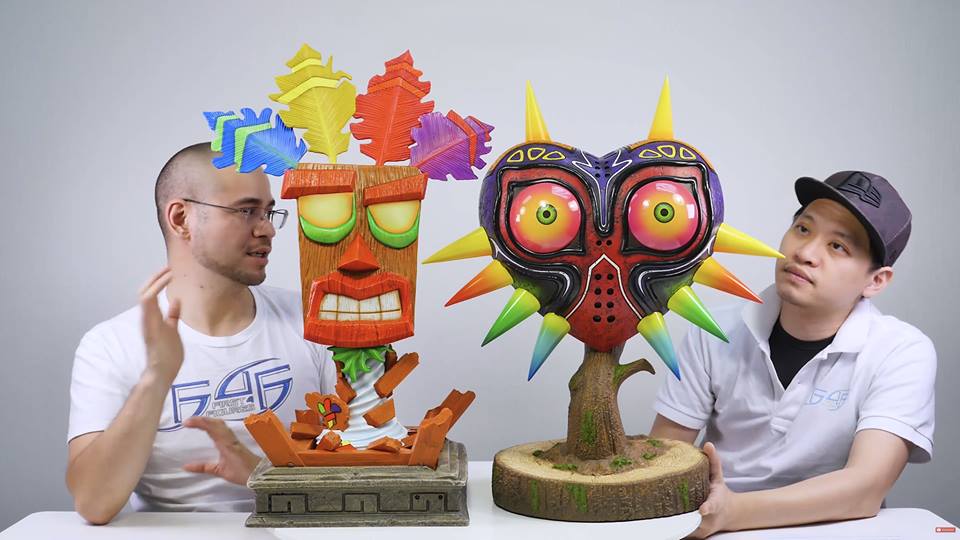 1:13:53

– "Hiyaaaaa!" – Alex Davis
1:25:10 – The last time Chocks did any running was in his dreams.
They contacted the Akira licensors in the past but they were not interested then.
They could consider an "ADD PAYMENT PLAN" button but not anytime soon. They're not sure if the backend effort needed is worth it.
Can everyone agree on a Darksiders 1/6th scale on a horse, same as Rider Link?
It would be difficult to manage their Instagram account if all their efforts are currently focused on the Official Collectors Club, which is on Facebook.
On the 35k reveal: Since the club began, everyone has already suggested every possible license out there, so, yes, someone has already suggested the 35k reveal. It will rock the socks off of some, but others may find it "meh". The video will be finished by Monday but is still subject for approval by the licensors.
The pre-order calendar needs updating.
There is a significant gap between the Midna pre-order and the Rider Link pre-order.
There will be one more pre-order before the end of this year. They definitely want to have more releases next year compared to this year.
Sif did not pass Alex's drop test. After the improvements, the test was repeated by someone else so Alex has no video of it.
On production videos: Jeffrey and Chockles have been busy working on the Aku Aku photos and videos in time for the reveal, so the 35k video was put on pause. When that's done, Jeffrey will continue to work on more production videos.
A vacuum pump is used to remove the bubbles from castings, and putty is added to the remaining holes that weren't removed by the pump.
Dredd vs. Death is Alex's favorite piece to have worked on because it gave him more confidence to push the boundaries on future projects in terms of design and concepts.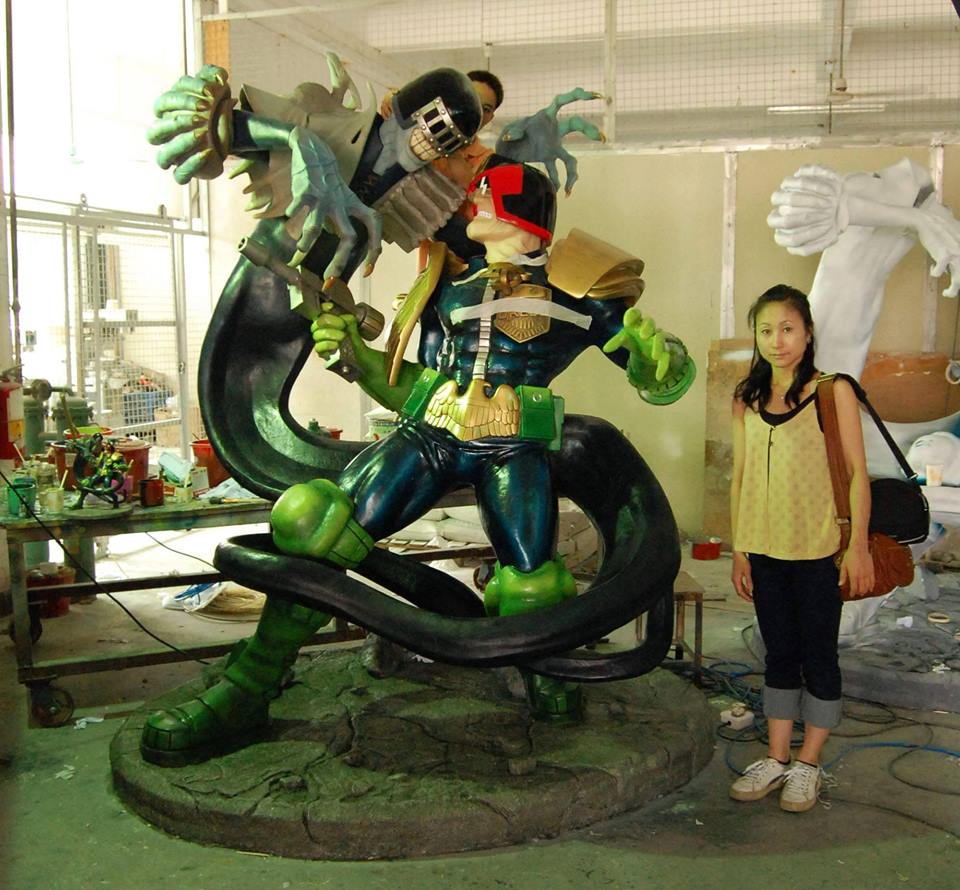 If they were to create an art book with hi-resolution photos of F4F statues, behind the scenes moments, design concepts, etc., would you like it to just contain photos or would you prefer both photos and text?
They're going to work on the card holders for the statue again.

1:47:24

– Alex doesn't want to read out loud the text his dad sent him, and Chockles agrees. Intriguing…
No other Dark Souls lines other than the Plush line, PVC line, and Dark Souls 1, 2, and 3
If a drop test fails, the Styrofoam is changed/tweaked.
There are no Black Friday deals this year because the website isn't set up for it just yet, but definitely next year.

1:51:54

– They seem to already have plans for the 50k reveal but they haven't said yes yet.
On the new Flexipay option for in-stock items: This was worth pursuing. They used to produce about 70% of an edition size because they expect some people to cancel, but they can now produce more with the expectation that they will eventually sell out through this new Flexipay system for in-stock items. They still never produce past the edition size though.
Chibiterasu will be smaller in scale but it will be a diorama piece.
There needs to be more rallying for the Modern Sonic line after Silver.
Once Alex has chosen a fulfillment company, they can focus more on choosing designs for F4F merchandise.
There are a multitude of reasons why licensors decline licensees.
It is trickier to attain anime/manga licenses because there are many different groups of people to talk to and please just for one license.
They are looking to employ 1 more person for their IT department so that they can begin improvements on the frontend of their website.
WHO DAT WHO DAT: Answer was POPEYE! Unfortunately, both NILS SHUMACHER and CELINE GARDIER weren't able to secure any F4F reward points.

2:20:44

/

2:21:45

– Pro tip: Don't listen to Brenton.

2:27:33

– Chocks, how rude. You need to turn down the volume of your YouTube video next time.
Products are generally shipped to you at about the 9-month mark of your payment plan. You have a "REMOVE PAYMENT PLAN" button now available to you if you wish to pay your remaining balance outright to be able to receive your product sooner rather than later.
There are no plans for a low-resolution Crash Bandicoot yet; this still needs TLC.
REMINDERS
---
Did you find our recap informative? Kindly leave a comment below and give us your thoughts on our Friday Q&A recaps.
To view everyone's questions for the Q&A portion of this episode, please click HERE.
If you want to have your questions answered by our very own Chocks and Alex, simply search "Chocks and A" in the F4F Official Collectors Club Facebook group and leave your questions in the comments section of the most recent thread prior the upcoming live stream. This thread is posted every Thursday of the week.
If you wish to watch the entire video:
---
Last Update
2017-12-05 13:58:51