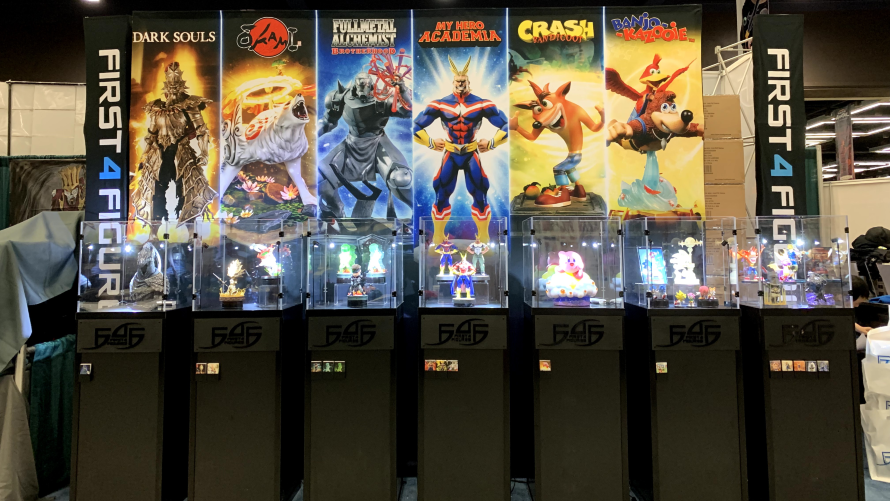 Thank you for the hospitality, Seattle!
---
Emerald City Comic Con 2019 was an experience definitely worth remembering. Alex, Chockles, and the rest of the First 4 Figures team in attendance had a good time meeting every single Official Collectors Club member that came by to say hello, and it was fantastic to see countless passersby take interest in the statues on display.
It isn't often that video gamers have the chance to witness a showcase of statues of characters they adore, and being able to interact with us helped them understand and appreciate why a high-end collectibles market exists and why we continue to thrive with the help of our Official Licensors, Partners, and our beloved Official Collectors Club. Conventions are slowly shaping into a platform that allows for gamers and collectors alike to share their passion with one another.

Similar to what we did during last year's Gamescom, we also unveiled never-before-seen statues currently in development, and this not only sparked conversation amongst our Club members but unmeasurable excitement as well. We debuted our Artorias the Abysswalker Grand-Scale Bust, Sonic the Hedgehog True Form PVC, and our first-ever Action Figure, All Might. In case you missed any of the big announcements, we wrote three separate articles that goes in-depth on each reveal.
Lastly, it continues to be a surreal moment for us to be able to meet members of our Official Collectors Club in the flesh, and this was undoubtedly the best part of the entire experience. We could not thank you all enough for the love and support you continue to show us, and we promise to always go above and beyond in any way we can to show our appreciation. We would not be where we are today without you all, and so once again, thank you, OCC!
We would like to give a big shout out to Brenton Friedli and our OCC admin Dabid Kuhrt and his lovely wife Jen for helping us during the event. Operating a booth, selling figures, and interacting with fans all at the same time is no small feat, and fulfilling the event became an OCC community effort thanks to them.
Once again, thank you guys for an unforgettable Emerald City Comic Con 2019! Indeed, F4F is love, F4F is life! Stay tuned for more First 4 Figures news and updates through our First 4 Figures Official Collectors Club. Who knows, maybe our next adventure might be at a convention near you.
EMERALD CITY COMIC CON 2019 GALLERY
Last Update
2019-03-25 10:37:55