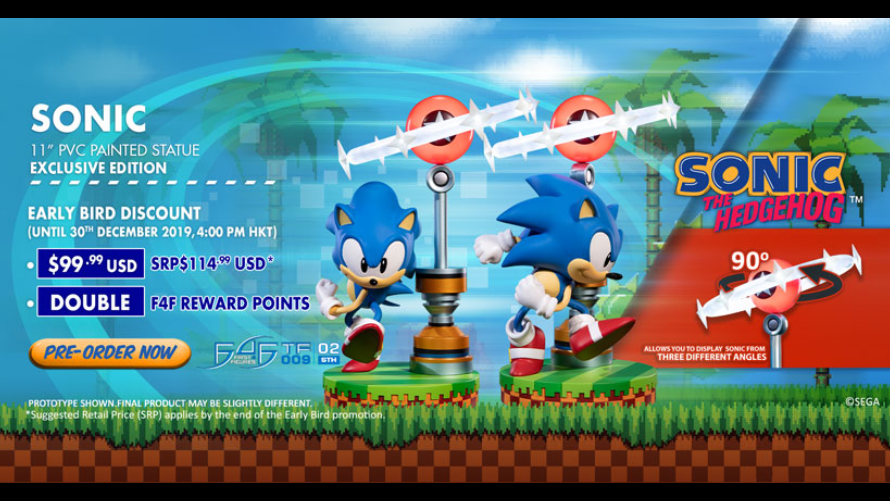 Everything you need to know (and more) about the Sonic PVC statue pre-order!
---
Pre-orders for the Sonic PVC statue are finally open! If this is your first time pre-ordering from First 4 Figures, kindly read through these instructions to guarantee your Early Bird discounts:
Pre-orders open right after F4F's product launch livestream on the 13th of December 2019, 06:00 PST | 09:00 EST | 14:00 GMT | 15:00 CET | 22:00 HKT (Hong Kong Time).
Benefit from the EARLY BIRD DISCOUNT by placing an order on or before 30 December 2019, 16:00 HKT! Furthermore, you will receive DOUBLE the reward points when pre-ordering within the Early Bird period!
NOTE: The Early Bird promotion is exclusive to First4Figures.com.
The Exclusive Edition is limited to 5,000 pieces worldwide and is only available at First4Figures.com. Grab yours now before it's too late!
---
Frequently Asked Questions:
Q: "How much does the Sonic (Exclusive Edition) cost?"
Early Bird Price – USD 99.99 + shipping

SRP – USD 114.99 + shipping
Q: "Do you have payment plans?"
Yes, payment plans are available. For our Sonic statue, we have up to a maximum of three (3) months payment terms. For more information, you may check the "Additional Information" section of your desired product.
Q: "Can I cancel my order?"
You may cancel your orders, but the 20% initial deposit is non-refundable, and you incur an Administration Charge of USD 5.00 per payment to be refunded (if you are on a payment plan). For more information, please visit the Cancellation section of our website.
Q: "How much does shipping cost?"
Kindly refer to the image below for shipping costs to your region:
SHIPPING COST
(EXCLUSIVE EDITION)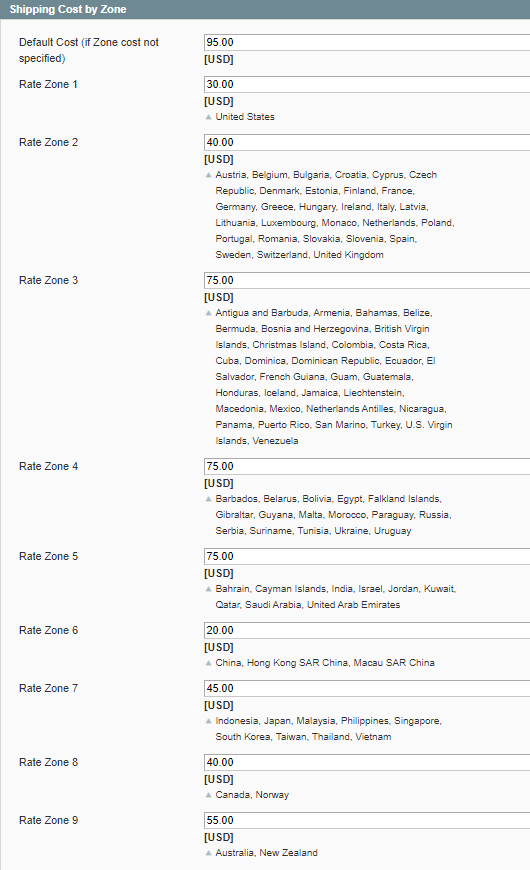 Q: "Do we have to pay for Customs fees or taxes?"
As much as possible, First 4 Figures shoulders Customs fees to ensure a smooth and hassle-free transaction from purchase to delivery. We strategically have warehouses located in the US, Canada, EU, UK, and China. However, if your order will be delivered from a distant warehouse, any additional fees or taxes are of the buyer's responsibility. For more information, please visit the Shipping section of our website.
Q: "If I decide to purchase more than one Sonic statue, will it be possible to combine it all into one shipping cost?"
Shipping costs are charged on a per-item basis. We currently do not allow combining of shipping costs.
Q: "Why do I have to authenticate my Sonic statue?"
We want to assist in making sure that what you have in your possession is a genuine First 4 Figures product. Authenticating your product will allow us to match your authentication number to our system database.
Q: "How are statue numbers allocated?"
Statue numbers are assigned randomly. There is no first-come, first-serve policy when allocating statue numbers.
Q: "Do statue numbers have any bearing on the quality of a product?"
Statue numbers and any other form of numbering merely represent the edition size of each product and do not have any implications on the quality.
Q: "Can I purchase your Sonic statues anywhere else other than your website?"
Our Sonic (Standard Edition) may be available for purchase at your local retailer once these statues have been released, but the Exclusive Edition is only available for purchase on our website.
---
For more information and high-resolution images of our Sonic statue, kindly click HERE.
If you have any further questions or concerns, please refer to the FAQS section of our website. Alternatively, you may also contact Customer Service through our CONTACT US online form, or you may leave a comment below and we will get back to you shortly.
Last Update
2019-12-13 15:03:44