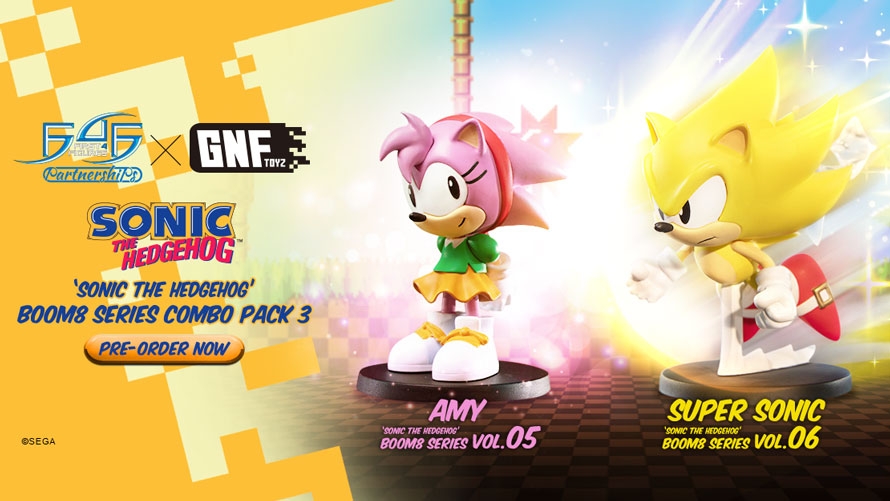 SEGA and Sonic the Hedgehog fans are in for a treat!
---
First 4 Figures, in partnership with GNF Toyz, is happy to introduce their latest collectible – SONIC THE HEDGEHOG BOOM8 SERIES COMBO PACK 3! The Combo Pack contains Volume 5, which features AMY ROSE, and Volume 6, which features SUPER SONIC. Pre-orders are now open until the 3rd of May 2019. Order yours today!
SONIC THE HEDGEHOG BOOM8 SERIES – COMBO PACK 3
ADDITIONAL INFORMATION
As this is a product from the F4F Partnerships program, there will be NO validation process necessary.
The production of Sonic the Hedgehog Boom8 Series will be under the supervision of GNF Toyz. Rest assured, however, that First 4 Figures' Quality Control team will oversee the entire production process to maintain First 4 Figures' quality and standards.
SRP: 45.00 USD
Non-refundable deposit: 30% of SRP
Shipping cost: 20.00 USD across all regions
Estimated release date: Q3 2019
BUT, THAT'S NOT ALL!
The first two SONIC THE HEDGEHOG BOOM8 SERIES COMBO PACKS, which includes Volumes 1 through 4 featuring SONIC THE HEDGEHOG, MILES "TAILS" PROWER, and KNUCKLES THE ECHIDNA, are still available in stock on the First 4 Figures website. For those who missed out on the pre-orders, now is your chance to complete the series while supplies last!
SONIC THE HEDGEHOG BOOM8 SERIES – COMBO PACK
SONIC THE HEDGEHOG BOOM8 SERIES – COMBO PACK 2
Last Update
2020-06-19 16:53:51