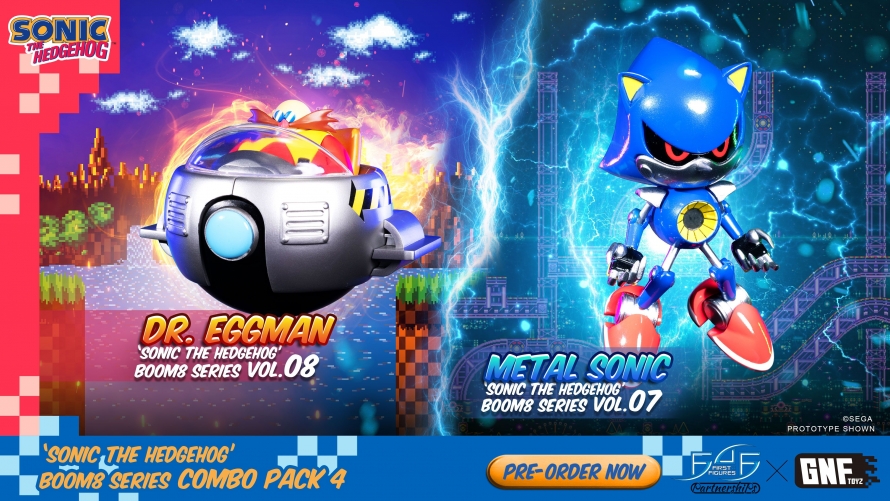 SEGA and Sonic the Hedgehog fans are in for a treat!
---
First 4 Figures, in partnership with GNF Toyz, is happy to introduce their latest collectible – SONIC THE HEDGEHOG BOOM8 SERIES COMBO PACK 4! The Combo Pack contains Volume 7, which features METAL SONIC, and Volume 8, which features DR. EGGMAN. Pre-orders are now open until the 7th of August 2020. Order yours today!
SONIC THE HEDGEHOG BOOM8 SERIES – COMBO PACK 4
ADDITIONAL INFORMATION
The production of Sonic the Hedgehog Boom8 Series will be under the supervision of GNF Toyz. Rest assured, however, that First 4 Figures' Quality Control team will oversee the entire production process to maintain First 4 Figures' quality and standards.
SRP: For those outside the EU, Combo Pack 4 is priced at $49.99. This price excludes tax and shipping at the time of the preorder and will be calculated where applicable when the final payment is made. For those inside the EU, the price is $59.99, which includes tax. You will be notified of the shipping cost before your final payment.
Non-refundable deposit: $18.00
Estimated release date: Q4 2020

---
More from First 4 Figures Sonic The Hedgehog series
If you are interested in more products from First 4 Figures' Sonic The Hedgehog series, we still have open pre-order and in-stock items available from our Sonic The Hedgehog Boom8 Series, Sonic The Hedgehog Dioramas, and Sonic The Hedgehog PVC lineups. For more information on how our waitlist works, kindly click HERE.
Last Update
2020-06-23 16:56:41