Review Details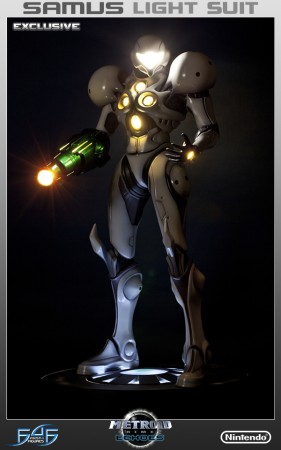 Samus Light Suit Exclusive
Product Review (submitted on January 7, 2017):

Light Suit Samus EX was my first F4F figure, after having oogled their products many, many years ago as a teen.

Having finally had the chance to see one of their creations with my own eyes was mind blowing. The quality of the build, sculpt, paintjob and electronics work is top tier.

The white of Samus' armour has a lovely gloss and shine to it and just radiates quality workmanship (most pieces from other statue makers look dull, dusty and matte).

The statue is heavy and extremely well made. I give massive props to the QC team on this one. The statue looks amazing as is, but with the added electronics on the EX version, it really takes it to the next level. The way they've designed the base to transmit power to the DC connector on the foot, then through the statue and once again to another DC power connector on the right arm, where the cannon slips into place, is really clever!

I look forward to the Varia Suit EX (and the inevitable Dark Suit Samus) which I am assured will somehow surpass even this!