Review Details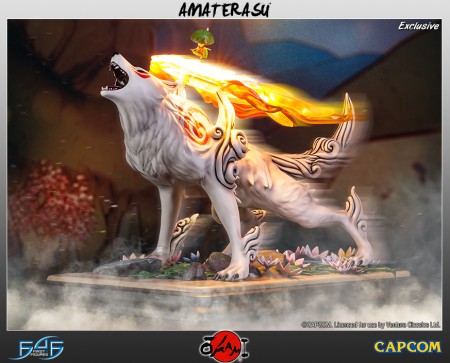 Amaterasu Exclusive
Product Review (submitted on January 12, 2017):

As an Okami fan who played the original PS2 release and the later DS sequel: Okamiden I have developed a deep love for the series and have been collecting the merchandise ever since, beginning with the Okamiden stylus & screen cleaner, onwards to miscellaneous merchandise both official and fan-made then finally stumbling across this beautiful piece.

Purely by accident while searching for a different Okami item I found a picture of F4F's Exclusive Amaterasu, clicked on it thinking it was a one-off and was stunned to see they would be mass produced (on a smaller scale)! I placed my pre-order and shortly after Christmas I was stunned to see a very BIG package arrive! I read the statue was 1/4 scale of the real Ammy, so I was expecting her to be shorter, but she is still a gorgeous piece, knowing her limited numbers and seeing the prices others are now selling theirs for I am so very glad I pre-orders and paid F4F's more than fair price.

Come time for payment I was allowed to choose a payment method I was more comfortable with, the customer service reps (Brenda and Tai) were amazing, permitting me a few extra days to get my full payment amount together and answering all queries I had during this process.

This is the single most expensive Okami item I own, the only other item that comes close is the Capcom Okami polystone statue, but First4Figures' version is by far the more beautiful of the pair.

In summation: a more expensive item but well worth it and a must have for any Okami fan. 5 Star service from a 5 Star site!

Thank you First4Figures!