Review Details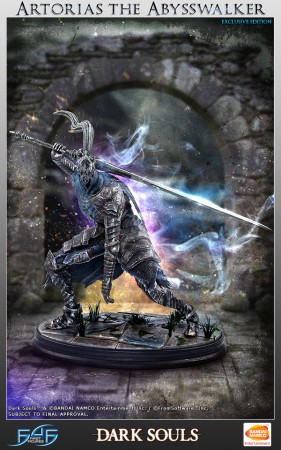 Artorias The Abysswalker Exclusive
Product Review (submitted on February 27, 2017):

When F4F first announced Artorias was available for preorder, I wasn't sure if I was going to get it. I'm extremely happy that I did and very happy the 2 week preorder period gave me enough time to decide to get the statue via flexipay, which made the statue very affordable being charged month to month.

I had previously owned Link on Epona which I loved, but had to sell it during hard times, so I was not completely unaware of what I was getting into with Artorias but this was my first statue by F4F in a long time and the only one I currently own. After finally seeing Artorias in person, I expect that to change soon! While not getting Sif, I am planning on getting a ton of the Dark Souls line with some other product lines mixed in. F4F has done an excellent job on this statue and definitely made me a fan of their work with this statue.

Regarding the statue: it doesn't disappoint at all! In fact, more than anything, I was blown away by the end result and was way happier than I ever expected I would be when I went to unbox it! The detail is extraordinary and the size is imposing, as it should be. There are a ton of minor details in this piece which all add up to something great. The exclusive comes with three versions of Artorias' sword and I expect to switch them out from time to time. I still need to get a way to display the other two at the moment when they are not in use, but as for Artorias, I got an ikea besta. Height wise it's totally fine, but he will sit at a slight angle as the swords are wider than the display case is.

Beyond the statue, the extra details with the packaging and art print are nice bonuses. The art print is beautiful and you will want a nice way to display it! I currently am letting mine sit in the envelope behind Artorias in my case until I get a custom frame for it at some point.

F4F has definitely made me a huge fan of their work and if you're questioning whether you should take the plunge on this statue or potentially another one, I recommend it! Artorias is the centerpiece in my gaming room at the moment and I expect it will remain that way for quite some time.