Review Details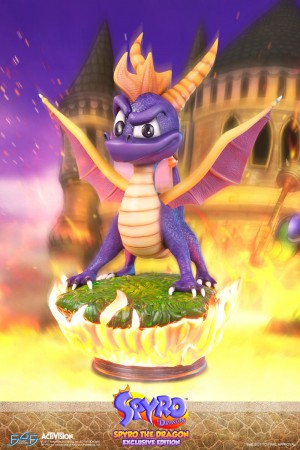 Spyro (Exclusive)
Product Review (submitted on December 16, 2018):

It goes without saying that I grew up with the original Spyro the Dragon and the moment this went on sale, I immediately pre-ordered it.

As of today, the statue came home and it's absolutely amazing and detailed. Truly a collectable worth having for every Spyro fan.

I will say that the inserting of the wings were a bit difficult really having to put some force into getting it and out giving me some worry that I might accidently break it.
As for the gems' case, I love that you put them in the iconic treasure chest giving it more of an authentic feel. However, I feel like maybe I just got unlucky with the gems as I received two red gems rather than a purple one for the 25 valued gem in the game so that's a bit disheartening but the gems are very well made and I do enjoy them a lot.

All in all, a very solid statue and my first bought from F4F and it's going to remain a featured statue any and everywhere I ever move to hopefully for a long time.