Review Details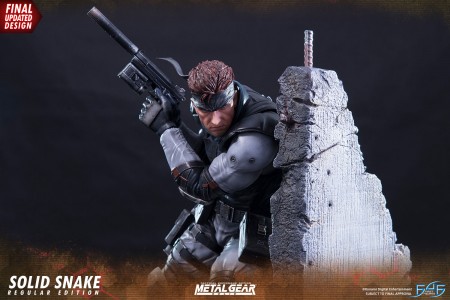 Solid Snake (Regular)
Product Review (submitted on March 1, 2019):

This statue is amazing. The quality and detail are everything you would expect of a First 4 Figures piece. Snake's pants and clothes are textured appropriately. The change to the Socom pistol went a long way towards capturing the essence of MGS1. I was also surprised to find they had added a bit of snow to the base which makes it feel like he is right there infiltrating Shadow Moses.

The updated color scheme feels more accurate to the concept art as well.

The figure is quite heavy due in large part to the base. It can make it a bit problematic to unbox it. When buying a piece like this you always try to be as careful as possible. But due to the sheer size and weight of this package, it may be a bit difficult for some who lack a bit of upper body strength.

The price is expensive, however this statue is rather large standing 17.5" tall. It's not PVC and is polystone which is where a lot of the weight comes from.

It comes with an alternate head and an alternate bandana piece. If I had one criticism? It's that the bandana piece fits a bit loose at the back of the head. The heads themselves slide in and I believe are magnetic.

Overall F4F has delivered an incredible homage to Metal Gear.