Review Details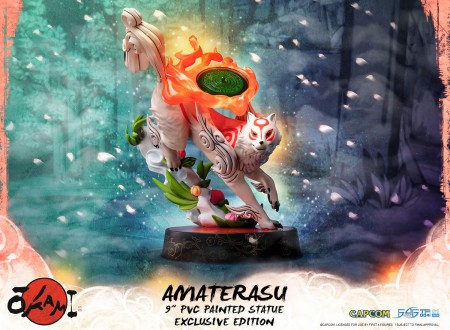 Ōkami – Amaterasu Exclusive Edition
Product Review (submitted on February 10, 2020):

I received my Amaterasu today. This was my first completed order with first4figures - it won't be the last. And here's why:

First of, you receive a big cardboard box, inside housing a smaller cardboard box with foam inserts holding it tight and secure, so there can't be damage - excellent outer packaging!

Inside the second cardboard box I expected a "normal" collector's figure box - and I was so wrong! You get a golden, Okami-themed collectors box, which shames other collector's editions I have in comparison. When you open this already-beyond-excellent box you don't see your Amaterasu just yet: above the package lies a heavy cardboard holding your ownership certificate with a serial number and printing number, very nice!

Below this cardboard is the last box, a "normal" collector's figurine box you expect holding your Amaterasu inside. I really like the touch that it has a diorama printed inside, so you can stand your Amaterasu in style if wanted.

And then - at last - we have the figurine: it's way more heavy than anticipated, speaking for the quality of the product. The painting is excellent, with vibrant colours and very much like the game.
The LED function has three options: off, on and "shimmering" - I prefer option off and on, the shimmering - although cool - distracts me a bit too much as the statue will be placed aside my PC monitor.

All in all this is an excellent product - the price tag is absolutely fine regarding the quality of this!