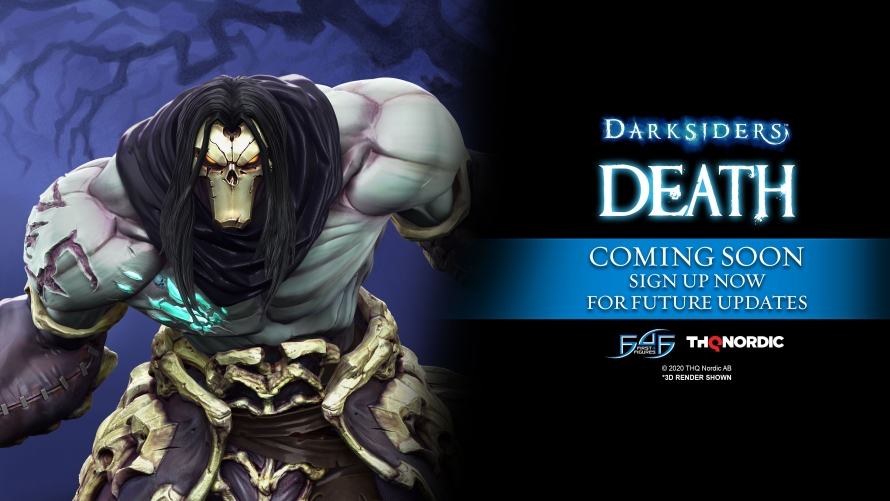 The Kinslayer is now about to go into the physical!
---
Sign up now to stay up to date with our latest
Darksiders teasers and First 4 Figures news
Towards the end of our Darksiders – War statue product launch stream, hosts Chockles and Liz confirmed that our Darksiders II – Death statue is completed in 3D design and is now moving to the physical stage of development! It was even revealed on stream what the 3D render of Death looked like!
Based on the video, you can tell that Death is wearing the Necromancer armor set, which he wears in majority of the Darksiders II official art and promotional materials. This is a lootable armor set in the game that increases Death's Arcane Abilities. Moreover, you can also make out that we went for the appearance of Death that has the shards of the Amulet embedded on his chest, a trinket that contained the souls of the Nephilim. This event occurs early into the game after his encounter with the Crowfather, the keeper of the Amulet. Apart from all this information, there isn't much else we could reveal for now.
So, what do you guys think so far? Let us know in the comments section below. For more exclusive behind-the-scenes content, join us in our Official Collectors Club on Facebook.
---
More from First 4 Figures Darksiders series

If you are interested in more products from First 4 Figures' Darksiders series, Darksiders – War is now available for pre-order! Get a 50 USD DISCOUNT as an Early Bird special by placing your order before 23 December 2020, 5:00 PM HKT! Don't miss out on this limited-time offer!
Last Update
2020-12-10 09:02:18