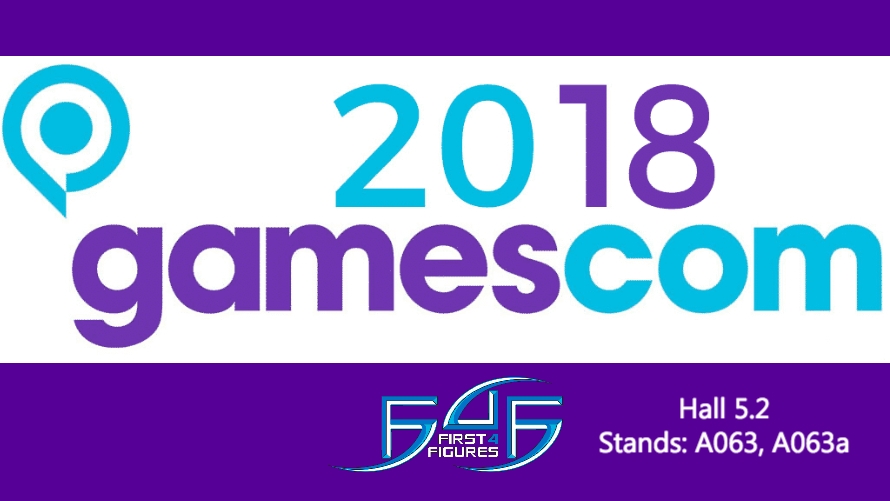 Cologne, Germany, we're coming for you!
---
Gamescom 2018 is just around the corner, and we want to make sure that everyone, attendee or not, is well-informed about what we here at First 4 Figures have planned for the momentous event. There has been a ton of preparation going on behind the scenes, and we're more than eager to show you what's in store. Here are five things that you need to know about our attendance at Gamescom 2018.
First 4 Figures is located at...
Gamescom 2018 will be from 21-25 AUGUST 2018 in Koelnmesse, Cologne, Germany, and our BOOTH A063, A063a is located at the SECOND FLOOR of HALL 5. If you're in the area, please do swing by and say hi!
Pre-order packs are the key to success.
First 4 Figures has always been known for providing each customer the most value for their money, and this next F4F thing demonstrates just that. Those able to attend the convention may purchase and immediately take home our on-hand PVC items; however, our resin statues may only be pre-ordered using what we like to call PRE-ORDER PACKS. Each pack costs 50 EUROS and includes the following:
One (1) coupon containing 75 USD (roughly 64 Euros depending on exchange rate) worth of online store credit
One (1) First 4 Figures mini brochure
One (1) F4F is love/life wristband
One (1) F4F pin
The online store credit alone is already worth more than what you initially spent. Add that to the additional freebies in each pack, and I'd say that's money well spent. There is no limit to the number of Pre-order Packs you're allowed to buy, but you can only use one (1) coupon code per pre-order. If you wish to pre-order more than one item on our website using each coupon code you've obtained, you will have to pre-order each desired statue separately.
Everything on display will be available for pre-order.
You heard that right. Apart from the on-hand PVC items available for sale, every statue on display in our booth, including those that have already gone to waitlist status, may be pre-ordered by anyone that owns a pre-order pack. Consequentially, that means the edition sizes already declared in the past could increase depending on the number of event pre-orders. The idea was only made possible thanks to the support of our lovely Official Collectors Club members. Edition sizes are usually a sensitive matter, but the Club was very understanding of the situation.
What's on display, you ask? Well, we'd like to keep that a secret for now, but you'd be glad to hear that we will be debuting a few never-before-seen resin and PVC statues during the event. Be sure to keep yourselves up-to-date with the latest First 4 Figures news by joining our Official Collectors Club Facebook group.
The F4F flyers are your friend.
More information regarding our Pre-order Packs will be on this flyer. There will be an English version and a German version readily available. If you have difficulty understanding either of the two languages, our First 4 Figures Official Collectors Club Facebook group will gladly be of assistance.
Do you wish to see First 4 Figures at a convention near you?
It is beyond words how much we value every member of our Official Collectors Club, and it's been highly requested that we attend a hefty list of conventions around the globe for a chance to meet those within the area. As much as we would love to do so, it will ultimately depend on the results of Gamescom 2018. Our attendance at New York Comic Con 2017 didn't turn out as well as we would have hoped, but if our new convention formula can prove viable, then rest assured you'll be seeing more of us at a convention near you!
So, will you be coming to this year's Gamescom? Please do support us in any way you can! Help us paint a brighter future for First 4 Figures' convention appearances. F4F is love, F4F is life, and we shall see you at Gamescom!
Last Update
2018-10-10 06:14:28