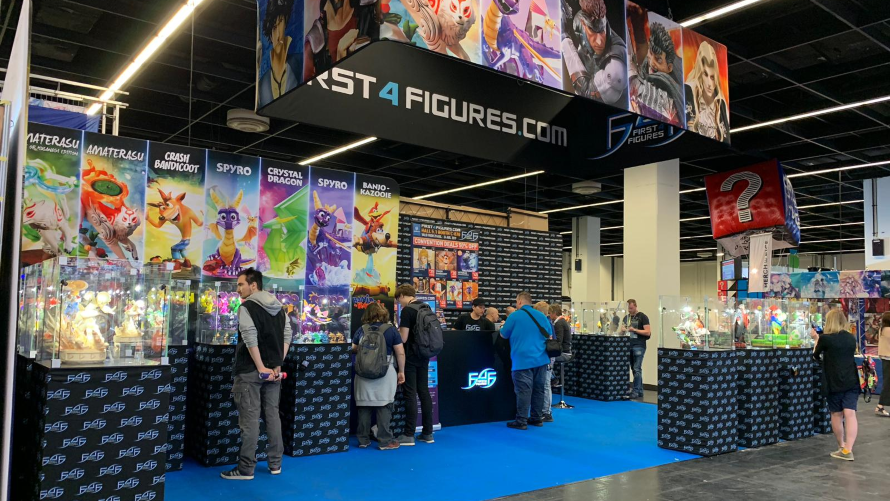 Another Gamescom for the books
---
This year's Gamescom over at Cologne, Germany was, yet again, another convention to remember. It was our second appearance in the prestigious gaming convention, and it most certainly won't be our last. Alex, Chockles, and the rest of the First 4 Figures team in attendance had a great time meeting every Official Collectors Club member that came by to say hello, and it was fantastic to see countless passersby take interest in our display. It was also overwhelming to witness how PVC Nation was just as strong as ever even a second time around.
It has been a tradition of sorts that we unveil never-before-seen statues we have in development during these conventions, but we decided to take it up a notch for Gamescom 2019. For the first time in our history of attending conventions, not only did we unveil never-before-seen statues like our 1/4 scale resin Dracula and Mega Man, but we also announced a brand new partnership and license, revealed the first statue in that lineup and opened its pre-order, all at the same time. If you missed the big announcement, we have partnered with Microsoft and The Coalition to bring you the very first GEARS 5 statue collectibles in the market! And, we immediately kicked things off by opening pre-orders for our 1/4 scale resin KAIT DIAZ, who is the main protagonist of Gears 5.
The statue was also on display over at Microsoft's booth for the duration of the convention. It's always exciting to see our licensors support our products in any way that they can, and this is no exception.
Another first for First 4 Figures was this giveaway contest we held for event-goers, and the results are in. One (1) lucky winner has a chance to win TEN (10) $100 coupons and four (4) lucky winners could win FIVE (5) $100 coupons. And so, without further ado, the winners are as follows:
WINNER OF TEN (10) $100 COUPONS
ANDREAS GIRODI
WINNERS OF FIVE (5) $100 COUPONS
MONIKA SOBCZYNSKA
ANNA TOLUBAEVA
CHRISTIAN SCHIFFERER
EVA THOMS
Congratulations to all the winners! We will contact them via their registered e-mail to instruct them on how to claim their prize.
It isn't often that video gamers have the chance to witness a showcase of statues of characters they adore, and being able to interact with us helped them understand and appreciate why a high-end collectibles market exists, and how we continue to thrive with the help of our Official Licensors, Partners, and our beloved Official Collectors Club. Conventions are slowly shaping into a platform that allows for gamers and collectors alike to share their passion with one another.
Once again, thank you guys for an unforgettable Gamescom 2019! And we would also like to give special thanks to all our volunteers for assisting us in setting up and manning the fortress. Indeed, F4F is love, F4F is life! Stay tuned for more First 4 Figures news and updates through our First 4 Figures Official Collectors Club. Who knows, maybe our next adventure might be at a convention near you.
Last Update
2019-09-11 07:56:02