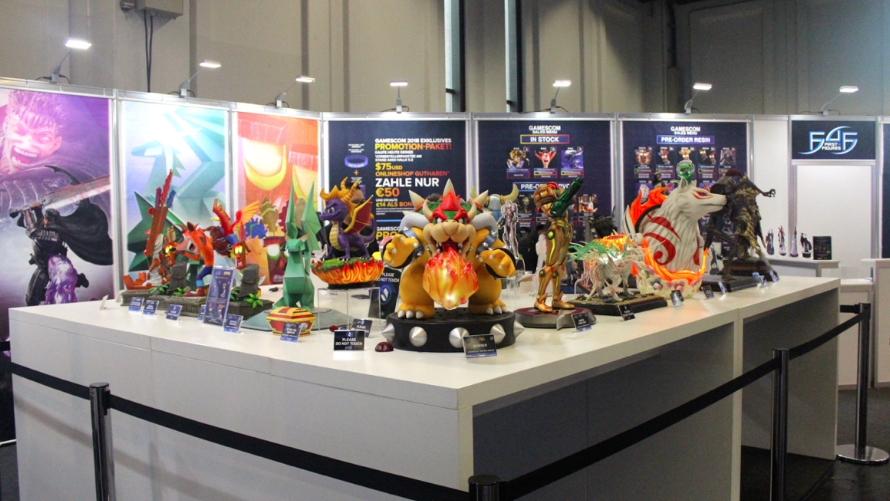 Thank you for the hospitality, Cologne!
---
Simply put, Gamescom 2018 was a blast. With over 370,000 visitors in attendance, it's no wonder that booth A063 was packed full of awestruck faces. Just before a massive Bowser or a gorgeous Amaterasu Life-Size Bust could escape the corner of their eye, that one brief moment was enough to captivate and attract the passersby. The crowd was amazed, and some even sentimental, after seeing such beautifully handcrafted statues of characters they've grown a connection with from their early years.
Nostalgia aside, a chunk of the crowd also took notice of the design and attention to detail on each piece. It isn't often that video gamers have the chance to witness a showcase of resin statues of characters they love, and being able to interact with us helped them appreciate and understand why a market exists for high-end collectibles and why we continue to flourish with the help of our Official Licensors, Partners, and our beloved Official Collectors Club. Conventions are slowly shaping into a platform that allows for gamers and collectors alike to share their passion with one another.

Moving on to the subject of PVC, a few new figures namely Spyro TF, Amaterasu TF, Solid Snake SD, and Dragon Slayer Ornstein SD made their debut appearance during Gamescom 2018. More on this later on in a separate article. For now, I can tell you that Alex stated during Friday Q&A with Chocks and A #84 that PVCs are the key to success for attending these conventions based on recent experience. Not to worry. The future is bright, and so is our plans with PVC. We promise you will not be disappointed. #teehee
Lastly, it was great to meet members of our Official Collectors Club that could attend the event, and this was certainly the highlight of the entire experience. To be able to converse with you guys in person was a surreal moment for us, and we couldn't thank you enough for all the love and support you've shown us. We wouldn't be where we are today without you.
We would like to recognize those that helped us out during the event. A big shout out to Cris Kunz, our lovely admin Celine Gardier and her husband Wesley Van Den Bosch, Marcel Fenris, Marcel Bloch, Damian Francuz, and Simon Orosch! We knew we needed the assistance after our experience with New York Comic Con 2017, and we're very thankful they reached out to us.
But now, the question remains whether or not we'll be doing more of these conventions. We still have a few more things to discuss behind the scenes, but I think it's safe to say that yes, we will be returning to Gamescom. As for the other conventions around the world, we still have to do a bit more research on them. At the very least, we'll probably have some form of representation of our products through a third party if we couldn't go ourselves. But again, this isn't set in stone and still needs more analysis.
Once again, thank you guys for an unforgettable Gamescom 2018! Indeed, F4F is love, F4F is life, and we hope to see you in the next one!
Last Update
2019-06-08 07:22:10