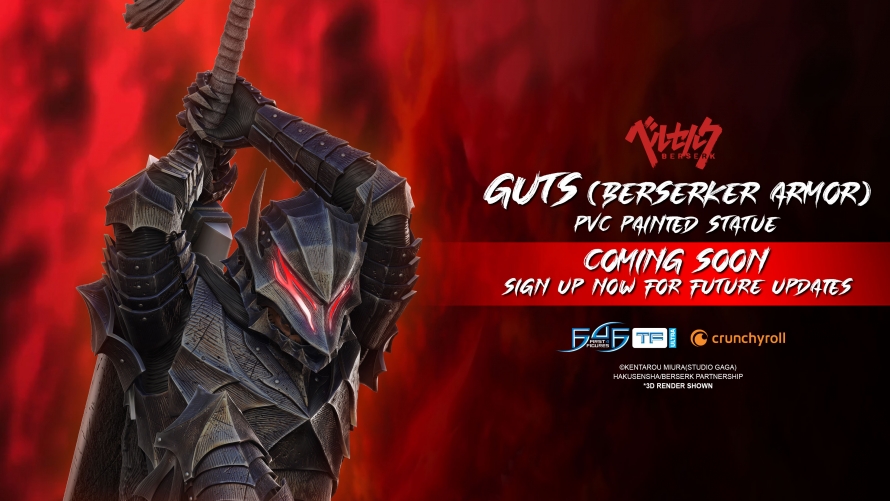 First official 3D render of the mighty Guts in Berserker Armor
---
Sign up now to stay up to date with our latest
Berserk teasers and First 4 Figures news
The Berserk fans in our First 4 Figures Official Collectors Club have been craving for a Berserker Armor teaser for quite some time, but we weren't ready yet to reveal anything... until now. First 4 Figures CEO Alex Davis asked the fans three years back what kind of pose they'd like to see Berserker Armor in, and after fan feedback and much development behind the scenes, we can now unveil the first official 3D render of our Berserk – Guts (Berserker Armor) PVC statue! That's right, with the reveal of our Guts (Berserker Armor) PVC statue, we are also excited to introduce a new range of Berserk collectibles, our Berserk PVC lineup!
Guts (Berserker Armor) PVC is an example of what we are officially calling our True Form (TF) Ultra PVC collectibles, which are F4F PVC statues that are more complex in design and/or bigger than our usual PVC offerings but at a slightly higher price point. And for our resin collectors, you need not worry because we also have resin statue of Guts in his Berserker Armor in development, so stay tuned for that! Apart from all this information, there isn't much else we could reveal for now.
So, what do you guys think so far? Let us know in the comments section below. For more exclusive behind-the-scenes content, join us in our Official Collectors Club on Facebook.
---
More from First 4 Figures Berserk series
If you are interested in more products from First 4 Figures' Berserk series, we still have open pre-order, in-stock, and waitlist items available from our Berserk lineup. For more information on how our waitlist works, kindly click HERE.
Last Update
2020-09-07 14:45:14