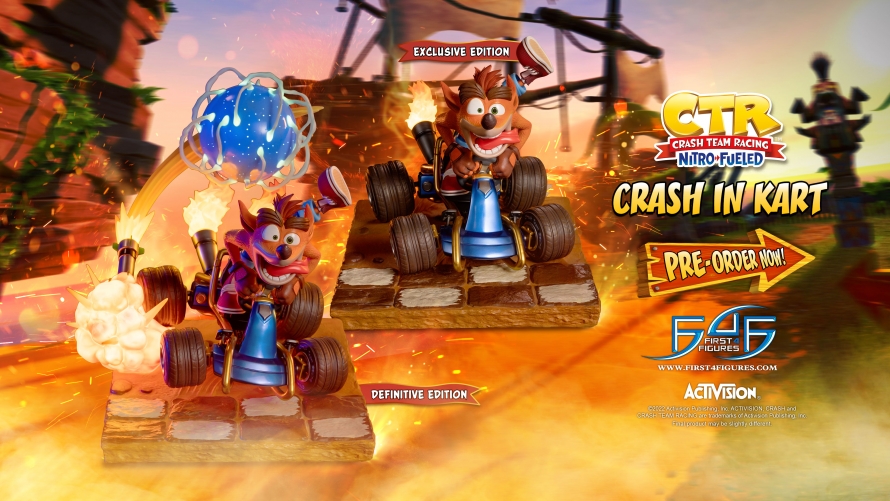 It is time for First 4 Figures' highly anticipated product launch of Crash Team Racing™ Nitro-Fueled - Crash in Kart Resin Statue!
---
First 4 Figures is proud to introduce their latest collectible from Crash Team Racing™ Nitro-Fueled - Crash in Kart! Pre-orders are now open! And, for a limited time, take advantage of our EARLY BIRD OFFER by placing your orders before 22nd July 2022, 4:00 PM HKT (Hong Kong Time). Don't miss out!
---
Frequently Asked Questions:

Q: "Do you have payment plans?"
Yes, payment plans are available. We have up to twelve (12) months of payment terms for this particular statue. For more information, you may check the "Additional Information" section of your desired product.
Q: "Can I cancel my order?"
You may cancel your orders, but the 10% initial deposit is non-refundable, and you incur an Administration Charge of USD 5.00 per payment to be refunded (if you are on a payment plan). For more information, please visit the Cancellation section of our Helpdesk.
Q: "How much will the shipping cost?"
Shipping costs vary depending on the item. Estimated shipping costs are provided before the Checkout process.
Q: "If I decide to purchase more than one statue, will it be possible to combine it all into one shipping cost?"
Shipping costs are charged on a per-item basis. We do not allow the combining of shipping costs.
Q: "Do we have to pay for taxes or duties?"
Yes, you will have to pay sales tax when purchasing from our website. It will depend on your region, however, when sales tax is applied. The product page will indicate if sales tax is included or excluded from your purchase. Terms and conditions apply upon checkout.
Q: "Can I purchase your Crash in Kart statue anywhere else other than your website?"
The Standard Edition of this statue may be available for purchase at your local retailer once these have been released, but the Exclusive and Definitive Editions are only available on our website.
---
For more information and high-resolution images of our Crash in Kart statue, kindly click HERE.
If you have any further questions or concerns, please refer to the Helpdesk section of our website. Alternatively, you may contact our Customer Service and we will get back to you shortly.
---
More from First 4 Figures Ōkamiden series
If you are interested in more products from First 4 Figures' Crash Bandicoot™ series, we still have in-stock and items for pre-order available from our Crash Bandicoot™ lineup. For more information on how our waitlist works, kindly click HERE.
Last Update
2022-06-30 16:37:48