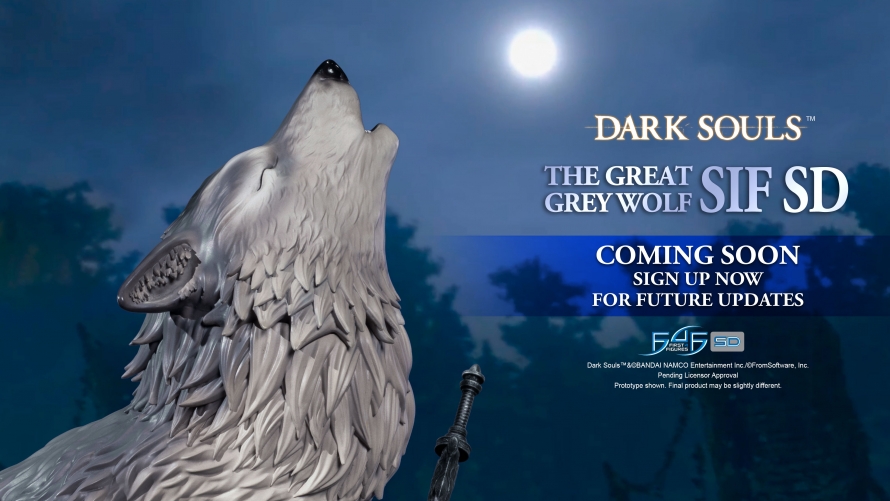 The great grey wolf will finally be reunited with his companion
---
Sign up now to stay up to date with our latest
Dark Souls™ teasers and First 4 Figures news
Towards the end of our product launch stream for Dark Souls™ & Dark Souls™ II – Dragon Slayer Ornstein SD and Old Dragonslayer SD PVC statues, hosts Chockles and Liz unexpectedly unveiled that a Dark Souls™ – The Great Grey Wolf Sif SD statue is in development. In fact, it's already in the painted physical prototype stage!
Based on the video, you can tell that Sif is in a howling pose, which the great grey wolf does just before the start of the boss battle. And also visible in the video is the hilt of a sword, which we can only assume for now is the sword of Sif's beloved companion, Knight Artorias. As to what the base will look like and what the Exclusive Edition includes, only time will tell. Apart from all this information, there isn't much else we could reveal for now.
So, what do you guys think so far? Let us know in the comments section below. For more exclusive behind-the-scenes content, join us in our Official Collectors Club on Facebook.
---
More from First 4 Figures Dark Souls™ series
If you are interested in more products from First 4 Figures' Dark Souls™ series, we still have pre-order, in-stock, and waitlist items available from our Dark Souls, Dark Souls SD, and Dark Souls Bust lineups. For more information on how our waitlist works, kindly click HERE.
Last Update
2020-10-06 17:12:48