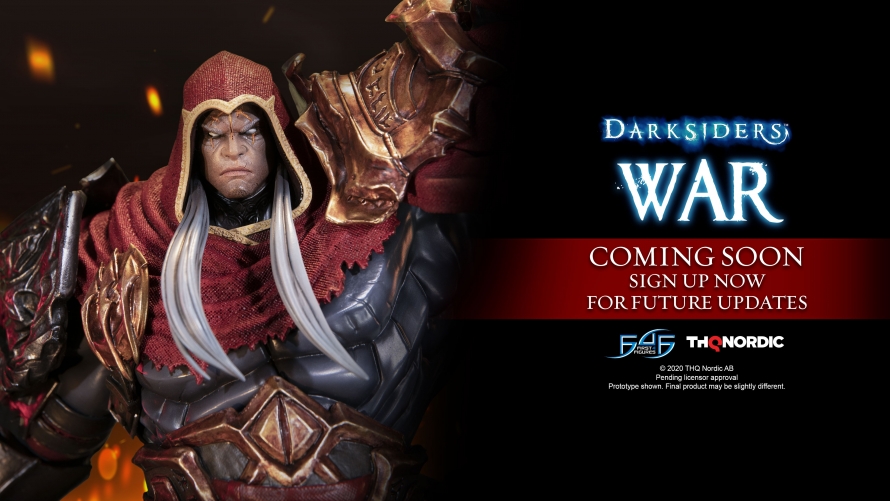 War is one step closer to the finish line!
---
(Update as of 2 December 2020: Launch date CONFIRMED! Mark your calendars because our Darksiders – War statue launch stream premieres this 8 December 2020, 9:00 PST | 12:00 EST | 17:00 GMT | 18:00 CET. Pre-orders open after the stream. Click your preferred streaming site URL to set a reminder: FACEBOOK | YOUTUBE)
Sign up now to stay up to date with our latest
Darksiders teasers and First 4 Figures news
As our newest license announcement and in celebration of Darksiders' 10th anniversary last January 2020, First 4 Figures announced that Darksiders collectibles were coming! We are excited to be working hand-in-hand with THQ Nordic to bring fans of the franchise nothing but the best Darksiders collectibles in the market.
Little did everyone know that even before the license announcement, we've secretly been developing the first statue's concept for quite some time, and after much development behind the scenes, we're finally ready to reveal the painted physical prototype of DARKSIDERS – WAR! We've already mentioned in the past that this will be a beefy and massive 1/6th scale resin statue. And based on the image and video alone, you can already tell that this statue is incredibly detailed and has layers upon layers of paint application. Apart from all this information, there isn't much else we could reveal for now.
So, what do you guys think so far? Are we on the right track? Let us know in the comments section below. For more exclusive behind-the-scenes content, join us in our Official Collectors Club on Facebook.
Last Update
2020-12-05 14:28:58