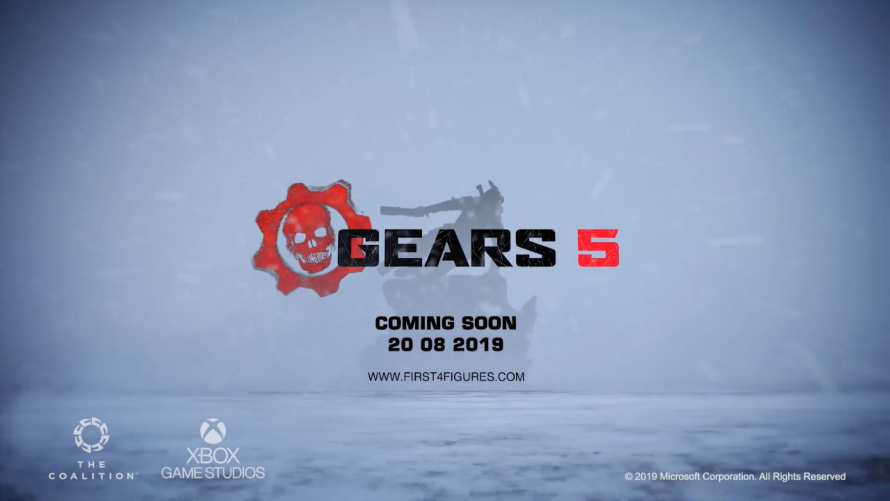 A brand-new license reveal like never before
---
Everyone, let us all give MICROSOFT a very warm welcome into the First 4 Figures family of licensors! And, to kick things off, we are proud to announce that GEARS 5 collectibles are coming to First 4 Figures! We are excited to work hand-in-hand with our friends over at Microsoft and The Coalition to bring you nothing but the best Gears 5 collectibles in the market.
BUT, THAT'S NOT ALL!
We announced last week that we will be attending this year's Gamescom 2019. Well, wait no longer because the first pre-order from our Gears 5 line will launch during the FIRST DAY of Gamescom 2019!
Gears 5 Worldwide Unveiling:
Date: 20 August 2019
Time: 08:00 AM CEST
First 4 Figures Booth No.: Hall 5.1, C-020
Microsoft Booth No.: Hall 8.1, C-060 A-061
Venue: Koelnmesse, Cologne, Germany
Stop by the First 4 Figures and Microsoft booth for a firsthand look of the product as we do a worldwide unveiling during the convention! (Pro tip: We highly suggest you visit Microsoft's booth first before visiting ours. You might be in for an even bigger surprise.) Pre-orders will be available at www.first4figures.com. More information to follow.
For the first time in the Gears of War franchise, the events in this entry will revolve around a female protagonist, Kait Diaz. Ever since Kait's mother handed her the family heirloom—a necklace that originally belonged to her grandmother—she has been having these nightmares, which she feels are messages intended for her. Kait is desperate and in need of help, so she reveals to her entire squad that one side of the necklace bears the symbol of the Locust Horde. But, what could it all mean? What kind of connection could her bloodline possibly have with the race that almost wiped out all of humanity? She disobeys a direct order from her captain, JD Fenix, to go on a quest in the frozen wastelands up north in search of answers. And so begins the epic and bone-chilling campaign that is Gears 5.
According to The Coalition Studio Head Rod Fergusson during the Microsoft E3 2018 Press Conference, Gears 5 will be their "most ambitious Gears of War title yet", featuring five unique game modes and a breathtaking world that will undoubtedly take fans and newcomers alike to new heights. Gears 5 is set to release on 10 SEPTEMBER 2019 exclusively on Xbox One and Windows. Also, if you pre-order any of the digital editions of the game before release day, you will be receiving a Terminator Dark Fate Character Pack, which includes Sarah Connor and the T-800 from the film, the Vector Lancer Skin, and 7 days of Boost. (Character pack and skin require Xbox Live Gold on console, membership sold separately.)
In the history of First 4 Figures, we have never done a license reveal, a product launch announcement, and a worldwide unveiling all at the same time before, so we are extremely excited to show you what we've been working on for more than two years now. Let us know in the comments section below if we'll be seeing you in this year's Gamescom. For all the latest Gears of War and First 4 Figures news and updates, check out our Official Collectors Club on Facebook.
Last Update
2019-10-14 04:08:31