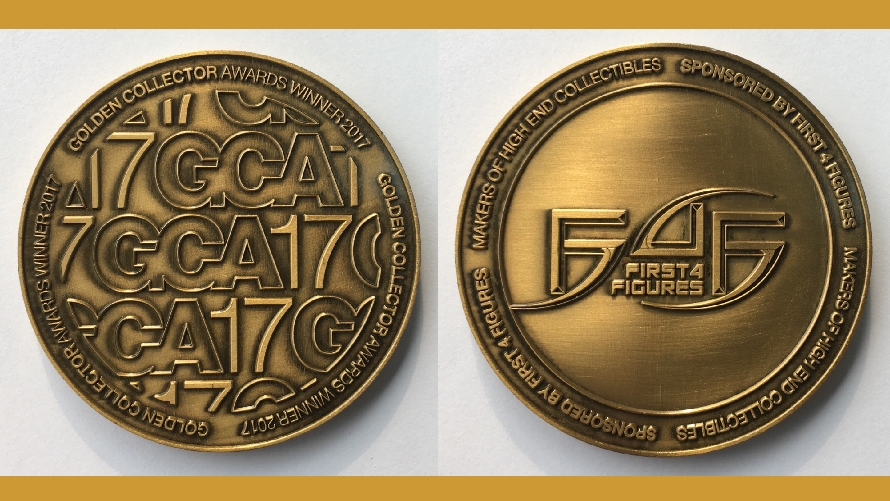 One lucky winner will walk away with a Golden Collector Award token!
---
For those that have been following First 4 Figures for quite some time, you know by now that you are winners of three accolades during the Golden Collector Awards 2017 for the following:
Channel – Best Long Chat (31 minutes or more) for their Friday Q&A with Chocks and A Facebook Live Stream
Artist – Best Professional Sculpt for their Artorias the Abysswalker statue from their Dark Souls line
Web – Best Facebook Group (

First 4 Figures Official Collectors Club

)
If you missed the Friday Q&A with Chocks and A #62 episode, you'd be pleased to hear that your awards have finally arrived!
Now, it took a group's effort to win these awards, and we feel that it is only but right that we share these awards with you, our beloved community. And so, we've decided to give away ONE(1) of these Golden Collector Award tokens to a lucky winner!
All you have to do is:
Join the First 4 Figures Official Collectors Club Facebook group.
Like, comment on, and share this

FACEBOOK POST

.
Kindly fill out the required fields

HERE

.
Deadline for submission of entries is on 13 April 2018, 9:00 PM HKT. One (1) lucky winner will be chosen at random and will be announced during Alex and Chockles' Friday Q&A Facebook live stream this Friday, 13 April 2018, 10:00 PM HKT. You may watch them on First 4 Figures' main Facebook page or Official Collectors Club Facebook group.
If it is your first time finding out about this, you may read about and watch the announcements of the 2017 Golden Collector Awards ceremony HERE.
Once again, we would like to thank every single one of you for your continued love and support! None of this would have been possible if it weren't for all of you. Also, congratulations again to the people behind the Collector-Verse for successfully organizing the Golden Collector Awards 2017.
Truly, F4F is love, F4F is life!
Last Update
2018-03-30 17:25:57