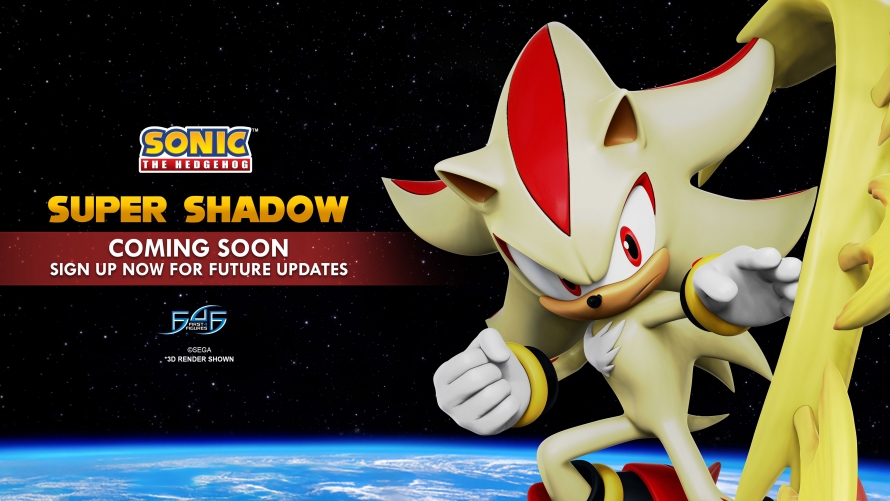 First official 3D render of Shadow the Hedgehog in his super form
---
Sign up now to stay up to date with our latest
Sonic The Hedgehog teasers and First 4 Figures news
It's been awhile since the release of a standalone Sonic The Hedgehog resin statue, the last of which was Silver the Hedgehog back in February 2017 from our Sonic The Hedgehog Modern lineup. In 2018, First 4 Figures CEO Alex Davis ran a poll in our Official Collectors Club if fans would be interested in a Super Shadow statue, and over 900 members were excited about the idea! A year after, Alex asked the OCC again which stage from Sonic Adventures 2 would they prefer, and the majority voted for the Space stage. Was this a sign that a Super Shadow statue was in the making?
After much development behind the scenes, we are happy to announce that a Sonic The Hedgehog – Super Shadow resin statue is, indeed, in the works! Please keep in mind that what you see right now is a 3D render, so there's still a lot to be done. However, we can see that he is in a dynamic pose, shooting out one of his Chaos Powers, the Chaos Spear. And although the base has yet to be revealed, maybe it's safe to assume that it's going to be in the Space stage given the background of the video and image? Only time will tell. Apart from all this information, there isn't much else we could reveal for now.
So, what do you guys think so far? Are we on the right track? Let us know in the comments section below. For more exclusive behind-the-scenes content, join us in our Official Collectors Club on Facebook.
---
More from First 4 Figures Sonic The Hedgehog series
If you are interested in more products from First 4 Figures' Sonic The Hedgehog series, we still have open pre-order, waitlist, and in-stock items available from our Sonic The Hedgehog Boom8 Series, Sonic The Hedgehog Dioramas, and Sonic The Hedgehog PVC lineups. For more information on how our waitlist works, kindly click HERE.
Last Update
2020-09-15 08:01:03