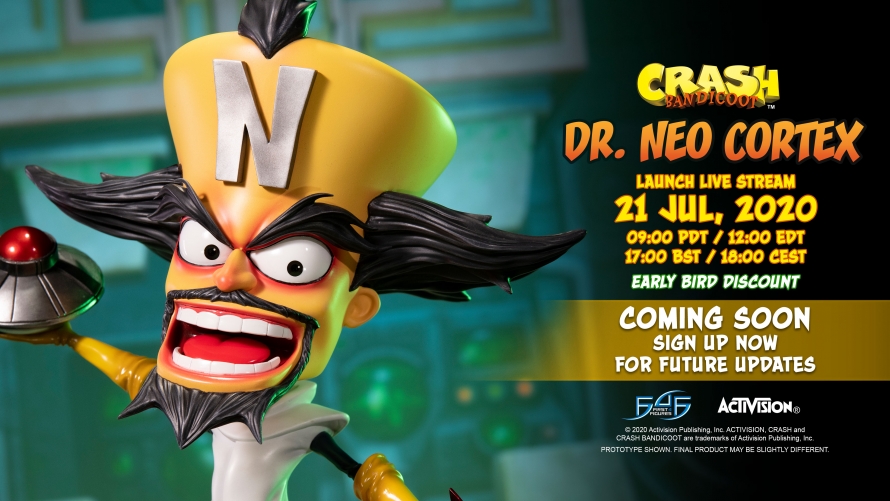 Dr. Neo Cortex is now in the physical stage! Stay tuned for more info on how to guarantee your 10% Early Bird Discount and much more!
---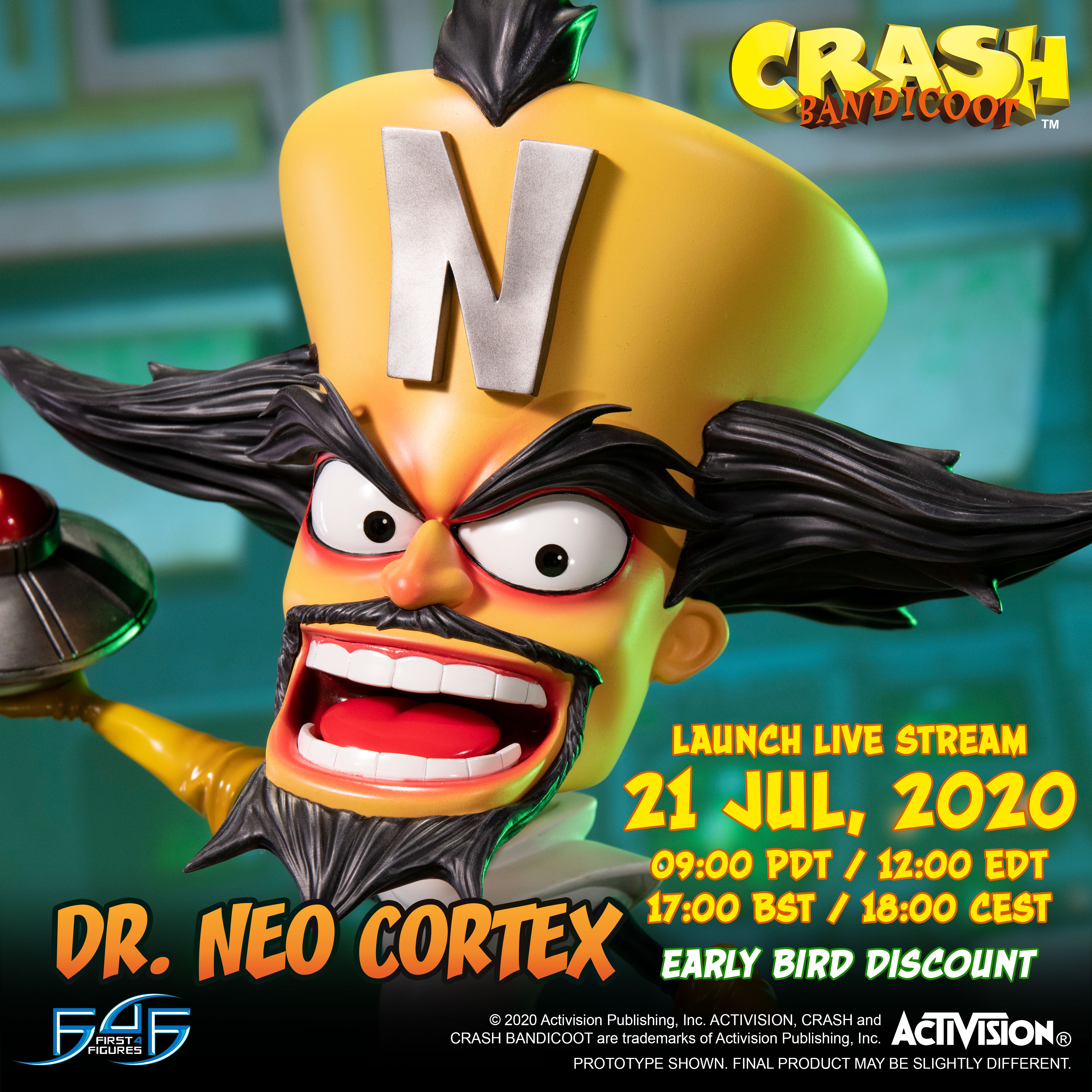 CLICK ON IMAGE TO ENLARGE
We are pleased to announce that our latest resin collectible, DR. NEO CORTEX, from our Crash Bandicoot™ series will be available for pre-order beginning TUESDAY, 21 JULY 2020, 09:00 PDT | 12:00 EDT | 17:00 BST | 18:00 CEST.
Sign up now to stay up to date with our latest
Crash Bandicoot™ teasers and First 4 Figures news
According to a 2017 Facebook poll by Alex Davis, if Crash's nemesis, Dr. Neo Cortex, hit at least 500 Yes votes, then First 4 Figures would look into it. Well, given the poll's positive results and after much development behind the scenes, our CRASH BANDICOOT™ – DR. NEO CORTEX statue is now in the physical stage! Apart from his iconic facial features such as the letter "N" on his gigantic forehead, we can also see in the image that he's holding up a mine, which is one of his arsenals during the Dr. Neo Cortex boss battle in the third installment.
This is all that we can show you for now, but what do you guys think so far? Let us know in the comments section below. If you want to be notified of all the latest Crash Bandicoot™ teasers and First 4 Figures news, sign up for our newsletter through the button above, or join our Official Collectors Club on Facebook for more exclusive behind-the-scenes content.
---
More from First 4 Figures Crash Bandicoot™ series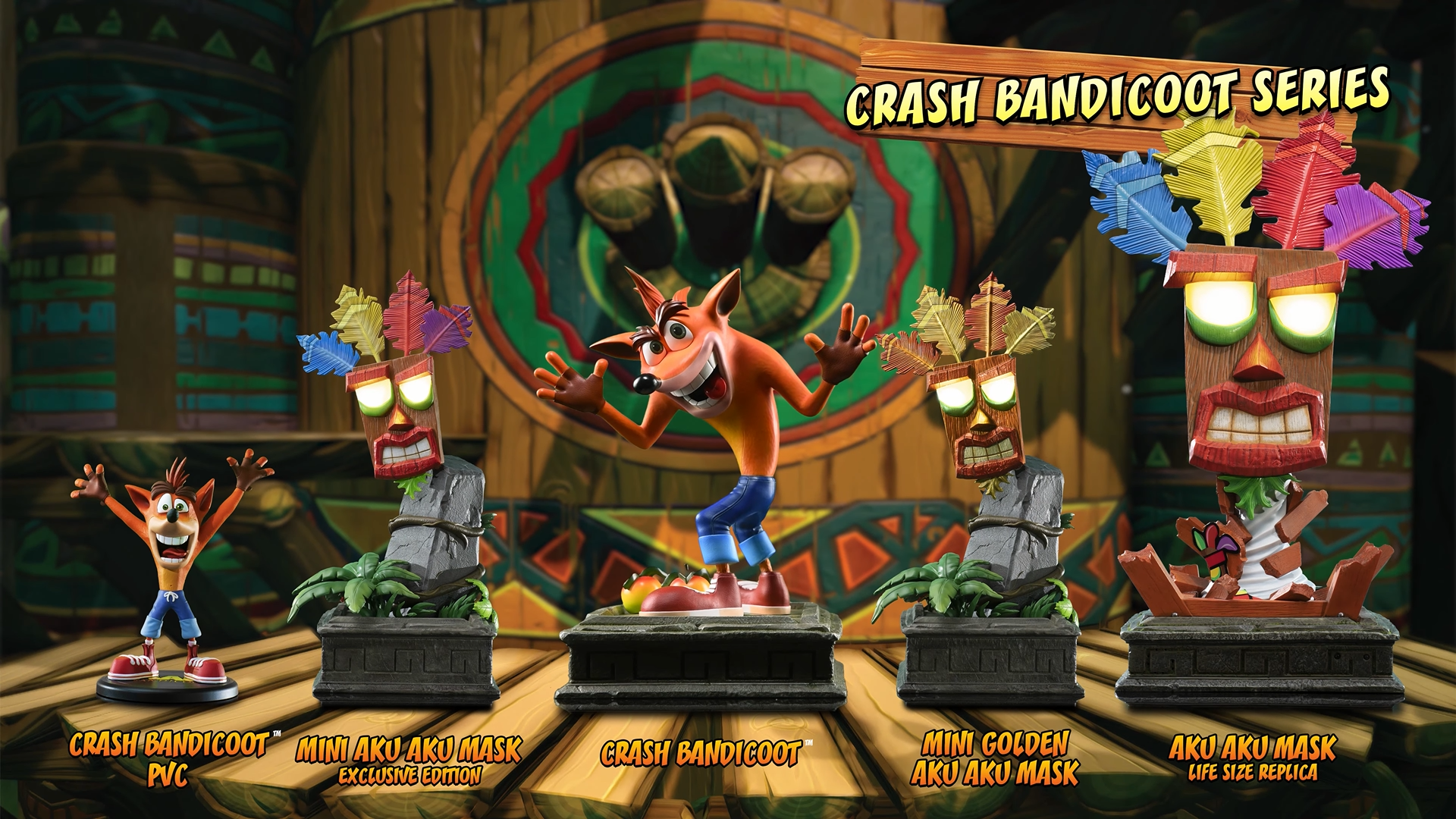 If you are interested in more products from First 4 Figures' Crash Bandicoot™ series, Mini Aku Aku Mask is still open for pre-order, and you may still jump on the waitlist for your desired version of our Crash Bandicoot™ and Aku Aku Mask statues. For more information on how our waitlist works, kindly click HERE.
Last Update
2020-05-29 05:27:23