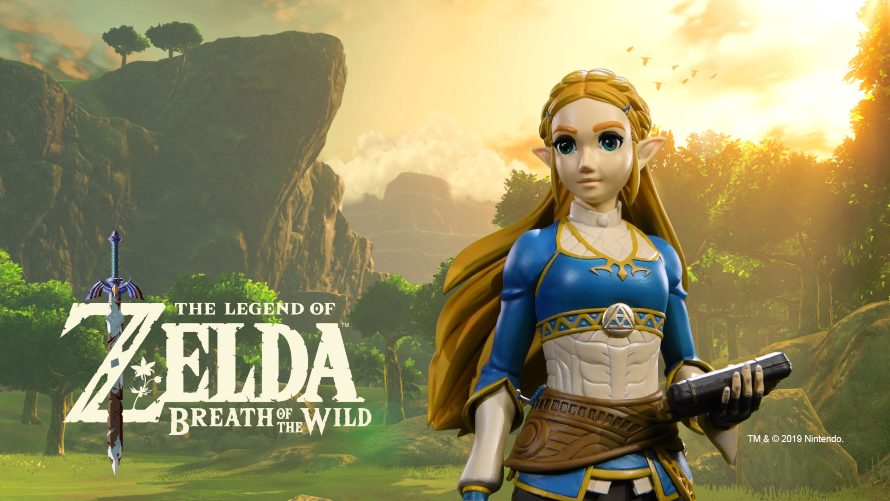 ---
We are pleased to announce that our latest collectible, THE LEGEND OF ZELDA: BREATH OF THE WILD – ZELDA statue will be available for pre-order on FRIDAY, 25 OCTOBER 2019, 10:00 AM EST | 3:00 PM BST. We have prepared a short teaser trailer for everyone to appease the wait.
Be sure to join Alex and Chockles as they go through all the juicy details during the Reservations stream, as well as FAQs and numerous high-resolution images. You may watch them live on First 4 Figures' main Facebook page or Official Collectors Club Facebook group. Also, be sure to check out our Events page linked HERE to be reminded of this highly anticipated product launch for THE LEGEND OF ZELDA.
Our Link statue from The Legend of Zelda: Breath of the Wild has been out in the marketplace for quite some time, and we are thrilled that the two protagonists are finally reuniting! As seen in these pictures, Zelda features LED functions both in her base and the Sheikah Slate in hand, a common feature in First 4 Figures Exclusive Editions. It's only a matter of time before we reveal everything else there is to know about this beauty.
Are you eager to add this piece to your collection? Please do let us know in the comments section below. For more information on how to pre-order, kindly refer to our guidelines HERE, and do check out our Official Collectors Club for all the latest The Legend of Zelda and First 4 Figures news and updates.
---
More from First 4 Figures The Legend of Zelda series
If you are interested in more products from First 4 Figures' The Legend of Zelda series, our Breath of the Wild Link statue may be available for purchase at a local retailer near you. You may also jump on the waitlist for your desired version of our True Form Midna statue. For more information on how our waitlist works, kindly click HERE.
Last Update
2019-10-29 08:50:49