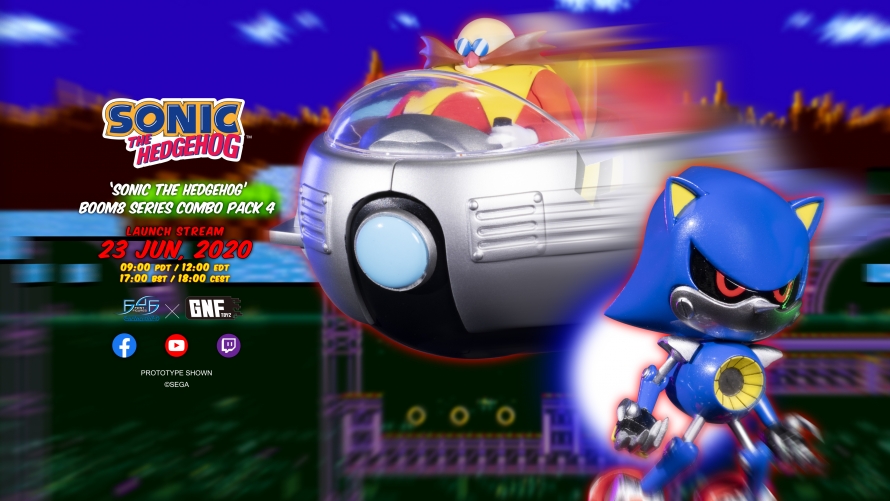 Stay tuned for more information!
---
CLICK ON IMAGE TO ENLARGE
We are pleased to announce that our latest F4F Partnerships collectible with GNF Toyz, Sonic The Hedgehog Boom8 Series – Combo Pack 4, will be available for pre-order beginning TUESDAY, 23 JUNE 2020, 09:00 PDT | 12:00 EDT | 17:00 BST | 18:00 CEST.
Want to be reminded of our launch stream?
Sign up now!
Be sure to join us for our product launch stream as we go through all the statue details, as well as frequently asked questions, behind-the-scenes interviews, and many more. You may watch us on First 4 Figures' main Facebook page or Official Collectors Club Facebook group. Don't forget to sign up so that we may remind you of this highly anticipated product launch for SONIC THE HEDGEHOG.
It wasn't too long ago when we gave everyone a first look at the painted physical prototypes of these two Sonic The Hedgehog villains, and here we are now. Will you be adding this pair to your collection? Let us know in the comments section below.
For more information on how to pre-order, kindly refer to our guidelines HERE, and do check out our Official Collectors Club for all the latest Sonic The Hedgehog and First 4 Figures news and updates.
---
More from First 4 Figures Sonic The Hedgehog series
If you are interested in more products from First 4 Figures' Sonic The Hedgehog series, we still have open pre-order and in-stock items available from our Sonic The Hedgehog Boom8 Series, Sonic The Hedgehog Dioramas, and Sonic The Hedgehog PVC lineups. For more information on how our waitlist works, kindly click HERE.
Last Update
2020-06-16 09:57:25