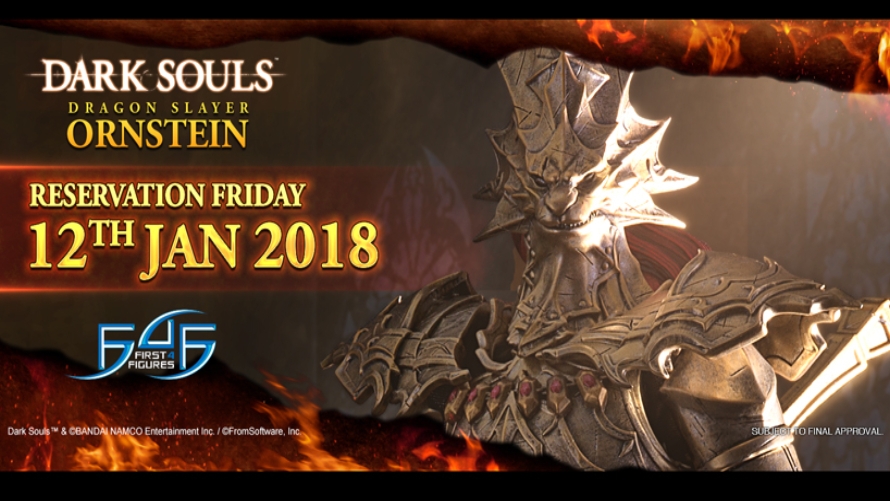 The first pre-order of 2018 is finally upon us all.
---
During Alex and Chockles' last Friday Q&A of 2017 (was also their F4F Christmas Special episode), they made a surprise announcement that the first pre-order for 2018 is going to be DRAGON SLAYER ORNSTEIN from their Dark Souls line. It was not specified, however, when exactly in 2018 this pre-order will go live.
Well, great news everyone! You won't have to wait much longer because this week's Friday Q&A with Chocks and A will also be Dragon Slayer Ornstein's Preview Friday, followed by its reservation period immediately after!
Everything will be revealed this Friday, 12 January 2018, 10:00 PM HKT, including numerous high-resolution images and F4F's "Making of" documentary video.
You may watch Alex and Chocks' live stream on First 4 Figures' main Facebook page or Official Collectors Club Facebook group.
For more information on how to pre-order, kindly refer to our guidelines HERE.
---
If you are interested in more products from our Dark Souls line, you may still jump onto the waitlist for your desired versions of our The Great Grey Wolf, Sif and Solaire of Astora statues HERE. For more information on how our waitlist works, kindly click HERE.
Last Update
2018-01-08 10:33:21