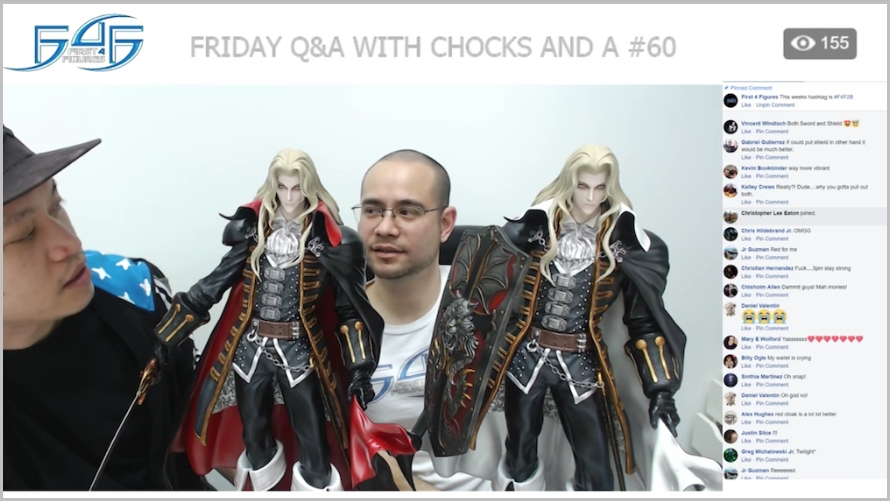 This is a breakdown of the important (and not so important) topics of last Friday's (March 2, 2018) Friday Q&A with Chocks and A #60.
---
REMINDERS
Artorias the Abysswalker SD (Exclusive) pre-orders will end right after this stream but will reopen for Last Chance Weekend in two weeks' time, 16-19 March 2018.
Following the closing of Artorias the Abysswalker SD (Exclusive) pre-orders will be the unveiling of Alucard from their all-new Castlevania: Symphony of the Night line!
WEEK IN REVIEW
Alex forgot to check the Edition Size of Solid Snake. However, he will be posting this information over the weekend.
F4F Customer Service sent out e-mails this week notifying people that Amaterasu Life-Size Bust, Spyro the Dragon, and Jin (Tekken) will be delayed. Unfortunately, these three did not make it before Chinese New Year started, hence the delay.
Alex and Chocks anticipate that the production side of things will be at full speed by the end of March 2018. Chinese New Year is already coming to a close, but the factories still need to settle in.
Development-wise, however, a lot has been going on. Fingers crossed, the next pre-order will be in three weeks' time!
The

Official Collectors Club

has reached 39,000 members; one step closer to the 50k Reveal! Thank you so much for all your support!
Alex has 99% confirmed that First 4 Figures will be making an appearance in Gamescom 2018!
During this production downtime, Alex also did a lot of planning with regards to the future of F4F. They are slowly growing as a company, and they need to be prepared to expand when they've hit certain company milestones.
FIRST 4 FIGURES' TEMPTATION THURSDAYS (TT) POLL
Last week's Senua from the Hellblade: Senua's Sacrifice series TT Poll #90 Results: 157 YES votes / 190 NO votes.
This week's Tomba from the Tomba! series TT Poll #91 Results: 58 YES votes / 272 NO votes.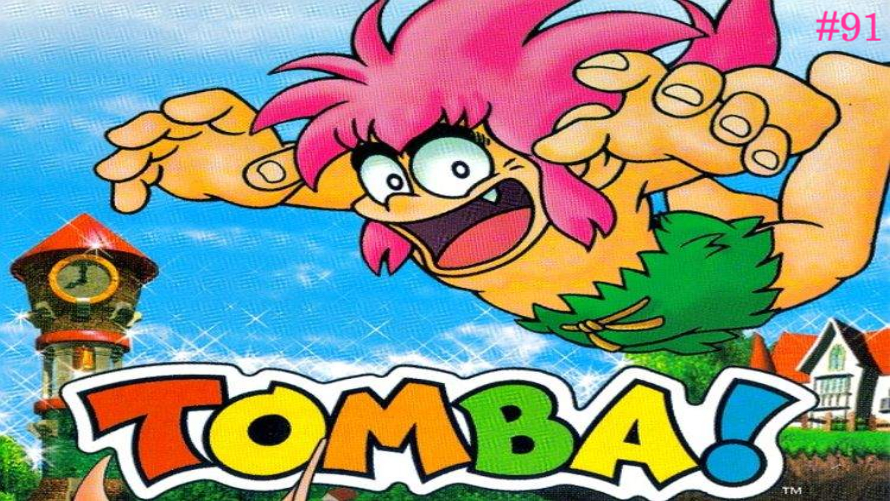 The two winners of last week's #F4FGL are MIKE LAZINSKI and ZANIEL DANTAS.
Next TT polls will be (in this order): NIER: AUTOMATA ➔ KILLER INSTINCT'S FULGORE
This week's hashtag is #F4F2B for a chance to win 500 reward points.
They just added Bloody Roar to the list of possible TT polls.
They will run a Xenoblade Chronicles TT poll during the Licensing Expo in Las Vegas this May 2018.
A Tokyo Ghoul TT is possible.
VARIOUS CHARACTER & PRODUCT LINE UPDATES
META RIDLEY UPDATE: Already in the physical stage being duplicated; pole holding Meta Ridley will be transparent in color
ZERO UPDATE: So far, all of F4F's statues from the Mega Man franchise have had a "clean" look. Alex is contemplating on adding a bit of scuffing/weathering effects on Zero's paint application. Is this something you'd be interested in? Let him know in the comments section below.
One reason why Guts is going to be expensive is because his cape is made out of Polyurethane (PU) material, which is significantly more expensive than resin. To achieve the dynamic effect on the cape, they needed to use material lighter than resin, and PU was the best choice out of all the other options they tested.
GUTS UPDATE 1: Tweaking the final stages; down to the homestretch; is he going to have a Combo Pack? "We can discuss that another time." – ALEX & CHOCKLES
GUTS UPDATE 2: Neck wound will be darker as initially intended. If everything goes smoothly, Guts will be the first pre-order of Q2 2018.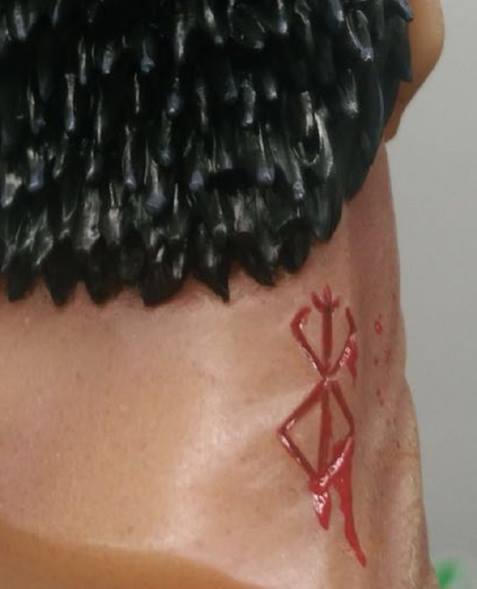 BAYONETTA UPDATE: Soon to be reprinted
FAYE VALENTINE UPDATE: The Faye 3.0 poll

results

are in. What are your thoughts on this? Let them know in the comments section below.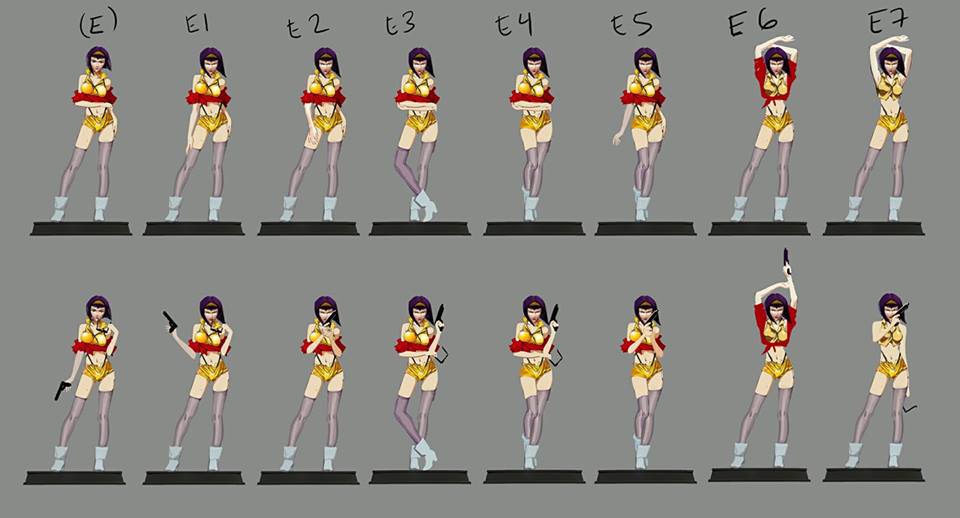 DARK SOULS SD UPDATE: The 3-D renders of the third figure from this line have now been approved by the licensors! Tee Hee!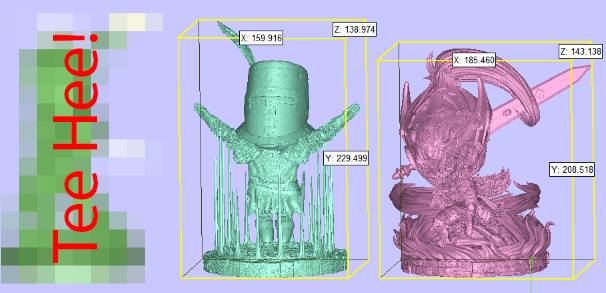 Alex's daily impossible hint was so difficult that even Chockles had to ask what it was.

TRUE FORM MIDNA UPDATE: The sample is now on its way to Nintendo Japan for approval. Once they've received the final approval to go ahead with a launch, everything will be pushed back and this will immediately go up for pre-order next. It's been too long since the last Legend of Zelda launch.
There is nothing to report on the Spyro the Dragon PVC. Alex will contact the licensors soon.
SHEIKAH SLATE UPDATE: Currently being reworked
RIDER LINK UPDATE: 3-D render is almost complete after receiving the licensor's feedback.
SPYRO THE DRAGON UPDATE: To be finalized once Majora's Mask is out the door; Alex will pay close attention to the issue with the eyes
METAL GEAR SOLID UPDATE: Statues from different Metal Gear Solid titles will be a part of its own line.
AIKA UPDATE: Possibly an Ultimate Pack – contains numerous weapons, facial expressions, etc.; will be significantly more expensive than the Regular or Exclusive version
CRASH BANDICOOT RESIN UPDATE: Seems unlikely to be a Q1 pre-order as originally planned; colors of eyebrows are now brown
No updates just yet on the Last Chance Weekend dates for Law (Tekken)
SOLAIRE OF ASTORA SD UPDATE: Everyone will hopefully have their Artorias the Abysswalker SD in-hand by the time the Dark Souls: Remastered comes out, and they will also time the Solaire of Astora SD launch around the same time as well.
SOLAIRE OF ASTORA UPDATE: Very hard to determine since Chinese New Year just ended but possibly shipped out around May 2018 as a rough estimate
SKULL KNIGHT UPDATE: Will be horseless; needs to be in the physical stage first before sneaking anything
GENOS UPDATE: Will be submitted to the licensor next week; pose will compliment F4F's Saitama statue
BANJO & KAZOOIE UPDATE: Sneaks will begin April 2018 if everything goes smoothly
MORRIGAN (DARKSTALKERS) UPDATE: Will take a look at her again; almost finished the last time they looked at her
Nothing to report on the Soulcalibur II line right now
It's time to look into the beautiful ladies of the Dark Souls series.
DRACULA UPDATE: Already in the painting stage; when would you like to see him go up for pre-order? Four months? Six months? Let Alex know in the comments section below.
DEATH UPDATE: 3-D render is already finished. If Alucard does well, Alex will push the button to go to the next stage and can expect an 8-month turnaround time. If you want Dracula in four months' time, you can have all three Castlevania: Symphony of the Night launches in a span of eight months.
No movement just yet on F4F's plush lines
Possible Gabriel Belmont in 2019
SHIRANUI UPDATE: Submitted to Capcom for approval two days ago
SHOVEL KNIGHT UPDATE: The different-colored variants of Shovel Knight that will be released in the future will not be a necessary purchase to secure your number for Plague Knight or Specter Knight.
KING DEDEDE UPDATE: F4F already made him. After the Warp Star Kirby launch, they will then run a TT poll with images of their actual work to gauge people's interest.
ED & EIN (COWBOY BEBOP) UPDATE: No plans of working on the duo until someone's already in pre-order
FAYE VALENTINE UPDATE: Deep in development and will be finished up in 3-D and will go into the physical stage once F4F has launched one of the others
The next pre-order after Alucard will be in three weeks' time instead of two to make sure that the pre-order after that doesn't fall on a Good Friday.
This new concept of Ultimate Packs has Alex more excited now for Jin and Fuu (Samurai Champloo).
It would require additional engineering work but it's also possible that the extra upper body of Jin (Samurai Champloo) could be sold as a separate 1/4th-sized bust so that both upper bodies could be displayed – one attached to the lower body and the other as a bust.
Fuu (Samurai Champloo) being created will depend on the sales of Jin's Ultimate Pack.
You will see in the "Making of" documentary just how strong the footpeg will be on the Guts statue.
DRAGON SLAYER ORNSTEIN UPDATE: In terms of how it will be packaged, the spears and base will be in one box and the character in another box.
Alex hasn't asked the licensors if they could sneak anything from Alphonse.
Very likely that Alphonse will be shipped in two separate boxes due to his size.
After Edward and Alphonse, Alex will run a poll in the Club to determine what the community would like to see next from the Full Metal Alchemist line.
Alex and Chocks have solved the issue on how to make the space between Alphonse's head and body look hollow.
Alex will neither confirm nor deny the speculation that the Alphonse (Exclusive) will have glowing red eyes.
Alphonse's clothing will be made out of resin.
The band that goes around the bottom of Edward and Alphonse's base will be identical to one another.
Some parts of the Alphonse statue could be solid while other parts could be hollow to lower the overall weight of the statue.
Mugen will not have a Last Chance Weekend.
PHOENIX WRIGHT UPDATE: Started; Alex and Chocks saw some stuff today.
SIEGMEYER OF CATARINA PLUSH UPDATE: Now that the factories are back from Chinese New Year, he's back on Alex's list as well.
ALUCARD LAUNCH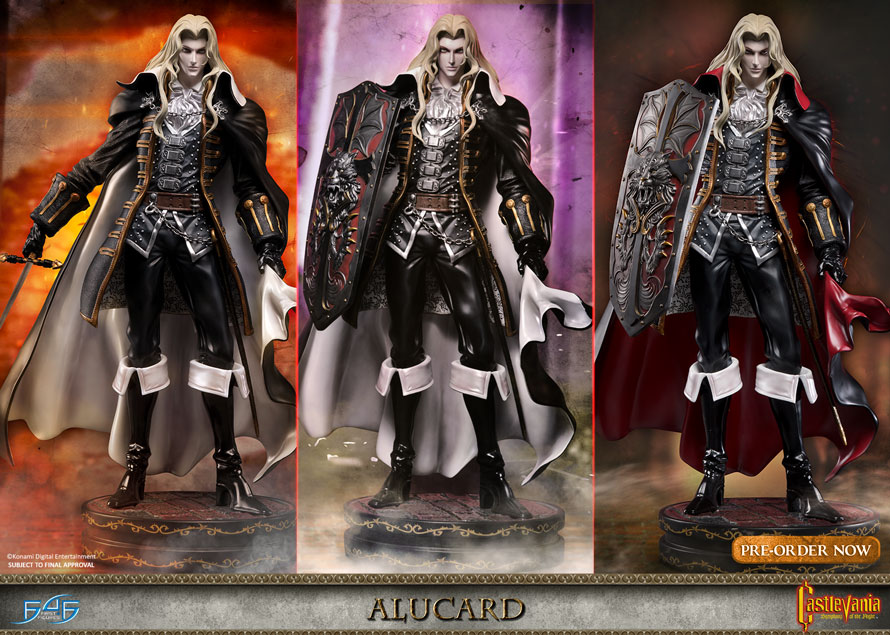 Alucard will be part of an all-new Castlevania: Symphony of the Night line. They decided to create a separate line because they already have plans for this title alone. Ultimately, Alex let the Club decide via the poll he posted.
Once the Last Chance Weekend of Alucard closes, Alex will run a poll in the Club asking the members what they would like to see next from the general Castlevania line.
Alex will cry if Alucard doesn't sell better than their Simon Belmont statue after all this time – only 150 pieces sold.
Alex is so proud of his Simon Belmont piece because of the engineering that went into creating the whip.
Alucard's hair, especially the hairline, was an engineering challenge to perfect.
The chain on the cloak is actually made of metal.
Everything, except the sword, the cloak chain, and the scabbard chain, is made out of resin.
F4F's Alucard statue isn't an exact 1:1 copy of the official artwork since they feel that there are certain aspects of the official artwork that only look good on the artwork but won't translate well on a statue. An example of this would be the size of Alucard's head.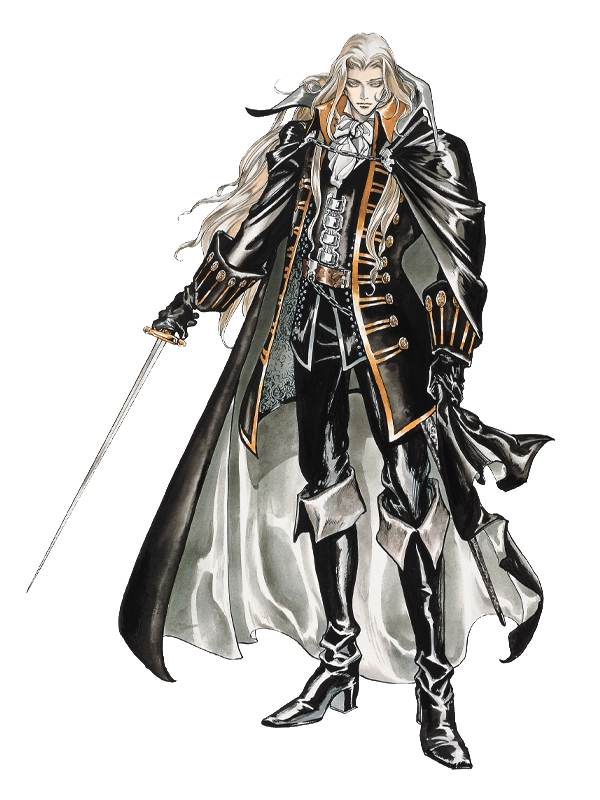 The Exclusive version comes with the Crissaegrim, an art print, AND Alex's big DMX-moment surprise, the Alucard Shield!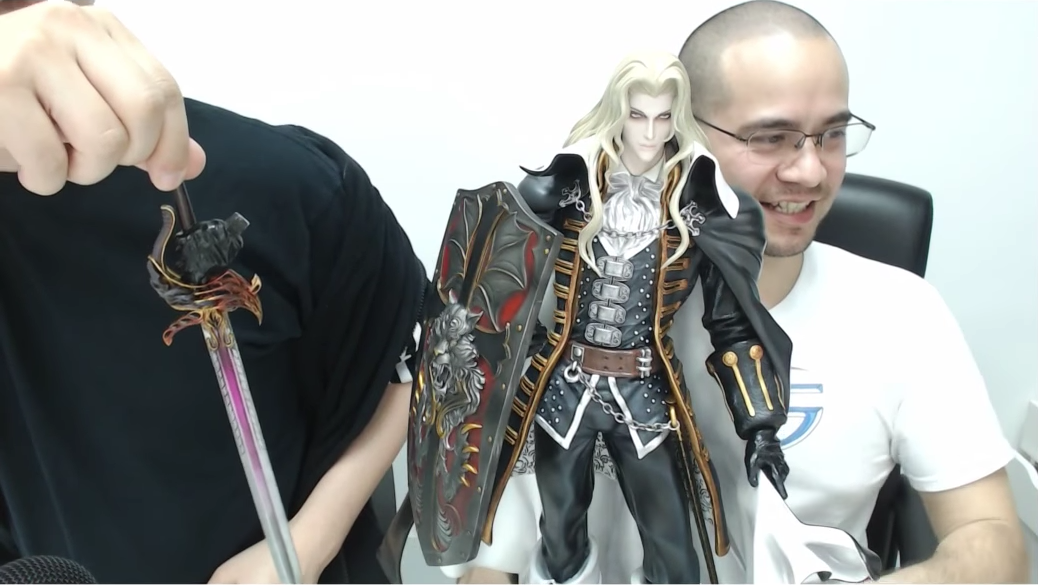 F4F had the creative freedom to come up with their own interpretation of how the Crissaegrim looked since they had very little designs to work with.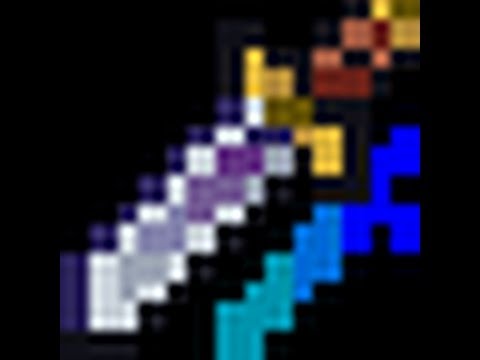 Both the Regular and Exclusive version cost USD 499.99.
The price is what it is because of the engineering behind the statue and something that Alex calls the scrap rate, which, simply put, is the materials "wasted" during the attempts to perfect the piece.
Estimated release date: Q1 2019
ALUCARD (TWILIGHT EDITION) UNVEILED!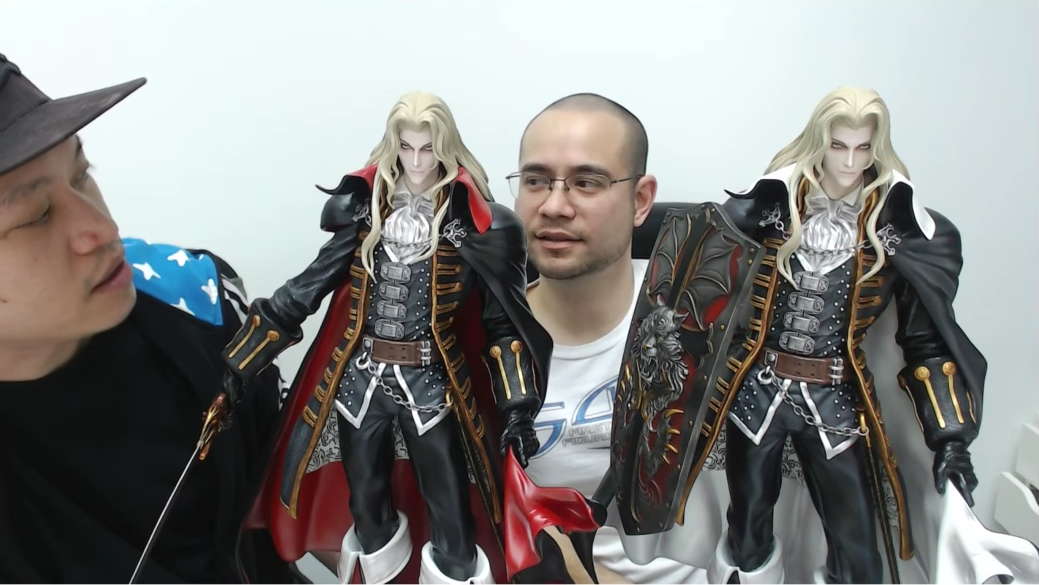 The Twilight Cloak is Alucard's original cloak at the very start of the game before Death strips him of his gear and scatters it around the castle.
The Twilight Edition will come with the same inclusions as the Exclusive version and will also cost USD 499.99; the Combo Edition will cost USD 924.99.
Pre-orders for the Twilight Edition and the Combo Edition will remain open throughout the entire pre-order period AND will also be available for purchase during Alucard's Last Chance Weekend!
For more information on Alucard and how to place your pre-orders, kindly click

HERE

.
OTHER TOPICS
Chocks doesn't have the time to have his hair cut. They need to set up their First 4 Hairdressers in the office so that staff can get their free haircuts. "Oh, sorry (Alex), you're not involved!"

–

CHOCKLES
It is difficult for F4F to set up a warehouse in Australia because their law dictates that they need to be an Australian company to do so, which F4F is not.
Alex clarifies and addresses certain concerns with regards to F4F's reward points system

HERE

.
My Hero Academia fans, Alex has finally made contact with the licensors and is looking into it more closely!
Licensors have higher expectations for PVC figures as opposed to resin statues in terms of quantity sold, around 20,000 pieces as a benchmark.
F4F can survive 1-2 bad resin launches, but two bad PVC launches could possibly kill the company. It's just that much more expensive cost-wise when creating PVC figures.
F4F would never just do a full PVC line because resin is their bread and butter.
When they now look at potential licenses, they ask themselves if they can create resin statues, TF (True Form) PVC figures, and SD PVC figures from it.
There are a lot of PVC figures in the works, according to Alex.
Chockles is a fan of the more old-school anime titles such as Naruto, Bleach, Initial D, Inuyasha, etc.
Fierce Deity Link 2.0 and Happy Mask Salesman will definitely be part of their conversation with Nintendo during the Licensing Expo in Las Vegas this May 2018.
Okami Life-Size Props is very unlikely because the poll did very poorly.
Alex's reaction to the current results of the Modern Amy Rose poll: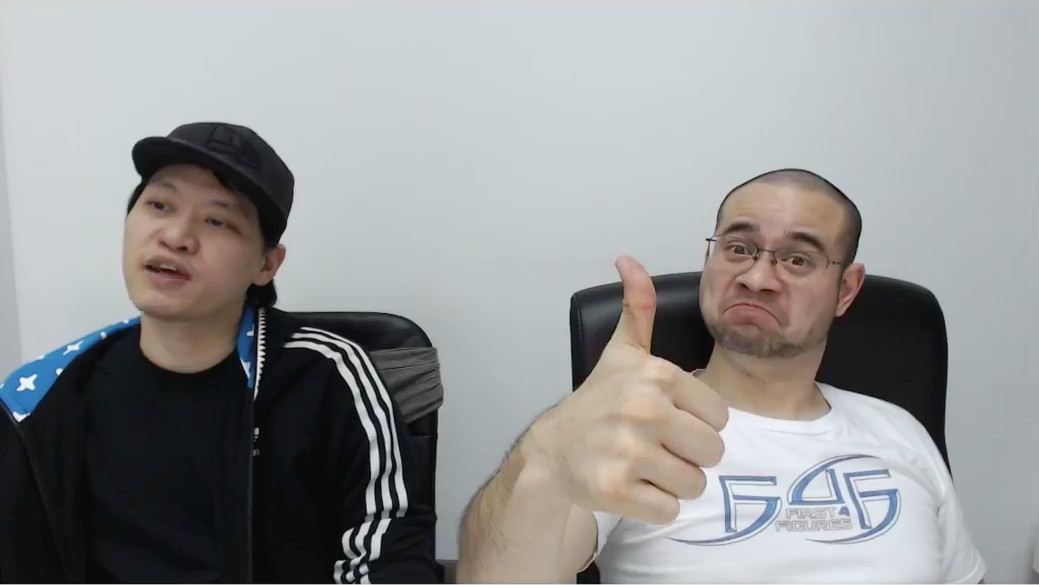 If Alex were a Care Bear, he'd be Cheer Bear cheering on people's rallies in the Club; Chocks would be Grumpy Bear.
If Chocks could choose a quirk (My Hero Academia reference), he'd want the best quirk (i.e. All Might's quirk); Alex would like a quirk that makes money.
Regardless of what kind of statue it is, Alex and Chocks would like to see 500-550 pieces sold for all their launches as a bare minimum. They have targets to hit.
Alex and Chocks just went on a "we're-typing-so-no-one-could-understand-what-we're-talking-about" typing frenzy live on stream. What the heck could they be talking about?
They haven't capitalized on the cardholders breakthrough from last week. They will, however, bring these to Gamescom 2018 and will hand these out for free to Club members who bring their Authentication/Day One Edition Cards.
Licensors do not dictate the price of F4F's statues, but they do agree upon a certain price range before moving forward with a project.
If they had the Persona 5 license, they would create these in 1/6th scale so that they'd be more affordable and wouldn't take up too much space since they intend to do all the Phantom Thieves.
If a certain fan base cares more about the character or franchise rather than the price, this allows for F4F to be more creative with their designs choices and base options. If people want a certain product to be cheap, this then limits F4F's opportunity to be creative.
Out of the two possible options, shipping costs would actually be cheaper if a massive statue were shipped in two separate boxes rather than it being shipped in a single box with a girth exceeding three meters. The shipping method changes for the latter, hence it being the more expensive option of the two.
The licensors also promote F4F's statues once these go live for pre-order.
F4F will work toward improving their Flexipay system even further in the future.
Flexipayments are usually taken on a Monday.
Alex previously mentioned that the results of the Darksiders poll are too split. He would like to at least see one side reach 500 votes before potentially pursuing the license.
If F4F had the Darksiders license, Alex would like to do both on a horse and character only statues.
If they were to recreate a better version of their USD 100 Fierce Deity Link from before, it would probably cost around USD 300 now since factory prices have tripled since then.
Alex is still in two minds with Modern Metal Sonic, but he does have an idea.
Last Chance Weekends are two weeks after initial pre-orders so that they can finalize the numbers much earlier before moving into production.
F4F has only made use of the SD design on two franchises thus far, but Alex thinks it's actually easier to get approvals for their SD figures since they're not trying to recreate a 1:1 copy of the original design.
WHO DAT WHO DAT: Unfortunately, there was no Who Dat Who Dat this week because there were too many questions to go through in the Q&A, and they still had a launch to do. However, Alex and Chocks will be selecting four players for next week's Who Dat Who Dat to compensate.
---
To view everyone's questions from the Q&A portion of this episode, please click HERE.
If you want to have your questions answered by our very own Chocks and Alex, simply search "Chocks and A" in the F4F Official Collectors Club Facebook group and leave your questions in the comments section of the most recent thread prior the upcoming live stream. This thread is posted every Thursday of the week.
If you wish to watch the entire video:
---
Last Update
2018-03-31 05:39:42