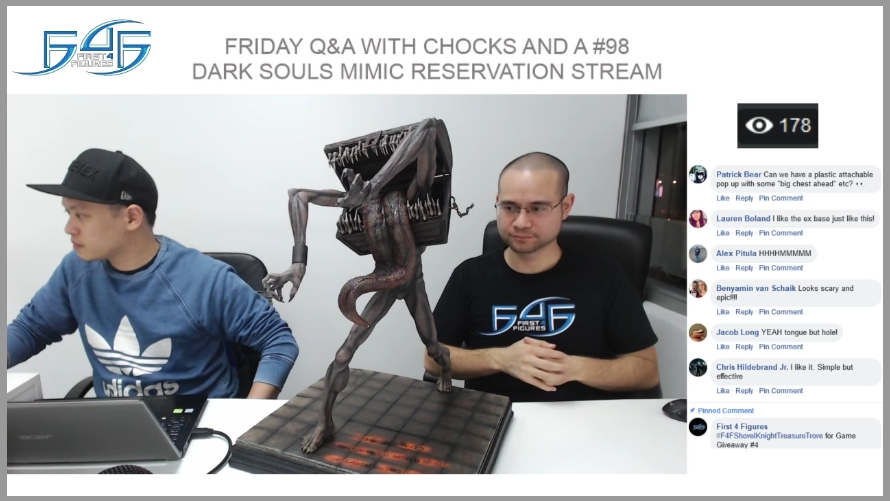 This is a breakdown of the important (and not so important) topics of last Friday's (14 December 2018) Friday Q&A with Chocks and A #98.
---
REMINDERS
MIMIC pre-orders will open right after this stream.
HORNET RING pre-orders from the F4F x TORCH TORCH partnership are now closed. Thank you so much for the support!

LAST CHANCE:

SPIKE SPIEGEL pre-orders will close on 21 December 2018. After this time, you will have to jump on the waitlist for a chance at owning this piece. PRE-ORDER NOW
PHOENIX WRIGHT is still open for pre-orders until 28 December 2018, or possibly longer if the Exclusive and Definitive versions don't reach a combined total of at least 1,000 pieces sold.
SHOVEL KNIGHT PLAYER 2 is still open for pre-orders until 4 January 2019, or possibly longer if the Exclusive version doesn't reach a total of at least 1,000 pieces sold.
Still open for pre-orders until further notice:
The office will be closed from 25-26 December 2018 for the Christmas holidays. Not to worry, the Official Collectors Club is always open 24/7!
The issue concerning accessing the First 4 Figures website has now been resolved.
WEEK IN REVIEW
Yacht Club Games was kind enough to provide First 4 Figures with ten (10) copies of their Shovel Knight: Treasure Trove video game (4 PlayStation 4 copies, 3 Xbox One copies, and 3 Nintendo Switch copies), and F4F is giving these away! Read More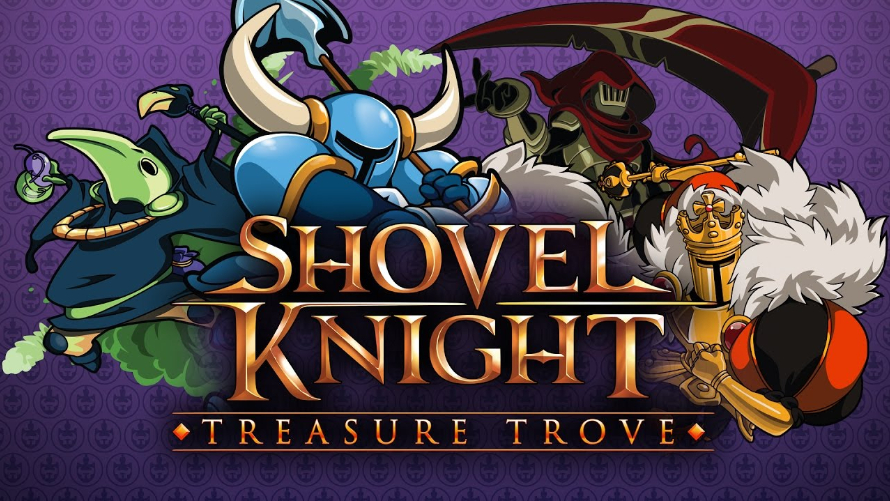 Those in the EU and Canada regions have been receiving their Spyro statues, while those in Australasia have been receiving their Solid Snake statues.
Now that Solid Snake is out in the wild, Alex posted a Metal Gear character poll to gauge the Club's interests.
After all the effort behind the scenes working on the redesign of their website, the team will have to go back to the drawing board because the redesign looked terrible on mobile view.
You can now postpone due payments on any of your pre-orders, up to a maximum of three (3) months.
If you are in the area, do check out RETRO MACAU Game Expo from 15 December 2018 to 13 January 2019. First 4 Figures has a booth there, and they are giving away one (1) PVC statue per day for the duration of the event, so be sure to stop by for a chance at winning. Shoutout to RETRO MACAU for organizing and to Broadway Macau for being such wonderful hosts!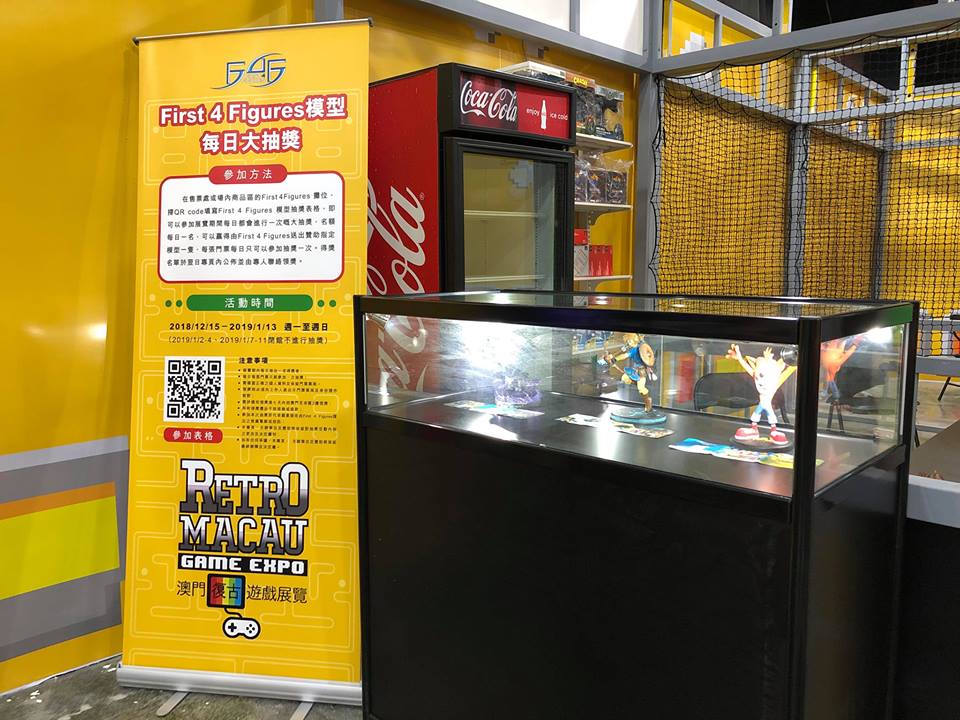 Be sure to check out Bandai Namco's Katamari Damacy giveaway bundle! Read More
TEMPTATION THURSDAYS (TT) POLL
Last week's Natsu Dragneel from the Fairy Tail series TT Poll #130 Results: 198 YES votes / 214 NO votes
This week's Strider Hiryu from the Strider series TT Poll #131 Results: 25 YES votes / 116 NO votes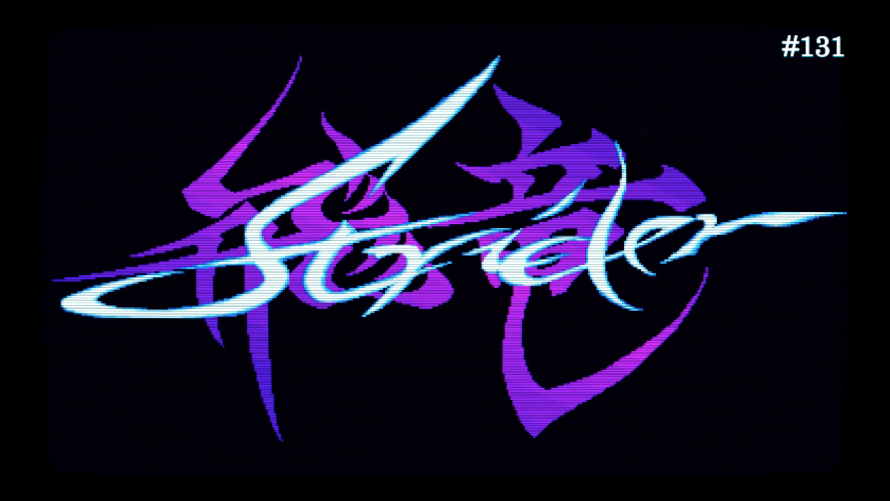 Next TT polls will be (in this order): CELESTE ➔ JOJO'S BIZARRE ADVENTURE
The two winners of last week's #F4FP2 are JOHANNES NORBÄCK and SARAH GILLEN.
This week's hashtag is #F4FShovelKnightTreasureTrove for a chance to win 500 reward points.
Night in the Woods and Psychonauts now on the list of possible TT polls
PRODUCTION VIDEO UPDATES
(NOTE: You need to be a member of the Official Collectors Club to view some of these videos.)
CHARACTER & PRODUCT LINE UPDATES
SOLAIRE OF ASTORA UPDATE: Hands revised so that there won't be gaps between the fingers
DRAGON SLAYER ORNSTEIN UPDATE: Armor color finalized (middle option)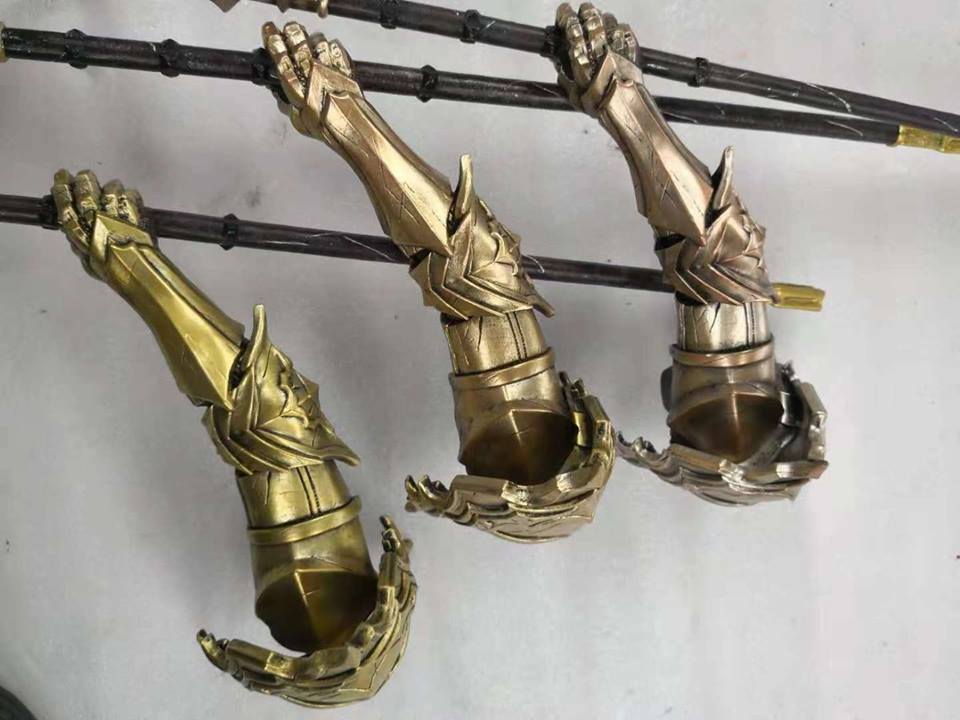 SPYRO REIGNITED RESIN UPDATE: Currently in development; slightly bigger than the OG resin and is far more complicated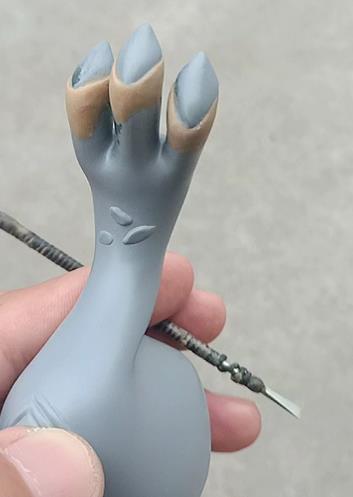 SPYRO PVC UPDATE: Factory currently working on submission samples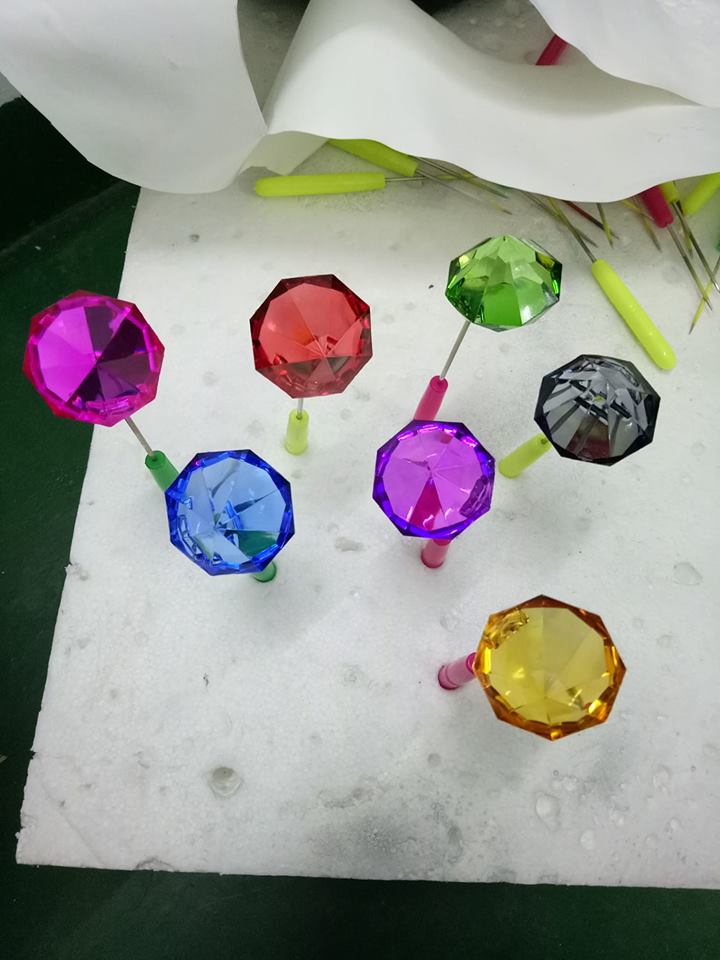 SONIC TF PVC UPDATE: Alex recently saw it; looks fantastic as part of F4F's TF PVC lineup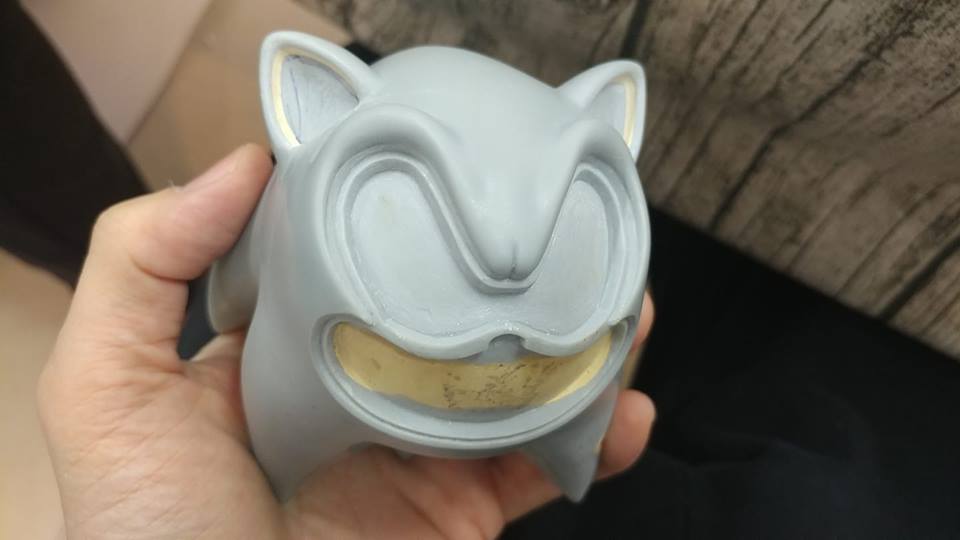 Alex hinted that there's going to be at least one TF PVC per gaming licensor.
GRAVELORD NITO UPDATE: Alex inspecting horse hair for the statue; still a ways away but won't be as long a wait as it was from Dragon Slayer Ornstein into Mimic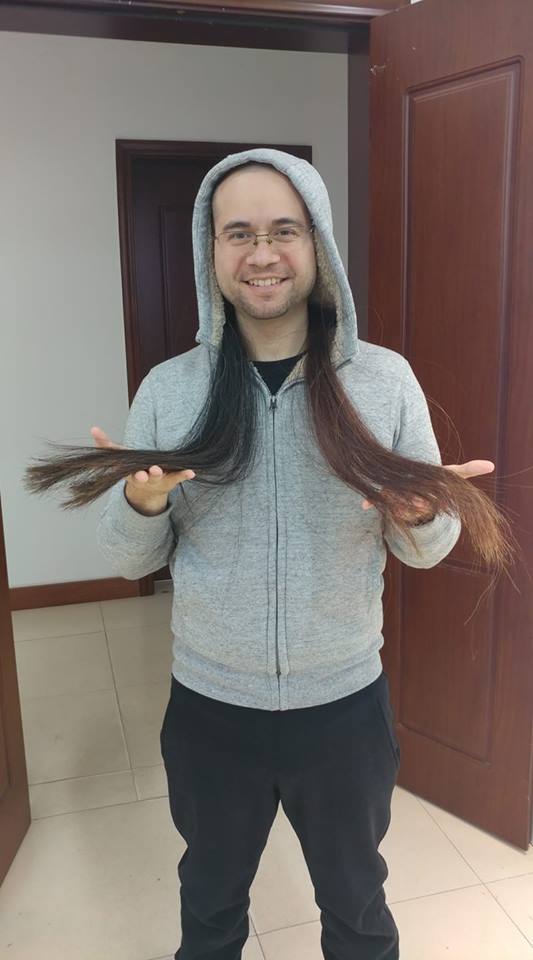 SKULL KNIGHT UPDATE: Deep in the painting stage; based more on the anime since this is F4F's license with Crunchyroll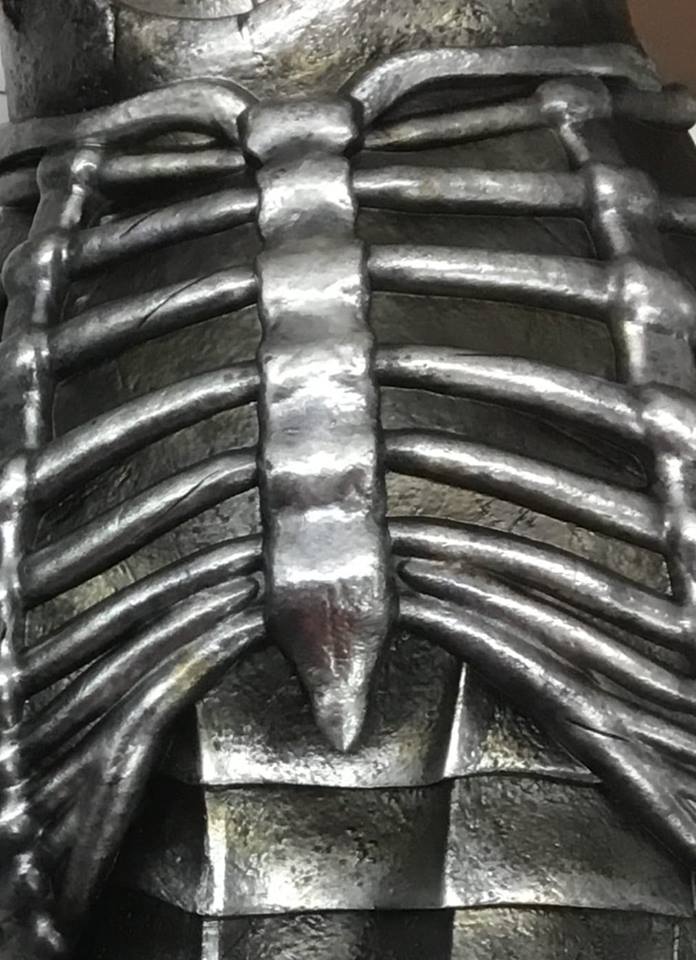 Gift cards available next week!
SOLID SNAKE SD UPDATE: Still some tweaks to be made but T2 much better than T1; estimated to go live for pre-order in 2019
AKU AKU MASK UPDATE: Alex signed off on this.
BOWSER UPDATE: Alex inspected the pre-production samples and spotted a few problems. Overall, however, they looked good.
VARIA SUIT UPDATE: Alex already did the dreaded drop text; final production diary coming soon; unsure if waitlist will convert if you're only jumping on it now
BANJO-KAZOOIE UPDATE: Factory misunderstood what they were supposed to do with the changes, so they have to do more work on it
YAKUZA UPDATE: Almost ready for submission; might skip the "Kickstarter" program and go straight to launching the statue
MINI FIGURES UPDATE: Slower than expected but still pushing for it
CRASH BANDICOOT IN KART UPDATE: Will be its own line
MEGAMAN TF PVC UPDATE: Submitted to Capcom for approval
METROID UPDATE: Working on other statues apart from Meta Ridley
Chose the Metroid Prime series because that was the most popular one back in the day when they began the line
FAYE VALENTINE UPDATE: Some movement on her pose and is going in the right direction, but she's paused for now
ED AND EIN UPDATE: Pose has been decided and is being worked on in 3D.
GENOS UPDATE: Alex saw the 3D the other day, and they're making some tweaks.
NINTENDO UPDATE: Statue plans are pretty much set in stone by Nintendo, and there isn't much wiggle room to look into other Nintendo licenses.
Conker PVC will depend on the sales of Conker resin.
SONIC AND TAILS DIORAMA UPDATE: In the duplication stage
DRAGON SLAYER ORNSTEIN SD UPDATE: Will not be the first pre-order of 2019
SONIC BOOM8 SERIES UPDATE: Will finish off the other characters from Classic Sonic first before moving into the Modern series
GRAY FOX UPDATE: Still from the Metal Gear Solid series but somewhat based on the Metal Gear Rising title as well for the character's body built
CARDHOLDERS UPDATE: Will not be themed
Spyro waitlist unlikely to convert if you're only jumping on it now
SHOVEL KNIGHT PLAYER 2 UPDATE: Doesn't have to be a success on its own since it is a Companion Piece to the main Shovel Knight statue
Unsure if there will be a pre-order for Episode 100 of Friday Q&A
AKU AKU MASK UPDATE: Still in production
SHOVEL KNIGHT UPDATE: Still in production
F4F CORE RANGE UPDATE: Is still going to be a thing
MIMIC LAUNCH
First announced during 2016 Christmas Special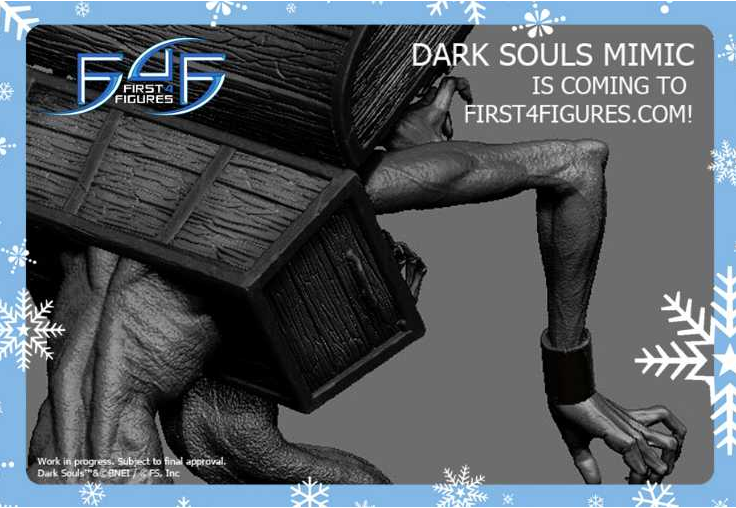 First revealed on Bandai Namco's booth at E3 2018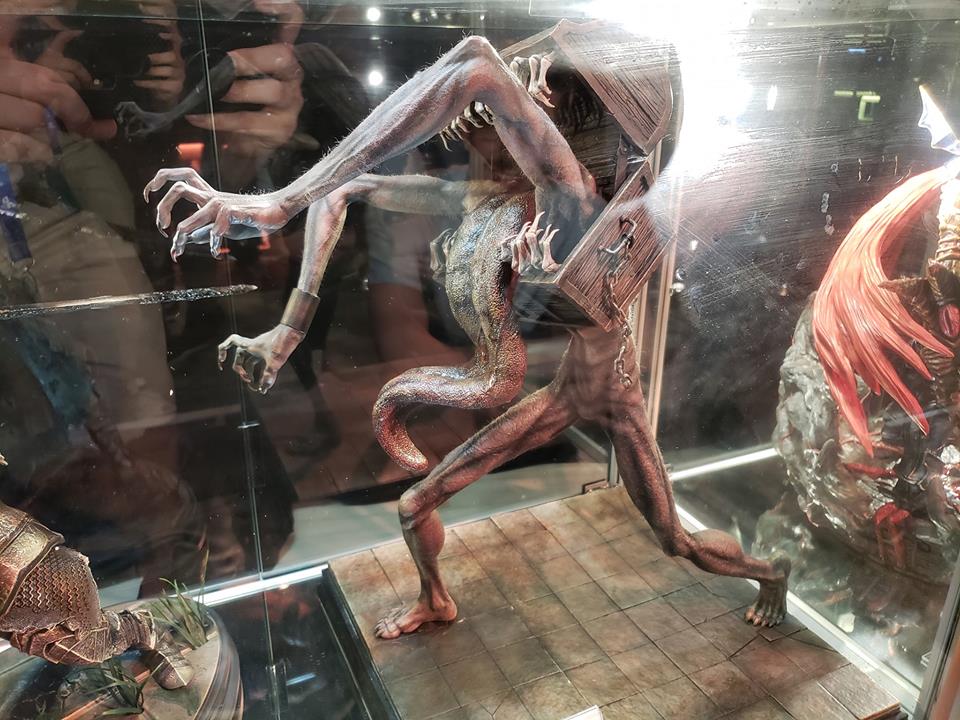 Pricing revealed during First 4 Figures' attendance at Gamescom 2018 since the Exclusive version was available for pre-order then for those that purchased pre-order packs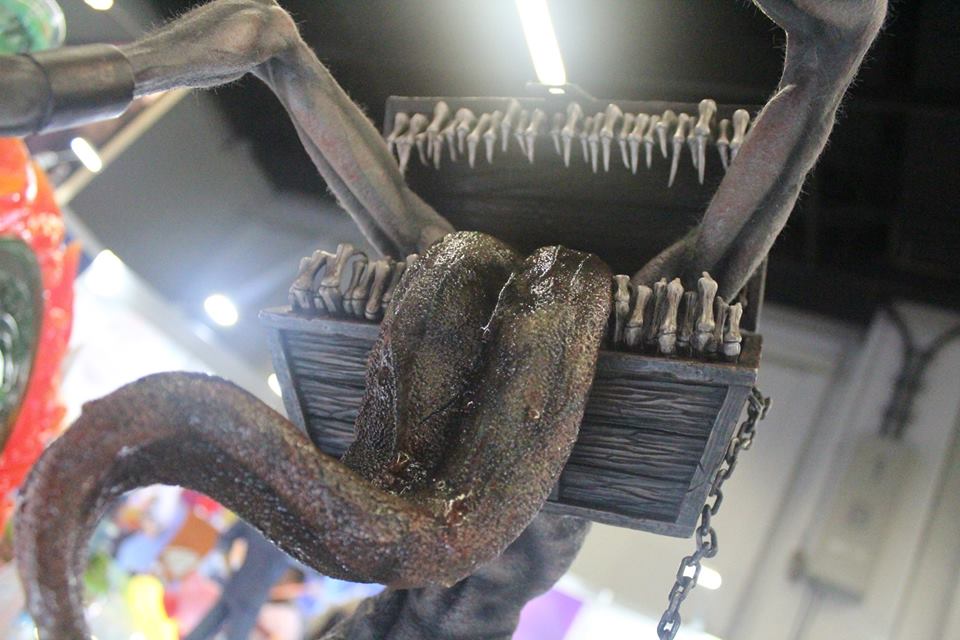 Was also on display at First 4 Figures' booth at MCM London Comic Con 2018
The base is what it is because in the game Mimic chests are located in these open, uncluttered, somber areas of Lordran.
Base isn't flat; some tiles have cracks and are uneven to be realistic to the game
Mimics are taller than Artorias the Abysswalker
Pose based off on official art
Another option for the pose was Mimic's kicking attack, but they ultimately decided on the current one to put emphasis on the upper portion of the statue rather than the legs.
The smaller details (e.g. position of the chain, cracks underneath Mimic's feet, etc.) add a sense of strength and motion to the statue.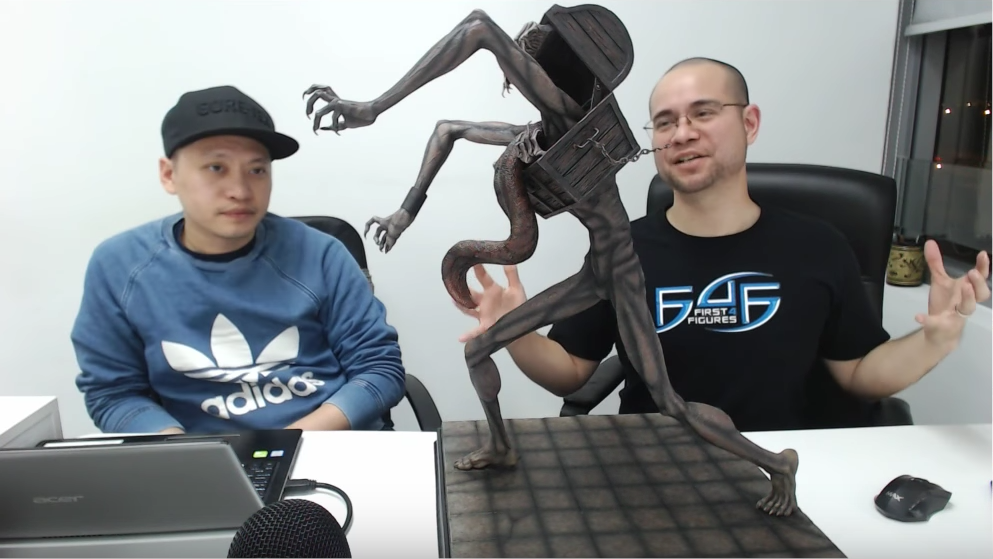 The twisted position to the limbs and extremities adds a level of creepiness to it.
Mimic is skinny and wrinkly by nature. The tendons on the hands and feet add emphasis to this.
FromSoftware was particular about the design and shading of the tongue.
The chest itself has an authentic wood effect to it.
Still undecided on the material of the teeth; might be too fragile to ship if it were made out of resin
FromSoftware liked Alex's idea of adding hair to the statue.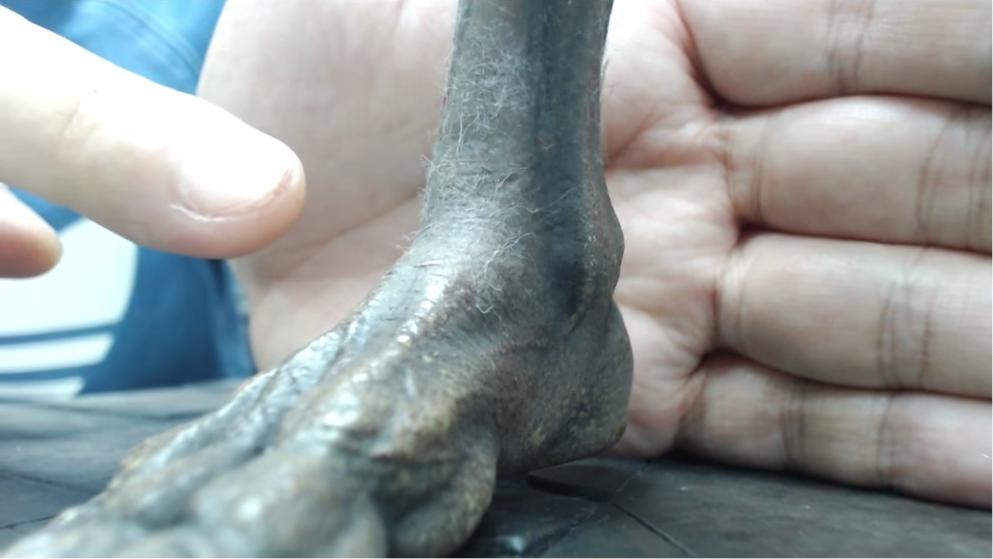 Might add a small bag of hair in case collectors want more hair on their statue; more information on this during the production stage
The Exclusive version comes with the iconic Orange Guidance Soapstone message on the base, and it has animated LED functions as well.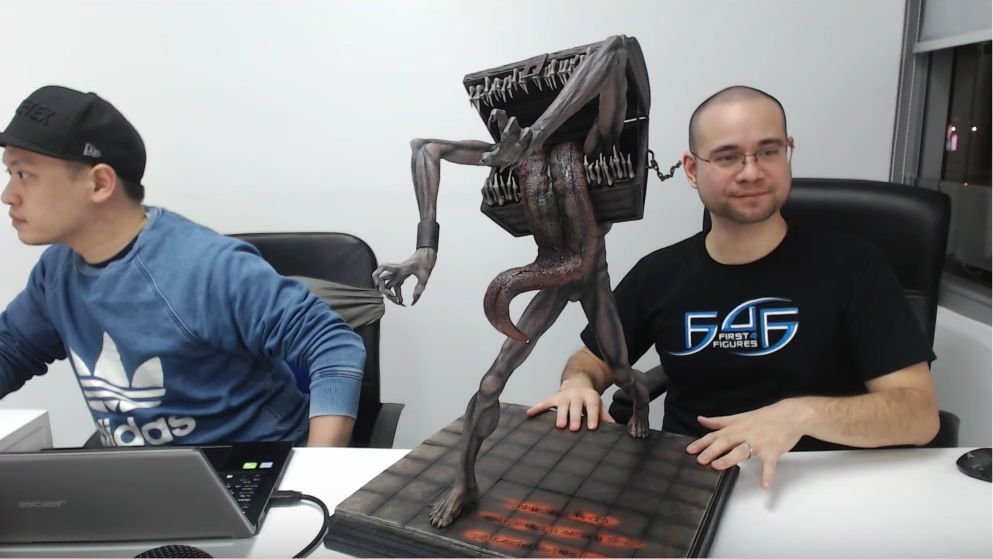 Might consider adding blood stains, pending licensor approval
Will likely add metal rods through the Mimic statue for added support and stability; more information on this during the production stage
SURPRISE! Introducing the first Dark Souls Companion Piece: Mimic Chest (Exclusive Companion Edition)! It comes with a "breathing" Mimic Chest and the same base as the Mimic (Exclusive Edition)! A Combo Edition is also available, which includes one base for each statue.
You can buy the Mimic Chest as a standalone piece.
There is a Standard Edition to the Mimic Chest, but the chest isn't animated and the Orange Guidance Soapstone message doesn't have animated LED functions.
The chain on the Mimic Chest is free moving, so you can display it however you want.
The Mimic Chest isn't fixed to the base, so you can place it wherever you like.
Standard and Exclusive Editions SRP: 549.99 USD + shipping
Standard and Exclusive Companion Editions SRP: 349.99 USD + shipping
Combo Edition SRP: 824.99 USD + shipping
(UPDATE: As a last minute addition due to popular demand, F4F is also launching a Definitive Edition, which contains one Mimic (Exclusive Edition), one Mimic Chest (Exclusive Companion Edition), and only one base!)
IMPORTANT NOTE: For those that pre-ordered Mimic through the Gamescom pre-order packs, if you wish to change your order, kindly place a new order for your desired version and contact Customer Service to cancel your old one.
Beginning 24 December 2018, First 4 Figures will be giving away ten (10) copies of Bandai Namco's Dark Souls Trilogy video game! However, since the game was only released for the US region, only those in that area can participate. BUT, not to worry! Chockles is also cooking something up behind the scenes for the rest of the world, so stay tuned for more information!
For more information on Mimic and how to place your pre-order, kindly click HERE.
First 4 Figures Dark Souls - Mimic Resin Statue Giveaway!
OTHER TOPICS
If Chockles were to run one giveaway spree per month, he has enough to last until March 2019.
Chockles doesn't have anything planned for the holidays because he's busy preparing everything for Episode 100 of Friday Q&A. Alex also has trouble making plans for the holidays because of his newborn.
There may or may not be progress on My Hero Academia.
Nothing on Xenoblade Chronicles
Alex's favorite number is three because he was born on the 3rd.
Statues will only get more expensive in the future due to the corresponding increase in production costs, fixed costs, etc., but F4F will forever be known for value for money regardless.
Chockles thinks A Link to the Past is the best Legend of Zelda game, and for Alex, it's Twilight Princess and Breath of the Wild.
No plans on a life-sized statue that isn't a prop
No Darksiders news
No Yu-Gi-Oh! news
Alex and Chockles's main Mortal Kombat character back in the day was Sub-Zero.
F4F's Gamescom 2019 attendance will still depend on the status of their application.
They won't display as many resin statues during Gamescom 2019 since a handful of pieces are enough to catch someone's attention.
King of All Cosmos? "See you in two weeks." — ALEX DAVIS
No limit to the number of flexipayment plans per customer
Products are shipped only after the full payment.
Alex would choose Charmander as his starting Pokemon; Chockles would choose Squirtle.

Alex does miss the UK and his friends over there.
WHO DAT WHO DAT: This week's Who Dat Who Dat was postponed to make way for the Mimic product launch.
---
To view everyone's questions from the Q&A portion of this episode, please click HERE.
If you want to have your questions answered by our very own Chocks and Alex, simply search "Chocks and A" in the First 4 Figures Official Collectors Club Facebook group and leave your questions in the comments section of the most recent thread prior the upcoming live stream. This thread is posted every Thursday of the week.
If you wish to watch the entire video:
---
Last Update
2018-12-27 07:39:09