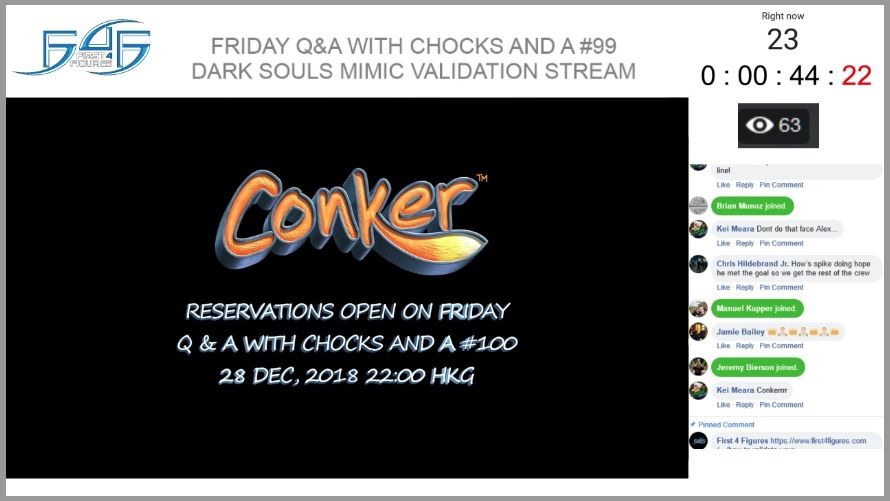 This is a breakdown of the important (and not so important) topics of last Friday's (21 December 2018) Friday Q&A with Chocks and A #99.
---
REMINDERS
CONFIRMED – CONKER WILL GO LIVE FOR PRE-ORDER ON THE 28TH OF DECEMBER 2018! Rare was gracious enough to provide F4F the audio file for Conker's voice for the teaser trailer. Shoutout to Rare for sharing this news out on their social media platforms!
SPIKE SPIEGEL pre-orders will close right after this stream. After this time, you will have to jump on the waitlist for a chance at owning this piece. Final edition size will be announced next week.

PHOENIX WRIGHT is still open for pre-orders until 28 December 2018, or possibly longer if the Exclusive and Definitive versions don't reach a combined total of at least 1,000 pieces sold.
SHOVEL KNIGHT PLAYER 2 is still open for pre-orders until 4 January 2019, or possibly longer if the Exclusive version doesn't reach a total of at least 1,000 pieces sold.
Still open for pre-orders until further notice:
WEEK IN REVIEW
Chocks and Ting finally found a space to use as F4F's new photo, video, and live stream studio. The contracts have been signed, and they expect to receive the keys by next week.
F4F had one final surprise Shovel Knight: Treasure Trove giveaway up their sleeve. Congratulations to all the winners, and thank you to everyone for participating. (Find out HERE if you are one of the lucky winners.) Shoutout to Yacht Club Games for providing the giveaways!
Some of those who won the Spyro™ Reignited Trilogy giveaway started receiving their prizes.
There will be a Dark Souls Trilogy giveaway spree beginning 24 December 28, but only those in the US Region can participate. BUT, not to worry! Chocks is also cooking something up very special for the rest of the world, so stay tuned for more information!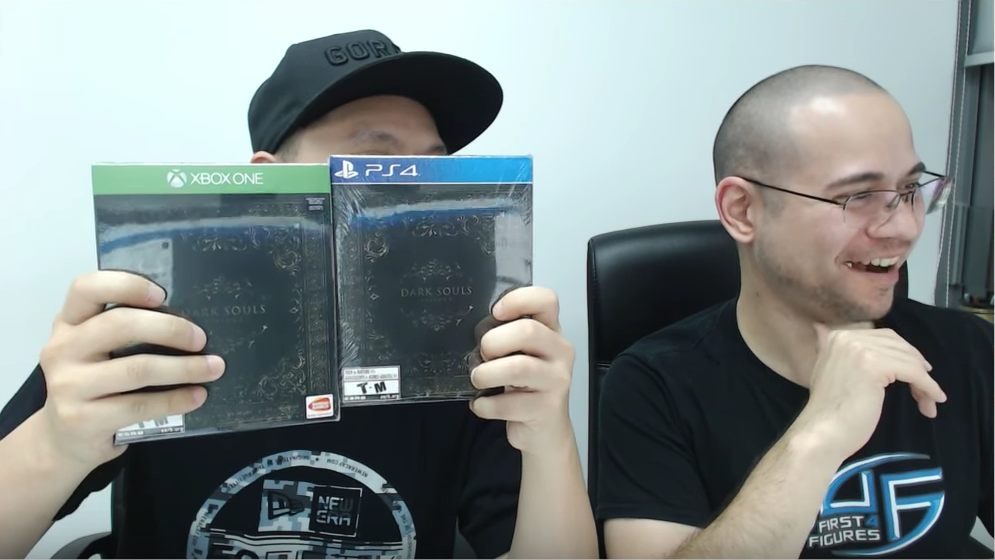 Chocks visited the RETRO Macau event and found it very educational. He wasn't able to hit the casinos though.
The Australasia region started receiving their Crash Bandicoot statues! However, not enough pieces are out in the wild yet because the majority of them are still paying off their payment plans. F4F was that quick in production for this one.
The Mimic validation process went smoothly. (NOTE: Those who only pre-ordered the Mimic Chest Companion Piece are not eligible to validate.) Those who purchased and authenticated Dragon Slayer Ornstein will receive the same statue number for their Mimic. Otherwise, the validation timestamp estimates are as follows:

Sub 150 – 2 minutes and 03 seconds
Sub 100 – 40.5 seconds
Sub 50 – 36.9 seconds

The F4F team had their annual Christmas lunch, and compared to 2017, the team has grown exponentially.
Facebook notified Alex that his posts have reached 300k likes. Thank you for the support!
Alex wanted to find out if First 4 Figures was people's first statue company, and it was nice to reaffirm that about 75% of the Club said Yes. F4F will always be about value for money, and the results of Alex's poll reflects that. Those that have been in the resin game for longer aren't neglected, with the option to pre-order Definitive Editions, which is F4F's more creative but more expensive pieces.
Shoutout to Bandai Namco for sharing out the Mimic launch on their social media platforms!
TEMPTATION THURSDAYS (TT) POLL
Last week's Strider Hiryu from the Strider series TT Poll #131 Results: 28 YES votes / 120 NO votes
This week's Madeline from the Celeste series TT Poll #132 Results: 49 YES votes / 101 NO votes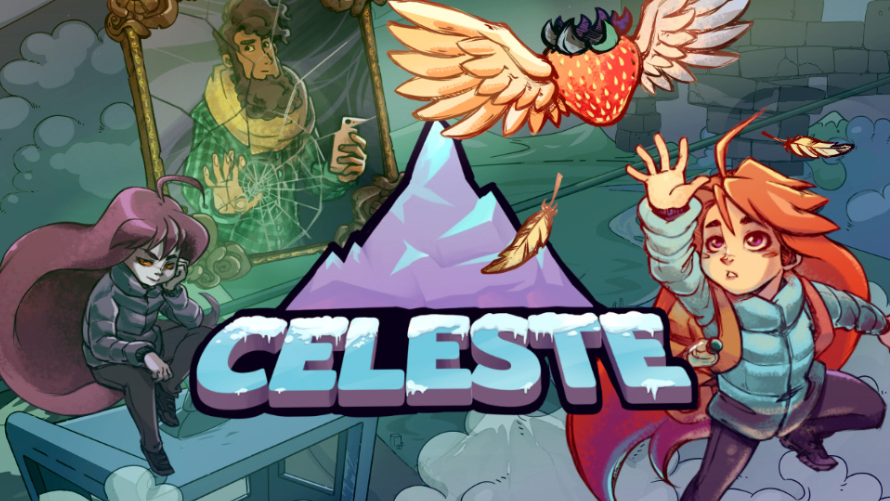 Next TT polls will be (in this order): JOJO'S BIZARRE ADVENTURE
The four winners of last week's #F4FShovelKnightTreasureTrove are VICTOR LUSHNIKOV, JORGE PEDRO, MARKUS FUCHS, and CÉCILE DALLAS.
This week's hashtag is #F4FCONKER for a chance to win 500 reward points.
TT polls serve as a leaderboard. The higher up a TT is in the ranks, the more attention it gets.
Since people have been requesting for Celeste for a while now, and since it won accolades during the Game Awards, Chockles felt it was the perfect time to post a TT poll of it.
PRODUCTION VIDEO UPDATES
(NOTE: You need to be a member of the Official Collectors Club to view some of these videos.)
CHARACTER & PRODUCT LINE UPDATES
MIMIC SIGNATURE CARD DESIGNS:
MEGA MAN PVC UPDATE: Was given approval by Capcom to go into the physical stage; will have a resin counterpart as well
VARIA SUIT UPDATE: Dreaded drop test video coming soon
Plush coming in 2019
Crash Bandicoot factory also working on Spike Spiegel, Warp Star Kirby, and Crystal Dragon
CRASH KART UPDATE: A member of the Club who so happens to also work for the studio working on Crash™ Team Racing Nitro-Fueled saw the concept of the statue during one their team meetings and gave Alex positive feedback. If everything goes smoothly, it will be in both resin and PVC.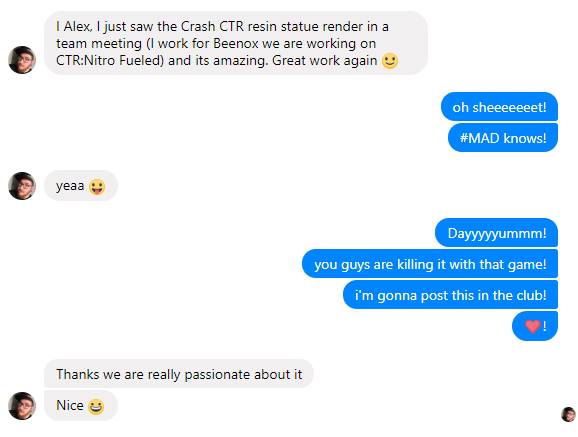 DARK SOULS UPDATE: F4F collections looks great together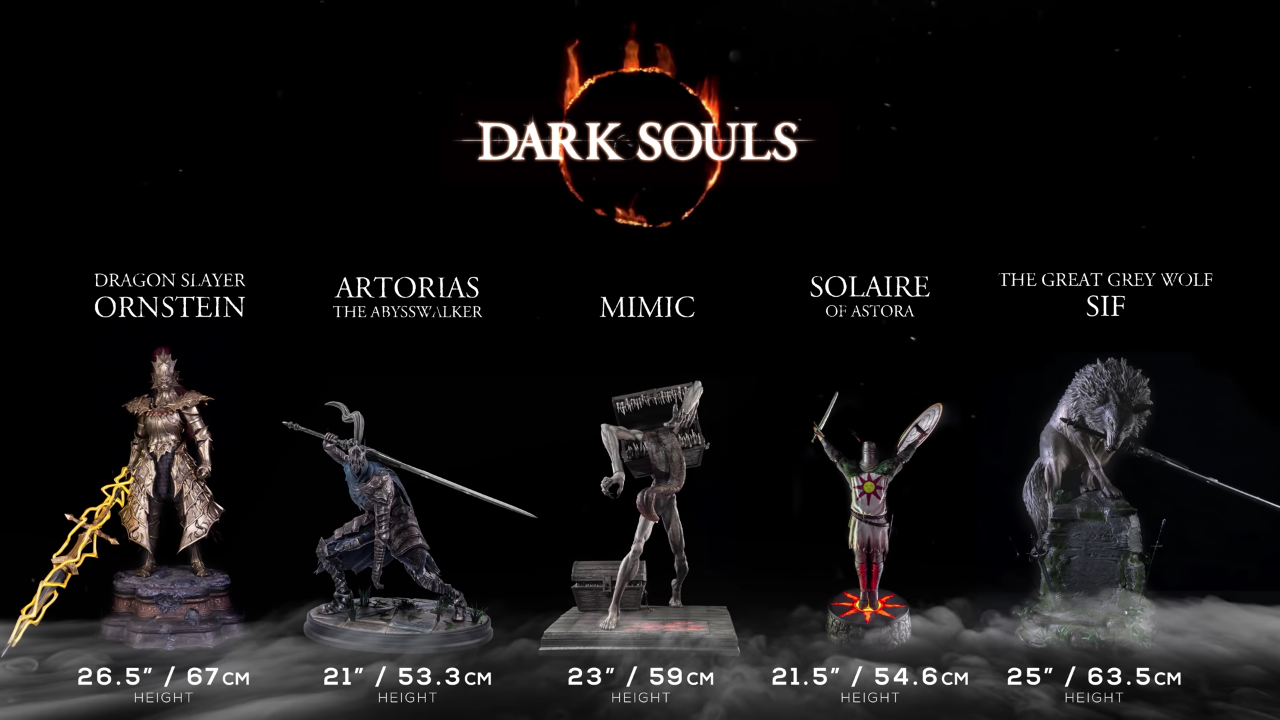 GUTS THE BLACK SWORDSMAN UPDATE: Chain length tweaked; Alex to give a detailed discussion of all the changes when the time comes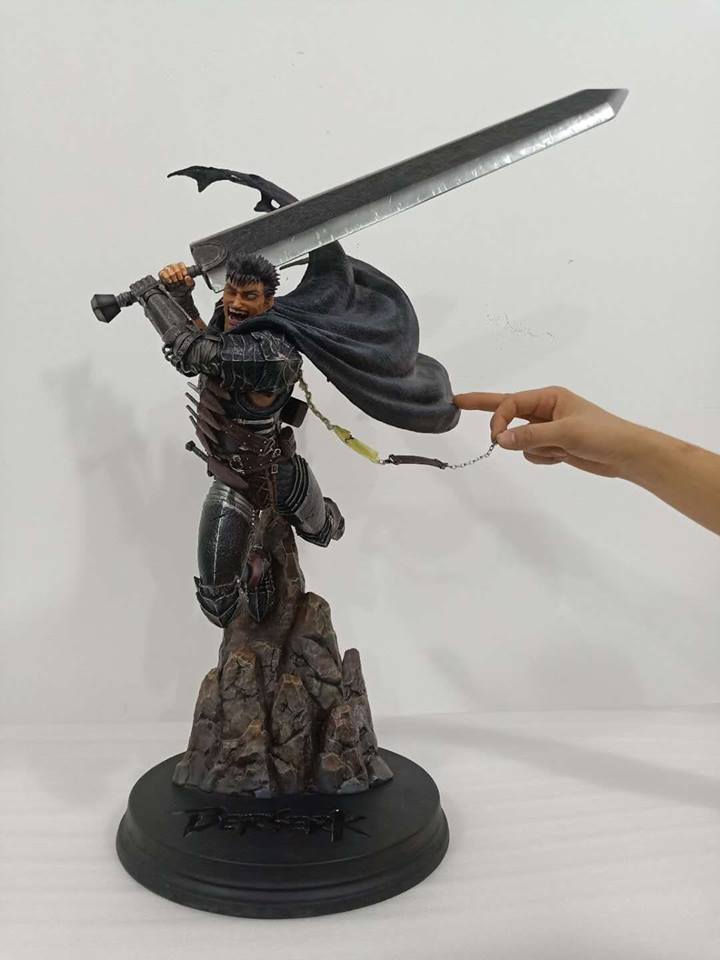 BANJO-KAZOOIE UPDATE: Currently painting the revised version
JET BLACK UPDATE: Will be the next anime pre-order
Still possible to do a TF PVC line for licenses with existing SD PVC lines
THE LEGEND OF ZELDA UPDATE: No sneaks or information until the time is right; won't be part of this year's Christmas sneaks
Nothing to report on gift cards just yet
Statue development stages: (average timeframe—1 year)

2D concept
3D design
Physical printing
Duplication
Creating the tooling master
Painting stage
Licensor approval
Factory counter samples
Factory pre-production samples
Production
Approval by Alex
Packing
Shipping

F4F CORE RANGE UPDATE: Hoodies also included
WARP STAR KIRBY UPDATE: Soon to go into production
KAMINA UPDATE: Would you still buy Kamina with the knowledge that Simon or Yoko would never come? Do let Alex know in the comments section below.
YAKUZA UPDATE: Might skip the "Kickstarter" project and go straight to launching the product; Red Gate might instead be a Companion Piece later on since it's the only thing holding back Kazuma Kiryu
AMATERASU LIFE-SIZE BUST UPDATE: Still ongoing production
ALPHONSE ELRIC UPDATE: "Gold bars" update next week; most challenging part of production will likely be the engineering behind the Definitive Edition base

SONIC THE HEDGEHOG BOOM8 SERIES COMBO PACK 2 UPDATE: Estimated to ship Q1 2019
COWBOY BEBOP UPDATE: It's not impossible for Ed & Ein to go up for pre-order first before Faye Valentine.
ZERO UPDATE:

Not

dead
SKULL KNIGHT UPDATE: Deep in the painting stage
Nintendo is more like the license in itself rather than treating each Nintendo license separately.
More life-size busts are coming.
DARK SOULS UPDATE: Unsure when the next teaser will be after Gravelord Nito
META RIDLEY UPDATE: Alex to post a character poll once open for pre-orders
MINI AKU AKU UPDATE: To go live for pre-order Q1 2019
No updates on any Banjo-Kazooie-related projects
BAYONETTA UPDATE: Hopefully to go up for pre-order in 2019
Solid Snake Bust possibly a thing
DRAGON SLAYER ORNSTEIN UPDATE: Estimated to ship Q2 2019
OTHER TOPICS
The new colored F4F tape could help differentiate things like regions, editions, etc.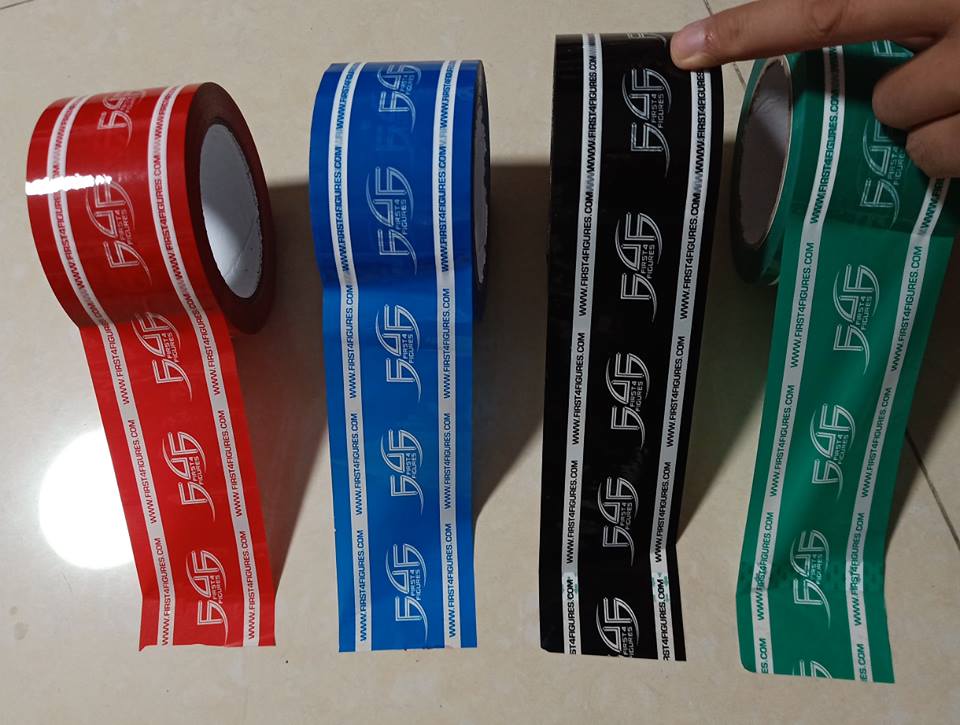 Nothing to report on Xenoblade Chronicles
Alex to look into adding the dates on invoices when payments were taken
Neither Alex nor Chocks have seen Devilman Crybaby.
Alex enjoys the concept stage of creating a statue the most, but it is also the most difficult.
Clear resin is more expensive than regular resin.
Nothing to report on My Hero Academia and Persona 5
If your waitlists do not convert, you will receive a full refund.
What might be popular as a game won't necessarily be popular as merchandise.
Displaying people's waitlist status is on IT's to-do list.
The licenses on Alex's wishlist are Pokémon and Final Fantasy.
Alex would never announce a new license as an answer to a Friday Q&A question.
A Legend of Zelda prop line would nice.
Alex would like to make a Link on Epona or a Ganondorf statue based on The Legend of Zelda: Ocarina of Time.
Alex has considered making a Varia Suit life-size helmet.
Alex has a favorite factory.
WHO DAT WHO DAT: The answer was Cole MacGrath. Those on the hot seat were CHELSEA HARRIS (denied!) and JAMES BENNINGTON (500 reward points).
---
To view everyone's questions from the Q&A portion of this episode, please click HERE.
If you want to have your questions answered by our very own Chocks and Alex, simply search "Chocks and A" in the First 4 Figures Official Collectors Club Facebook group and leave your questions in the comments section of the most recent thread prior the upcoming live stream. This thread is posted every Thursday of the week.
If you wish to watch the entire video:
---
Last Update
2019-01-02 14:16:32