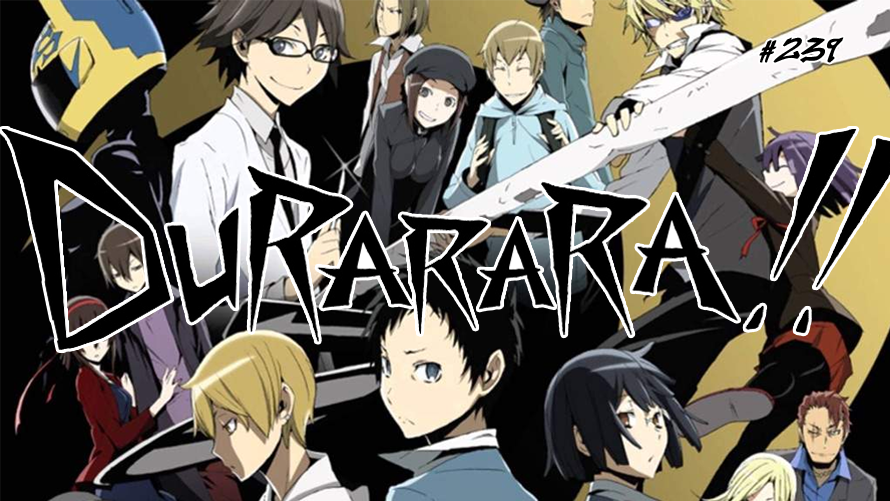 It's that time of the week again folks. Don't forget to cast your votes! #TT239
---
Durarara!! is an urban fantasy anime series based on a light novel series written by Ryohgo Narita. Taking place in the real-life Japanese city of Ikebukuro, the narrative of Durarara!! follows a large ensemble cast of characters, with the perspective changing every episode of the anime (and sometimes multiple times per episode). The characters' lives and stories eventually intersect, with viewers learning about incidents that occur in the plot from the point of view of multiple characters.
The story in Durarara!! begins when a teenage boy named Mikado Ryūgamine moves to the big city of Ikebukuro to attend school with his childhood friend, Masaomi Kida. Mikado learns about dangerous and exciting individuals that live in the big city, including a mysterious street gang called "The Dollars".
Mikado also encounters the legendary "Black Rider", a motorcyclist that urban rumors say has no head under her helmet. It is quickly revealed in the story that the motorcyclist is actually Celty Sturluson, an Irish dullahan who is working as an underworld courier in Ikebukuro while searching for her stolen head.
Durarara!! was well-received by critics, and appeared on several lists of the best anime of the 2010s decade. The 2010 anime spanned 24 episodes and a sequel anime, Durarara!!x2, released in 2015-2016 with 36 episodes. In addition to the sequel anime, four video games and a manga adaptation were created based on Durarara!!.
And so, for today's 239th Temptation Thursdays poll, we shall focus on Celty Sturluson, the legendary headless "Black Rider" of Durarara!!.
You may now cast your votes HERE*.
*You must be a member of our Official Collectors Club to vote.
To learn a little bit more about Durarara!!, you may check out Wikipedia's write-up.
---
For those who want to learn more about First 4 Figures' Temptation Thursday polls, kindly click HERE.
Last Update
2021-02-25 01:59:30