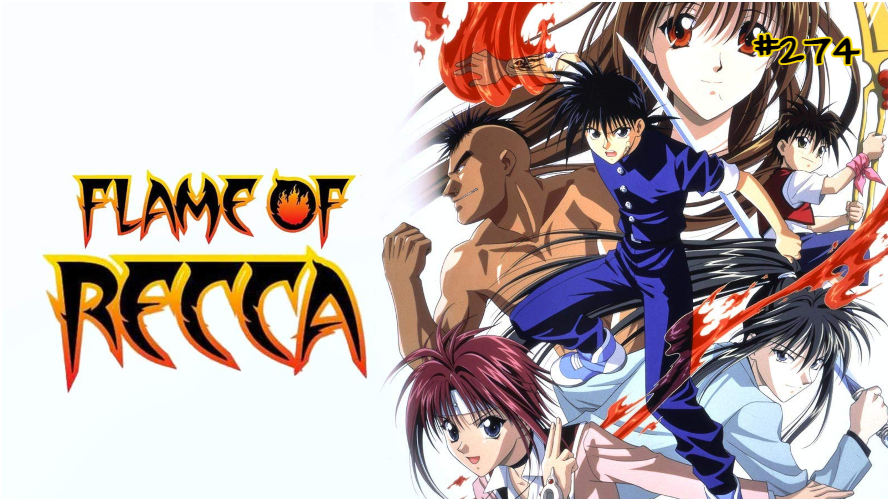 It's that time of the week again folks. Don't forget to cast your votes! #TT274
---
Flame of Recca is a Japanese manga series written and illustrated by Nobuyuki Anzai. It made its debut on Shogakukan's Weekly Shōnen Sunday in April 1995. The series ended in February 2002, consisting of 33 tankōbon volumes in total. As of June 2013 has sold over 25 million copies in circulation. The anime adaptation aired from July 1997 to July 1998 and ran for 42 episodes.
Flame of Recca follows the story of a troublesome teenage boy named Recca Hanabishi whose life revolves around wanting to be a ninja. Recca eventually pledges his services to Yanagi Sakoshita, a girl who has the innate ability to heal injuries. Recca also discovers that he is the son of a sixth-generation leader of a ninja clan that wields powerful objects known as the madōgu, granting wielders the ability to control certain elements. In their journey, the main antagonist of the series, Kōran Mori, is in search of a madōgu that's able to grant eternal life, and he believes that Yanagi is the key to achieving his desires. It is up to Recca to protect Yanagi and stop Kōran from his evil plans.
And so, for today's 274th Temptation Thursdays poll, we shall focus on Recca Hanabishi, the main protagonist of Flame of Recca.
You may now cast your votes HERE*.
*You must be a member of our Official Collectors Club to vote.
To learn a little bit more about Flame of Recca, you may check out Wikipedia's write-up.
---
For those who want to learn more about First 4 Figures' Temptation Thursday polls, kindly click HERE.
Last Update
2021-10-28 09:02:38