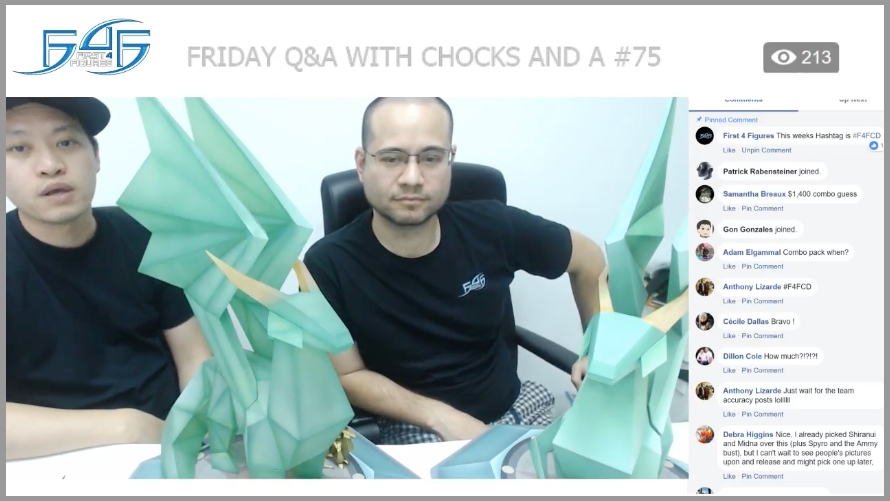 This is a breakdown of the important (and not so important) topics of last Friday's (June 22, 2018) Friday Q&A with Chocks and A #75.
---
REMINDERS
Crystal Dragon pre-orders will go live right after this stream!
Solaire of Astora SD is still open for pre-orders until 3 July 2018.
Sonic the Hedgehog Boom8 Series – Combo Pack 1 and 2 are still open for pre-orders until 9 July 2018.
Because the two Exclusive variants combined didn't reach 1,000 pieces in sales during the initial 2-week pre-order period, Guts: The Black Swordsman pre-orders will remain open until it hits its target or until before production starts. (UPDATE: 630 pre-orders as of 22 June 2018)
WEEK IN REVIEW
It seems like F4F has the next four launches lined up, fingers crossed. This is a rare occasion as they usually juggle things up in the air and see which product they're able to catch.
The addition of F4F's newest member, Ting, to the multimedia team has allowed them to prepare the marketing materials needed for each launch quicker. Being able to save a few days off for one launch is a few days gained for the next one.
As a heads up, if they do decide to launch something on the 17th of August 2018, there will be

NO

Validation Stream the following Tuesday as Alex and Chockles will be manning the F4F booth in Gamescom 2018. The validation process will proceed as normal, but instead of a live stream, there will be a dedicated Facebook thread for people to post their validation concerns so that Customer Service can immediately look into it.
A

character poll

for My Hero Academia was posted this week to gauge people's interest in the off chance that things became less complicated with the licensors. Alex is impressed with the results. He can base his conversations with the licensors on this.
TEMPTATION THURSDAYS (TT) POLL
Last week's Sparkster from the Rocket Knight Adventures series TT Poll #106 Results: 58 YES votes / 213 NO votes
This week's Usagi Tsukino from the Sailor Moon series TT Poll #107 Results: 215 YES votes / 117 NO votes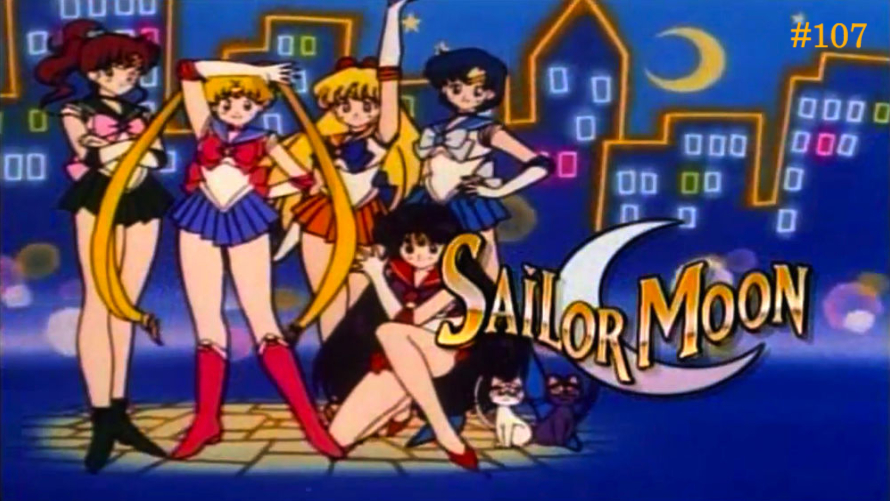 Next TT polls will be (in this order): WIPEOUT ➔ VAMPIRE HUNTER D
The three winners of last week's #F4FDS4LIFE are MICHAEL BANS, RAFAL KONEFAL, and JOSHUA HARMAN.
Alex would like to see at least 800+ votes on the Sailor Moon TT poll before looking into it.
TT polls are meant to be an exclusive for

Official Collectors Club

members to entice more people to join.
PRODUCTION VIDEO EXCLUSIVES
(NOTE: You need to be a member of the Official Collectors Club to view these videos.)
VARIOUS CHARACTER & PRODUCT LINE UPDATES
Remind Alex next week for the edition size of True Form Midna.
ARTORIAS THE ABYSSWALKER SD UPDATE: Jump on the

waitlist

because chances of converting are high.
SHIRANUI (EXCLUSIVE) EDITION SIZE: 1,700 pieces
ŌKAMI UPDATE: Amaterasu PVC and a 1/4th resin version of it, Chibiterasu, and possibly Oki (Wolf Form) are coming to First 4 Figures.
Launch for the resin version of Amaterasu PVC will likely be when Amaterasu PVC goes into production.
SPYRO THE DRAGON UPDATE: Eyes now the correct size; can now go full steam ahead with the production; waitlist conversion looking slim
SPYRO THE DRAGON (EXCLUSIVE) UPDATE: Due to the unexpected support from the fans, F4F has decided to give back and revamp the gem box that comes with the Exclusive version! The box itself is handmade, and the inside material is sponge-like and silky to protect the gems and keep everything in place even if shaken. The box seals with a magnet and won't open even if inverted.
Each scale on Spyro the Dragon has its own shading to add depth to the statue as a whole.
MIMIC UPDATE: Won't be launched until Solaire of Astora is in the marketplace; targetting Q3 2018 for the launch date
ALPHONSE UPDATE: Now approved
SONIC 25TH ANNIVERSARY UPDATE: F4F will finish off the production numbers.
WARP START KIRBY UPDATE: Blue variant is confirmed; estimated to go live for pre-order in two months' time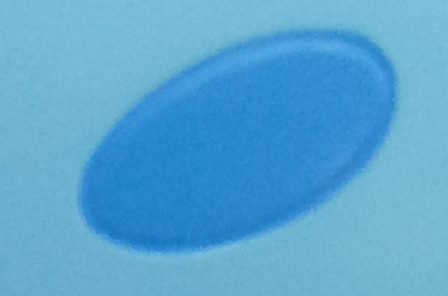 AMATERASU PVC UPDATE: Alex posted a tee-hee and confirmed it was for this statue. Pre-orders possibly by the end of this year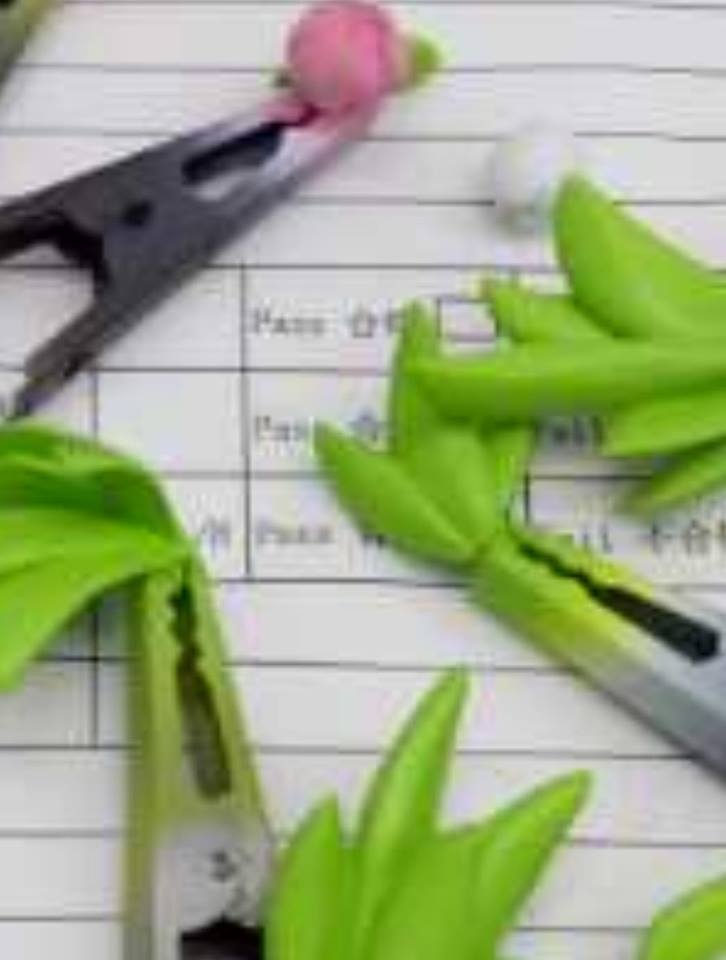 MUGEN UPDATE: Samples arrived in the F4F office subject for final inspection before shipping out
KAMINA UPDATE: Things got complicated. They have a better idea now on how to proceed, but it will take longer than expected.
If Zero does well, BASS might not be Vaulted!
DARK SOULS RINGS UPDATE: Hopefully more information to come this Summer during Wonder Festival 2018
SONIC AND TAILS DIORAMA UPDATE: Will be at the back end if launched this year
No plans of any other replica weapons apart from Bayonetta's guns; will first need to see how this performs and if there will be any Customs issues
SPARX THE DRAGONFLY UPDATE: Alex losing interest and motivation; may need some rallying for
No hints for now on the next Tekken release
No hints for now on the next Mario release (apart from Mario on Yoshi)
Alex would only do variants of Prince and Dipp if people really wanted something more from the Katamari Damacy line.
PLUSH UPDATE: Sort of semi (whatever that means)
BAYONETTA UPDATE: Some slight movement on this
PHOENIX WRIGHT UPDATE: Almost ready to be submitted for final approval
CONKER UPDATE: Pretty much done; looking awesome
MARIO ON YOSHI UPDATE: Just finished the print; started the duplication process
DANTE UPDATE: Making some tweaks; better than what it was before
MORRIGAN AENSLAND UPDATE: Going through some development stages
PSYCHO MANTIS UPDATE: Estimated to go up for pre-order in the next three months or so
CONFIRMED – SPYRO THE DRAGON PVC is coming to First 4 Figures! It's currently in development and is likely to go up for pre-order around the release of Spyro Reignited Trilogy.
BANJO & KAZOOIE UPDATE: Pre-orders not going to be during the 20th anniversary of the franchise
F4F shirts still on Alex's list of things to look into
Nothing to report on Yakuza
F4F currently has at least 14 PVC projects planned behind the scenes.
No updates on Aika
SKULL KNIGHT UPDATE: No teaser allowed just yet
BERSERKER ARMOR UPDATE: Will be gorier than the Bloody version of Guts: The Black Swordsman
Shadow variant more applicable to Fighter Kirby rather than Warp Star Kirby because of the face
Pac-Man ghosts possible as a quadruple pack if rallied for
SHOVEL KNIGHT UPDATE: Green variant to go up for pre-order probably after the current ones have been released; estimated release date is Q4 2018
ALUCARD UPDATE: Crystal Cloak variant to go up for pre-order probably after the current ones have been released
Definitely two anime launches in the second half of 2018; possibly three
All of the girl characters in development are being difficult except for one.
SOULCALIBUR UPDATE: Alex knows what the next piece will be.
MODERN AMY ROSE UPDATE: Alex's plans for the design are pretty much final.
THE GREAT GREY WOLF SIF UPDATE: Waitlists are likely to convert since they will finish of the production numbers
SOLAIRE OF ASTORA UPDATE: Waitlists are likely to convert as well
GUTS THE BLACK SWORDSMAN UPDATE: No plans of making any changes to the base
Alex doesn't see a problem with having an original version and a remastered version of Spyro the Dragon statues in different lines.
BOWSER UPDATE: Estimated released date is Q4 2018
It is up to Nintendo to decide what statues F4F should work on for the Nintendo licenses.
At least eight more pre-orders this year
CRYSTAL DRAGON LAUNCH
Next week's hashtag is #F4FCD for a chance to win 500 reward points.
This is Alex's first ever polygonal statue project, and after his experience with it, he explains why he would probably never do another one again.
Alex explains that the factory cost to F4F is so high that they would make a loss on every single piece they sell to a wholesaler due to the latter's typical profit margin expectations. Hence, they probably will not offer the Regular version to retailers.
The factory cost is high due to the white casting process of production. A silicone mold unnoticeably warps each time it is opened up, and that's perfectly fine for organic shapes. The mold can be reused 100-150 times before having to create a new one. However, for the Crystal Dragon molds, the factory explained to Alex that in order to keep the sharp edges perfect, they would have to replace the mold after just ten uses.
On top of that, as simple as it may seem, the paint application was also difficult to perfect. It took at the very least four attempts to get it right.
Paint is normally one of the biggest factors that affect the price of a piece and very little to do with the casting. In this case, the casting was just as big an influence on price as the painting.
When F4F makes a statue, they normally have an approximate price range on how much it would sell for. Alex mentioned that he's never been so wrong in his entire statue-making experience.
The unit cost to make Crystal Dragon was more than double that of Spyro the Dragon, but they, of course, wouldn't double the SRP as well. They, unfortunately, have to sell it for more than what they would have wanted to sell it for, but the sacrifice they may have to make in order to keep it at a manageable price is to not sell it to retailers.
With all of that out of the way, Alex and Chockles proceeded with the reveal.
Alex emphasized the difficulty in getting the paint job correctly. Each plane and edge are painted a different shade of green in order to give it the illusion and shadowing it has now.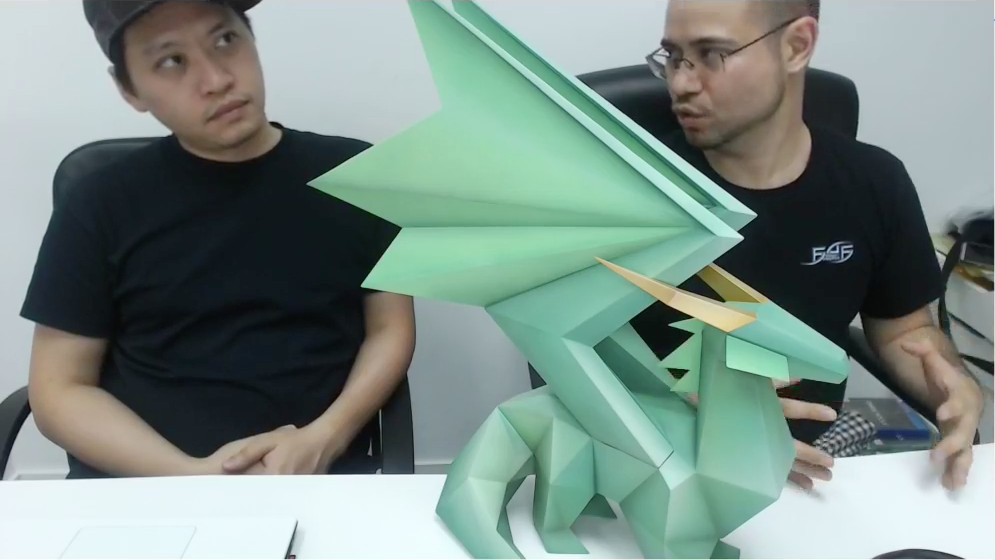 They tried painting it one shade of green, but it looked boring.
This particular wing on the prototype was extra heavy. It will be addressed during the actual production.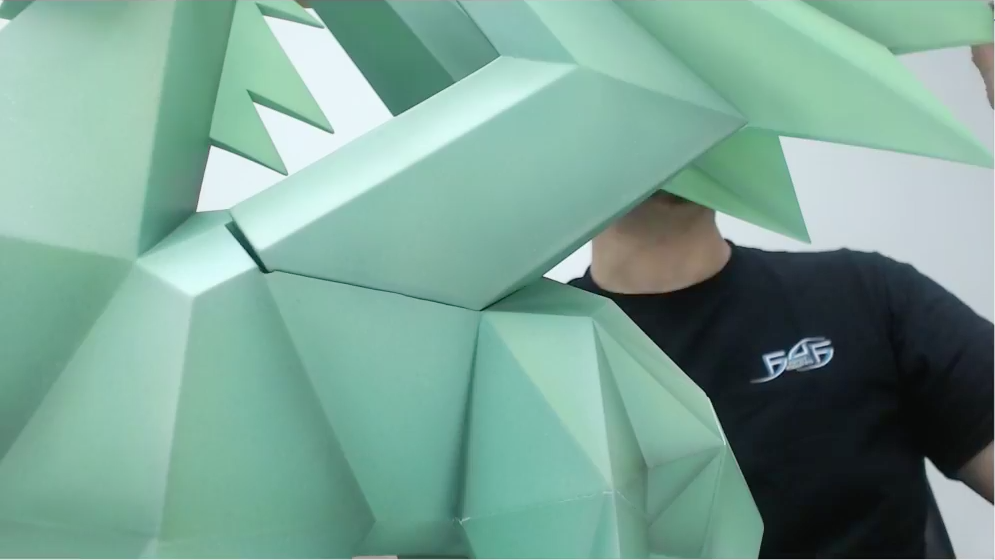 The wings are detachable for shipping purposes.
Chocks' favorite aspect of this statue is the texture of it. Although it does look smooth, it feels like you're touching a concrete wall according to him. It has something to do with how the paint was applied.
They knew from day one what the statue and the base are supposed to look like because the in-game design was just as simple.
The base is also painted in different shades of green.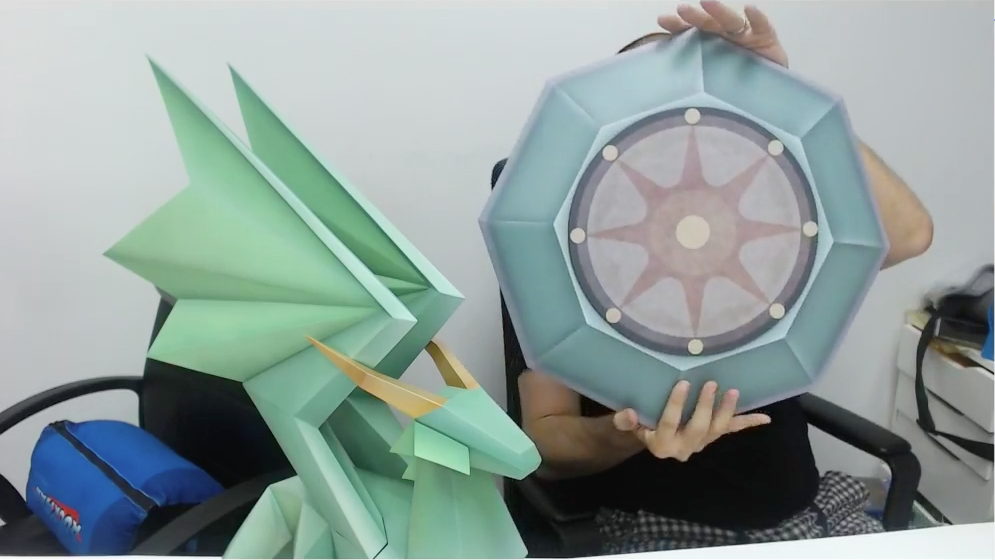 The statue doesn't magnetically attach to the base.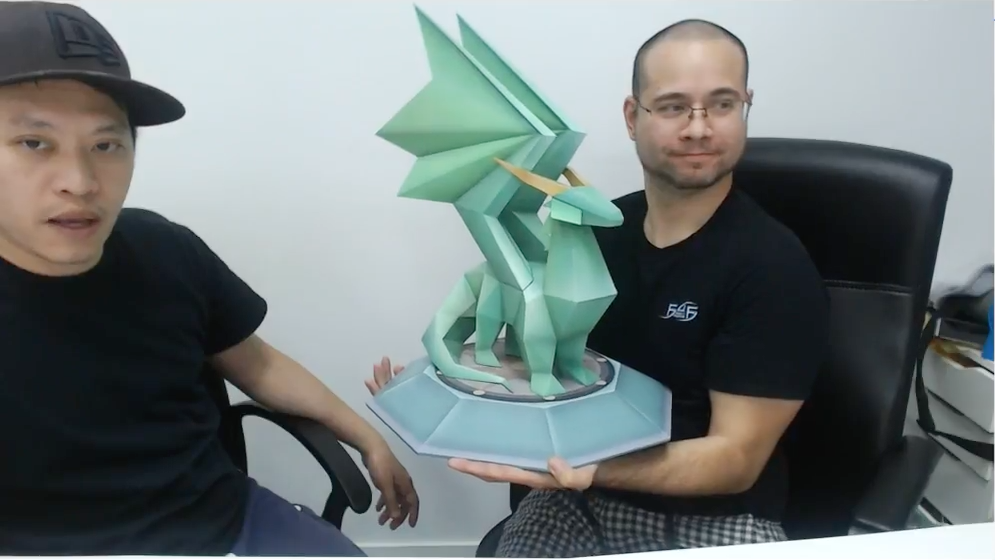 The Exclusive version comes with a mini Golden Dragon (inspired by the in-game Crystal Dragon counter icon). It will either be made out of Polyurethane or Metal, and like the Spyro the Dragon gem box, it is meant to enhance your entire collection.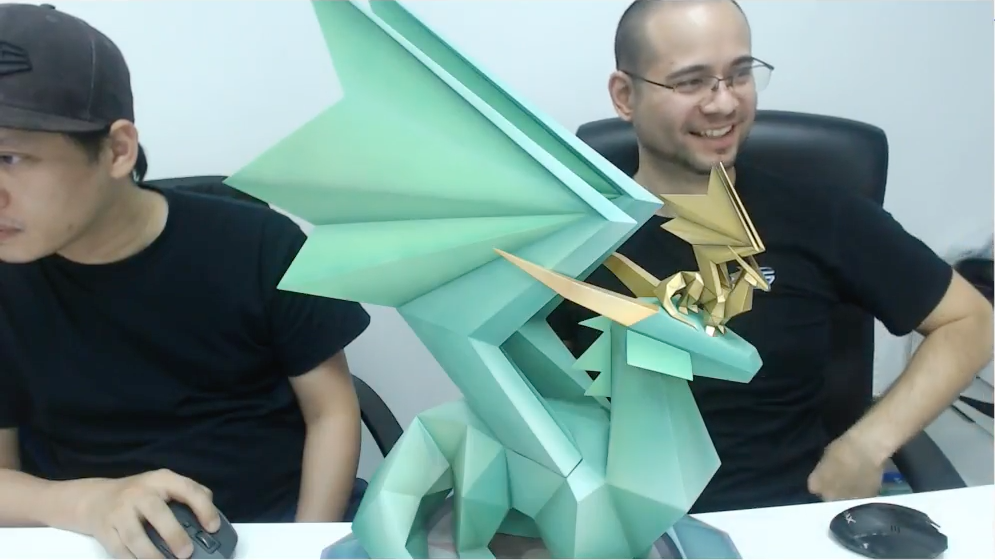 CRYSTAL DRAGON (CRYSTALLIZED EDITION) UNVEILED!
The Crystallized Edition is made out of translucent resin, and it cannot be painted too dark because it will lose its frosted effect.
They tried adding LED lights inside the Crystallized Edition, but it didn't look good, and the wings were too thin to fit LED lights. Instead, the base comes with LED lights.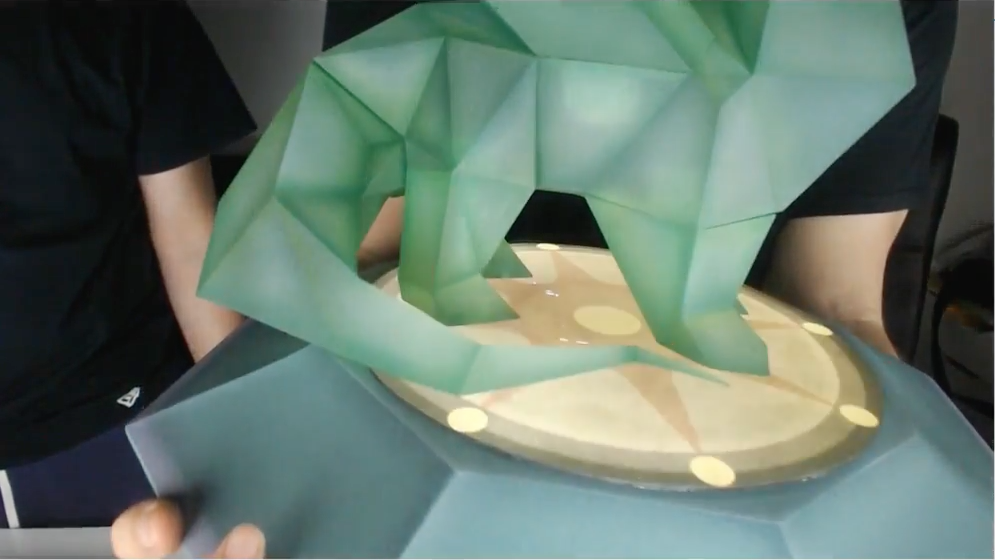 The base for the Crystallized Edition will also be the same base for the Exclusive Edition. Likewise, the Crystallized Edition also comes with a mini Golden Dragon.
Both the Exclusive and the Crystallized Edition are glow in the dark!
The Combo Pack options are either two Exclusive Editions or two Crystallized Editions, and each Combo Pack will come with two authenticity cards with the same code. (UPDATE: As a last minute addition due to popular, F4F is also launching a Mixed Combo Edition, which contains one Exclusive Edition and one Crystal Dragon Edition.)
The Regular, Exclusive, and Crystallized Edition cost USD 474.99 + shipping, while the Combo Packs cost USD 899.99 + shipping.
Alex wants to see an edition size of 600-700 for the Spyro the Dragon line to continue. He wants to know if there is a demand for Spyro the Dragon merchandise outside of Spyro himself.
Rally for what you want next from the Spyro the Dragon line during this two-week rallying period.
For more information on Crystal Dragon and how to place your pre-orders, kindly click

HERE

.
OTHER TOPICS
Alex received an e-mail from the Darksiders licensors. They will be seeing each other in Gamescom 2018.
Pokémon is a dream license for F4F. They will keep trying.
No plans of adding anything to the Day One bonuses for now
Not going to remove the Regular versions from direct orders
Super Shadow is likely if the

poll

hits 750+ votes.
Alex could consider a full refund for damaged statues that do not have replacements left.
If Alex could revisit some of F4F's past releases, these would have to be Fierce Deity Link (from a production point of view) and Zero Suit Samus (from a design point of view).
Alex not sure about releasing a 1/4th and 1/6th version of the same statue at the same time; the biggest problem is if one scale repeatedly sells significantly more over the other
Flexipayment plans for waitlists is on the long list of things to do development-wise.
Alex looks at the opportunity cost the most when considering new licenses and not so much the licensing cost.
There are plans of adding a feature to postpone payments in people's payment plans, but it won't be anytime soon.
Redoing the formula of how reward points are applied to purchases is something that Alex needs to talk about with his partner. Being able to do so means Alex can offer things like gift cards. Is this something you'd be interested in? Kindly let him know in the comments section below.
Animegami may have some F4F merchandise on display during MCM Comic Con 2018 in London, assuming they will be in attendance.
No point in talking about things too far into the future
Alex is capable of making 1:1 scale statues, but the question is if people are able to handle the price tag on it.
Zora Link will remain in the Vault.
Siegfried from Soulcalibur might be too similar to Nightmare's design.
Alex is willing to make bust statues for other licenses.
They can look into doing sales in the future.
Alex is looking to hire a Hong-Kong-based IT person.
"Sif's a dude." – ALEX DAVIS
Alex would like to see at least 800+ votes each on top 3 options of the Kill la Kill

character poll

.
No plans to release unpainted versions of statues
WHO DAT WHO DAT: This week's Who Dat Who Dat was postponed to next week to make way for the Crystal Dragon launch. They will choose four winners next week.
---
To view everyone's questions from the Q&A portion of this episode, please click HERE.
If you want to have your questions answered by our very own Chocks and Alex, simply search "Chocks and A" in the F4F Official Collectors Club Facebook group and leave your questions in the comments section of the most recent thread prior the upcoming live stream. This thread is posted every Thursday of the week.
If you wish to watch the entire video:
---
Last Update
2018-07-03 08:17:27