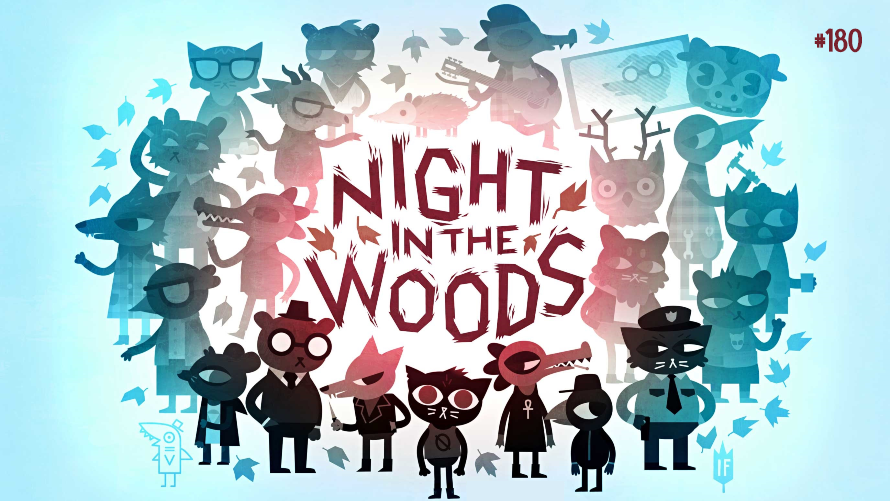 It's that time of the week again folks. Don't forget to cast your votes! #TT180
---
Night in the Woods is an indie adventure game developed by Infinite Fall and published by Finji. It started as a Kickstarter project way back in October 2013 and achieved over 400% of its 50,000 USD stretch goal by the end of its campaign. While awaiting the game's official launch, a companion game entitled Longest Night was released in December 2013 and a year later a supplemental game entitled Lost Constellation. Both games served as introductions to the characters and feel of Night in the Woods.
The game finally came out for the PlayStation 4, Xbox One, Microsoft Windows, macOS, and Linux in 2017, and for the Nintendo Switch in 2018. It is a story-driven adventure game revolving around a community of anthropomorphic animals and its secrets within. Players are tasked to solve puzzles, make story-altering decisions, and unravel the mysteries of Possum Springs.
Critics and video gaming publications highly praised the game's character development, storytelling, dialogue, and visuals. It was nominated and awarded in numerous categories in various awards shows, including Excellence in Narrative, Seumas McNally Grand Prize, and Most Fulfilling Community-Funded Game to name a few. The game truly is an indie gem worth checking out.
And so, for today's 180th Temptation Thursdays poll, we shall focus on Mae, the main protagonist of the Night in the Woods video game series.
You may now cast your votes HERE*.
*You must be a member of our Official Collectors Club to vote.
To learn a little bit more about Night in the Woods, you may check out Wikipedia's write-up.
---
For those who want to learn more about First 4 Figures' Temptation Thursday polls, kindly click HERE.
Last Update
2020-01-02 10:45:36