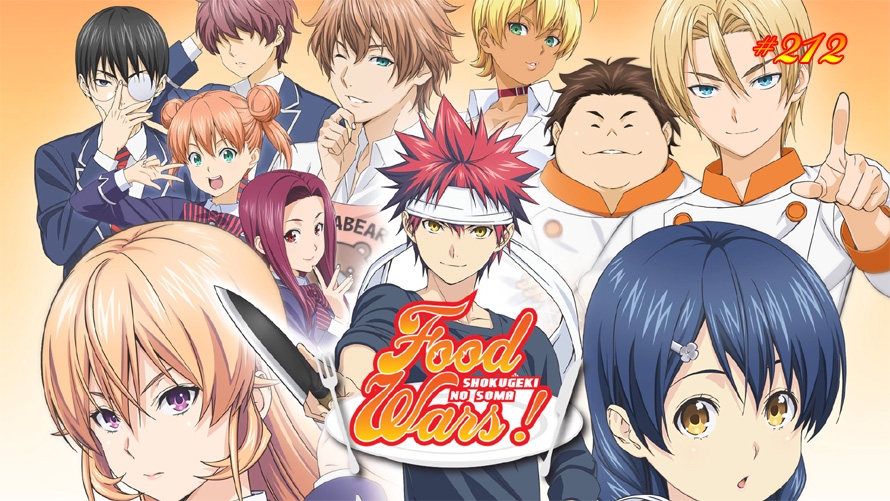 It's that time of the week again folks. Don't forget to cast your votes! #TT212
---
Food Wars!: Shokugeki no Soma is an anime series based on a manga written by Yūto Tsukuda and illustrated by Shun Saeki. The story follows the exploits of teenage chef Soma Yukihira, who dreams of surpassing his father's culinary skills and becoming a full-time chef at their family's diner. Soma enrolls at the Totsuki Culinary Academy, where he plans to sharpen his skills and take the school's number one seat in the Elite Ten Council.
Students at the institute have the ability to challenge any other student or alumni to a shokugeki (also known as a "food war"), with a wide range of possible stipulations attached to the result of the cooking matches. Soma undergoes an internship and competes in numerous shokugekis and tournaments as he pursues his ambition of taking the top spot at the academy.
The Food Wars!: Shokugeki no Soma manga debuted in Weekly Shōnen Jump in November 2012, and ended its run in June 2019. After the first season of the anime adaptation aired in mid-2015, the series proved to be so successful that it returned for an additional four seasons, with the final season airing this year. Due to the anime series' popularity, it began airing as part of Adult Swim's Toonami programming in the United States in July 2019.
And so, for today's 212th Temptation Thursdays poll, we shall focus on Soma Yukihira, the protagonist of Food Wars!: Shokugeki no Soma.
You may now cast your votes HERE*.
*You must be a member of our Official Collectors Club to vote.
To learn a little bit more about Food Wars!: Shokugeki no Soma, you may check out Wikipedia's write-up.
---
For those who want to learn more about First 4 Figures' Temptation Thursday polls, kindly click HERE.
Last Update
2020-08-20 08:02:27