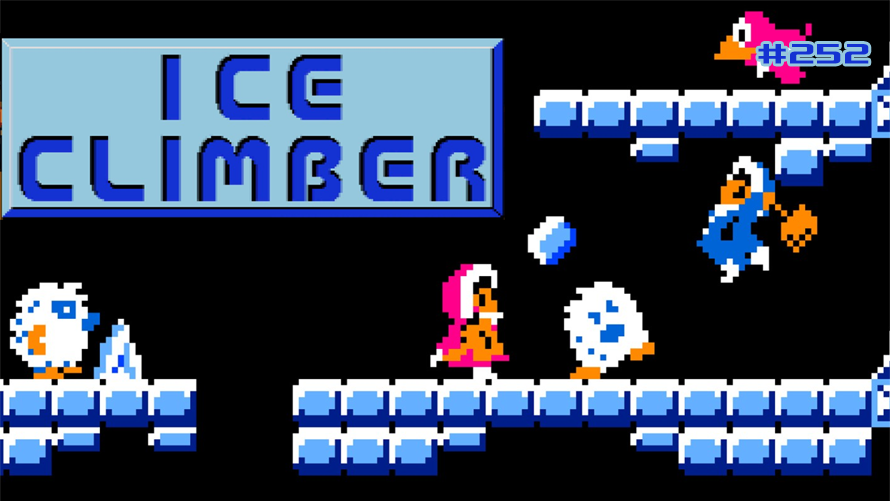 It's that time of the week again folks. Don't forget to cast your votes! #TT252
---
Developed and published by Nintendo in 1985, Ice Climber was one of the original launch titles for the Nintendo Entertainment System (NES) in North America. It is the first-ever video game programmed by Kazuaki Morita, who would go on to become the main programmer for Super Mario Bros. and a central programmer for Star Fox 64 and The Legend of Zelda series.
The story in Ice Climber revolves around a pair of eskimos named Popo and Nana who scale the mountains to recover vegetables that were stolen by a giant condor. Popo wears a blue parka, while Nana wears a pink one.
Ice Climber can be played in both one-player or two-player modes. In one-player mode, the player is always Popo. In two-player mode, the second player will always play as Nana. The platforming gameplay consists of players climbing 32 vertically-scrolling mountains while utilizing wooden mallets to club enemies and carve openings in the ice above them. As mountains are successfully scaled, the difficulty of the game increases, as the speed of enemies goes up and moving platforms make jumps trickier.
Ice Climber was re-released for a multitude of Nintendo's gaming consoles over the last 36 years, including the Wii, Wii U, and most recently the Nintendo Switch. The entire game was also playable within the Nintendo GameCube release of Animal Crossing in 2002. Nana and Popo rose to a new level of popularity when they became playable characters in the Super Smash Bros. series of fighting games, beginning with Super Smash Bros. Melee in 2001. They most recently appeared in Super Smash Bros. Ultimate for the Nintendo Switch.
And so, for today's 252nd Temptation Thursdays poll, we shall focus on Nana and Popo, the protagonists of Ice Climber.
You may now cast your votes HERE*.
*You must be a member of our Official Collectors Club to vote.
To learn a little bit more about Ice Climber, you may check out Wikipedia's write-up.
---
For those who want to learn more about First 4 Figures' Temptation Thursday polls, kindly click HERE.
Last Update
2021-05-27 02:23:23