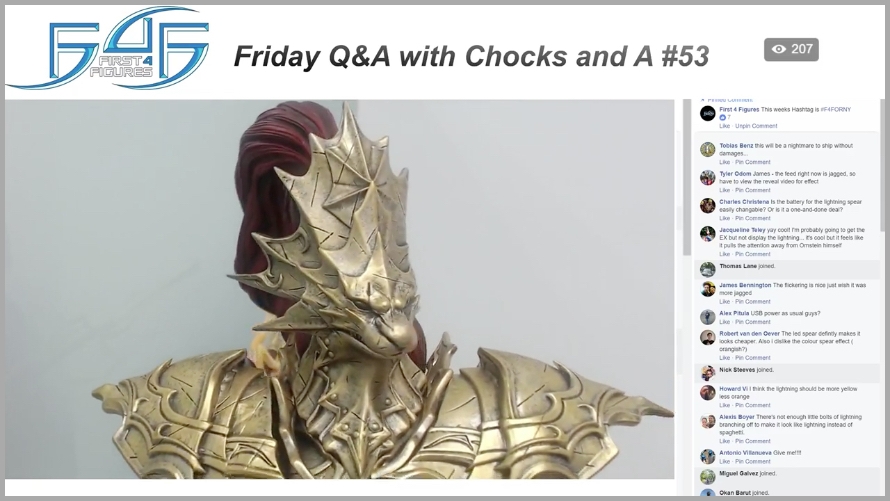 This is a breakdown of the important (and not so important) topics of last Friday's (January 12, 2018) Friday Q&A with Chocks and A #53.
---
REMINDERS
Don't forget that the Last Chance Weekend for Shovel Knight will also be happening after this live stream, and will end on 16 January 2018, 1:00 AM HKT. Unfortunately, there's still no news on the Player 2 Green variant.
WEEK IN REVIEW
A lot of collectors have finally received the following F4F statues:
Fighter Kirby from their Kirby line
Nightmare from their Soulcalibur II line
F4F x Torch Torch Dark Souls Ring Collection
The first Great Grey Wolf, Sif statue arrived at a collector's home live on stream!

There was a licensing show in Hong Kong last 8-10 January 2018, and a couple of licensors visited First 4 Figures' office for a meeting:
UBISOFT – This one came as a surprise. They found out about F4F because one licensor saw their Crash Bandicoot PVC figure in a Best Buy store. Seems like their PVC lines really are doing what they're meant to do – to serve as the ambassadors of First 4 Figures. Also, live during their meeting with the licensors, Alex posted a poll in the Club asking the members what they would be interested in just to gauge, and what stood out the most to Alex was Beyond Good and Evil. Rally the fans if this is something you're interested in!
SEGA – It was their first time to visit the F4F office in the 9 years they've been working together. They basically a conversation about Bayonetta, Yakuza, and another thing that may or may not start with the letter "P"; they have nothing to say or confirm as of right now. Also, the licensors were loving the Tails holding Sonic diorama piece.
BANDAI NAMCO – Something that's been in development for a very long time has finally been approved! They also touched on Gravelord Nito's size and the price it will be sold at. Ultimately, it will boil down to the sales numbers of Dragon Slayer Ornstein.
PRODUCTION VIDEOS:
(NOTE: You need to be a member of the Official Collectors Club to view these videos.)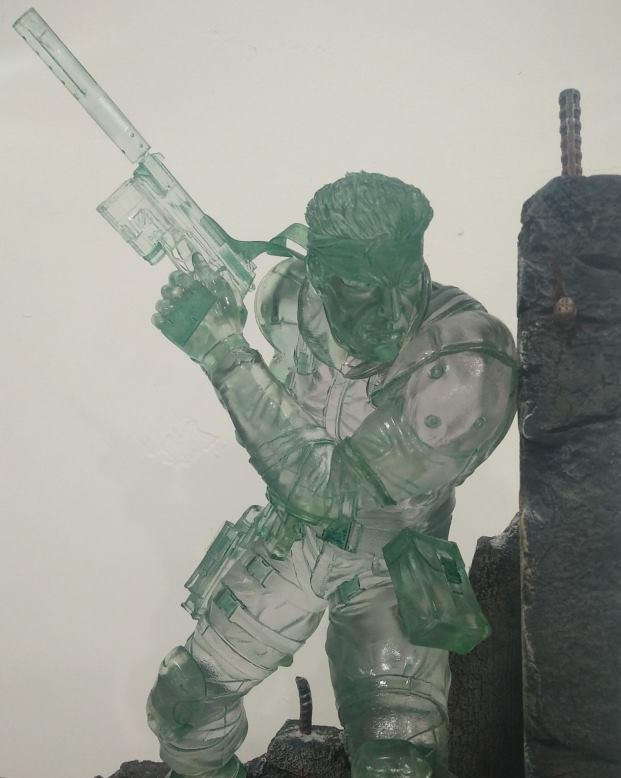 ON FIRST 4 FIGURES' TEMPTATION THURSDAYS (TT) POLL
This week's General Game Characters from the Puyo Puyo series TT Poll #83 Results: 34 YES votes / 288 NO votes. (BLOG)
This week's Creatures and Tamers from the Digimon GAME series TT Poll #84 Results: 144 YES votes / 195 NO votes. (BLOG)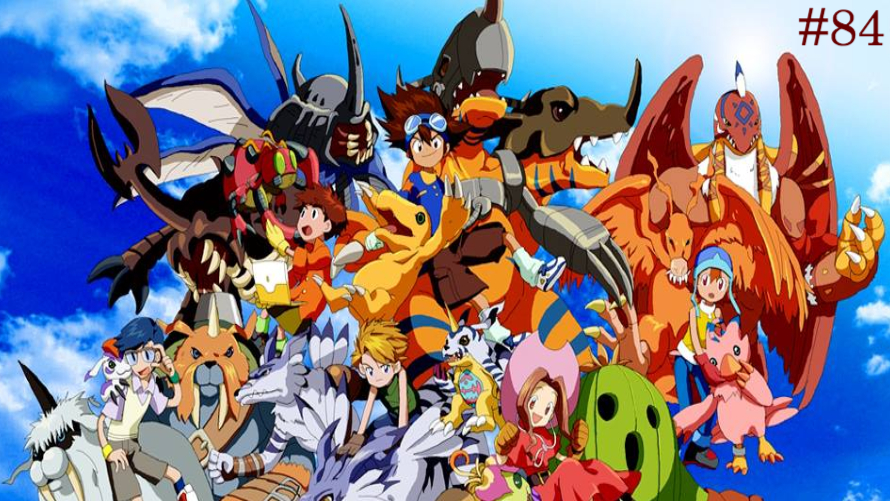 Three winners for #F4FMON 500 points (BEN GRAY, CAROL WOODIN, and EDWARD VILLA)
Next TT polls will be (in this order): LOST ODYSSEY ➔ KENSHIN HIMURA
Alex will start reviewing where they are with the Yakuza line and will potentially consider moving onto the next stage with this. The moment this tickles 500 "YES" votes, Alex will force his hand into this straight away, especially considering the fact that the video game title itself is more known now compared to when they first started designing Kiryu Kazuma 2½ years ago. There is also an opportunity for a Combo Pack. Share this blog post out with your fellow Yakuza fans and let's see this come to life!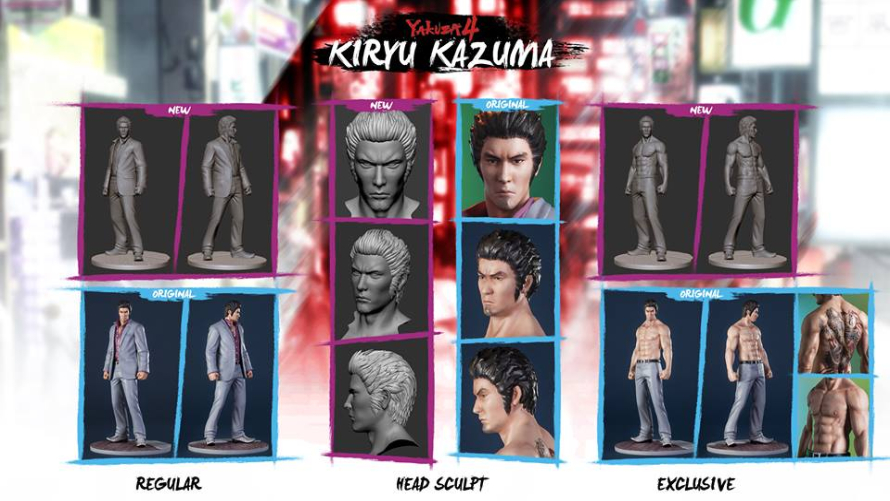 They never really touch anything anymore that the Club isn't interested in. This is the power of the Club.
They would like to see relatively high numbers on the #SaveF4FAika TT poll because this would be a much harder sell especially considering the opportunity for a Combo Pack is very slim. (BLOG)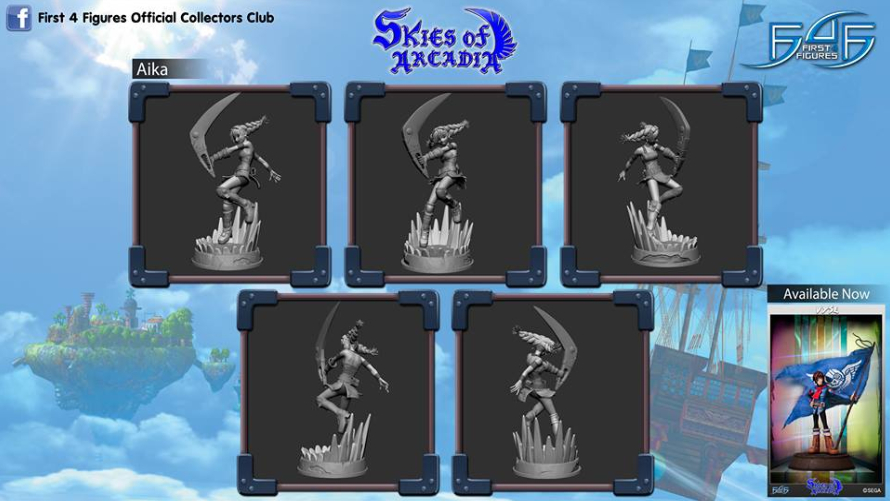 A King Dedede TT poll will be posted once the Warp Star Kirby hype has begun.
Earthworm Jim TT "YES" votes still isn't high enough.
VARIOUS CHARACTER UPDATES
SPYRO AND MAJORA'S MASK SHIPPING UPDATE: Since the Spyro packing still hasn't been approved, they've decided to go full force on just pumping out as much Majora's Mask statues as they can before Chinese New Year, as opposed to half-baking the shipment both Majora's Mask and Spyro before Chinese New Year.
Alex will be going to the factory containing Spyro and Majora's Mask in a week or two for quality check purposes.
SILVER UPDATE: During Alex's recent trip to the factory, Alex did not approve of the assembly of Silver's feet.
GRAVELORD NITO UPDATE: Price isn't finalized yet but it's looking to be quite expensive given its size; will be mixed media – difficult to achieve the "fluffiness" by just using resin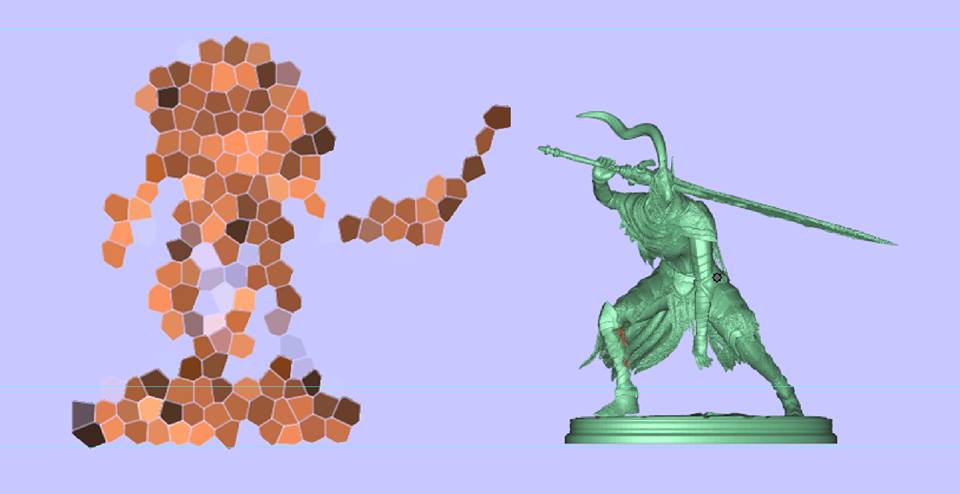 BANJO UPDATE: Alex tried, but unfortunately, they're locked down until Q2 2018 for more Banjo sneaks.
SPARX UPDATE: Not yet in its physical stage
CRYSTAL DRAGON UPDATE: Pre-order won't be anytime soon but it's coming along nicely.
GUTS PRE-ORDER UPDATE: Will more or less be in a month and a half's time
MIMIC UPDATE: Mimic is going to be taller than Artorius. According to Chockles, the quality and design is very top tier and is really looking forward to adding this into his collection. Don't let the fact that the character itself is inferior when compared to the bosses.
DARK SOULS UPDATE: The next Dark Souls statue after Gravelord Nito has been approved in 3-D and is now ready to go into the physical stage. Also, they are currently focused on the Dark Souls title for plush products before expanding into other options.
ARTORIAS SD PVC PRE-ORDER UPDATE: Hopefully February 2018 depending on what has been accomplished up until before Chinese New Year; learned a lot from their previous PVC Exclusive launch and will hopefully get these into collectors' hands sooner
GRAY FOX UPDATE: Alex has "taken him out". (Does this mean he's ready to go into the next stage?)
MARIO UPDATE: It's possible that Mario on Yoshi will be the only Mario pre-order for 2018.
SPYRO UPDATE: Gem colors still need to be finalized and as mentioned above, still awaiting approval on final packaging design
LEGEND OF ZELDA PRE-ORDER UPDATE: Nothing to report until they have approval from Nintendo
ALPHONSE UPDATE: He's going to be massive.
SOLID SNAKE PRE-ORDER UPDATE: Hopefully towards the end of this month; still thinking if they should include the Camouflage version but most likely not; Neon Green variant will definitely be included
They are considering making a Combo Pack for Mitsurugi in the Soulcalibur II AND VI style.
TAKI UPDATE: Just about to start after Chinese New Year
There is a SECOND Crash Bandicoot resin statue currently in design.
ONE PUNCH MAN UPDATE: CONFIRMED – Speed-o'-Sound Sonic will be next after Genos along their One Punch Man line. Although, Saitama sales didn't set the world on fire, so they'll first have to see how Genos goes before proceeding with other characters.
TRUE FORM MIDNA UPDATE: Alex saw her earlier in the day before the stream – still not good enough.
AMATERASU PVC PRE-ORDER UPDATE: Q3 2018 sounds like a good time.
PAC-MAN UPDATE: End of the line for their Pac-Man line
SONIC AND TAILS DIORAMA UPDATE: Your wallets will get decimated.
PHOENIX WRIGHT UPDATE: They're already at the physical stage and they don't anymore want to go back to the drawing board for any major concept/design changes such as Combo Packs.
DRAGON SLAYER ORNSTEIN UNVEILING
This week's hashtag is #F4FORNY.
Dragon Slayer Ornstein will

NOT

come with a complimentary ring. When they added a ring for their Great Grey Wolf, Sif statue, it caused too many complications and delays; they would like to avoid that from happening again.
The Exclusive version comes with a second spear with lightning LED effects (in two modes) and an art print!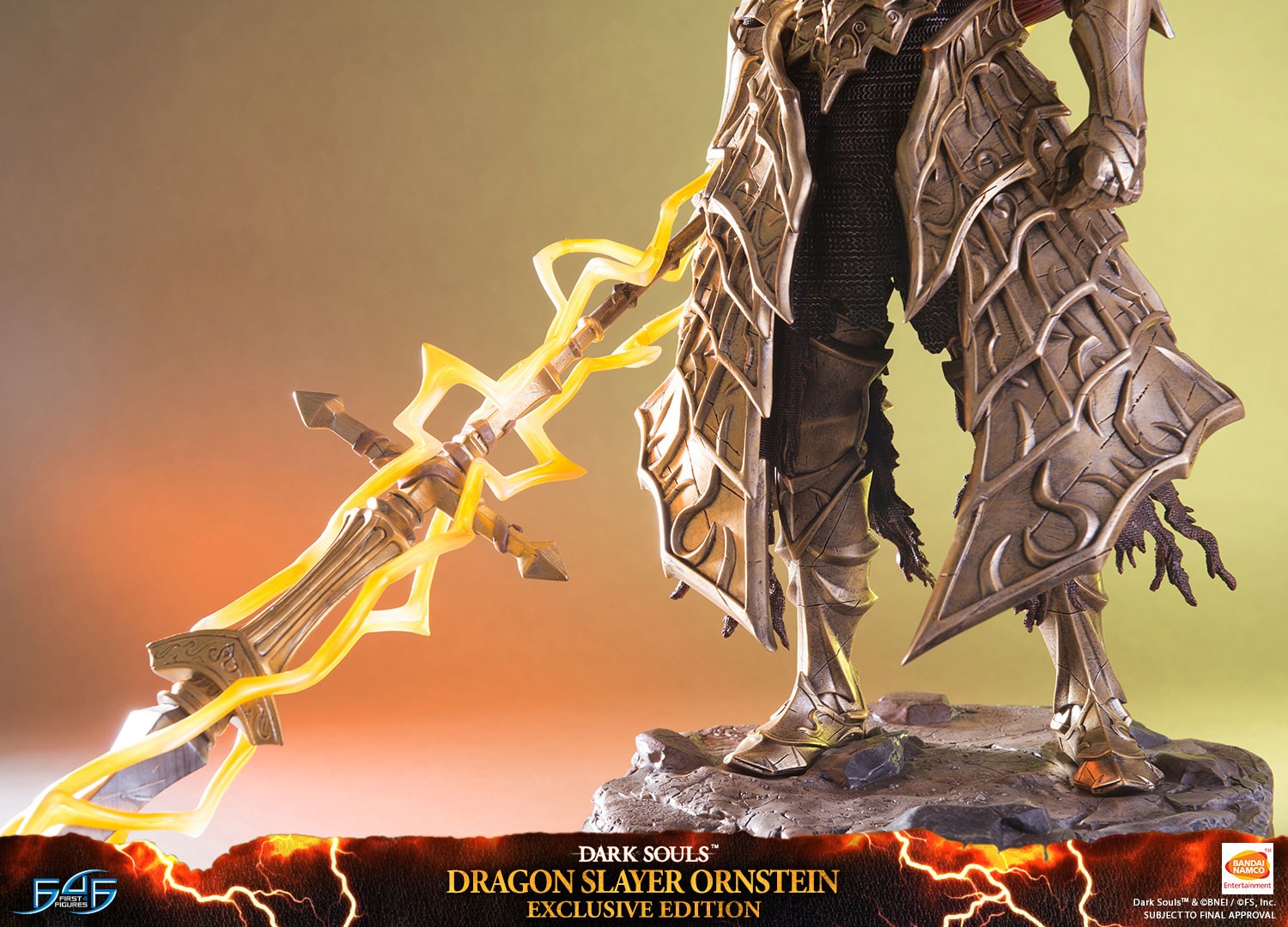 The biggest challenge they had when making Dragon Slayer Ornstein was the engineering behind the Exclusive version.
They did the best they could to bring its price down because they always want their collectors to get the most value out of their money.
In their "Making of" documentary video, you will see Dragon Slayer Ornstein, Artorias the Abysswalker, and Solaire of Astora side-by-side.
For more information on Dragon Slayer Ornstein and how to place your pre-order, kindly click HERE.
For more information on how to participate in First 4 Figures' TWO (2) giveaway contests for a chance to win your very own Dragon Slayer Ornstein (Exclusive) statue, kindly click HERE.
OTHER TOPICS
Cherry poppers Alex and Chockles back at it again with another Friday Q&A cherry popping. This week's cherry belongs to ERIK DE GRAAF.
Okami Life-Sized Props poll results are currently lukewarm. Rally the fans if you'd want to see any of these come into reality!
Alex ran this company with just two other people, Kanako (his wife) and John (his partner), for 13-14 years. That is now a thing of the past and has delegated a lot of the work since then. The one thing he will never ever delegate to anyone else, however, is the final approval of all their products just before shipment. Once this goes out the door, this may rip open Alex's a**hole big time.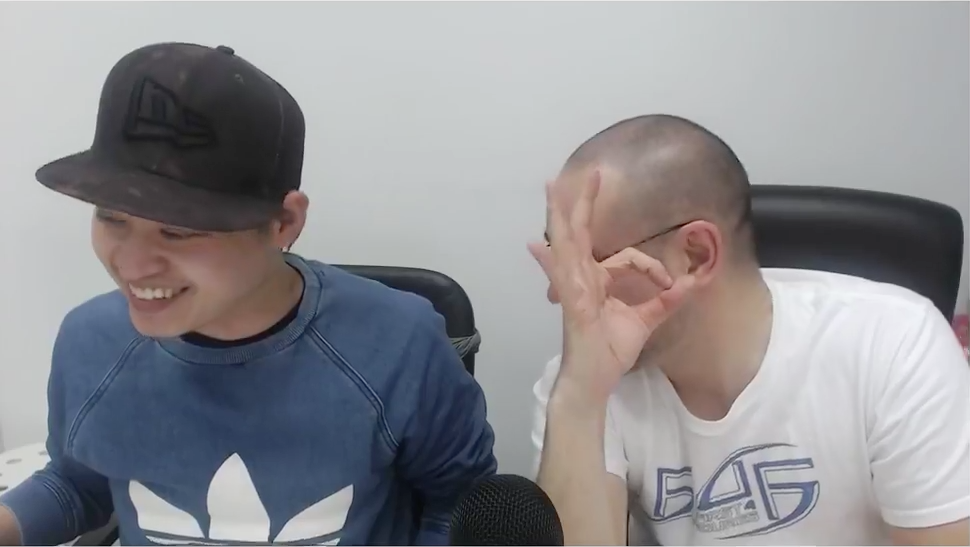 They're going to work on the F4F cardholders next week.
They could make a statue of a different character in the same design as Solid Snake so that they could act as awesome bookends.
They have nothing to report on My Hero Academia. They haven't done much but it is getting harder and harder to ignore the voices.
They are looking very closely into Yu-Gi-Oh.
Alex would like to create Vagrant Story statues but knows it won't sell due to its obscurity.
Alex just busted open a digital piano and he's been playing and loving the score of Legend of Zelda.
Meta Ridley may or may not be the only Metroid statue currently in the works; it's classified. ("There's more coming", Alex whispers.)
The concept of exclusivity and rarity is of no importance to First 4 Figures in that they will never make a decision based off of these.
Alex thinks that the idea of re-making statues they've already made in the past isn't going to be worth it resource-wise. Production prices then are very different compared now, and the time and effort needed just to make a few 100 pieces isn't worth it.
No news on Spyro 2 PVC
Alex has ran enough Facebook polls to know what it is they want to do for their entire Dark Souls line.
Their decision to go for a tree base for Majora's Mask was influenced by the "wooden-ness" of Skull Kid. These two should look good together side-by-side.
Aesthetics is low on the priority list when deciding if they should use resin or PVC material. Ultimately, it boils down to the quantity to be made for each product.
Sheikah Slate is the next life-sized prop for pre-order.
Tingle was a possibility at one point but that was before the Club, and there was an unofficial poll in the past that didn't do so well and nothing has happened since then to change Alex's mind.
The statues they use for Preview Friday and the Making of documentaries typically come from the factory.
There are a good number of anime titles they're considering based on the rallies in the Club, but they have to go through the first wave of titles first.
Alex played Dark Souls but never finished the game. He doesn't have the time to be good at it and run a company at the same time. He just has a rolling contest with Chocks and whoever stops rolling loses.
There are a lot of Legend of Zelda statues in the Vault and most, if not all, of them won't anymore see the light of day.
Alex is

VERY

critical when it comes to the artists and factories' work.
It is generally more difficult to tease anything from anime lines because the licensors are very protective of their Intellectual Properties.
They're mainly just considering the Prime series for Metroid, but with enough rallying, they could possibly look at other options.
They learned their lesson from the Majora's Mask and the Varia Suit experience. They won't be sneaking anything unless it's been 100% approved by the licensor.
Alex does look elsewhere other than the Club for inspiration, but ultimately, he still highly considers the opinion of the Club because F4F could create the most amazing piece, but if no one wants it, then that would just be a complete waste.
Alex is currently prioritizing Donkey Kong over Luigi.
Alex could never win the "First 4 Likes" reward points giveaway because he's staff.
Before collectors receive their F4F statues, Alex is incredibly nervous in anticipation because he keeps on thinking about the possibility of breakages, the quality of every single piece, and the like.
For as long as you don't expose your resin statues to extreme temperatures, these should hold fine.
There is an amazing Solid Snake design in the Vault.
For F4F to consider making scenic statues, Alex would like to see A LOT of "YES" votes, especially for Nintendo-related ones.
Be sure to ask for the edition size of Shovel Knight (Ornate Plate Armor Edition) during next week's Friday Q&A. (Might as well throw Varia Suit in there as well.)
Alex has never broken any of his statues, but others have.
Would you like to see a documentary on Alex and Chockles and how First 4 Figures came to be? Let us know in the comments section below.
F4F was denied when asking for the Kingdom Hearts license.
Alex's favorite statue design in the Vault is their Pokémon one.
Alex will have a discussion with Chockles about the pre-order calendar to come up with a realistic one for 2018.
They did it once, but they are never doing two pre-orders at the same time ever again.
Seems like Alex's favorite Soulcalibur II character is Nightmare. Not even Death stands a chance against Alex's masterful skills.
Nintendo was fully onboard with the idea of making True Form Midna.
There wasn't enough support for the idea of a Pit statue from Kid Icarus, which is why he's now in the Vault. If you want this, rally the fans!
For 2018, Alex is most excited about their new website skin.
They use transparent paint to make things look… well, transparent.
There are enough polls in the Club that Alex could use as ideas for their next Legend of Zelda statues, to be discussed with and approved by Nintendo of course.
How does a blind person know when to stop wiping their butt? Sniff test – until they can smell blood.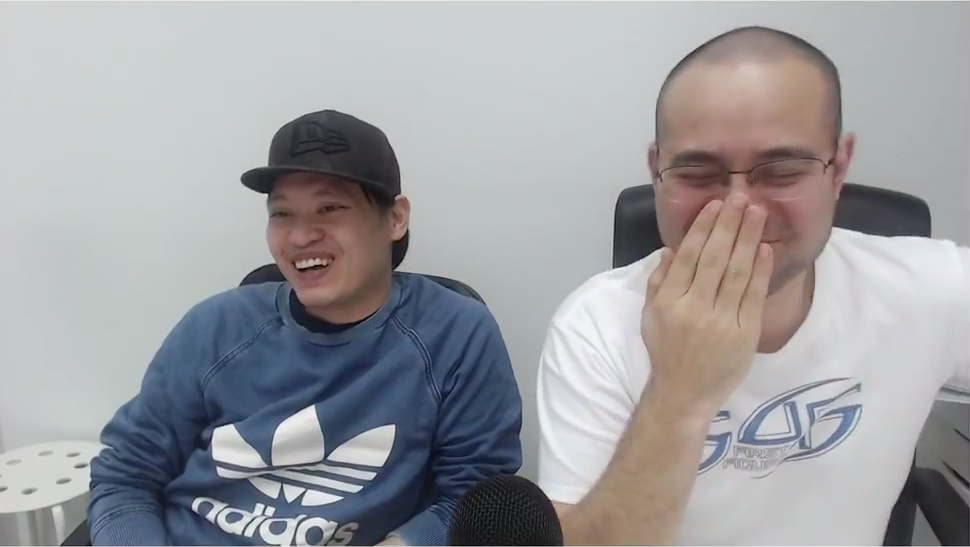 They're trying their best behind the scenes to figure out ways to improve shipments to Australia. It's more complicated than they thought.
The Metroid Prime 3 Ship is in the Vault. If you want this, rally the fans!
Alex hasn't thought about which Metroid boss will come next after Meta Ridley (if any).
Alex will be seeing Nintendo this May; could possibly talk about plans for the upcoming 20th Anniversary of The Legend of Zelda: Ocarina of Time.
Alex has had many wild thoughts about a Fierce Deity Link v.2.
WHO DAT WHO DAT: The answer was SPORE! The winners are PATRICK HALLORAN (0 F4F reward points) and JACQUELINE TELEY (1,000 F4F reward points).
---
To view everyone's questions from the Q&A portion of this episode, please click HERE.
If you want to have your questions answered by our very own Chocks and Alex, simply search "Chocks and A" in the F4F Official Collectors Club Facebook group and leave your questions in the comments section of the most recent thread prior the upcoming live stream. This thread is posted every Thursday of the week.
If you wish to watch the entire video:
---
Last Update
2018-01-24 19:06:43