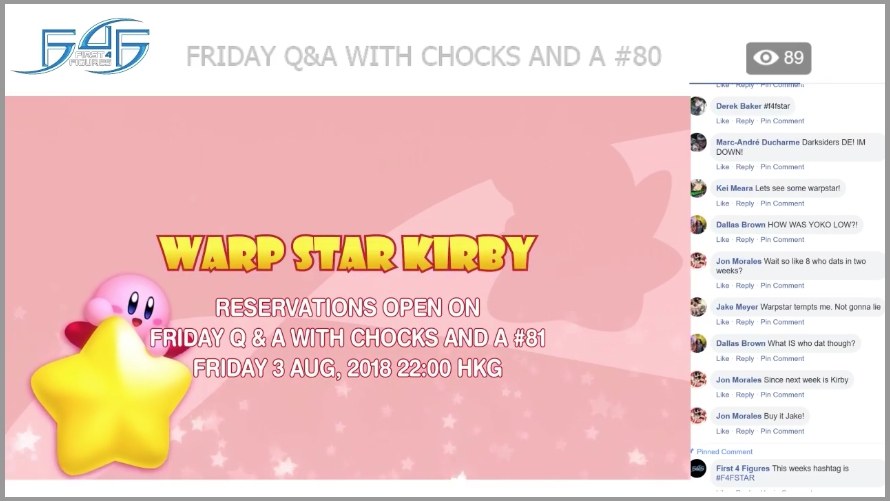 This is a breakdown of the important (and not so important) topics of last Friday's (July 27, 2018) Friday Q&A with Chocks and A #80.
---
REMINDERS
CRYSTAL DRAGON pre-orders are now closed. Thank you so much for all your support! You can still jump on the

waitlist

for a chance at pre-ordering this figure if you already haven't.
BANJO-KAZOOIE is still open for pre-orders until 7 August 2018.
SPIKE SPIEGEL is still open for pre-orders until 21 August 2018.
Because the two Exclusive variants combined didn't reach 1,000 pieces in sales during the initial 2-week pre-order period, Guts: The Black Swordsman pre-orders will remain open until it hits its target or until before production starts. (UPDATE: approx. 623 pre-orders as of 27 July 2018)
CONFIRMED – WARP STAR KIRBY WILL GO LIVE FOR PRE-ORDER NEXT WEEK, 3 AUGUST 2018!
WEEK IN REVIEW
The first day of

ACGHK 2018

started, and Chockles posted an

early access video

of the event. The best part so far is the unexpected sales of on-hand items.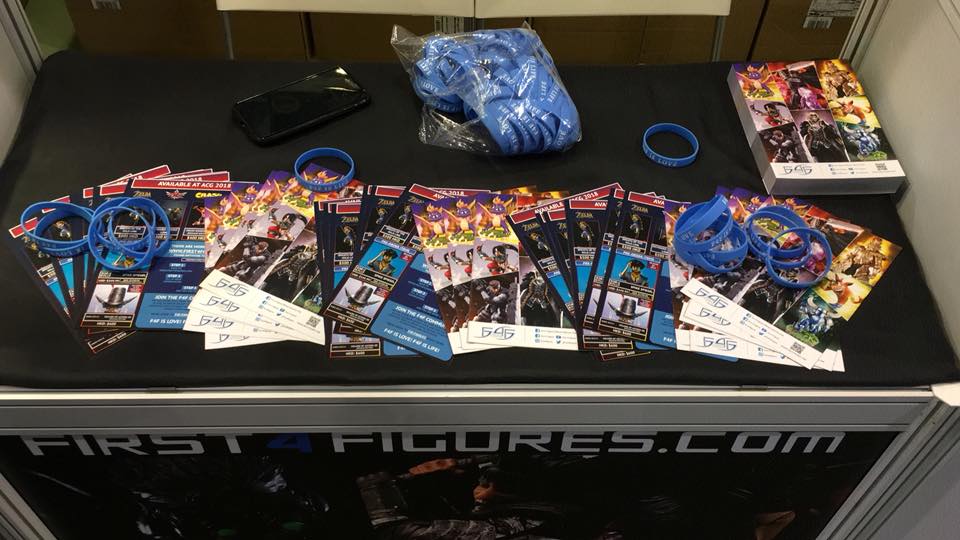 Alex has been working on some super secret thing.
The validation process for Spike Spiegel was as smooth as butter.
On the topic of Gamescom 2018 Pre-order Packs (Part 1): Apart from the already guaranteed wristband in each pack, F4F is also working hard to add F4F pins to the Gamescom Pre-order Pack, but these, unfortunately, may not be finished in time. Fingers crossed that it does.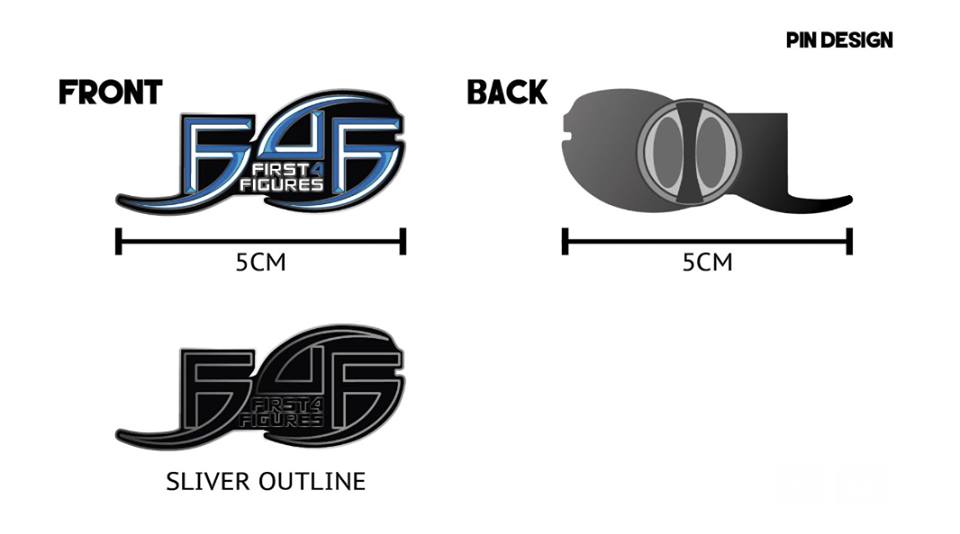 On the topic of Gamescom 2018 Pre-order Packs (Part 2): Each pack is worth 50 EUR (roughly 58 USD) but is actually worth 75 USD (roughly 64 EUR) in store credit when redeeming the code into your F4F account. That's an instant bonus of 14 EUR per pack (depending on the exchange rate)! In relation to reward points, you still earn 100% of the points even if you use a code.
On the topic of Gamescom 2018 Pre-order Packs (Part 3): Everyone can purchase as many packs as they want; however, they may only use one code per pre-order. Also, they can use these codes only on F4F items on display during the event.
TEMPTATION THURSDAYS (TT) POLL
Last week's Source Hunters from the Divinity: Original Sin series TT Poll #111 Results: 30 YES votes / 83 NO votes
This week's Lelouch Lamperouge from the Code Geass series TT Poll #112 Results: 143 YES votes / 158 NO votes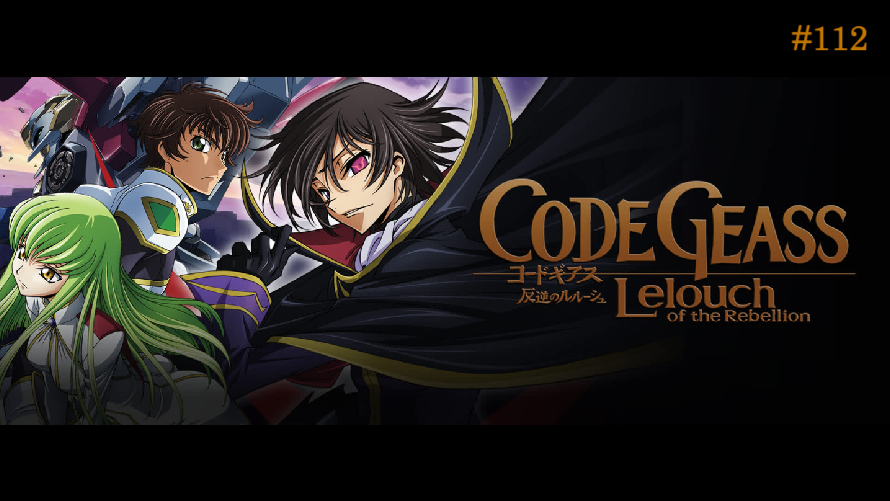 Next TT polls will be (in this order): UNDERTALE ➔ FLCL ➔ ZERO ESCAPE
The four winners of last week's #F4FCOWBOY are WESLEY CLARKE, RYAN BEIRNE, MICHAEL ARAGON, and GUSTAVO LOPEZ.
This week's hashtag is #F4FSTAR for a chance to win 500 reward points.
Those that want to vote on TT polls need to be a member of the

Official Collectors Club

. If you wish to rally for a specific franchise, do share out the blog posts instead and tell the fans to join the Club to be able to vote.
Jin and Fuu from Samurai Champloo need a #SaveF4F TT poll.
Afro Samurai now on the list of possible TT polls
CONCLUDED –

Match #8

: Item 2 Megaman (139 votes) vs. Twilight Princess Link PVC (641 votes – WINNER)
ONGOING –

Match #9-12

: Entire Quarterfinal Round

Match #9: Zora Tunic Link (458 votes) vs. Metal Sonic (237 votes)
Match #10: Skull Kid (759 votes) vs. Lucky Cat Mario (222 votes)
Match #11: Tails (302 votes) vs. Artorias the Abysswalker (697 votes)
Match #12: Twilight Princess Link PVC (573 votes) vs. Super Sonic (257 votes)

NEXT WEEK – Match 13-14: Entire Semifinal Round
PRODUCTION VIDEO EXCLUSIVES
(NOTE: You need to be a member of the Official Collectors Club to view these videos.)
VARIOUS CHARACTER & PRODUCT LINE UPDATES
JET BLACK UPDATE: The Exclusive version was revealed during Chockles'

early access video

during the first day of ACGHK 2018. Estimated to go live for pre-order in 4-5 months' time
SPIKE SPIEGEL UPDATE: Spike Spiegel numbers are healthy. Great news for anime and Cowboy Bebop fans alike!
GURREN LAGANN UPDATE: Alex posted a character poll to gauge the Club's interest. This poll also affects the viability of the entire line. Definitive Editions won't be enough given the current poll results.
BANJO-KAZOOIE™ UPDATE: Alex's Gruntilda

spotlight poll

still needs some love.
SOLID SNAKE UPDATE: The inner shipper box for the Exclusive version, Special Editions, and Combo Editions will look like the box Solid Snake uses in-game for hiding.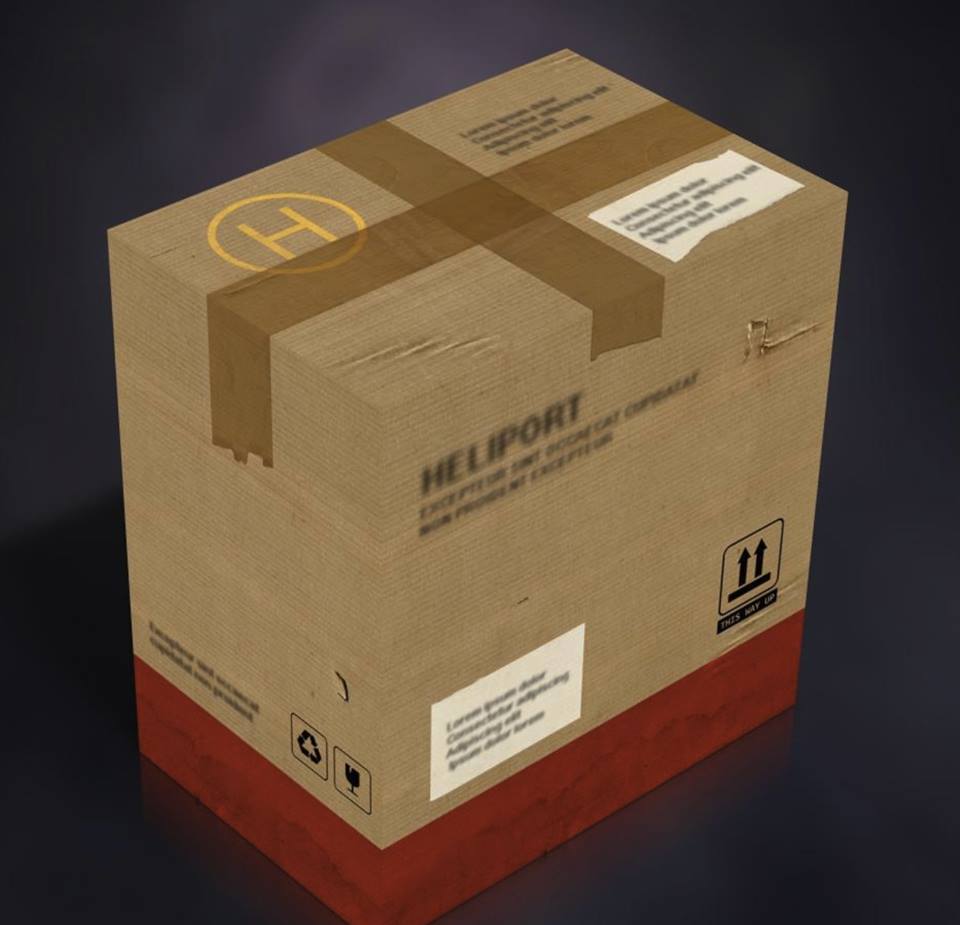 Alex's tee-hee of the week: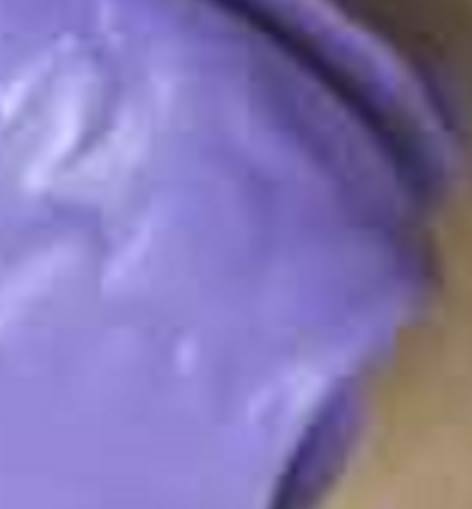 RIDER LINK UPDATE: Alex finally posted a teaser! Will open for pre-orders when it's ready; significantly more expensive than

Link on Epona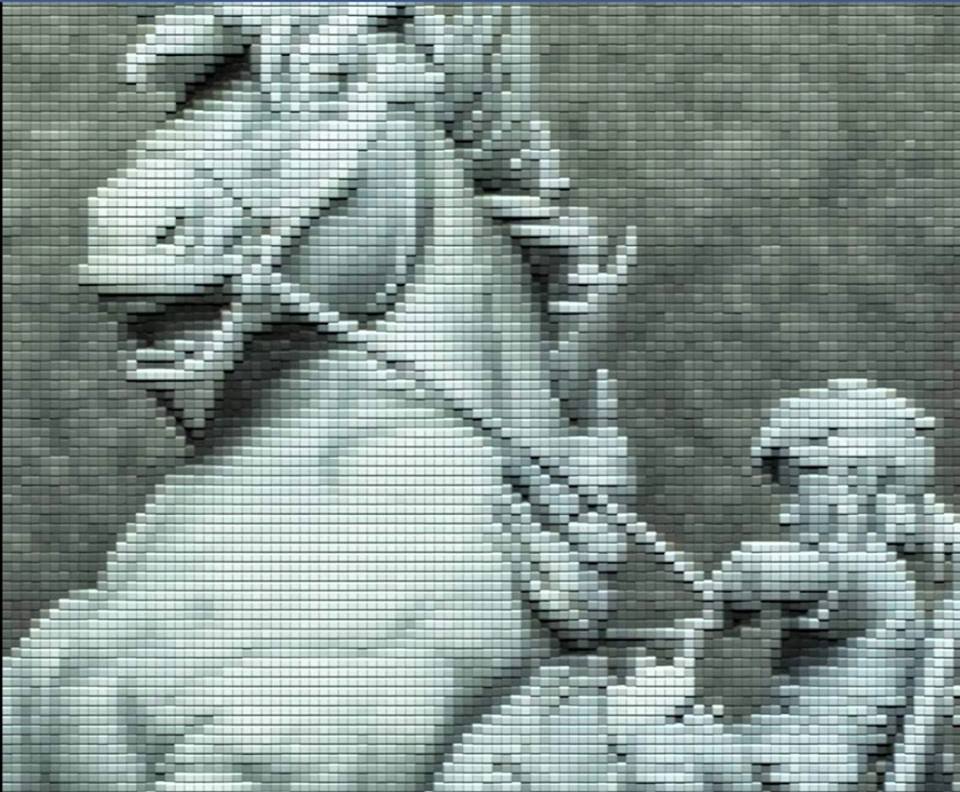 MIMIC UPDATE: F4F will be taking pre-orders during Gamescom 2018!
FAYE VALENTINE UPDATE: Estimated to go up for pre-order 4-5 months after Jet Black; design will likely be E based on the results of the poll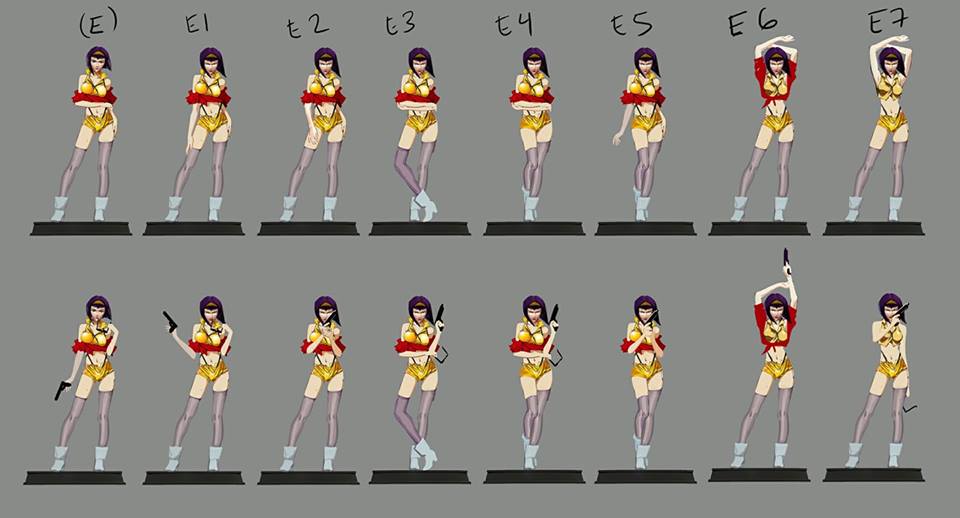 BERSERK UPDATE: 4th character in development still a mystery; F4F already knows what they want to do for the line but maybe a character poll in the future; no sneaks until it's at least been printed out
META RIDLEY UPDATE: Submitted to Nintendo and awaiting feedback
FULL METAL ALCHEMIST UPDATE: Started working on Roy Mustang but they still need to see how the Elric brothers perform first; Full Metal Alchemist to be the next anime line to go up for pre-order; statues based on the Brotherhood series
DONKEY KONG UPDATE: Possibly 2019
SOLAIRE OF ASTORA UPDATE: Alex to post a picture of the feet reinforcement soon
SHOVEL KNIGHT UPDATE: To go into production soon-ish; Green and Black variant to go up for pre-order in a couple of months subject to licensor's approval; will be reopened for pre-orders to Gamescom 2018 attendees
YAKUZA UPDATE: Refining the face
THE LEGEND OF ZELDA UPDATE: Enough projects until 2021; further information of any sort cannot be disclosed
COWBOY BEBOP UPDATE: Possibly a diorama base sold separately in the future but only if enough people purchased the entire line
ED AND EIN UPDATE: Will be sold together; possibly an alternate head for the Exclusive version
ŌKAMI UPDATE: Oki (Wolf Form) is on the list. Alex isn't sure if the Celestial Brush gods will work out as a PVC and resin combo.
SPARX THE DRAGONFLY UPDATE: Will likely be an add-on instead to another Spyro resin statue in the future (if any at all)
LAW (TEKKEN) UPDATE: Could possibly go up for pre-order during a pre-order downtime
There are busts and props in the works; no hints or tee-hees just yet.
SOULCALIBUR UPDATE: Next piece won't be awhile but is coming along nicely
CONKER UPDATE: Estimated to go up for pre-order next year
AMATERASU PVC UPDATE: Deep in development
New SD statues looking tight
BAYONETTA UPDATE: Isn't kicking Alex's butt as much anymore; no sneaks anytime soon
SCARBOROUGH FAIR LIFE-SIZE REPLICA UPDATE: Pretty much done; will be tough to get into European countries due to Customs
MARIO ON YOSHI UPDATE: Up next in the painting process and will take about two weeks to finish; looking to do a Blue Yoshi variant as well
Release sequence of these three will be the following: Solid Snake ➔ Varia Suit ➔ Bowser
AKU AKU MASK UPDATE: Will go into production after Solaire of Astora and Spyro
Crystal Dragon (Regular) pre-orders won't close anytime soon, maybe in a couple of months' time.
Mystery PVC products to debut during Gamescom 2018 are not Nintendo products.
SHEIKAH SLATE UPDATE: Not yet 100% approved
GRAY FOX UPDATE: Approved to go to the physical stage
PHOENIX WRIGHT UPDATE: Will be sent to Capcom for final approval
BANJO-KAZOOIE UPDATE: Already working on the changes
The weight of Dragon Slayer Ornstein's spear is not heavy compared to the statue's body.
PSYCHO MANTIS UPDATE: Coming down the homestretch
There are licenses with statues in development that are a complete secret.
SOLAIRE OF ASTORA SD UPDATE: Estimated to ship in a couple of months
True Form Midna will be reopened for pre-orders for Gamescom 2018 attendees.
Alphonse Elric won't be on display during ACGHK 2018. We shall see if there will be a Definitive Edition.
Blue Kirby was not approved, so it is now in the Vault.
F4F CARDHOLDER UPDATE: Still working on that
WARP STAR KIRBY UPDATE: Will be more expensive than Fighter Kirby
OTHER TOPICS
If F4F acquired the Darksiders license, they would do both a 1/4th scale of the horsemen without their horse and a 1/6th of the horsemen on their horse. Alex is very interested in the license, so hopefully, F4F's meeting with the licensors during Gamescom 2018 goes smoothly.
Some licenses are more difficult to acquire compared to others.
The success of F4F's PVC products depends on the wholesalers' orders. Which is why F4F is making a resin version of their Amaterasu PVC since the support from the wholesalers isn't there for this particular product. F4F needs to do something else to make this project viable.
The

Club

determines which licenses F4F should aim for.
Alex's greatest achievement is the success of First 4 Figures; his biggest regret is missing the opportunity with the Pokémon Company 12 years ago.
It's almost impossible to get a booth slot for San Diego Comic Con.
Alex has one of every F4F product ever made. These are stored in a warehouse somewhere. Chockles likes to collect anything that suits his taste.
Alex is continuously surprised by how the My Hero Academia

poll

is doing.
Alex never reveals his tee-hee sneaks.
They want to see an edition size of at least 600-700 for any F4F resin piece.
One of Alex's dream licenses is Final Fantasy VII.
F4F will try to advertise their products on Reddit.
More sales data is needed before pitching to Nintendo any ideas for an SD range.
A life-sized Link on Epona statue would probably cost 10,000 USD.
Alex doesn't know what the economics is behind a 1:1 scale statue, and this is the reason why Alex isn't too sure about creating such statues.
Unless they bring these statues to the event, Special variants won't be reopened for pre-orders during Gamescom 2018.
Alex is guessing that 1:1 scale statues will probably only need a double-digit edition size to be considered a success.
If Alex continued making mini versions of statues, these would probably be made out of metal.
Alex prefers Classic Sonic over Modern Sonic since that's what he grew up with, and F4F's Classic Sonic line is stronger in sales.
1/6th scale dioramas are the rage nowadays in statue collecting.
No movements just yet on the mini figure packs
No decision yet on whether or not to convert waitlists for those products to be reopened during Gamescom 2018
Number of Yes votes for the 1:1 scale Sonic

poll

is higher than expected
Will see what people think of Varia Suit Samus first before thinking about any other Samus statues
Not possible to email those on the waitlist if they're in the top 10, at least for now
Use ZBrush for making 3D models.
More conventions possible in the future if Gamescom 2018 is a success
Specific statue parts that make use of PVC material only use small molds, so it isn't as costly compared to a full PVC statue.
No design yet for F4F gift cards
They already know which statues to display during Gamescom 2018.
Alex and Chockles can't grow a mustache in two weeks.
Alex estimates a 1:1 Varia Suit Samus to cost around 5,000 USD; Chockles thinks it would be more than that.
WHO DAT WHO DAT: There was no Who Dat Who Dat this week since Alex and Chockles needed to wake up early for ACGHK 2018 the following day. There will likely be eight players two weeks from now since next Friday, 3 August 2018, will be the Warp Star Kirby launch.
---
To view everyone's questions from the Q&A portion of this episode, please click HERE.
If you want to have your questions answered by our very own Chocks and Alex, simply search "Chocks and A" in the F4F Official Collectors Club Facebook group and leave your questions in the comments section of the most recent thread prior the upcoming live stream. This thread is posted every Thursday of the week.
If you wish to watch the entire video:
---
Last Update
2018-08-08 07:24:44