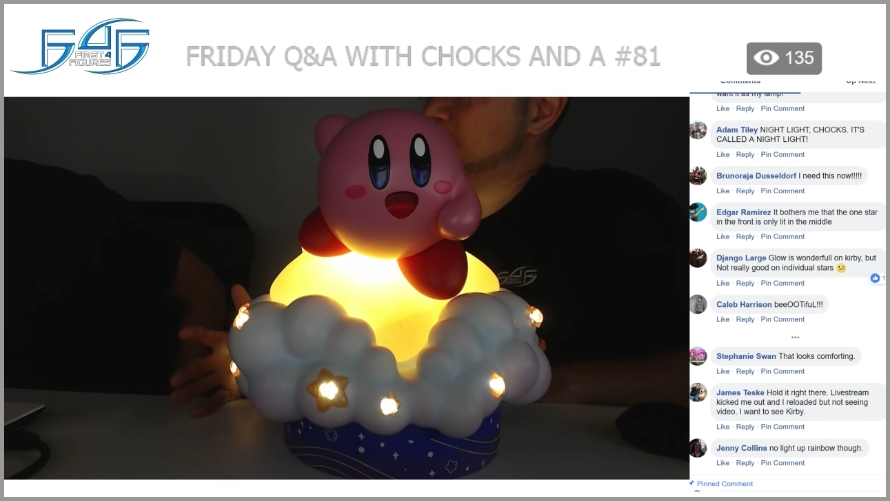 This is a breakdown of the important (and not so important) topics of last Friday's (August 3, 2018) Friday Q&A with Chocks and A #81.
---
REMINDERS
WARP STAR KIRBY pre-orders will open right after this stream!
BANJO-KAZOOIE is still open for pre-orders until 7 August 2018.
SPIKE SPIEGEL is still open for pre-orders until 21 August 2018.
Final payment notices have been sent out for ARTORIAS THE ABYSSWALKER SD.
WEEK IN REVIEW
ACGHK 2018

was a successful event for the company. Alex is surprised that they were able to sell 100+ PVC statues. He's more excited for Gamescom 2018 now.
The discussion regarding auto-converting waitlists for Gamescom 2018 was a tricky one. Although the majority of people were for this idea, Alex is still against it because doing so affects the purity of edition sizes. F4F could possibly apply the same anime pre-order mechanics to their video game statues in the future, but Alex doesn't want to do that now just because of Gamescom.
The

discussion

regarding selling the pre-order packs online while Gamescom was still ongoing was another tricky one as well. Allowing this could have been a loophole to auto-converting waitlists because waitlisters could just cancel their initial order and place a new one using the pre-order pack, bypassing the waitlist mechanic. Hence, Alex was also against it.
Alex could give a more concrete answer to auto-converting waitlists and edition sizes once Gamescom 2018 is over. For now, everyone will have to wait until Alex has more information.
Animegami, a UK-based retailer, will have a number of F4F statues on display during MCM London Comic Con this October 2018.
The text on the Gamescom 2018 flyers is pretty much final. Thank you to the Germans of the Official Collectors Club for reviewing the German version of the flyer.
The samples for the F4F pins have arrived in the office.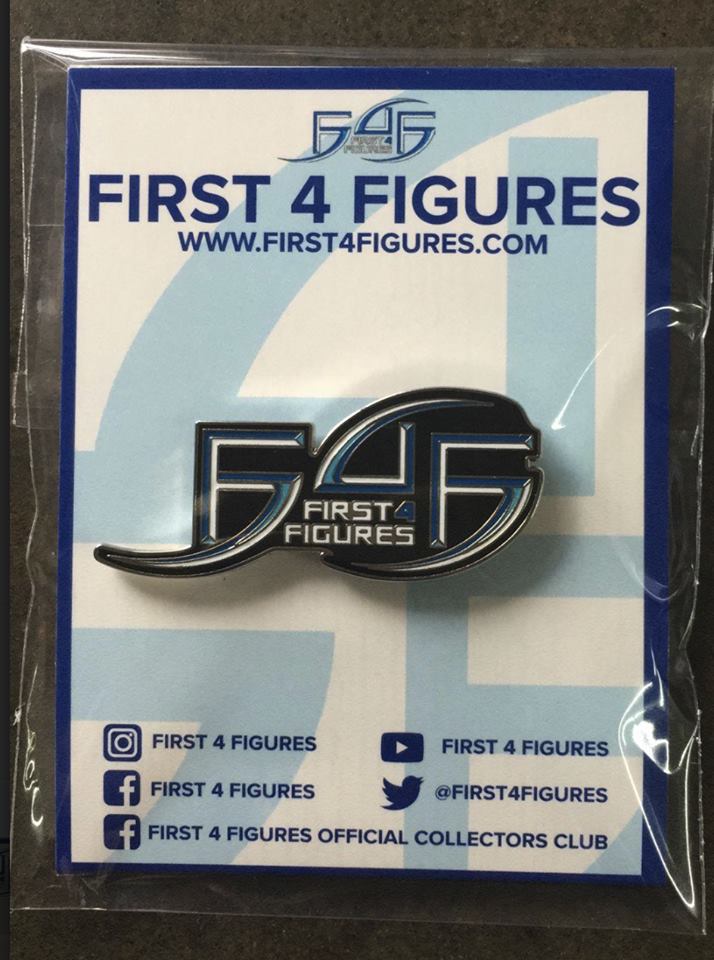 TEMPTATION THURSDAYS (TT) POLL
Last week's Lelouch Lamperouge from the Code Geass series TT Poll #112 Results: 174 YES votes / 173 NO votes
This week's Monsters and Humans from the Undertale series TT Poll #113 Results: 97 YES votes / 92 NO votes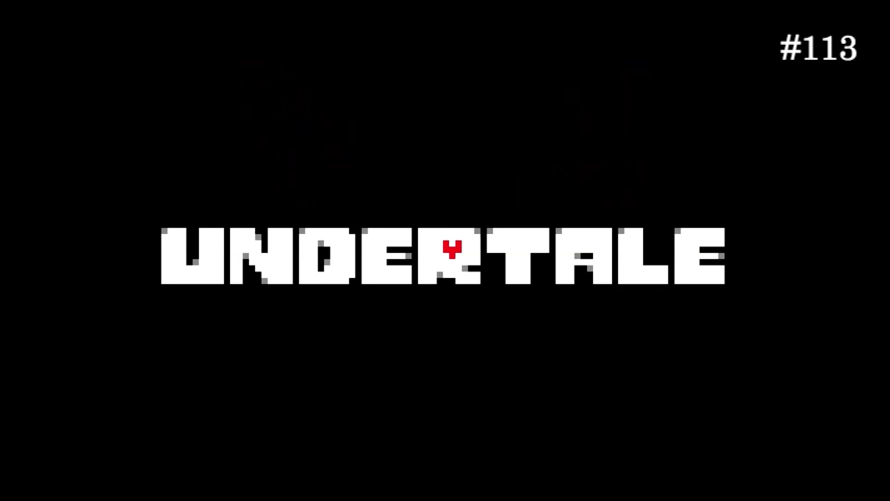 Next TT polls will be (in this order): FLCL ➔ ZERO ESCAPE
The three winners of last week's #F4FSTAR are JACOB W ROBINSON, JEFF GALLIMORE, and ARMAND RODRIGUEZ.
Rayman TT poll still needs more TLC before bringing it up with the licensor.
Slayers now on the list of possible TT polls
CONCLUDED – Match #9-12: Entire Quarterfinal Round

Match #9: Zora Tunic Link (616 votes – WINNER) vs. Metal Sonic (313 votes)
Match #10: Skull Kid (938 votes – WINNER) vs. Lucky Cat Mario (267 votes)
Match #11: Tails (403 votes) vs. Artorias the Abysswalker (907 votes – WINNER)
Match #12: Twilight Princess Link PVC (711 votes – WINNER) vs. Super Sonic (318 votes)

ONGOING –

Match #13-14

: Entire Semifinal Round

Match #13: Zora Tunic Link (286 votes) vs. Skull Kid (657 votes)
Match #14: Artorias the Abysswalker (576 votes) vs. Twilight Princess Link PVC (421 votes)

NEXT WEEK - Match #15: The Finals
PRODUCTION VIDEO EXCLUSIVES
(NOTE: You need to be a member of the Official Collectors Club to view these videos.)
VARIOUS CHARACTER & PRODUCT LINE UPDATES
AIKA UPDATE: New poll soon
SIEGMEYER OF CATARINA PLUSH UPDATE: Still needs a lot of tweaks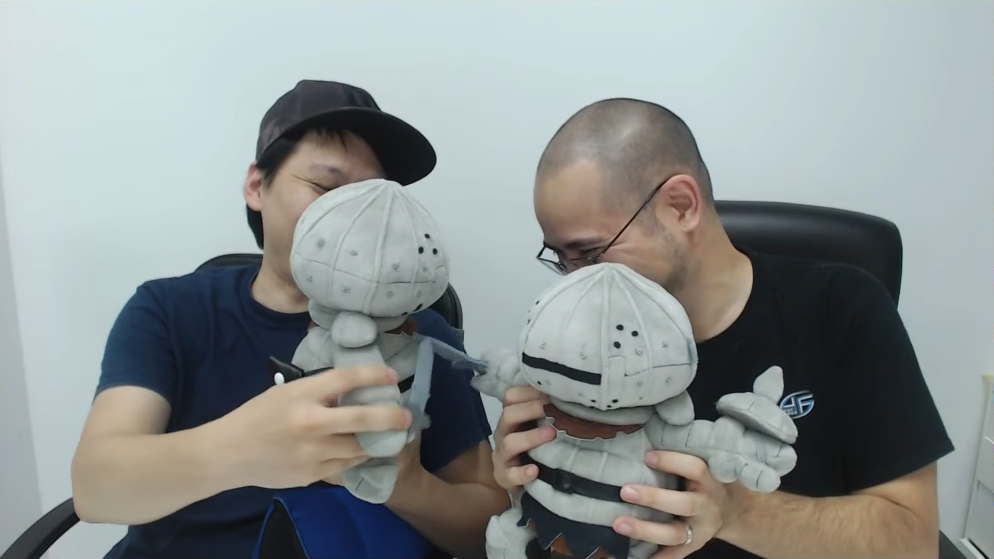 SOLAIRE OF ASTORA UPDATE: Footpegs will be added to the base to make sure that the statue doesn't bend over time; estimated to be shipped mid-September 2018
Extensive F4F core range in future
YAKUZA UPDATE: New images of the 3D render; makes sense to include the red neon arch gate in a Definitive Edition; if a second torso exists, a stand for the unused torso sounds like a great idea and sounds pretty Definitive
DRAGON SLAYER ORNSTEIN UPDATE: Still working on the engineering of the spear; to go into production after Bowser; estimated to ship early 2019
MARIO ON YOSHI UPDATE: First ever sneak during the stream! It's going to be big and expensive, but the cost will be justified. Everyone will find out soon enough what Alex means by that.
PSYCHO MANTIS UPDATE: Alex has been enjoying this project.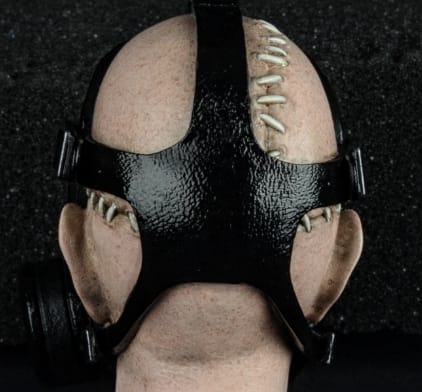 BANJO-KAZOOIE UPDATE: Tweaks still in the 3D stage; validation error still on this list of things to do
PHOENIX WRIGHT UPDATE: Sent to Capcom for approval
No updates on the Mini Packs, but the tail of the Mini Crystal Dragon has already been changed in preparation
Either Psycho Mantis or Gray Fox will have a Definitive Edition.
No updates on the case of True Form Midna (Definitive Edition)
FAYE VALENTINE UPDATE: Working on the 3D renders
ALUCARD UPDATE: The Crystal Cloak is coming.
None of the busts in development are Nintendo-related
GRAVELORD NITO UPDATE: Is currently kicking F4F's butt in development
MIMIC UPDATE: Estimated to go up for online pre-order Q4 2018; will be up for pre-order during Gamescom 2018; Chockles very excited for this launch
SKULL KNIGHT UPDATE: Alex wants this to be printed first before sneaking anything. Two words: super tight!
BERSERKER ARMOR GUTS UPDATE: Nothing from this anytime soon
SPYRO UPDATE: Estimated to be shipped mid to late September 2018
LAW UPDATE: On Alex's to-do list for next week
No information on a new 1/4th scale Metroid statue
A plethora of Sonic the Hedgehog projects in the works
SOLAIRE OF ASTORA SD UPDATE: Regular versions estimated to leave the factory by the end of August 2018; Exclusive versions in September
Can't reveal just yet what the next few pre-orders will be
SPIKE SPIEGEL UPDATE: Selling well
MUGEN UPDATE: Estimated to arrive in the US warehouse by the end of August 2018
FULL METAL ALCHEMIST UPDATE: If Alphonse does well, F4F will look into developing more characters.
Still unsure if Jin Kazama (Exclusive) will be available as an in-stock item on F4F's website
Alex was looking at a Definitive Edition base design of a secret statue.
BAYONETTA UPDATE: In the design of Bayonetta 1... for now
Not considering a separate edition size for True Form Midna (Definitive Edition) since it wouldn't work for what's coming next in the line
AMATERASU LIFE-SIZE BUST UPDATE: Unsure if released this year
F4F CARDHOLDER UPDATE: Started designing them in 3D
Solid Snake Bust hasn't become a thing, but it will probably be a thing.
CRASH (RESIN) UPDATE: To release before Aku Aku
No updates on Genos or the rest of the One Punch Man line
Might need to start the development for Ed and Ein soon
DRACULA UPDATE: Makes sense to launch Dracula in October 2018
WARP STAR KIRBY LAUNCH
This week's hashtag is #F4FKIRBS for a chance to win 500 reward points.
Regardless of appendages, Kirby still looks like a round ball no matter what angle you look at it from.
The first happy expression on the F4F Kirby line
The mouth has a 3D effect to it, and the eyes still have that gradation in the blue.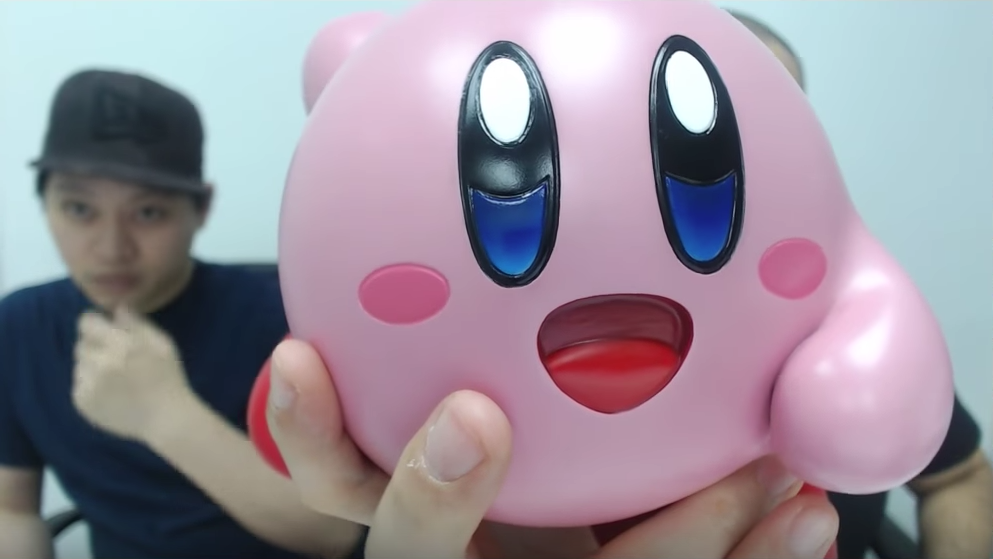 The licensor was very particular about the left arm. It was checked and changed countless times. This was the licensor's vision, and it will not be tweaked in any shape or form.
The thickness of the base of both arms is the same.
Kirby's character is joyous and should make everyone smile.
One leg is in front of the other because Kirby's in a surfing pose riding the Warp Star.
Warp Star Kirby will be in Gamescom 2018.
Apart from the pose, the base is also supposed to convey speed and movement. They applied the principle of how a helicopter moves forward. Tilting it forward gives the collector a better view that the base is star-shaped and a better eye-to-eye view with Kirby. On the other hand, the slipstream is supposed to give the statue a sense of speed.
The clouds on the base are not symmetrical to give it more realism.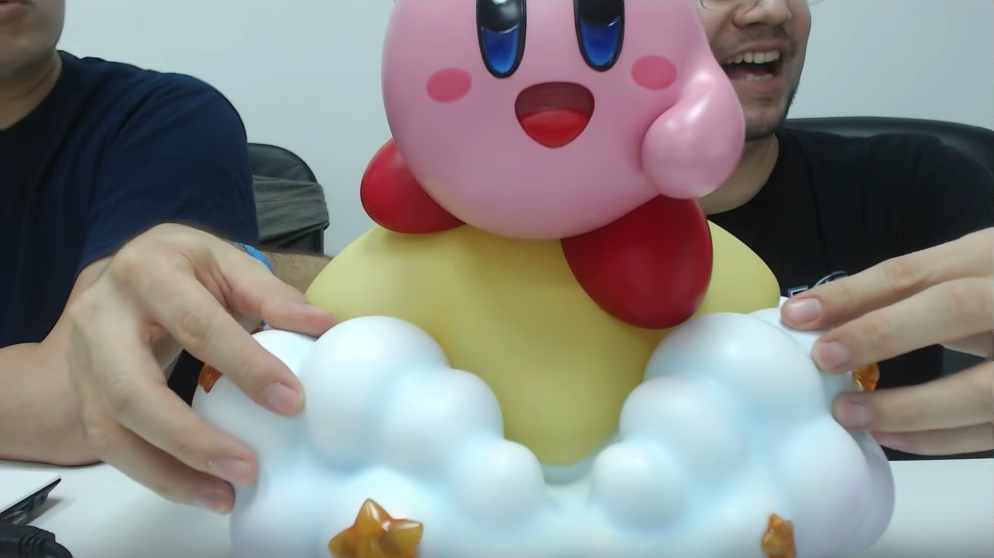 The placement of all fourteen (14) mini star is meant to look random.
The color and pattern at the bottom of the base are supposed to convey a cosmos feeling.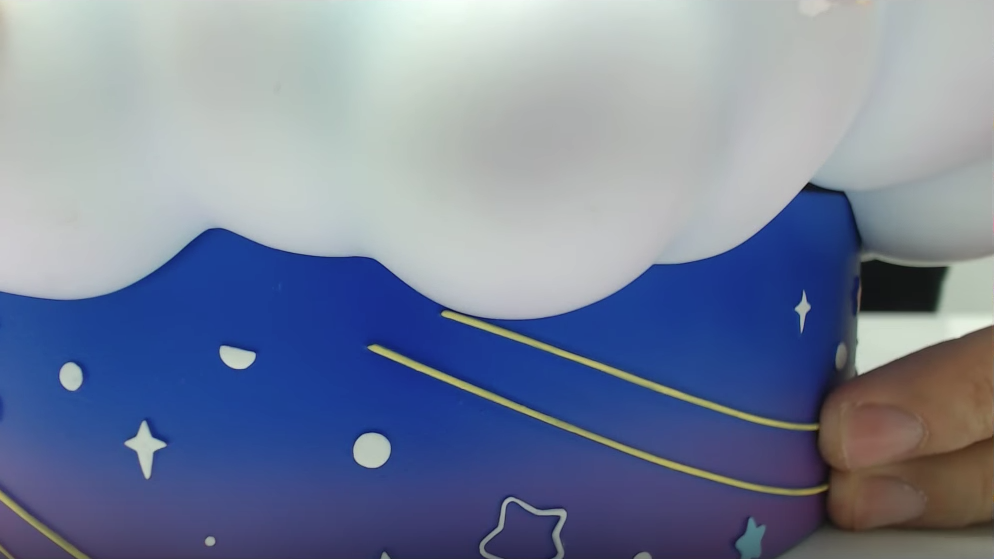 There are blue shadings by the grooves of the clouds and yellow shadings between the arms of the Warp Star to add definition.
The slipstream is semi-translucent and glossy to give it a difference from the Warp Star.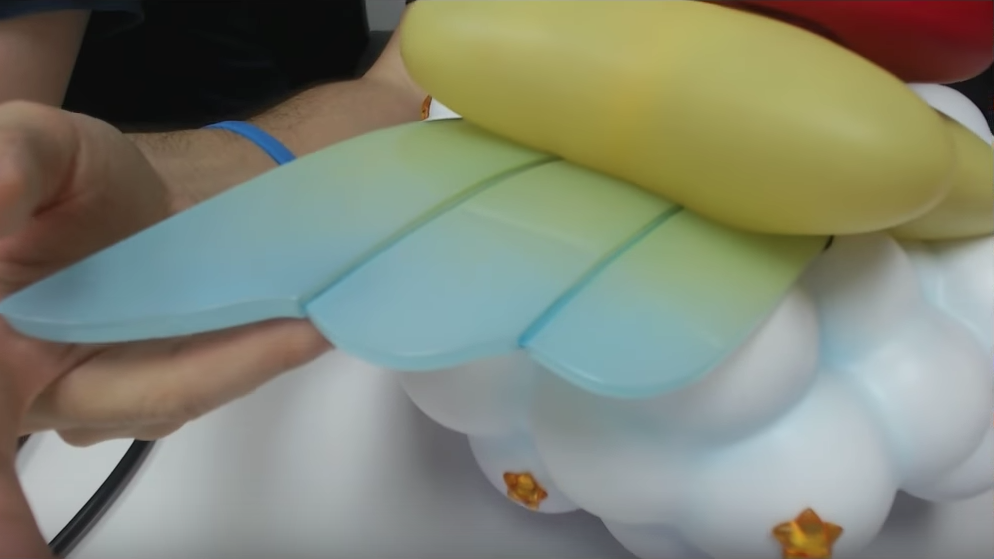 The translucence of the mini stars against the matte of the clouds allows for these to pop out more.
The Exclusive version comes with LED lights!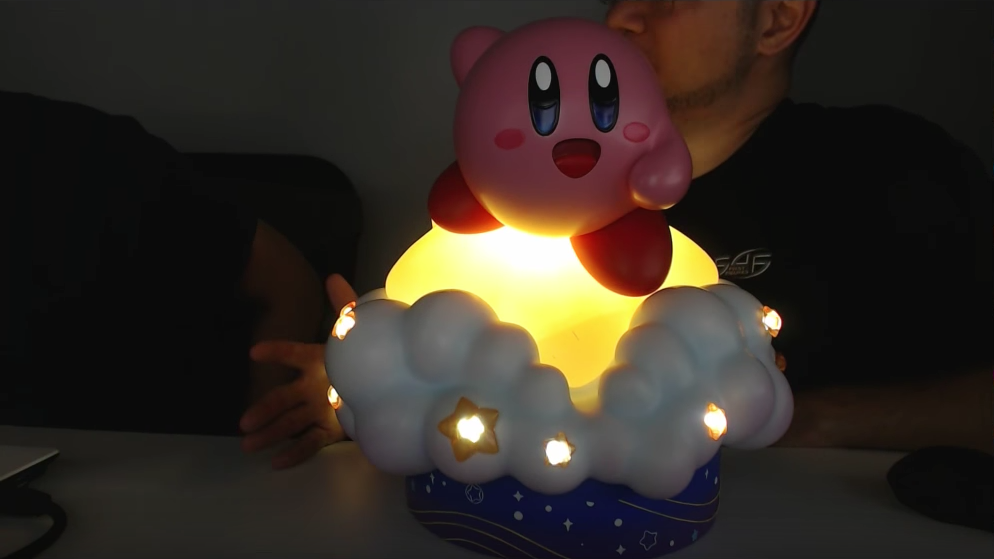 Subject to licensor approval, the LED lights on the mini stars will have a twinkling mode and a static mode to them; the LED lights on the Warp Star will stay constant.
If people were to get one F4F Kirby statue, the majority of people want Warp Star Kirby to be it.
Both the Regular and the Exclusive versions cost 349.99 USD + shipping.
Subject to licensor approval, there could be a Shadow Warp Star Kirby variant in the future, together with Shadow Fighter Kirby and Shadow Sword Kirby as a triple threat pack. The face on Shadow Warp Star Kirby wouldn't be smiling if ever this were to be a thing.
Could try to make the button for the LED lights of the Exclusive version look like a star
Alex has a screenshot of the names who voted Yes on the #SAVEF4FKIRBY TT poll, and he's watching.
Not sure if Nintendo UK will sell the Exclusive version
For more information on Warp Star Kirby and how to place your pre-orders, kindly click

HERE

.
OTHER TOPICS
Not attending New York Comic Con anymore unless Gamescom 2018 can prove the viability of conventions
Alex is looking forward to speaking with THQ.
The Exclusive and Day One add-ons provided for each F4F statue could sometimes cause delays in production.
The concept of pre-order packs sold during conventions is very #JustF4FThings.
F4F's Gamescom 2018 booth is about 50 square meters big. In it sits a big table that can display about 30+ resin statues all at once.
If during Gamescom 2018 the pre-order packs didn't sell well but the on-hand items did, then F4F could possibly attend next year but in a smaller booth and sell just the latter instead.
The pre-order packs will be packed by hand by the F4F team.
No plans on Dragon Ball Z statues... for now
Metal Gear REX/RAY not up for consideration right now
DISCLAIMER: If people decide to buy Gamescom 2018 pre-order packs for other members of the Club, please make sure that it's a safe transaction for both parties involved.
Will look closer into the Dead Space and Darksiders licenses around April of next year
My Hero Academia license still complicated
More Dreaded Drop Test videos soon
Images of statues in its styrofoam to be added in future launches
If F4F got the Darksiders license, Alex would start the line with a 1/4th scale character-only statue of War.
If Alex reincarnated into an animal, he'd like to be a panda or a wagyu cow.
Rally the fans if you want a Sonic Heroes diorama.
No update on the Pokémon license
Chockles' most recently watched anime is High Score Girl.
F4F works with artists they've already worked with in the past.
Miniature characters the size of Monopoly pieces would be interesting.
Rally the fans if you want a Ninja Kirby statue.
F4F PVC statues are only exclusive for certain US retailers for a fixed amount of time before being available to other retailers.
There are too many things happening behind the scenes that F4F has to prioritize the more important IT-related concerns. They might ask for help from 3rd parties to address the smaller concerns like statue names on the order page for example.
It costs more money, but Alex could look into using cloth as the wrapping material.
No news on the next life-size Legend of Zelda prop
Shadow Fighter Kirby more likely than Blue Kirby
Can look into a new Luigi poll

ALL

statues that aren't in the marketplace yet will be up for pre-order during Gamescom 2018. F4F will let everyone know the changes to the edition size after the event.
Alex would like to attend Anime Expo in 2020 if Gamescom 2018 is a success.
Gamescom isn't about anime.
Alex and Chocks play the games and watch the anime they have licenses to for research purposes.
F4F deals with wholesalers, not specific retailers.
ACGHK 2019 will be a thing.
Bump up the old One Punch Man

character poll

.
The Exclusive versions are like the Definitive Editions for the Soulcalibur line.
Hong Kong is extremely humid like Vietnam.
WHO DAT WHO DAT: This week's Who Dat Who Dat was postponed to next week to make way for the Warp Star Kirby launch. They will choose eight contestants next week since they've already missed three games.
---
To view everyone's questions from the Q&A portion of this episode, please click HERE.
If you want to have your questions answered by our very own Chocks and Alex, simply search "Chocks and A" in the F4F Official Collectors Club Facebook group and leave your questions in the comments section of the most recent thread prior the upcoming live stream. This thread is posted every Thursday of the week.
If you wish to watch the entire video:
---
Last Update
2018-08-15 21:09:05