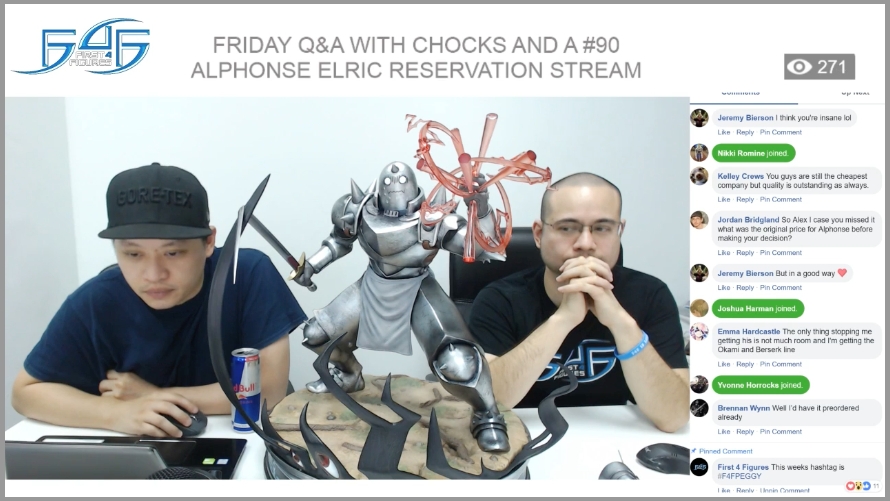 This is a breakdown of the important (and not so important) topics of last Friday's (12 October 2018) Friday Q&A with Chocks and A #90.
---
REMINDERS
ALPHONSE ELRIC pre-orders open right after this stream!
The BLADE OF THE DARKMOON PENDANT and MUSHROOM PARENT PENDANT pre-orders are now closed. Thank you so much for all your support! You can still jump on the waitlist for a chance at pre-ordering these accessories if you already haven't.
SONIC THE HEDGEHOG VS. CHOPPER DIORAMA pre-orders from the F4F x GNF Toyz partnership is still open for pre-orders until 19 October 2018. It will NOT re-open in the future.
SPYRO PVC (EXCLUSIVE) is still open for pre-orders until either 2 November 2018 or possibly longer if it doesn't reach at least 3,000 pieces sold.
GUTS THE BLACK SWORDSMAN is still open for pre-orders until the Exclusive versions reach a combined total of at least 1,000 pieces sold or until before production begins.
SPIKE SPIEGEL is still open for pre-orders until the Exclusive version reaches at least 1,000 pieces sold or until before production begins.
WARP STAR KIRBY is still open for pre-orders until the Exclusive version reaches at least 1,000 pieces sold or until before production begins.
PSYCHO MANTIS is still open for pre-orders until the Exclusive version and Special variant reach a combined total of at least 1,000 pieces sold or until before production begins.
WEEK IN REVIEW
This Peggy Hsieh person that's supposedly a new addition to the F4F team to help Chockles out in marketing is apparently just an alternate account of Chocks; she's a fake! Or, is she? Regardless, here's a

code

that allows you to redeem some free reward points "care of Peggy," and the 1,000 reward points

contest

is real as well. (Spoiler Alert: She's real.)
First 4 Figures and Animegami both published a

press release

stating their partnership during the upcoming MCM London Comic Con from October 26-28 2018. Also, Chockles will be present for the duration of the event!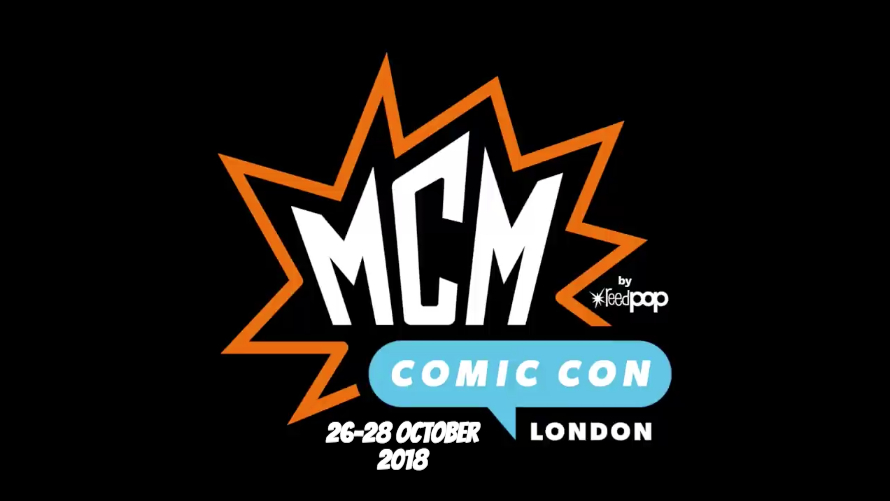 The IT team is currently working on a

website update

that will allow people to do a couple of new things:
Payment plans for those on the waitlist
Defer payments for a month up to a maximum of three (3) times before finally canceling an order
The ability to add payments plans for those that aren't on one yet
Alex ran a Spyro™ Reignited Trilogy character poll in light of the recent Spyro™ 8″ PVC product launch. Currently on the lead is Crystal Dragon. It would certainly be easier to make compared to the OG Crystal Dragon since it is easier to make curved things than sharp edges.
Alex also ran a

non-anime and non-video game dragon poll

since it does seem like the Club is quite interested in dragons in general, and he found it interesting that Toothless is currently at the top. If Toothless reaches 800+ votes, Alex will look into this very carefully. How he would go about it is if he knew from the very beginning that it would do well, he would start with PVC first to introduce people to First 4 Figures before creating a resin piece.
Dan Cheng has joined the F4F team and is now the new Wholesale executive. Welcome, Dan!
Alex posted a

poll

asking the ladies of the Official Collectors Club what video games they're into. The result can help Alex gauge which licenses to acquire so that it appeals to both genders for better sales.
Alex has been talking to the team about fixing the inefficiencies of the company.
TEMPTATION THURSDAYS (TT) POLL
Last week's Characters from The Binding of Isaac series TT Poll #121 Results: 85 YES votes / 165 NO votes
This week's Rytlock Brimstone from the Guild Wars series TT Poll #122 Results: 47 YES votes / 116 NO votes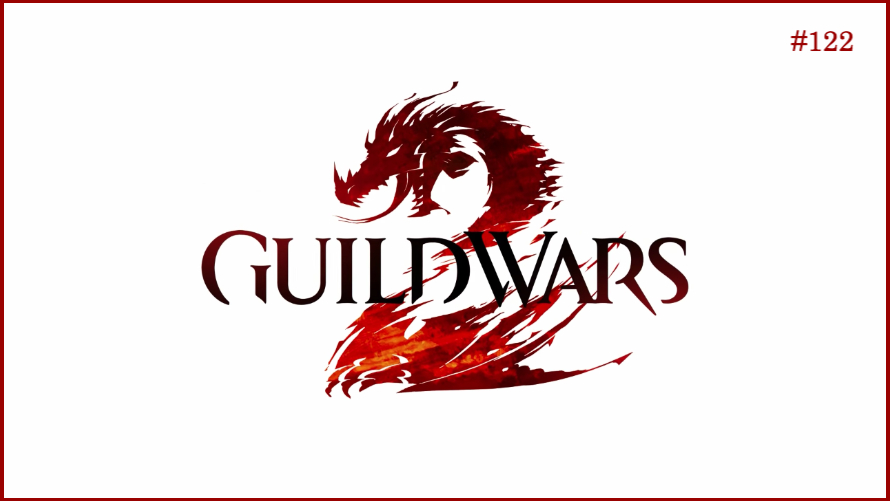 Next TT polls will be (in this order): OWLBOY ➔ BLOOD+
The six winners of last week's #F4FBIGAL are JENNIFER TRAYNOR, ÅSA ANDERSSON, LOUISE SMITH, LIZ MARTIN, CLAUDE BOUFFARD, and GIANLUCA PILATO.
Next week's hashtag is #F4FPEGGY for a chance to win 500 reward points.
King of the Ring Tournament #2 to begin next week
As discussed, if no one wins the tournament, 2,000 reward points will go into a prize pool and will continue to accumulate until such time that a winner claims it all. If multiple winners succeed in claiming the prize, they will each receive 2,000 reward points plus their equal share of the prize pool.
Majority of voters don't own plenty of the F4F pieces, so it doesn't matter if the statue participants are already out in the marketplace or not.
Tourney #2 matchups are as follows:

Match #1: Sif vs. Sonic 25th Anniversary
Match #2: 20th Anniversary Sonic vs. Amaterasu
Match #3: Sword Kirby vs. Jin Kazama
Match #4: Breath of the Wild Link PVC vs. Zero Suit Samus
Match #5: Ganondorf vs. Optimus & Megatron
Match #6: Simon Belmont vs. Nightmare
Match #7: Viewtiful Joe vs. Dredd & Death
Match #8: Spyro (Resin) vs. Tanooki Mario
PRODUCTION VIDEO EXCLUSIVES
(NOTE: You need to be a member of the Official Collectors Club to view these videos.)
VARIOUS CHARACTER & PRODUCT LINE UPDATES
SPYRO (RESIN) UPDATE: 100 pieces were sent out to Australasia; only two people complained. Alex doesn't feel the need to do any corrective action, so he gave the thumbs up to have everything else shipped.
SPYRO PVC UPDATE: Laser focused on trying to get these out around the launch of the game; maybe about a month out depending on how things go; still hoping to ship before Chinese New Year; the Standard version to go out first because of F4F's commitment to the retailers and the hefty penalties that go with it if dates aren't met
AMATERASU PVC UPDATE: Moved a flower and a bit of the greenery to the left to add more color when viewing the statue from the front (before, all the colors were at the back); estimated to go up for pre-order when the PVC mold is ready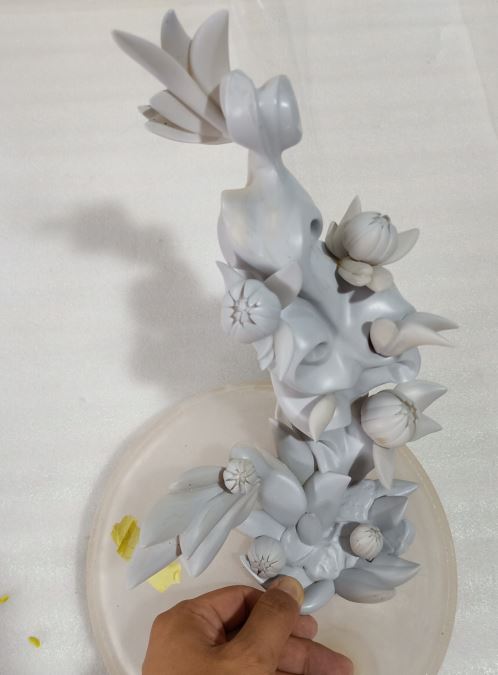 SOLID SNAKE UPDATE: Factory visit next week to inspect if statues are ready for Australia shipment
This week's tee-hee; Alex now in two minds about this given the

response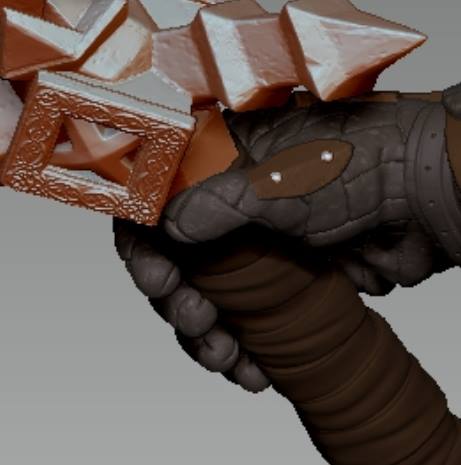 WARP STAR KIRBY UPDATE: Exclusive version edition size currently at around 300 pieces
VARIA SUIT UPDATE: Factory slowed down; production is very difficult
NIGHTMARE UPDATE: In the same slow factory as Sonic 25th Anniversary Batch 2 and Amaterasu Life-Size Bust, so it will be awhile for those on the waitlist
IVY UPDATE: Prototype sneak possibly next year
Alex looking into doing Spyro PVC in the original design
True Form (TF) and Super Deformed (SD) PVC anime statues hopefully in the future if the support is there
Dark Souls SD PVC statues all the same size
PHOENIX WRIGHT UPDATE: Warehouse just recently received the prototype since it was stuck in Customs; now working on the color changes
YAKUZA UPDATE: F4F to send SEGA a "Kickstarter" proposal
SEGA UPDATE: After their meeting with SEGA during Brand Licensing Europe, they've concluded that "Kickstarter" projects will depend on the character involved.
BANJO-KAZOOIE UPDATE: Changes have been sent to the licensor.
Shiranui PVC is a possibility.
TRUE FORM MIDNA UPDATE: Production estimated to start in a month's time
"KICKSTARTER" UPDATE: Will get the first one done first to get a better idea on how to execute this
DARK SOULS 2 AND 3 UPDATE: Development is taking a bit of time; one of the longer ones to develop; SD PVC statues are there to keep the interest going
SKULL KNIGHT UPDATE: Now in the physical stage
AMATERASU LIFE-SIZE BUST UPDATE: Still no shipping estimates; the factory is very hard to predict
FAYE VALENTINE UPDATE: Alex was working on her this week; still not there yet
DRACULA UPDATE: pushing Dracula pre-orders back; did not make it in time for Halloween
Laser focused on plushies for 2019; starting to gather resources together such as laser cutting machines, embroidery machines, skilled in-house prototype developers, etc.; would be a disservice to the licensors and the fans not to do it properly
SHOVEL KNIGHT: Started production; still working on the Green and Black variants; other knights still possible depending on the support for the other variants
DANTE UPDATE: Alex is happy with the redesign; now onwards and upwards
AIKA UPDATE: Still no news on the "Kickstarter" program
GRAY FOX UPDATE: Confirmed to have a Definitive Edition
Kindly let Alex know in the comments section below how you want Crystal Cloak Alucard to look.
Mini figures are a guarantee.
JET BLACK UPDATE: Estimated to go up for pre-order towards the end of this year
BOWSER UPDATE: Alex to visit the factory soon; factory quite slow
SONIC AND TAILS DIORAMA UPDATE: Should finish printing in the next few days
ALPHONSE ELRIC LAUNCH
The base has different layers and depths to it and is painted really well.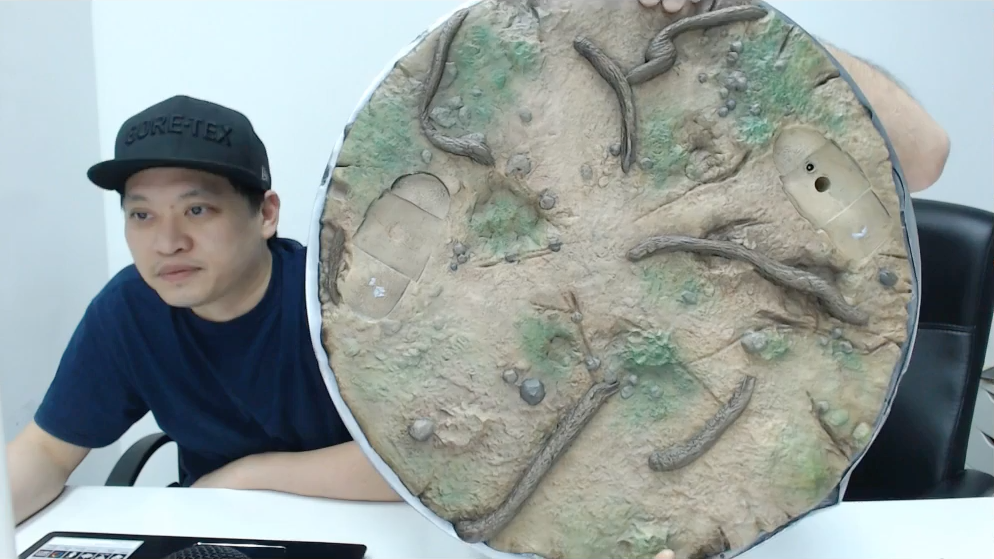 Around the base is a glow-in-the-dark transmutation circle
Blood Seal symbol on the rim of the base and on the neck portion of Alphonse.
Anime lines on the wrinkles of the apron; color of apron can be tweaked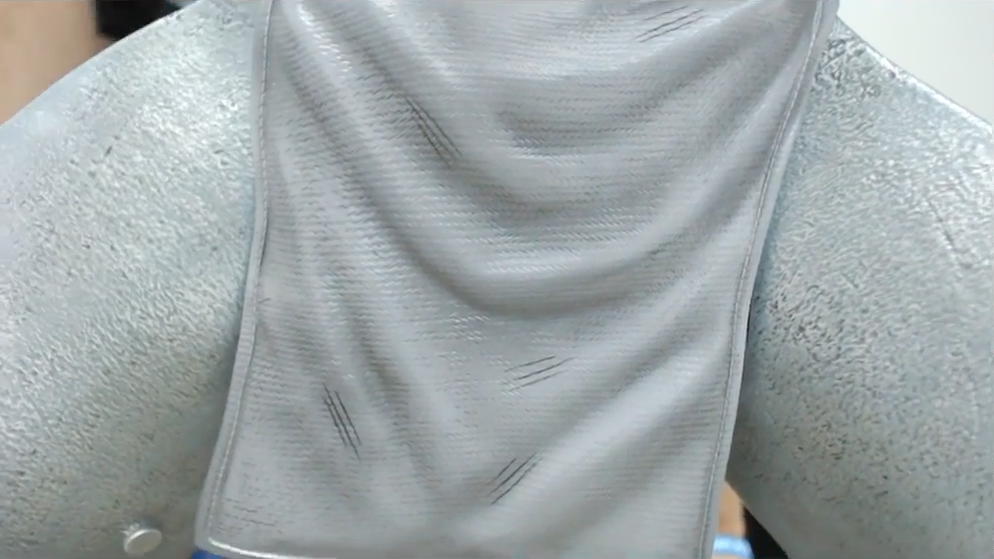 The Exclusive Edition comes with LED features for the normal head and comes with an interchangeable head. The second head comes with its own hairpiece, but since it is similar to the first hairpiece, it is to be determined if there will be just one universal hairpiece for both head sculpts.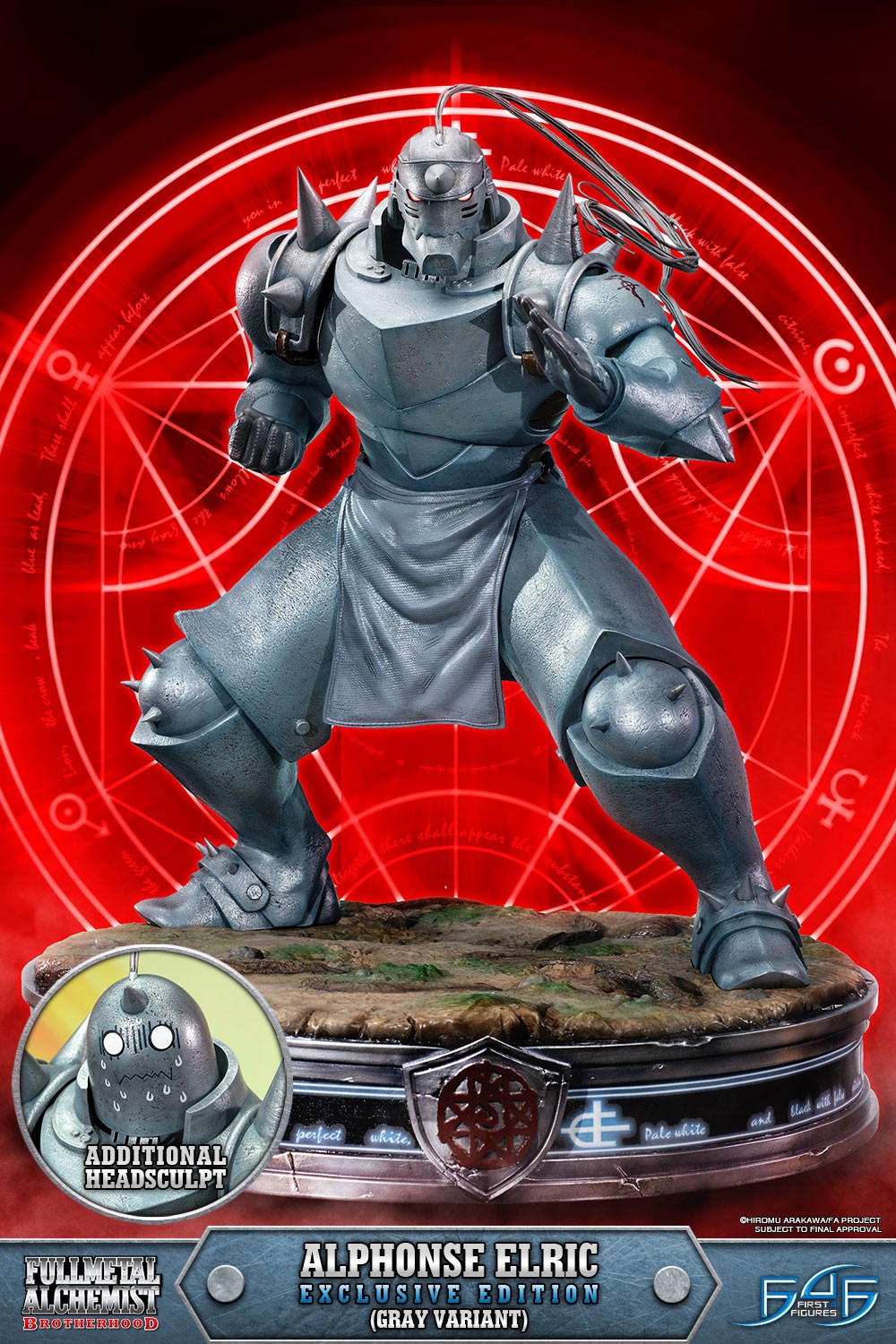 The Definitive Edition comes with all the add-ons of the Exclusive Edition plus a second set of arms and a base that features the power of Pride. The Philosopher's Stone also has LED features. The inspiration for this edition comes from Episode 52 of the Brotherhood anime series.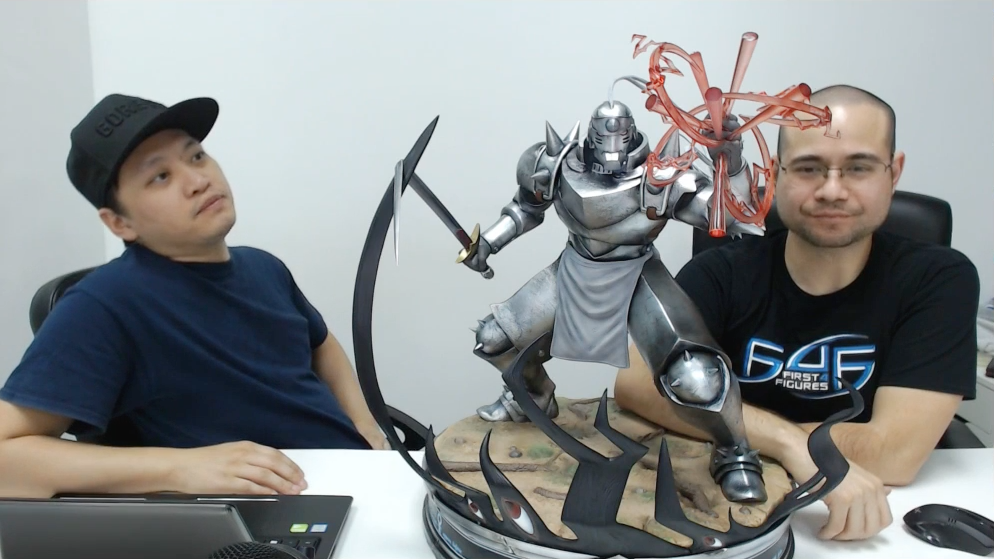 All versions come in a Gray variant and a Silver variant.
A Combo Edition is available for the Exclusive and the Definitive Edition for those that wish to purchase both color variants.
The head with the LED feature has its own switch and power source. It was impossible to give the statue a floating head effect if the wiring was connected to the power source of the base.
Regular and Exclusive Edition SRP: 549.99 USD + shipping
Definitive Edition SRP: 699.99 USD + shipping
Exclusive Combo Edition SRP: 999.99 USD + shipping
Definitive Combo Edition SRP: 1,249.99 USD + shipping
Alex took a big risk with the price. He priced it as low as he did because he is banking on the fact that there is enough support for the franchise in and out of the

Club

. The route he chose to take was to sell more quantity at a low price, as opposed to less quantity but at a high price. But, even so, the price is at the bare minimum and isn't sustainable for the future of the company. According to Alex, this should have been F4F's most expensive piece to date, but they are only pricing it as such for the first piece to keep the Fullmetal Alchemist Brotherhood line healthy and to help attract more anime fans.
Regular and Exclusive Edition will be shipped in one box; Definitive Edition will be shipped in two boxes
Fullmetal Alchemist Brotherhood character poll soon; Edward Elric and Roy Mustang still included in it to gauge their popularity in comparison to the other characters
For more information on Alphonse Elric and how to place your pre-orders, kindly click HERE.
OTHER TOPICS
Statue numbers have no bearing on the quality.
Peggy likes Monster.
Through the Peggy experiment, Alex and Chocks have determined that there are a lot of lurkers in the

Club

.
Biggest plot twist: Alex Davis is just the janitor of the company.
So far, 1,303 people have claimed "Peggy's" points.
Alex would love to do multiple versions of PVC statues such as Yoshi.
Alex to look into adding an instruction pamphlet for those who do not receive a battery with their statue
Alex to sort out a production calendar on Trello
Alex has no problem answering the same questions week after week since there are always new members joining the

Club

.
Alex and Chocks prefer the Nintendo 64 over the PlayStation 1.
Could consider doing a statue raffle giveaway during conventions
Peggy likes Black Clover and some romance novels.
More conversation on Amaterasu's divine weapons after the launch of Amaterasu PVC
Nothing to report on the Persona 5 license
Each shipment should have their own allocated replacements.
The Christmas sneaks are future Alex problem.
You only earn reward points from the portion of a payment that was paid for with money.
Chocks' throne is located in the City of Dreams.
If you wish to sign for a shipment online, please contact

Customer Service

. They'll see what they can do to help.
To the Moon and Telltale's The Walking Dead made Alex cry.
Monetary wise, Guts: The Black Swordsman sold better than Spike Spiegel.
It's F4F's QC team that "makes" the statues; the factories just do what they're told to do.
WHO DAT WHO DAT: This week's Who Dat Who Dat was postponed to make way for the Alphonse Elric product launch.
---
To view everyone's questions from the Q&A portion of this episode, please click HERE.
If you want to have your questions answered by our very own Chocks and Alex, simply search "Chocks and A" in the F4F Official Collectors Club Facebook group and leave your questions in the comments section of the most recent thread prior the upcoming live stream. This thread is posted every Thursday of the week.
If you wish to watch the entire video:
---
Last Update
2018-10-23 14:51:17